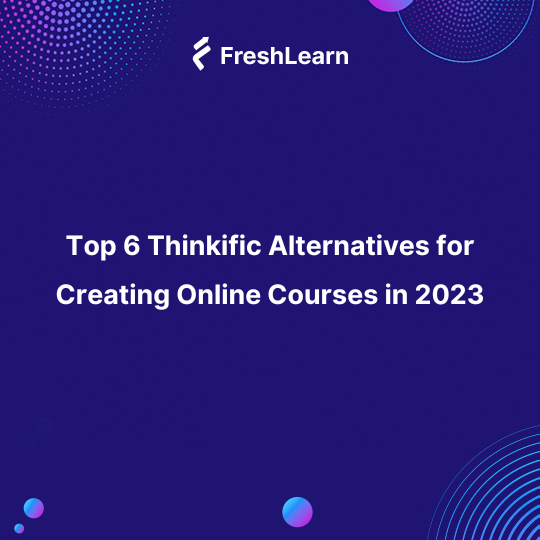 Top 6 Thinkific Alternatives for Creating Online Courses in 2023
Thinkific is a platform that lets you create, market, and sell courses with a single dashboard. In 2022, we have identified and listed some really compelling Thinkific alternatives.
Thinkific is a platform that lets you create, market, and sell courses with a single dashboard. And its simple interface has made it popular among creators.
Though Thinkific offers many features that other platforms lack, such as a built-in learning management system or interactive whiteboard capabilities, it is still far from perfect.
If you're looking for Thinkific alternatives, here is our compiled list of great alternatives along with their pros/cons to help you make an informed choice.
The top 6 Thinkific alternatives we will be talking about in this article are
FreshLearn (previously FreshLMS) - A surprise entrant!
Teachable
Kajabi
Podia
LearnDash
Mighty Networks
Before discussing the Thinkific alternatives, let's get to know and understand what Thinkific can offer to its creators.
TLDR: We have outlined a table at the end of the blog that gives the verdict on which platform provides all-in-one features and is the most creator-friendly.
What is Thinkific?
Thinkific is a company that was founded in 2012. They provide tools for assessment, certificates, and lesson discussion boards to make your teaching easier with their learning management system. Depending on each student's needs, you can customize as much or as little as possible.
Pros of Thinkific
Thinkific course builder is perfect for educators looking to create engaging and creative content. In addition, educators can use its robust features like surveys, polls, etc., to make their online courses more engaging.
It has a wide variety of content formats available, including video and audio courses.
Thinkfic platform automatically generates course completion certificates once a student has successfully completed the program.
It also provides the option for a payment gateway that can be connected to your account.
Cons Of Thinkific
Thinkific does not support the embedding of different video players and includes S3 or Google Drive content.
Thinkific's lack of monetization features is a missed opportunity. For example, they still don't have Masterclass or newsletters, which are two top-rated options in this industry that can help you grow your mailing list and drive sales online.
To take advantage of all the advanced features, you need to subscribe to their Enterprise plan ($399/month).
Thinkific does not offer white-label services unless you are in their highest plan, i.e., Premier Plan which costs $399/month.
Thinkific Pricing
Free plan - $0
Basic - $39/month
Pro - $79/month
Premier - $399/month
Advantages of Thinkific Pricing
Thinkific is one of the few companies that does not charge commissions. Therefore, its 0% commission rate makes it an attractive platform.
It provides a wide range of courses, with unlimited student and enrollment options in all their paid plans.
Thinkific lets you bring your payment gateway without a waiting period.
Disadvantages of Thinkific Pricing
Thinkific pricing plans are complicated by including the Growth Add-on package, which charges for active students.
Thinkific's Premier Plan is costlier at $499/month and offers advanced features like course clone.
Customer Support and Concierge Migration
Thinkific's documentation is surprisingly good for its creators and educators, but it differentiates the support base on plan creators.
The platform provides a detailed knowledge base to explain the features in detail. They also introduced the chat option for higher-tier clients who want immediate support.
However, Thinkific does not provide live chat support. In addition, there is no content migration support in any of their plans or premium packages. This can be highly frustrating.
Now let's look at the top 6 Thinkific alternatives in detail and do a thorough comparison with Thinkific.
Thinkific Alternative #1: FreshLearn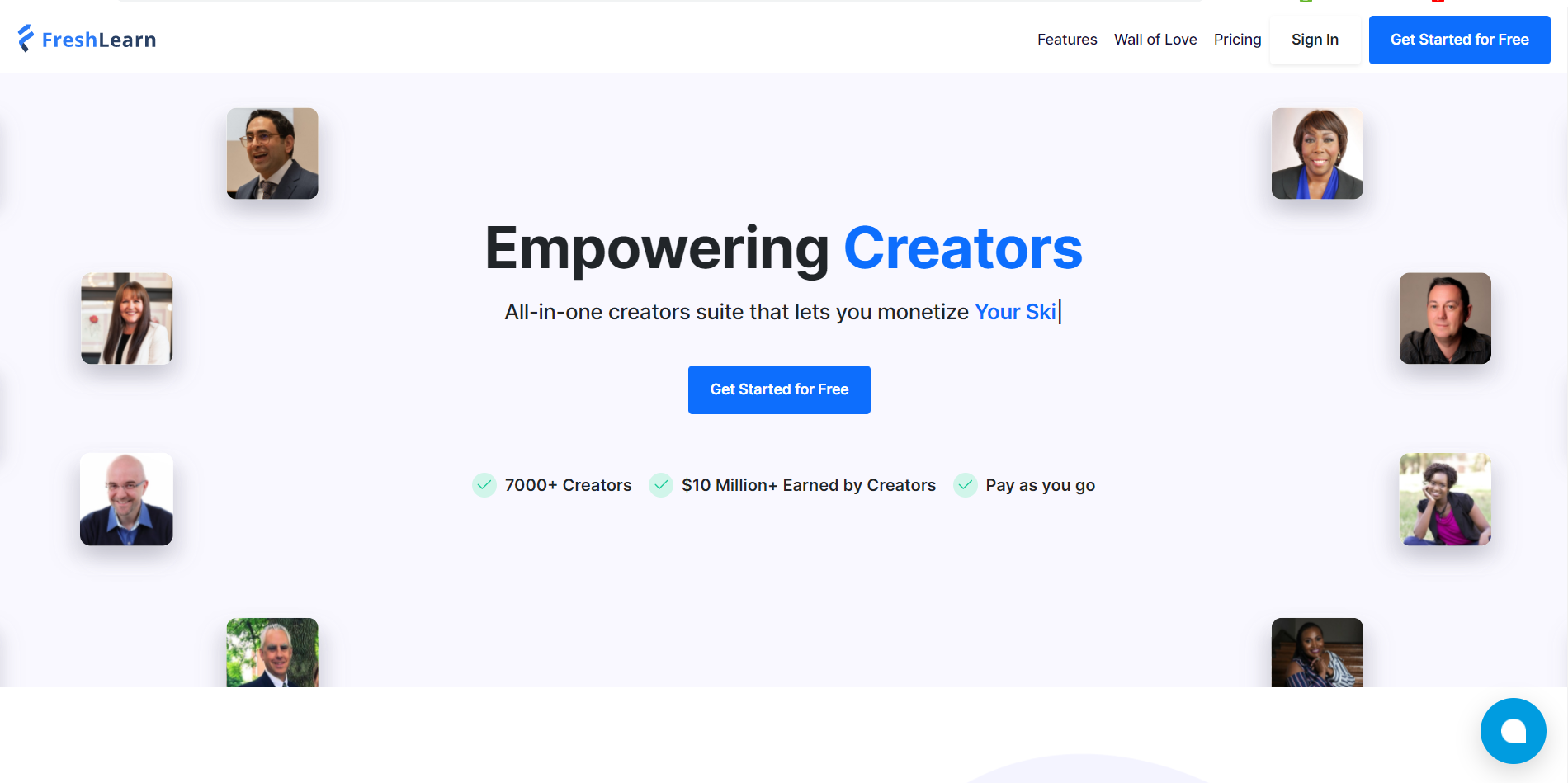 FreshLearn is an all-in-one platform for creators to set up and sell their online courses in less than 60 minutes. It is a new-age platform established in 2020 with a personalized approach toward each individual's learning needs.
In addition, FreshLearn comes with the ability to provide impactful assessments and certifications on the learners' level of expertise that can be digitized into different formats such as Courseware (Online Courses), Master Class Modules, & Digital Downloadables.
Let's look in detail at why FreshLearn is one of the best Thinkific alternatives
Comparing the Features of FreshLearn and Thinkific
Pros:
FreshLearn is a platform that can help you start your online journey quickly and reliably with various monetization products like Online courses, Masterclass, or Digital downloads.
The more intuitive and user-friendly your course builder, the faster you can go online. FreshLearn has been in business for just two years but its principles of design help creators make a better first impression on potential students, which is vital when competing with other courses for attention.
The Fresh Learn course management platform offers various ways to deliver content, including video and audio formats. It also enables you the opportunity for embedding player plugins like YouTube or Vimeo on your website. Additionally, this product integrates seamlessly with storage services such as Amazon S3 (Simple Storage Service), Google Drive, etc., providing an easy way of streamlining assets across various devices.
FreshLearn has an innovative gamification feature to help students achieve their goals faster. It's the only online course provider that takes this vital factor seriously for both creators and learners alike.
With FreshLearn, creators can connect their payment gateways, such as Stripe or PayPal, and have the money directly deposited into their accounts.
There's no need to pay extra for advanced features like coupon codes and affiliate marketing. They're already included in the $29/month Pro plan itself, which is leaps better than what Thinkific offers.
FreshLearn automatically generates completion certificates for any course the student takes. This way, they can just focus on learning and not worry about how many hours or days were spent completing tasks.
Cons:
The FreshLearn team is working on integrations to help creators book meetings from the platform itself.
FrehsLearn does not provide landing page templates for creators yet. But their product roadmap has this feature and will soon be available on the FreshLearn platform.
FreshLearn vs Thinkific: How does the pricing differ?
FreshLearn has a wide range of affordable plans where you can use the resources to your heart's content for an unlimited time with 24/7 customer support.
The different pricing plans for FreshLearn are:
Free Forever Plan = $0 ( $1 + 9% commission for every sale)
Pro Plan = $25/month (0% commission)
No Brainer Plan = $41/month ( 0% commission)
Pros:
FreshLearn's No Brainer plan includes all of the advanced features, such as Bulk student uploads and course enrollments.
FreshLearn integrates with your payment gateway to automatically transfer the money to you once a student purchases an online course from you.
FreshLearn provides unlimited courses, students, and enrollments for all its plans.
Cons:
FreshLearn should expand its payment options to include more popular gateways apart from Stripe, Paypal, and Razorpay.
Customer Support and Concierge Migration
The great thing about Fresh Learn is that they provide 24x7 live customer support for all who wish to create courses.
This ensures you can get help no matter what plan or membership you are on. It's one of the very few platforms that provide this service.
The course creation process is made easy with the help of FreshLearn's YouTube channel, which has detailed videos on how to go through every step.
The FreshLearn academy also offers a helpful guide for those looking into setting up and selling online courses and programs to make it as simple as possible.
With FreshLearn's comprehensive and free account migration service, you can rest assured that your content will be safely and securely transferred to the platform and set up for deployment.
However, FreshLearn's Knowledge Base needs to be improved with better search functionality than Thinkific.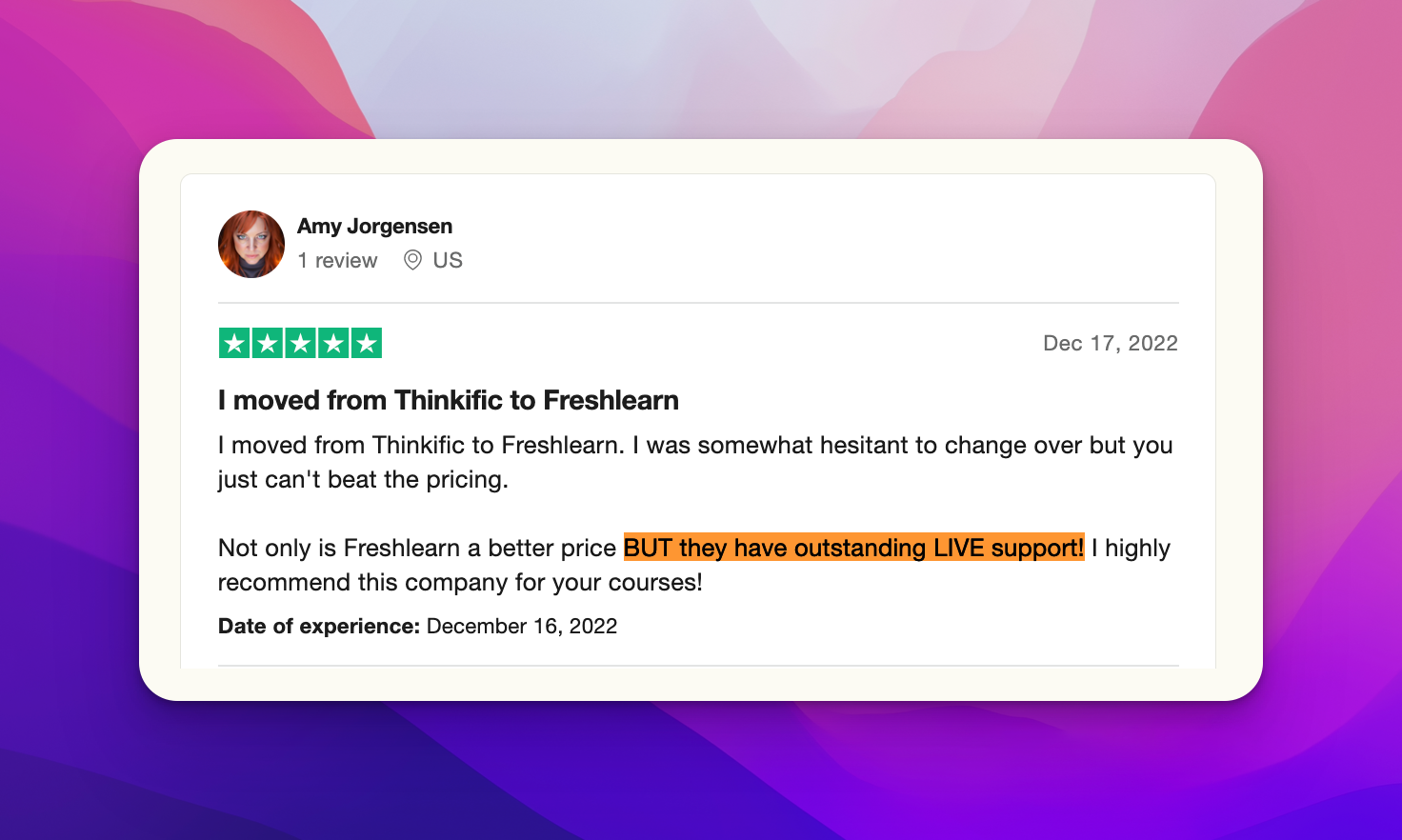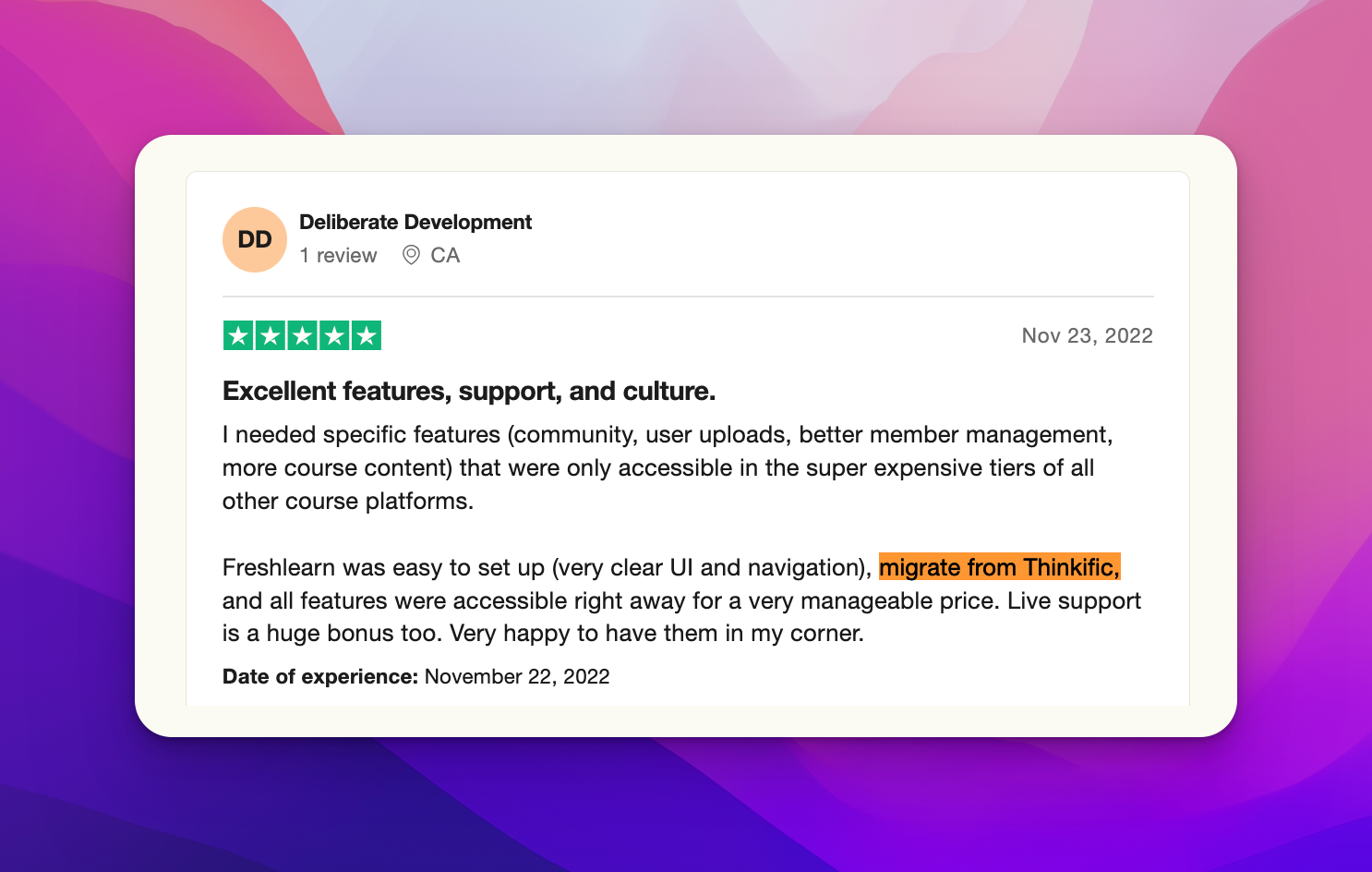 Thinkific Alternative #2: Teachable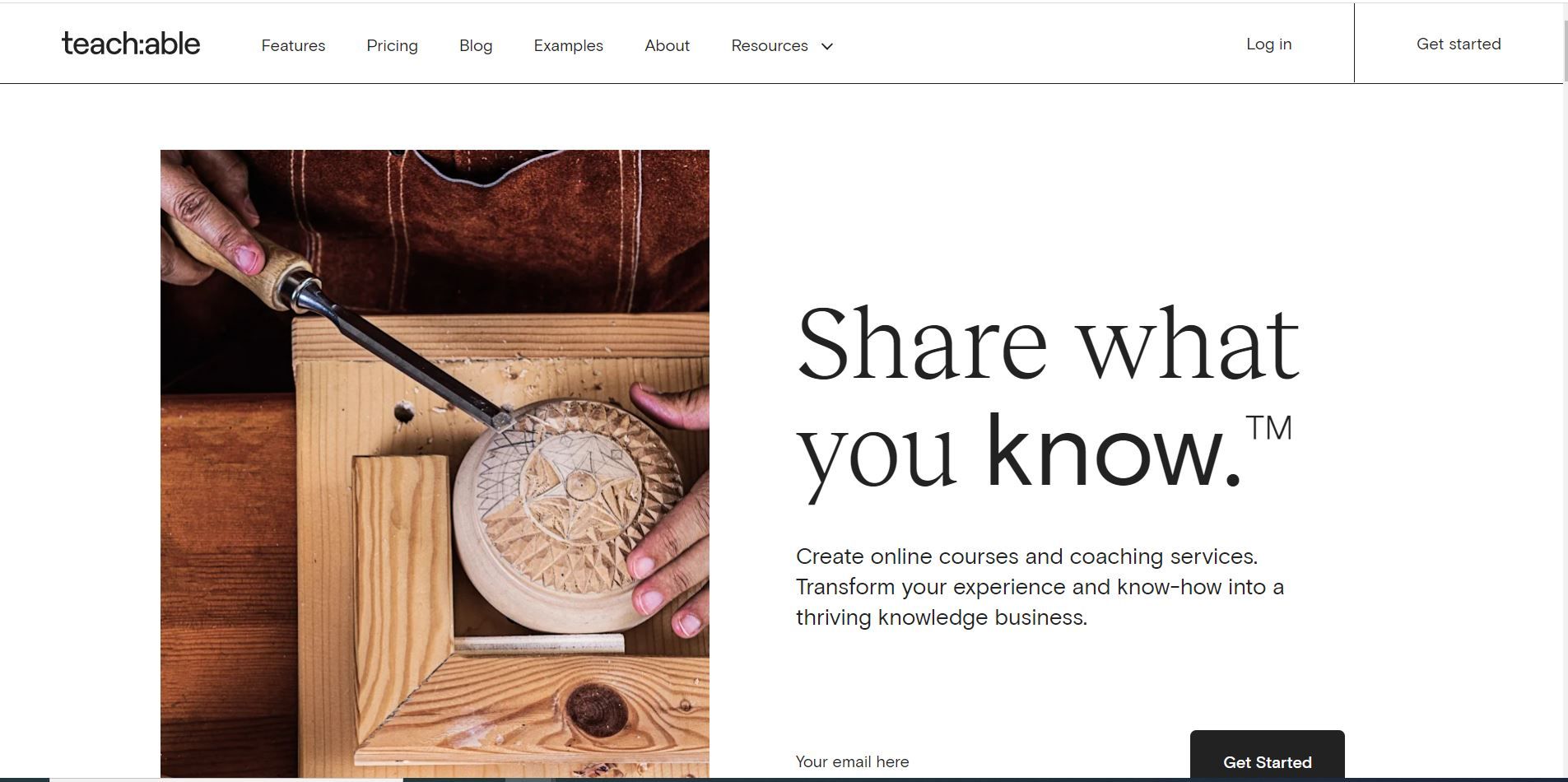 Teachable is an online course platform that serves as a learning management system and marketplace. It is popular among course creators because it offers countless customization options, including web hosting services.
Teachable was founded in 2014 and focused on making educational experiences more engaging.
Pros:
Teachable offers a variety of course formats, including video lectures and slideshows along with audio lessons.
Teachable is an easy-to-use platform that can help course creators build and maintain their courses with all the tools they need.
The Email Marketing feature is an excellent way to stay in touch with your students and improve communication.
Creators can generate courses that are easy to follow for students. The chapters and sections are logically organized with a seamless flow to avoid confusion.
Cons:
The checkout page has Teachable branding, which is a shame because the platform does not offer white-label solutions to creators.
Creating courses on Teachable is complex for first-time creators as the learning curve can be a bit steep.
Teachable does not allow different payment gateways. As a result, creators have to wait almost 45 days before collecting payments.
It's important to note that Teachable does not offer other monetization features for creators like Masterclass, newsletters, or digital downloads.
Advanced features like Bulk Member Uploads and Course Enrollments are only available in the Enterprise Plan, which is very expensive at $299/month.
Teachable Pricing
Teachable's lowest plan, which starts at $1+9% commission for the first sale of an enrolled student, leads up through four different levels, $39/month+5% commission, $119/month, and $299 a month.
Advantages
Teachable offers a Free Plan, which means that you will only be charged when your skills start earning.
You can get your foot in the door with one of their low-cost plans, but it's worth investing a little more for extra features. But the cost of using the platform also increases depending on how many features you use.
Disadvantages
Teachable doesn't allow creators to integrate third-party payment gateways like PayPal or Stripe.
The features that allow for bulk uploads and other advanced capabilities are only available in the Enterprise Plan, costing $299 per month.
Teachable provides several back-office features, such as tax and payment processing. The commission for each service can be anywhere from 2% to 5%.
Features like completion certificates and affiliate marketing are available in the Pro plan, costing $119/month.
Customer Support and Concierge Migration
Teachable's knowledge base is extensive, and they put a lot of emphasis on customer support. But it is regrettable to see that Teachable differentiates its creators based on pricing plans.
Teachable's Knowledge Base is expansive and provides an exhaustive list of users. In addition, the more expensive plan offers better access to its customer support features.
While it would be ideal for Teachable to provide live chat support and easy integration with other platforms, they do not. Unfortunately, this means that creators must move their courses from one platform to another.
Thinkific Alternative #3: Kajabi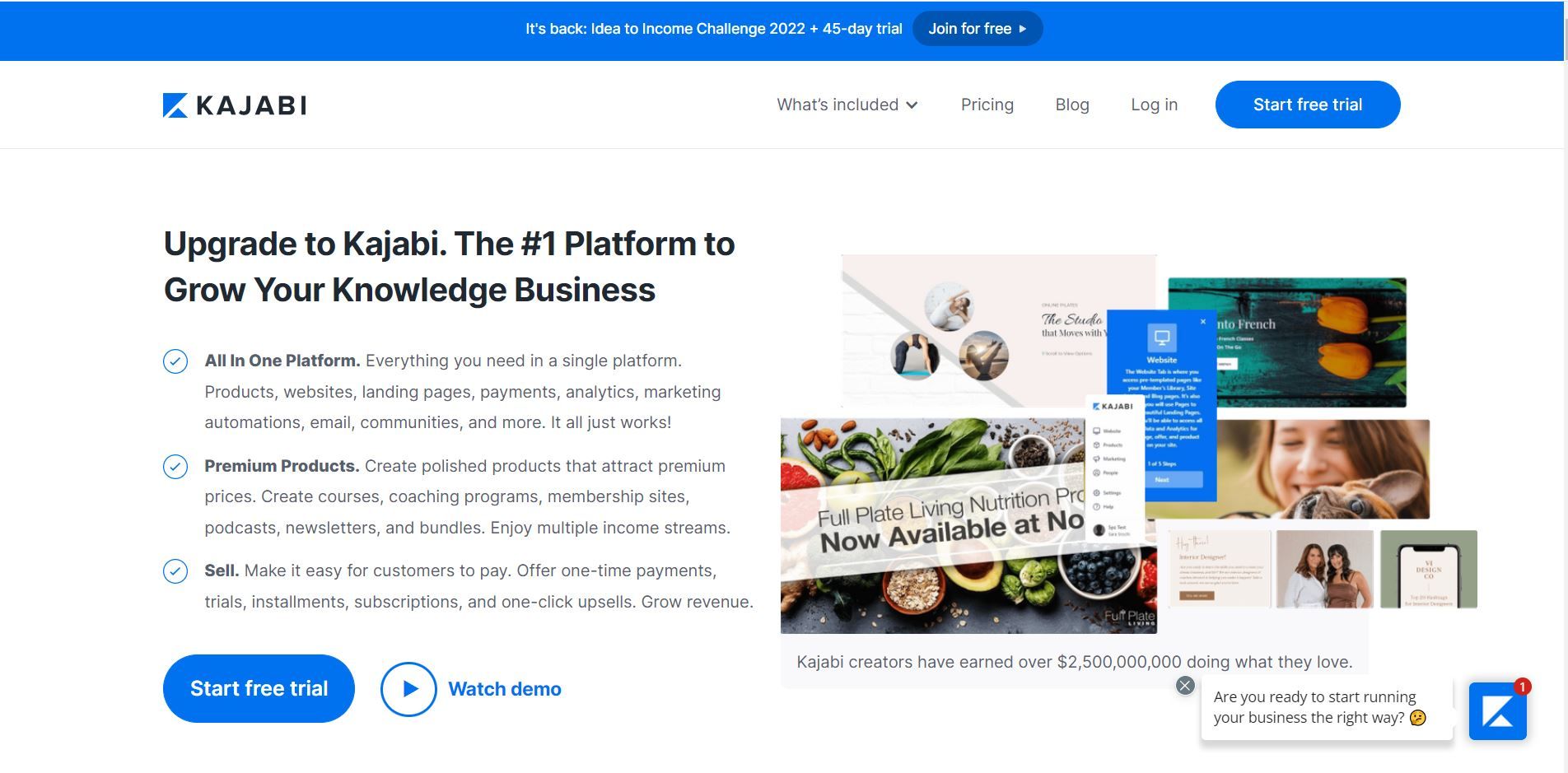 Kajabi is a platform that was established in 2010. This all-inclusive website lets you create your very own learning business by designing courses for students or teachers on any topic imaginable.
Kajabi Vs. Thinkific: Features
Pros:
The completion certificate is designed to be automatically generated on the user's graduation date and time.
Kajabi provides an easy-to-use marketing automation feature for creators who wish to automate their email campaigns.
Kajabi provides a wealth of monetization opportunities. Creators can generate revenue through podcasts, website building, coaching, and more.
Kajabi connects the creators with a choice of payment gateways, giving them more control and visibility.
Kajabi has a wide variety of content formats that you can include in your course. This includes video, audio, and document files, so creating courses with different learning outcomes for every student is easy.
Cons:
Kajabi does not allow for embedding different video players and includes content from S3 or Google Drive.
Kajabi still lacks some essential monetization features such as Masterclass, Newsletters, or Digital downloads.
Kajabi vs Thinkific: Pricing
Kajabi's pricing tiers are based on the amount of usage. It also has a higher cost when compared to Thinkific, which offers similar features for its platform in terms of integrations with other apps and tools you can use.
The different pricing plans are:
1. Basic - $149/month
2. Growth - $199/month
3. Pro - $399/month
Advantages:
Kajabi does not charge commissions for any of its plans. Instead, it comes with 0% commission, and that way, the end customer pays less while scaling.
Disadvantages:
The Kajabi platform offers a range of services, but they do not provide a one-instance plan for all your marketing campaigns. Instead, they have varying pricing plans with different available packages.
Kajabi's pricing is pretty steep for an online course platform. It starts at $149, which puts it higher than other options in this category like FreshLearn.
One of the significant drawbacks to this platform is that it does not have a free plan for creators.
Customer Support and Concierge Migration
Kajabi's documentation and knowledge base allows for a smooth onboarding experience, but it lacks live chat support. To make up for this, they offer email-based help to their users with any questions or issues during setup. Though this takes a serious hit on the responsiveness of customer support.
Kajabi does not provide a service that automatically migrates courses or organizers from other platforms. Creators have to do this manually, which can be time-consuming and difficult.
Thinkific Alternative #4: Podia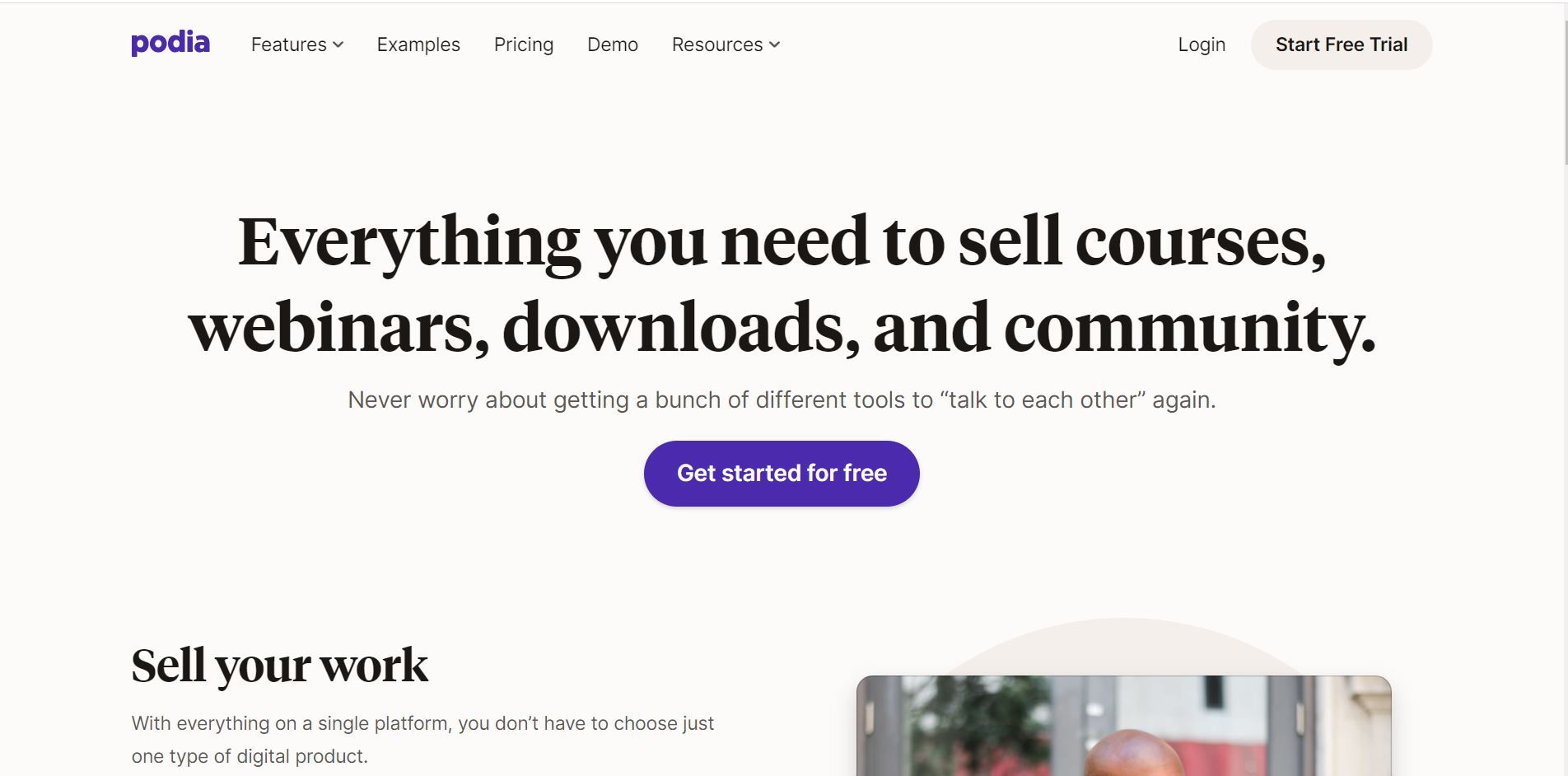 Podia is a platform that enables educators to create and sell courses and manage events with ease.
The simple yet robust interface makes it easy for anyone to make money teaching online or simply share their knowledge on a topic.
The website was founded in 2014, and it provides a straightforward interface for the creators.
Podia Vs. Thinkific: Features
Pros:
Podia is an app that lets you create different products like paid events, digital downloads, and online courses. In addition, creators can monetize their knowledge by creating content.
The certificate generator is easy to use and helps automate related tasks.
The different formats included in your courses - video, audio, or document files - make Podia more versatile.
Podia is a platform that connects creators to their choice of payment gateway.
Cons:
Podia presents a great way to share your video content with others. However, it does not allow embedding different players and includes S3 or Google Drive.
As a course builder, Podia comes with limited features. The reason might be that they started as an online platform but later diversified into different products for teachers and students alike.
The Podia sign-in and registration screens are all very similar, hindering the user experience during onboarding.
Podia Vs. Thinkific: Pricing
Podia pricing is pretty straightforward. Its pricing tiers are based on the
features they provide for each plan.
The different pricing plans of Podia are:
1. Mover - $39/month
2. Shaker - $89/month
3. Earthquaker - $199/month
Advantages:
The most significant selling point for Podia is that it does not charge any commission on its plans.
Podia's Shaker plan provides many advanced features you could ever want.
Disadvantages:
Podia charges an additional fee of $20 per seat.
In addition, Podia doesn't have a free option for creators to test their platform before signing up.
Customer Support and Concierge Migration
With its knowledge base and documentation for creators, Podia is a great tool. However, It does not provide 24x7 live chat support like FreshLearn. Instead, it offers email customer service to customers to help them through their issues. The company also has Concierge migration services.
Thinkific Alternative #5: LearnDash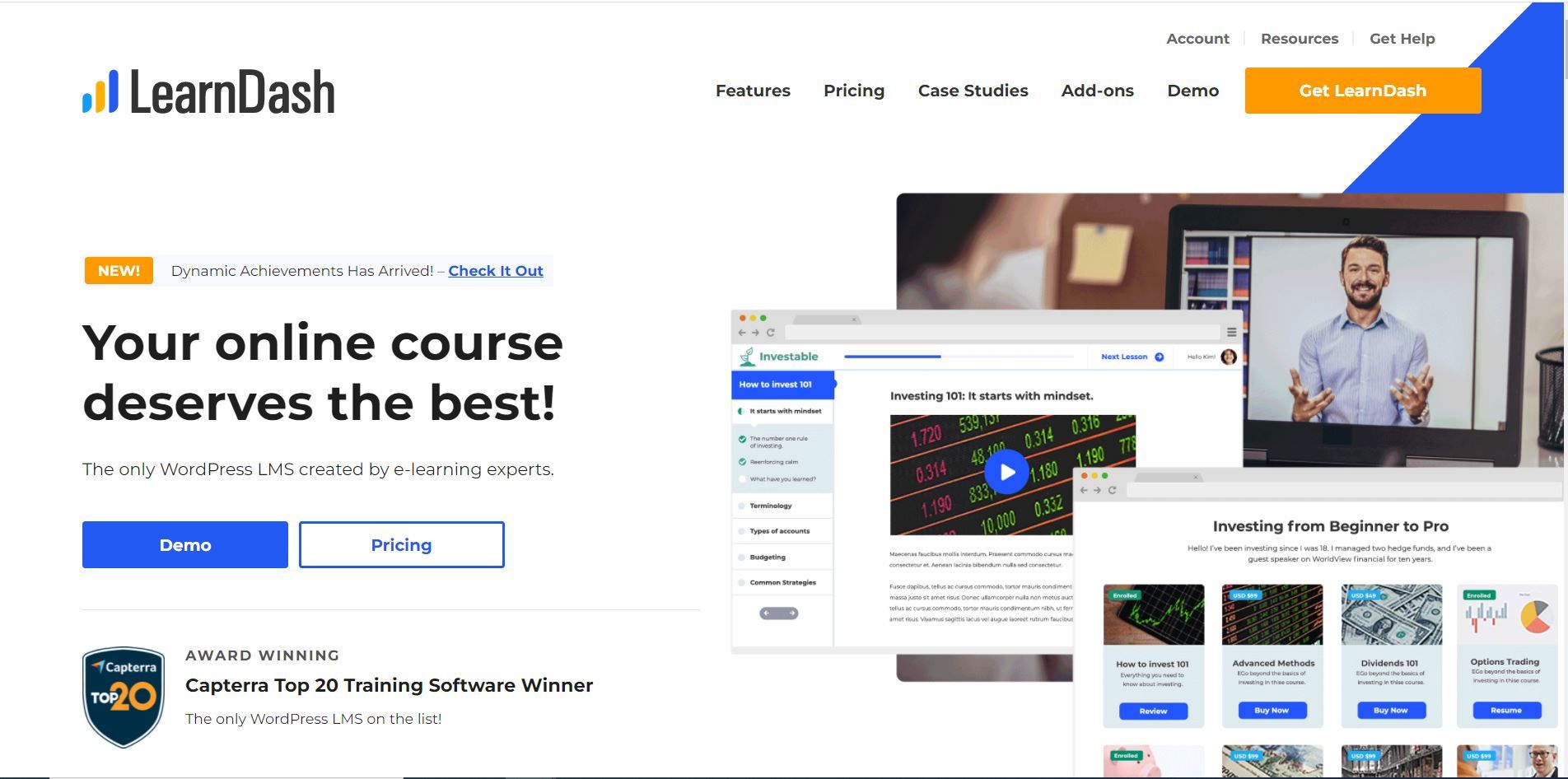 Learndash is an easy-to-use plugin that lets you launch courses online on top of your WordPress site.
This transforms the site into a powerful learning management system for creators to create and sell their course content while tracking user development. They also have the option to award certificates and awards based on performance.
Learndash Vs. Thinkific: Features
Pros:
Leardash is a professional-grade content management system that lets you include different formats like video, audio, and documents in your course creation process.
Leardash automatically generates certificates for course takers.
It is a new platform that connects to your choice of payment gateway.
Cons:
The Learndash plugin will always need tech support because its interaction with other plugins on the website can often create compatibility issues.
Plugins are the backbone of any WordPress site, But too many plugins will break whatever you're trying to do and cause significant issues with loading times on page shoots as well as stability.
Learndash cannot embed different video players.
Leardash is a WordPress plugin that allows anyone to create and manage courses. However, it's not the best choice for creators who are just getting started because there isn't an intuitive or user-friendly experience that dedicated all-in-one creator platforms like FreshLearn offer.
Learndash Vs. Thinkific: Pricing
Learndash offers a low-cost plan. But the pricing structures are based on the features, so it is essential to know what you'll get before signing up.
Otherwise, you may be disappointed later when you overshoot your budget and realize how much more their costs actually are beyond just hosting fees.
The different pricing plans of Learndash are:
1. Basic - $199/year
2. Plus - $229/year
3. Pro - $369/year
Advantages:
Learndash offers a wide range of plans with 0% commissions for all its customers.
Disadvantages:
Hosting, security, and backup are all extra costs you have to pay for on Leardash.
Learndash does not offer a free plan for creators to test the platform.
Learndash contains many vulnerabilities because it relies on other plugins for its functioning.
Customer Support and Concierge Migration
Learndash provides the documentation and knowledge base, but it does not currently offer live chat support for its creators. However, Learndash has email functionality to help its creators with their queries.
But it is important to note that contrary to FreshLearn, Learndash does not provide any special services for course migration. As a result, creators have to migrate their courses manually.
Thinkific Alternative #6: Mighty Networks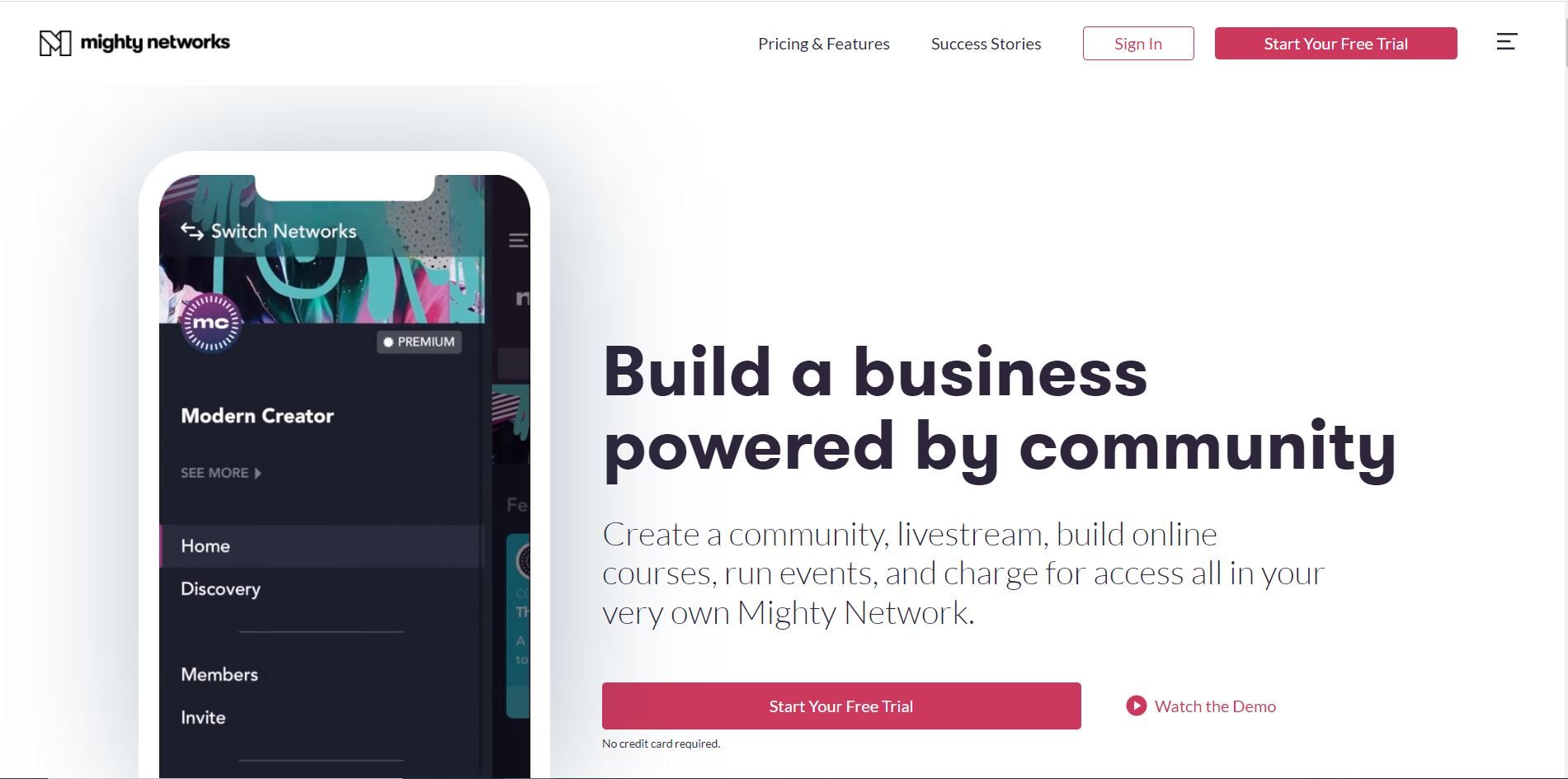 Mighty Networks is an all-in-one platform that allows creators to customize and monetize their created content. In addition, it offers features like online communities, live-streaming events, courses, etc. Mighty Networks was founded in 2017 to drive community innovation.
Mighty Networks Vs. Thinkific: Features
Pros:
The platform comes equipped with many different features available on a centralized dashboard.
The app is available on both iOS and Android devices.
Cons:
The website is not intuitive to navigate, making it complicated and overwhelming for users.
Mighty Networks lacks some essential monetization features such as Masterclass, Newsletters, or Digital downloads.
To natively upload videos or live streams on the platform, users must embed links from other platforms like YouTube and Vimeo.
Numerous basic features should have been included, like more drip-feed settings, shareability, etc.
Mighty Networks Vs. Thinkific: Pricing
Mighty Network's pricing starts at $39/month and scales with each tier.
The Community Plan - $39/month
The Business Plan - $119/month
Advantages:
Mighty Networks offers a free trial.
The app is free of charge.
Creators can connect with their choice of payment gateways.
Disadvantages:
They do not have a free forever version like FreshLearn.
Mighty Networks should have included integrations for standard payment gateways.
They charge a transaction fee on all pricing tiers. For example, the fee for Business Plan is 2%, Community Plan is 3%, and Free Trial is 5%.
Customer Support and Concierge Migration
Mighty Networks offers priority support to Business and Community Plan Hosts. They also include 24/7 customer support. It also offers concierge migration, so creators don't need to worry about moving their courses onto the platform.
Final Verdict
With the rising popularity of creating content on social media platforms, it's more important than ever for creators to have a well-thought-out business plan.
Thinkific has been great at providing easy access but now, many are looking forward to what is coming next, especially with the new changes in content consumption patterns.
Video content is king today, reiterating the strength of creators' revenue streams. Creators today yearn for more comprehensive platforms, next-gen user experiences, and 24x7 live customer support at creator-friendly pricing.
We can conclude that of all the Thinkific alternatives discussed above, FreshLearn is the best alternative for Thinkific.
One of the best factors about FreshLearn is that they provide comprehensive toolsets to convert knowledge into marketable products and impeccable user experience for both creators and students. The pricing is creator-friendly and very accessible when compared with other similar platforms.
FreshLearn also offers complete account migration. This way, creators can rest assured about their data since FreshLearn takes care of everything. Join the road to monetization with FreshLearn and get started today! With over 8000 creators on our platform, you'll have access to all of our features like video creators, social network optimization tools for pages that already exist, or ones you want to create yourself - it's never been easier.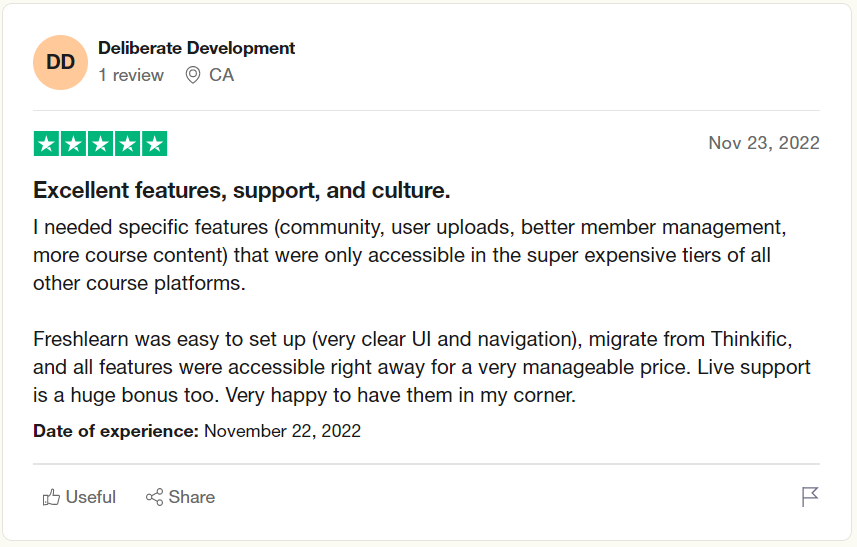 You might also like
Hosted by