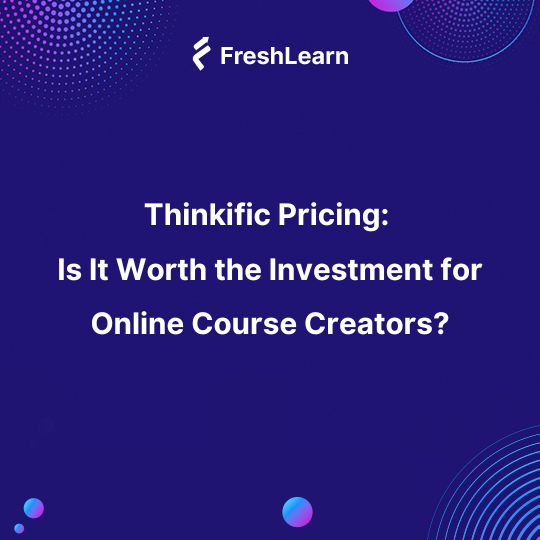 Thinkific Pricing: Is It Worth the Investment for Online Course Creators?
In today's digital age, the demand for sharing knowledge and expertise with a global audience has soared, and Thinkific has emerged as a top-notch online course platform.
But here's the question on everyone's mind: Is Thinkific pricing worth it, or is it too expensive for aspiring course creators and entrepreneurs like yourself?
Let's dive into the intricacies of Thinkific pricing, explore its plans and features, and help you make an informed decision.
After all, we want to uncover whether Thinkific's pricing structure is truly a wise investment or something that might break the bank.
About Thinkific
Thinkific is a really cool technology company that helps people and businesses turn their knowledge into awesome online products. Basically, they have this platform that lets you create and share courses and communities based on what you're an expert in.
And the best part is, you can do it all while keeping your own brand identity and reaching your audience through your own website. It's like having your own virtual classroom where you can teach and connect with your students.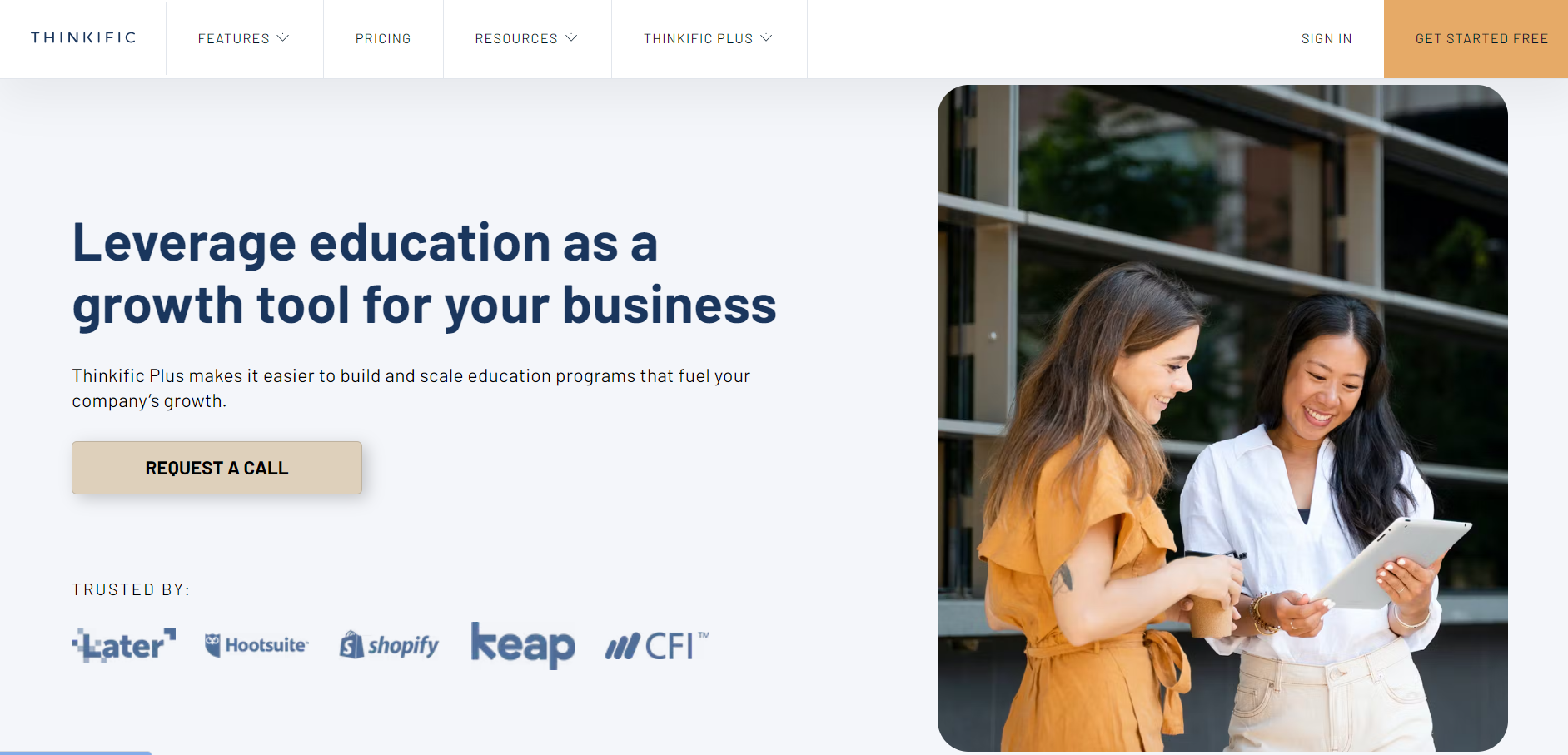 Thinkific is not only restricted to a specific group of experts. Thinkific's tools can be used by thought leaders with blogs or YouTube channels, authors, speakers, subject matter experts, and others to scale their offline companies or monetize their skills.
The opportunities for online education are absolutely endless!
Latest Thinkific Pricing - Quick Overview
Thinkific understands that everyone has different needs and budgets, which is why they offer a variety of plans to choose from. So, let's explore a range of Thinkific pricing plans and find the one that's perfect for you.
Free: $0 per month
Basic: $49 per month
Start: $99 per month
Grow: $199 per month
However, by opting for an annual plan, you can enjoy a 25% discount, allowing you to save even more. So now, the pricing plan would look like this:
Free: $0 per month
Basic: $36 per month
Start: $74 per month
Grow: $149 per month
Thinkific Pricing Comparison
Alright, let's dive into the pricing options available from Thinkific and see how they stack up against each other.
A detailed look at the specific features and benefits included in each plan will give you a clearer picture of what you'll be getting for your money.
And I hope this will make it easier for you to choose the plan that aligns perfectly with your needs and goals.
Thinkific Pricing- Free Plan
Thinkific's Free Plan stands out from its competitors because it allows you to create 1 free course and enrol unlimited students.
Pretty awesome isn't it?
However, it's important to note that the Free Plan is more of a trial or test drive option and may not be suitable if you're serious about growing your online course business.
It's designed to give you a taste of the platform but if you're looking to  unlock more advanced features, you'll need to check out their paid plans
Pros of Thinkific's Free Plan:
Apart from just creating courses, you also get access to one community space where you can foster your community related to your course
As a course creator, you also get administrative access to manage and customize your course content, community, and other features
Thinkific's Free plan does not charge any transaction fees for student enrollments. This means you can retain 100% of the revenue generated from your course sales, allowing you to maximize your earnings.
The Free plan also includes access to email features for 30 days. So, its easy for you to communicate directly with your students via email, providing updates, reminders, or additional course materials
Cons of Thinkific's Free Plan:
Limitations on course creation can be disappointing for creators who want to offer multiple courses on Thinkific.
Although Thinkific offers customer support to all users, the Free plan may have restricted access to priority or personalized support. Higher-tier payment plans typically provide priority support channels, such as live chat or dedicated account managers, which may not be available with the Free plan.
The Free plan lacks the option to remove Thinkific branding from your course or community. As a result, your course may display Thinkific's branding or logo, potentially affecting the overall branding and professional appearance of your online course.
Who can benefit from Thinkific's Free plan?
The Thinkific Free plan is appropriate for people or small enterprises who are just getting started or have a tight budget
Thinkific Pricing- Basic Plan
The Thinkific Basic plan is a cost-effective option that offers several valuable features.
With the Basic plan, you can use your own custom domain, giving you a branded presence for your eLearning platform instead of using a . Thinkific subdomain.
It also provides access to coupons and the affiliate program.
Additionally, the Basic plan allows integration with popular email marketing tools like ConvertKit, Aweber, Constant Contact, and Mailchimp.
You can also connect with other tools through Zapier integrations, which are available on this plan as well.
Pros of Thinkific Basic Plan
The Basic plan includes complimentary access to Thinkific's Accelerator Program, which provides resources, coaching, and guidance to help you succeed with your online courses.
You can create and offer unlimited courses without any restrictions on the number of courses you can host on your Thinkific platform.
You have the option to create one community, which can serve as a space for students to engage, ask questions, and interact with each other. Within your community, you can create up to five different spaces or sections to organize discussions and content based on specific topics or modules.
As the account owner, you have administrative control over your Thinkific platform, allowing you to manage courses, communities, and student enrollments.
There are no limitations on the number of students who can enroll in your courses. You can scale your online education business without worrying about student capacity.
Thinkific does not charge any transaction fees on the Basic plan, meaning you can keep 100% of the revenue generated from your course sales.
You'll have access to both email and live chat support, allowing you to reach out to Thinkific's support team for assistance and guidance whenever needed.
You can use your own custom domain for your Thinkific site, allowing you to brand your online education platform with your own website address.
The Basic plan enables you to create and offer coupons and discounts for your courses, giving you the flexibility to run promotional campaigns and attract students.
You can set up an affiliate program where other individuals or businesses can promote your courses and earn a commission for every successful referral or sale they generate.
Pros of Thinkific Basic Plan
Each student will receive individual emails, and bulk emailing is not supported.
Integrating third-party software like Aweber or MailChimp may incur additional costs.
The Pro plan includes priority support, but it is not available in this plan.
Chat support is not available.
Live lessons are not provided.
Bundles or membership plans cannot be created in this plan.
Who can benefit from Thinkific's Basic plan?
The Thinkific Basic plan is appropriate for people or small organizations who wish to provide online courses but don't require additional capabilities like bulk emailing, integrated sales funnels, or live lessons.
Thinkific Pricing- Start Plan
While it may cost a bit more than the Basic plan, it offers you access to Thinkific's premium features that are specifically designed for course creators like you.
With the Pro plan, you'll have the opportunity to utilize some of Thinkific's most powerful tools, which can help you automate tasks, scale your business, and effectively share your expertise with a global audience.
You'll also get priority support, so any issues or queries you have along the route will be resolved right away.
Pros of Thinkific Start Plan
Apart from all the basic features, here are some other great features you'll get once you upgrade to the Start plan:
You get to create and manage assignments for your courses. You can create various types of assignments, such as quizzes, essays, projects, or practical exercises, and easily track and grade student submissions.
You get bundles and add-on packages where you can group multiple courses or additional resources together into bundles or packages. Bundles can be offered at a discounted price, encouraging students to enrol in multiple courses simultaneously or purchase supplementary materials.
The Thinkific Start plan also enables you to create membership programs or subscription-based models for your courses. Students can pay a recurring fee to access your content, granting them ongoing access to all current and future courses within the membership.
You also get to conduct live virtual classes or lessons for your students. For this, you can use video conferencing tools or integrate with popular platforms to deliver real-time instruction, engage with students, and facilitate interactive discussions.
Finally, with advanced website code editing, you have the ability to edit the website code directly, giving you more flexibility and control over the appearance and functionality of your Thinkific site. It allows you to customize the layout, design, and user experience according to your specific branding requirements
Cons of Thinkific Start Plan
Although the program supports live lessons, it's worth noting that using Zoom for these sessions may incur separate charges.
The program does not have its own built-in sales and marketing platform. Instead, you can integrate with third-party platforms like ConvertKit, ActiveCampaign, or Mailchimp (with additional charges).
The program allows you to send emails to individual students, but it does not offer bulk email-sending capabilities.
Unless you opt for the Growth Package, the Thinkific branding will remain visible on your course materials and website
Who can benefit from Thinkific's Start plan?
The Thinkific Start plan is suitable for individuals who want to build a successful online course business, customize their payment options, establish a thriving community around their courses, and have full control over their branding and content.
Thinkific Pricing- Grow Plan
Priced at $119 per month (billed annually), Thinkific's Grow Plan builds upon the features of the Start Plan.
It offers valuable additions, including three communities with 20 spaces each, two administrators, phone and priority email support, bulk student emailer, bulk enrollments, API access, and the option to remove Thinkific branding.
Pros of Thinkific Grow Plan:
The Thinkific Grow plan offers several additional features beyond the Start plan. It includes the following:
With the Grow Plan, you have the option to remove Thinkific branding from your online course platform. This means you can customize the appearance of your course site to reflect your own brand, providing a more professional and cohesive experience for your students.
It also offers a Bulk student emailer which allows you to efficiently communicate with your students in bulk. Instead of sending individual emails to each student, you can use the bulk student emailer to send messages, updates, announcements, or promotional materials to multiple students at once.
You also get a bulk enrollment feature that enables you to enrol multiple students in a course simultaneously. This is particularly useful when you have a group of students who need to be enrolled together, such as in corporate training or group purchases.
With API access, you can also integrate Thinkific with other applications and services. It allows you to automate tasks, share data, and create custom functionality by leveraging the capabilities of the Thinkific platform.
Cons of Thinkific Grow Plan:
With the Grow plan, you can only have up to two site administrators. This can be a drawback if you have a larger team or want to provide instant access to more individuals for managing your online course platform
The cost of the Thinkific Grow plan may be considered relatively high when compared to similar platforms in the market.
Who can benefit from Thinkific's Grow plan?
The Grow Plan caters to growing businesses seeking advanced features, support, and marketing tools to attract new students and effectively scale their online course business.
Thinkific Pricing: Thinkific Plus
Thinkific Plus is a high-end solution that empowers you to create your online courses with complete creative freedom, enabling you to establish and strengthen your brand identity.
It offers limitless opportunities in terms of course creation, and student enrollment, and even includes robust affiliate marketing tools.
To enrol in the Thinkific Plus plan, you simply need to reach out to Thinkific's support team for assistance and guidance.
Pros of Thinkific Plus?
With Thinkific Plus, there are no limitations on the number of courses you can create, students you can enrol, or admins and partners you can collaborate with.
Thinkific Plus subscribers receive dedicated support from a Customer Success team.
Thinkific Plus offers Single Sign-On functionality, which allows users to access the platform seamlessly using their existing login credentials. This feature simplifies the login process for both administrators and learners, enhancing convenience and user experience.
The Thinkific Plus plan includes advanced security features to protect your course content, user data, and overall platform integrity.
Cons of Thinkific Plus?
The only downside is that it can be a bit pricey and may put a strain on your budget.
Who can benefit from Thinkific Plus?
Thinkific Plus is ideal for large enterprises, educational institutions, and organizations that require advanced features, scalability, and dedicated support for their online course offerings.
Is Thinkific Worth It?
When it comes to Thinkific pricing, it's clear that the platform provides a variety of features and advantages that make it a valuable investment for individuals and businesses aiming to develop and monetize online courses.
However, if you're looking for an alternative to Thinkific that may be more suitable for creators, I'd suggest considering Freshlearn.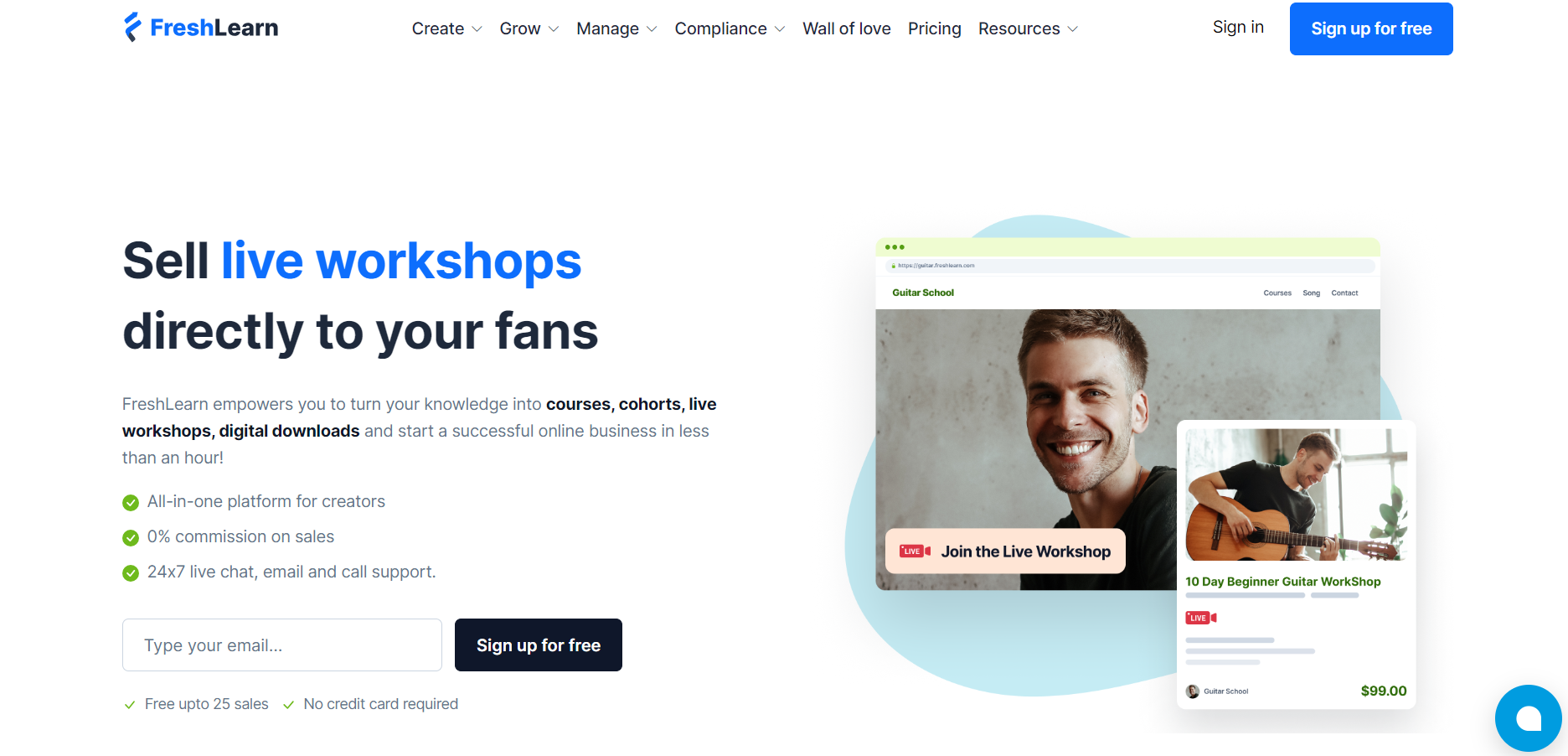 Freshlearn stands out as a top-notch alternative that offers similar functionalities and benefits. It's worth exploring this platform as it could meet your specific needs and requirements in a conversational and effective manner.
Freshlearn offers an impressive pricing structure, starting with a Free plan that allows users to get started without any cost.
The Pro plan, which costs just $69 per month or even less at $49 per year, is where the real bargain is, though.
This cost-effectiveness is definitely something to be excited about. With such affordable pricing, Freshlearn provides an excellent opportunity for individuals and businesses to access advanced features and benefits without breaking the bank.
Also, the customer support provided by Thinkific falls short of satisfaction. Even with free accounts, the level of support is relatively low, lacking a dedicated crew and live chat assistance when issues arise. Email and live chat support only become available starting from the Basic plan, leaving users without immediate assistance during critical moments.
On the other hand, Freshlearn offers superior customer support, even in their free plans. They provide 24/7 call and live chat support, ensuring prompt assistance and resolving queries efficiently.
With Freshlearn, users receive priority email support and phone support right from their free plan, demonstrating their commitment to customer satisfaction. It's definitely a great deal worth considering!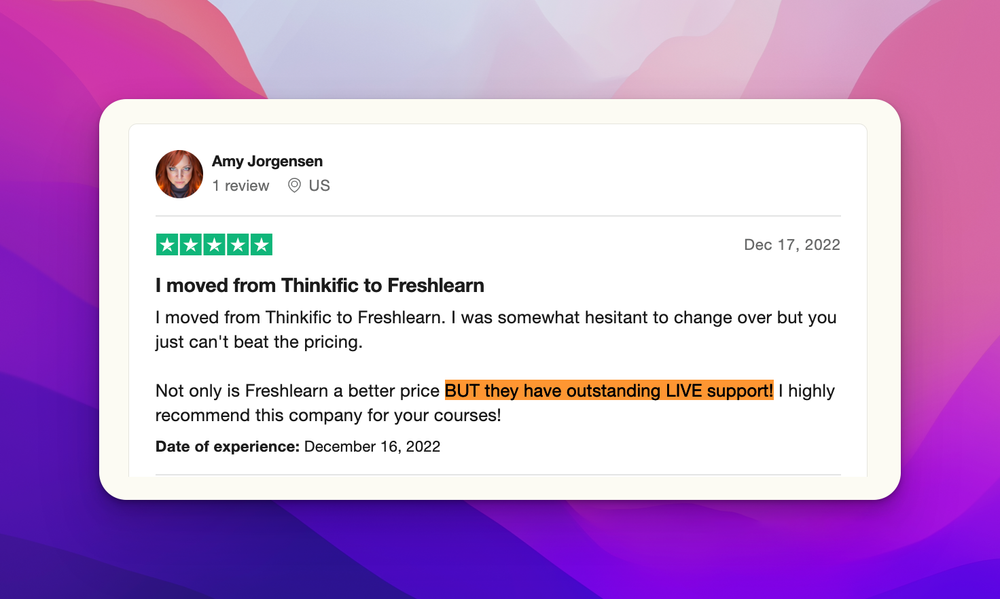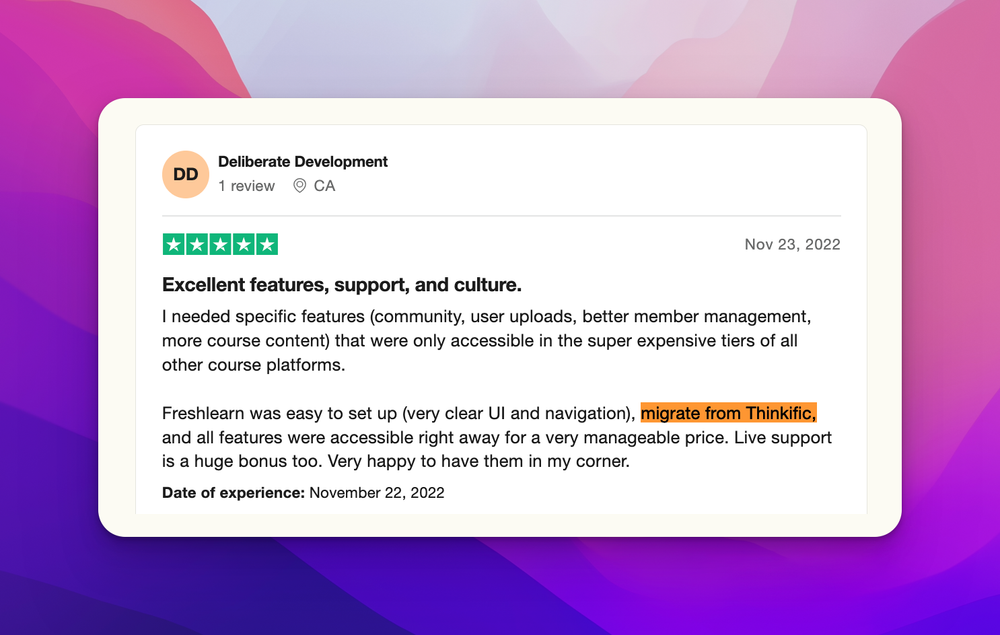 Frequently Asked Questions (FAQs)
What are the pricing options for Thinkific?
Thinkific offers multiple pricing plans. The Free Plan is available at $0/month. The Basic Plan is priced at $49/month or $39/month when billed annually. The Pro Plan costs $99/month or $79/month when billed annually. The Premier Plan is priced at $499/month or $399/month when billed annually.

Can I use Thinkific for free?
Yes, Thinkific offers a free plan that allows you to build and sell courses. Additionally, you can create a website to host your courses without any cost.

Is it possible to download my course from Thinkific?
Yes, you can download PDFs from PDF Lessons and audio files from Audio Lessons within the course builder. Simply click the Download button associated with the specific lesson to initiate the download.

What is the maximum upload size for Thinkific?
For video files, the maximum size limit is 2GB. This is relevant for Video Library and Video Lessons. Image files, on the other hand, can be up to 4MB. This applies to images used in Site Builder sections and Course Cards. Note that images uploaded to Text Lessons can be up to 10MB.
Can Thinkific be used as a website?
No, Thinkific sites cannot be embedded in an external domain or within an iFrame. To utilize Thinkific for offering courses, a Thinkific site must exist as a separate entity. However, you can integrate external marketing or sales pages alongside your Thinkific site to enhance your online presence.
You might also like
Hosted by