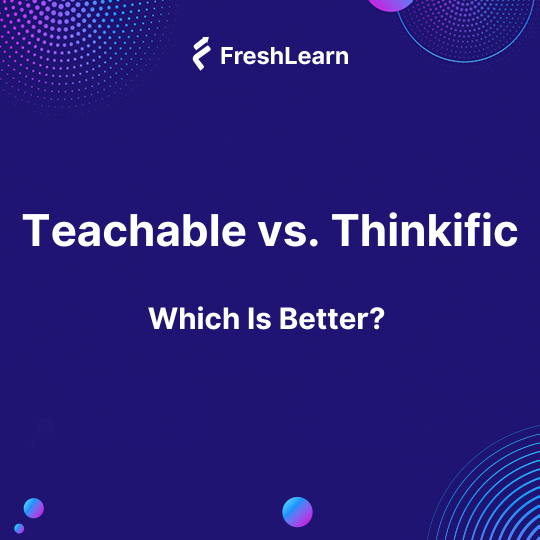 Teachable vs. Thinkific: Which Is Best? ( Updated 2023)
Teachable vs. Thinkific: Where do these popular online course platforms stand in terms of key features and pricing? Is there a better alternative?
Teachable and Thinkific are two popular online course creation platforms that empower creators, tutors, podcasters, and educators to dive headfirst into the e-learning market.
Both platforms have great features for beginners and professional creators to create, market, and sell their content.
Now, you may wonder which platform better meets the demands of the growing creator economy better.
Creators are looking for more comprehensive avenues to build their businesses while also receiving efficient customer support for a fast-growing marketplace.
They yearn for platforms that solve all their woes at affordable prices and provide a great experience for their users, which is a concern that platforms like FreshLearn aim to solve.
So, let's understand how these platforms stack up against each other while meeting the demanding creator economy, to help you make the best choice!
Teachable vs Thinkific vs FreshLearn - Comparison Checklist
What is Teachable?
Teachable was founded in 2014 and is one of the earlier course platforms.
It offers several functional and customization features, driving effective communication between creators and learners.
Teachable offers integrated email marketing, quizzes, advanced reports, etc., that help creators deliver a better experience to their students and improve conversion rates.
Benefits of Using Teachable As An Online Course Platform
Teachable is a feature-rich course platform for selling online courses.
It is a free-to-test online platform for course creators unwilling to fully commit to a platform first.
The platform's features help creators structure their courses into sections and chapters for the students.
It helps creators send custom emails to improve communication and engagement with their students.
Use the tools you already have and enjoy connecting. Teachable provides direct integrations with Google Analytics, ConvertKit, Zapier, MailChimp, and more.
With Teachable's integrated, completely configurable sales page builder, you can start selling right away.
With Teachable's affiliate program, you can earn 30 % commission by referring other creators to the platforms
Teachable provides a Free Plan, i.e., a usage-based plan where the creator will be charged only when they start earning through the platform.
Teachable allows users to upload course content in different formats like Video, Audio, and Documents.
Limitations of Using Teachable As An Online Course Platform
Teachable's course-builder interfaces can be complicated and confusing for first-time users.
It does not offer White label solutions for its creators.
Teachable does not allow different payment gateway options for the creators.
Teachable also withhold payments for almost 45 days after a student pays for a course.
Advanced features such as course enrollments, customer user roles, etc., are available only in the Enterprise Plan, which costs a hefty $299/month.
There are very few monetization features for creators. Teachable does not provide features like Masterclass, Newsletters, or Digital downloads.
Teachable does not provide live chat support or concierge migration for its creators. Check out the best Teachable alternatives that provide these services.
Teachable Pricing
Teachable has four different pricing plans that are distinguished based on the features customers can avail of and commissions.
These are:
Free Plan - $1+9% commission
Basic Plan - $39/month % commission
Pro Plan - $119/month
Business Plan - $299/month
What is Thinkific?
Thinkific is a complete platform that empowers users to easily create courses and manage them using the intuitive admin panel.
It is one of the older learning management system(LMS) platforms and was founded in 2012.
Thinkific provides interactive features that allow better input on the creator's courses and delivers automated features that lighten the load of the creator.
Benefits of Using Thinkific As An Online Course Platform
Educators can use its robust features like surveys or polls to receive reviews and inputs from their students, helping creators make their online courses more engaging.
A wide variety of content formats are available on the platform, including video and audio courses.
Using the sales and marketing tools provided by Thinkific, you can effectively sell and promote your online courses. These include membership websites, rapid access to funds, multiple payment options, affiliate marketing capabilities, etc.
Thinkific has a 0% commission rate and is one of the few learning platforms that do not charge commissions.
Thinkific offers you to create sales pages with their built-in drag-and-drop builder.
Thinkific allows unlimited students and enrollment options in all their paid plans.
Thinkific automatically generates course completion certificates for students without any hassle for the creator.
Limitations of Using Thinkific As An Online Course Platform
Thinkific lacks several top-rated monetization features such as Masterclass or Newsletters.
Thinkific does not support the embedding of different video players, but it supports Amazon S3 or Google Drive content.
The platform's advanced features like unlimited communities, white labeling, Brillium exams integration, etc., are accessible to creators who subscribe to their Enterprise plan, which costs $399/month.
Thinkific does not offer white-label services unless a creator subscribes to their Premier Plan, which costs a whopping $399/month.
Thinkific's pricing plans are complicated because of their Growth Add-on package, which charges for active students.
Thinkific does not provide live chat support on any of its plans.
The platform also does not provide its creators with content migration support, leaving creators to transfer all their content manually. Check out the best Thinkific alternatives here.
Thinkific Pricing
Thinkific offers several advanced features in its premium plan and differentiates customer support based on the creators' plans.
Free plan - $0
Basic Plan - $39/month
Pro Plan - $79/month
Premier Plan - $399/month
Teachable vs Thinkific: Which Online Course Platform is Better?
Course Creation Features
Both platforms allow you to publish limitless videos, create quizzes, conveniently organize your content, drip feed content, create course certificates, track course, and student progress, etc.
Inclusivity
None of the two platforms, Teachable and Thinkific, offer an all-in-one solution.
Features & Performance
Neither Teachable nor Thinkific offers monetization features like Masterclass, Newsletters, or Digital downloads.
However, when pitting Teachable against Thinkific, Thinkific shows better performance because of its sheer number of features compared to Teachable.
Thinkific also provides white-label solutions, unlike Teachable, though this is only available for customers who have subscribed to the Premier Plan.
Migration Support
Neither Thinkific nor Teachable offers complete course migration from other platforms. So, you will have to do so yourself in case you plan to shift to any of these platforms.
Payment
Thinkific boasts a better payment integration than Teachable and does not require a 45-day wait for transactions to be deposited to their account.
Pricing & Commission
Both Teachable and Thinkific aren't the most affordable solution out there. However, both platforms excel in the fact that they do not charge commissions on paid plans.
Free Plan
Both Teachable and Thinkific offer a free plan to let creators test the platforms before fully committing to them.
Payment Integration
Thinkific and Teachable both provide trusted integration with PayPal and Stripe. Thinkific also provides dependable connectivity with third-party technologies for efficient tax management.
Teachable, on the other hand, can also deal with VAT taxes. Its automatic EU VAT collecting feature, on the other hand, can be inconvenient at times.
Marketing Features
With Thinkific, you can easily execute campaigns effectively, by combining your website with more than 1,000 external marketing tools.
Teachable also enables you to take advantage of connectivity with top marketing tools and instantly accept payments using 130+ different currencies.
24x7 Chat Support
Both platforms fail to provide 24x7 live chat support for their creators, failing to help their creators or doing so only for creators who have availed of the higher-priced plans.
FreshLearn- A Better Online Course Creation Platform
However, both platforms are pretty expensive for their pricing plans. Teachable and Thinkific provide advanced features in their Enterprise plans that are expensive and only accessible to a handful of creators.
A better third option i.e. FreshLearn just kills the competition.
Teachable and Thinkific both lack certain features like various monetization products, 24x7 chat support, and concierge migration support for their creators, all of which FreshLearn provides.
Though Teachable and Thinkific both provide unlimited courses, enrollment, and course content, they can only be scaled with the plans. FreshLearn offers all this and much more on its Free Plan alone.
It is no joke to say that FreshLearn drives course creator-friendly prices, especially against Thinkific and Teachable which offer the same features and less for 8 times the price.
FreshLearn is the most complete platform for course creators, especially those who are just starting, as FreshLearn's detailed YouTube tutorials can help even the most novice creators to set up their businesses.
FreshLearn provides better services and features in areas where Teachable and Thinkific fail. It's the latest entrant in the market, aiming to help creators make a better first impression.
As an all-in-one platform, FreshLearn is a better Teachable alternative as well as a better Thinkific alternative because:
FreshLearn's course creation interface is more intuitive and user-friendly. Their team also uploads regular and detailed videos on their YouTube channel to help creators optimize.
FreshLearn provides payment gateways such as Stripe and PayPal.
Users also do not have to wait for 45 days to get their money into their accounts.
The platform also offers you to create membership sites where you can create special course content for your paid members.
To launch your marketing campaign with ease and efficiency, FreshLearn provides you with a fantastic collection of email templates. You can use beautifully designed, mobile-responsive email templates to engage customers quickly and promote your online business.
FreshLearn provides several monetization features in the form of Online courses, Masterclass, and Digital Downloads.
Advanced features like bulk student uploads and course enrollments are available in FreshLearn's No Brainer Plan at $41/month, which is considerably cheaper than both Thinkific and Teachable.
FreshLearn pricing plans are affordable and feature-rich.
Unlike its competitors, FreshLearn supports embedding different video players such as YouTube, Vimeo, Amazon S3, and Google Drive streamlining the creator and student experience.
FreshLearn also provides automated certificates for students, similar to what Thinkific provides.
FreshLearn provides 24x7 live support for its creators and has a YouTube channel detailing the course creation process for its creators.
The platform also provides Free content migration support for its creators.
FreshLearn also offers you to build an online community where you can share your knowledge and opinions with your community members
The platform has three simple pricing plans:
Free Forever Plan at 9% commission
Pro Plan at $25/month and 0% commission
No Brainer Plan at $41/month and 0% commission.
The Verdict: Teachable vs. Thinkific
Both Teachable and Thinkific are good platforms but FreshLearn is the online course platform that creators love to use because it drives affordable prices and provides numerous new-age features to creators, helping them grow their businesses effortlessly.
FreshLearn
FreshLearn has over 11475 creators who have earned $20 million or more and have established online courses and sold digital products straight to their audience on their branded websites.
And the best part? It even comes with a Free Forever Plan! So, what are you waiting for? Start your free trial period today!
You might also like
Hosted by