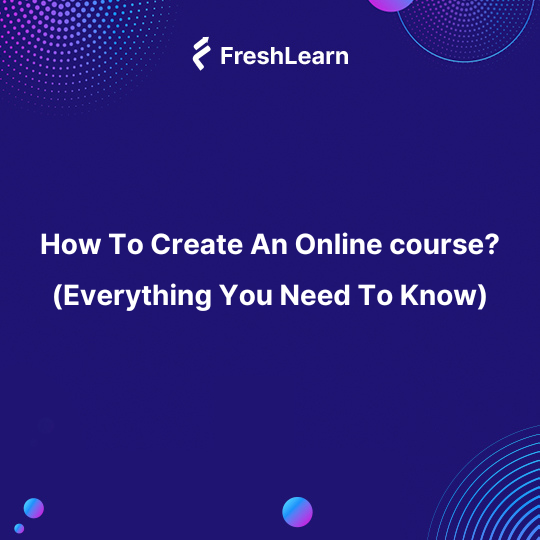 How To Create An Online Course? (Everything You Need To Know)
Now, wear your teaching hat and get ready to kick off the exciting journey of Creating an Online Course.| FreshLearn | E-Learning | LMS|online course
Congratulations! Being here means you have cleared the first step, which is being sure of wanting to teach online.
Great efforts are always preceded by a strong will. Now, wear your teaching hat and get ready to kick off the exciting journey of creating an online course.
Before we go further on this path, let us indulge you in some trivia. Did you know that the global online teaching market is set to touch $350 Billion by 2025?
This is, mind you, a pre-2020 projection. With the online learning market exploding due to the lockdown, the figure is only set to increase.
In more ways than one, it is the best time to start teaching online.
So, whether you are a corporate employee who has finally found some free time to pursue the post-retirement desire of teaching or a dance instructor who misses guiding students in physical classes and shows — you're at the right place.
The world of online teaching is not nerve-racking but might seem a little intimidating because of the overload of courses and information this year.
Don't worry, we're here to tell you why it doesn't have to be so. Let's start at the very start.
The Birth Of Your Successful Online Course
There are two pillars for this stage, inspiration, and research. You're not even thinking about the course topic yet, you're just introspecting.
Inspiration:
Teaching is an art. You've seen it in your favourite teachers and professors from your school/college days.
There was that one history teacher who could make World War less scary and more fun to study, that one marketing professor who made it seem like selling hotcakes is everybody's game.
You've also seen it in that one colleague who makes PowerPoints look like a short film or that cousin who taught you how to play the guitar better than any formal teacher.
There is one thing common between all of these people — inspiration. They are all extremely motivated people whose passion is infectious.
Now, ask yourself. What is your true passion? It could be anything from a dance form to organizing Excel sheets.
You will find students for everything. It doesn't have to be something popular or trending on LinkedIn.
It's better to carve your niche where you're more confident and less influenced by others. This niche is where your passion and your skills converge.
Research:
After inspiration comes to research. This gives a method to your madness. Although you can create your own research methodology, here are a few steps you can begin with:
Look for existing courses and course content in your field of choice.
Read up to expand your knowledge and expertise.
Take an online course yourself. Use Google Search, Quora, blogs, social media, and any other relevant online tool.
Talk to interested people you know and find on online forums.
Find out which aspect of your passion they are most interested to learn, and how they'd like to learn it.
By this stage, you are motivated enough to get into the details. Let's begin by determining the type of your course, which will make creating an online course easier
Types Of Online Courses
You will find a lot more types than the ones listed here, but these are the only ones you need to know.
The rest are only narrower categorizations of these. We believe that it would be better for you to not fall into meticulous structures and instead find your own space, and build your own structure.
1. Masterclass:
Masterclasses are advanced-level courses. These aren't usually meant for beginners.
They're for people already well-versed in the field who want to gain expertise. For this, you have to be an expert yourself. These courses are best suited for creative fields.
2. Coaching:
Coaching courses are where you, the coach, help an interested beginner gain knowledge of a topic and learn the ropes.
These include everything from business coaching, career coaching, and personality development, to yoga coaching.
3. MOOC:
Massive Open Online Courses are meant for unlimited participation from across the world. These are easily repeatable, fixed syllabus courses that promote student communities.
They're good for fields such as STEM, business, humanities, and technology.
4. Corporate Training:
In fields such as hospitality, Human Resources, and administration, employee training is crucial.
In the current situation, an online course is the best way to provide corporate training.
Corporate training topics range from confidence-building to personality development and communication.
5. Creative Courses:
Gone are the days when you couldn't turn your hobby into your profession.
Creative courses are very unique in themselves, and each needs a different approach based on the nature of the art.
A dance class would require both the teacher and the student to have a spacious room. A musical instrument would be a must for a music class.
For visual arts, students might need physical material such as paints, or even software, depending on the course niche.
Keep these specific requirements in mind while working on your creative course.
Roadmap For Creating An Awesome Online Course
Here you can see some online course creation tips. Now that you have probably figured out the domain of teaching, let's get to business.
What you have now is a subject, a course category, your expertise, your subject research, and your target audience research.
That's plenty of material to start working on your actual course material.
1. Pick a specific topic
Based on your research of the theme and the audience, find out what marketing professionals often call 'pain points.
These are gaps in the market, areas that no one else has touched. For example, say you want to teach the violin.
You find out that there is hardly anyone teaching it exclusively to senior citizens, who need a different pace and approach from children or youngsters.
Tap the pain point and introduce a specific course for them.
2. Decide the end goal of your online course
When you decide to create an online course, ask yourself a main question: What is it that your students will take away at the end of this course?
Just like you must have done with research papers in college, determine your conclusion first. Then, build towards it. Express the end goal in a sentence.
For example, 'At the end of this online course, students will know how to read and write basic sentences in French, along with some cultural knowledge about France."
3. Make Your Drawing Board
You're probably imagining a wall full of ambiguous post-its, pins, colours, flowcharts, and maps, like in the movies.
That's exactly what we're suggesting. When we say make your drawing board, we mean to make one literally.
When you create an online course, jot your ideas down in words, sketches, tables, etc. Use coloured pens and sticky notes. Put all of it down where you can see it simultaneously.
At this point, every idea is a good idea. Put it down without thinking about whether it makes sense to anyone else or not.
4. Organize Your Board
Now comes the tough part. Take out ideas and elements that do not fit within the goal you had decided for your online course in Step 2.
With the rest, make a class-wise plan. Then, set a mini-goal for each of these classes. For example, let's assume that you're conducting a baking course. Here's how the course structure would pan out:
Lecture One: Introduction to baking
Goals: Identifying baking tools, usage of a microwave, and basic practices
Lecture Two: Types of cakes
Goal: Understanding the difference between the basic varieties
Lecture Three: Making a basic cake
Goal: A small cake for two
Lecture Four: Frosting and other decorations passive income
Goal: Adding frosting and other personalized decorations to the cake made yesterday
Decide how much time each class would roughly take, including introduction, lessons, and discussions.
5. Add Interactive Elements
The most engaging, creative way to achieve the goal of each class is an activity.
Divide your students into groups and give them something to work on like activities and assignments. Promote conversations and discussions amongst themselves.
After the class, give them assignments as well. Make sure not to make them too heavy.
A good measure to keep in mind would be that it should be something they can finish within an hour. This keeps them involved without putting too much pressure on them.
6. Put Your Online Course Together
Now that you have a clear course outline, it's time to create an online course.
There are numerous tools available for you, starting with the basic PowerPoint (which is actually not very basic, it has unbelievable features that you could very well need a whole online course to learn), to sophisticated tools such as Photoshop. Use a combination of tools that suit you best.
This is your time to make a fun presentation you can never submit to your boss.
7. Conduct A Crash Test
Now, you have your course. Do you immediately launch it? Of course not. It's your first course. You need to test it.
Hold a free webinar or lecture on the same topic, and carefully note down the response and feedback you receive.
The webinar will also serve as a marketing tactic for your upcoming course. You can even hold a demo class with friends and relatives and take their feedback.
Remember that any criticism you receive is only a chance for you to improve.
8. Add Finishing Touches
Based on the feedback you receive, make alterations to the course. Review each part including the assignments.
After your crash test, you might realize that school students get easily distracted while reading a book without pictures, or that teenagers want to be treated as adults and would like more challenging assignments.
Derive these key insights and refine your course. Even if you realize that you have to go back to the drawing board, do it.
It's okay if your course is delayed, but not if it's short-sighted.
9. Choose The Right Online Course Platform
Now that the final draft of your course is ready, you need to pick a platform to run the course on.
There are a plethora of platforms online, and you might get confused because each offers some advantages.
It would be best to simply pick the one that lets you do what you want freely and turn every feature into an advantage.
At FreshLearn, customization is the top priority. While hosting your course, it provides the following features which let you design every part of your course as per your preferences.
Heavy on-course personalization
Ideal user journeys
Prompt quizzes and assessments
Custom domains for every course
Effortless payment unification
Smart third-party integrations
Completely Whitelabel and re-brandable operations
Next-gen reporting and analytics
Support for solopreneurs and organizations
10. Pre-sell Online Courses
Pre Selling online courses is essential to the course's success. Course creators can create anticipation and interest before the course is even released by preselling.
It's a great way of marketing online courses and by doing so, creators can determine how popular the course is and make any required adjustments prior to launch.
Preselling can also give the instructors access to insightful feedback from prospective students, enabling them to modify the course to better suit their target demographic.
It can help create income before the course is even made available, giving the creator a financial safety net and raising the likelihood that the course will be successful.
Here are a few ways how you can pre-sell your online courses:
Create a mailing list
Make a list of prospective learners who are enthusiastic about your course. You can collect email addresses via landing sites, social media, and other channels.
Establish a sales page
Make a sales page that concisely outlines the advantages of your course, the issues it addresses, and the results students may anticipate.
To improve the page, add images, reviews, and social evidence.
Give an early bird discount
Offer a unique discount or time-limited offer for early signups. Students are motivated to enrol early because of the sense of urgency this creates.
Make a free mini-course or webinar
Through a webinar or mini-course, provide a free sample of your course.
This gives potential students an idea of what to anticipate and enables you to showcase your knowledge and teaching approach.
Get your audience involved
Utilize email, social media, and other ways to stay in touch with your potential pupils.
Show them you care about their success by responding to their inquiries and resolving their issues.
11. Sell Your Online Course
Selling online courses involves three key elements. Once these are done, you'll be ready to hit the play button.
Pricing:
You already know your audience. Now, decide how much you'd like them to pay.
Don't make the mistake of charging too little just because it's your first course.
Remember that this will also decide your reputation in the future. You can also decide on a base price and then charge extra for optional add-ons such as extra lectures, curated notes, etc.
Naming:
After the price comes to the actual selling. Name your course.
This is the last step and not the first because now, your name will be inclusive of your own online course material, your audience goals, and your USP as a teacher.
The best way to name a course is to describe it as taking a student from point A to point B. i.e. 'Learn How To Play 5 Yanni Tracks On The Violin In 5 Weeks'.
Promotions:
After you create an online course, start promoting it on social media and personal circles first, and then move on to niche platforms that are relevant to your audience.
For example, if your audience is millennials from the US, you should probably tap into Reddit.
Remember that it's your first course. Heavy promotion might not lead to a heavy flow of inquiries and registrations.
This is, however, just the beginning. These promotions are going to build your brand image for future courses.
12. Build Your Online Community
When you create an online course, developing an online community is a must. This is because it encourages student participation, collaboration, and a sense of belonging.
Students are more inclined to participate actively, ask questions, offer feedback, and share their experiences when they feel a sense of community.
This can result in a deeper learning experience for everyone participating, as learners can learn from one another and gain new insights.
Here's how you can use an online community for your benefit:
Create a discussion forum
This is a fantastic approach to encourage interaction between students. It enables interaction between students since they can converse, exchange knowledge, and work together.
Boost participation
Asking questions, providing rewards for involvement, and highlighting noteworthy debates can all be used to entice students to join in the discussion forum.
Develop a sense of community
Encourage connections between students by establishing a friendly environment that fosters a sense of community.
Use icebreaker exercises, make introductions, and provide opportunities for students to interact with one another.
Host live events
It's a terrific idea to host live events, like webinars or Q&A sessions, to foster a sense of community.
It makes the learning process more intimate by enabling real-time communication between students and you and other students.
Offer recommendations & feedback
Encourage students to give one another comments on their work or tasks. As students learn from one another, this not only aids in helping them improve their work but also fosters a sense of community.
Utilize social media
Connect with students on sites like Facebook, Twitter, and LinkedIn to share information and updates.
13. Gather Feedback
When creating online courses, feedback is essential because it enables teachers to see how their students are responding to the material and pinpoint areas that could need improvement.
By asking for feedback, teachers can learn more about how their students are taking in and comprehending the material, spot any areas that require further explanation or clarification, and assess the overall success of the course.
Here are a few ways how you can gather feedback from your students:
Conduct a pilot test
Before announcing the opening of your course, run a trial run with a small sample of students. You will be better able to pinpoint any problems with the user interface, delivery mechanism, or content of your course as a result. Additionally, you can make use of this chance to ask your pupils for feedback.
Surveys
They're an excellent way to get feedback from your pupils. Create polls using online survey platforms like SurveyMonkey, Google Forms, or Typeform, then distribute them to your students. You are welcome to ask questions concerning the course's content, instruction, user interface, or any other area of the course for which you would like to get feedback.
Request feedback during live sessions
If you include live sessions in your course, do not hesitate to request feedback from your students during these sessions. You can request their opinions on the course's delivery, content, or any other element.
Use social media
To get feedback from your pupils, make use of social media sites like Twitter, Facebook, or LinkedIn. To promote conversations and collect comments, you can set up a private group like Facebook groups or use a hashtag.
Offer incentives
Giving your students discounts, free courses, or other perks can entice them to offer feedback. You can utilize this criticism to enhance your course and make it more useful for prospective students.
Are You Ready To Create Your First Online Course?
We reckon you are!
There must be a lot of thoughts going through your head with most of them turning into questions such as, "Should I do this?", "Will it be profitable?", "Will I be good at it?"
The best part about online teaching is that you only invest time and effort. There is nothing to lose here.
You will gain new knowledge for yourself, even if your financial or other goals aren't met immediately. So, it's time to stop thinking and start doing it.
We'll leave you with some inspirational words from one of the best teachers in the universe.
"Try not. Do… or do not. There is no try."
Yoda, Star Wars
FreshLearn lets you transfer your knowledge into an online school. Start creating online courses and launch your online academy in less than 60 mins.

You might also like
Hosted by