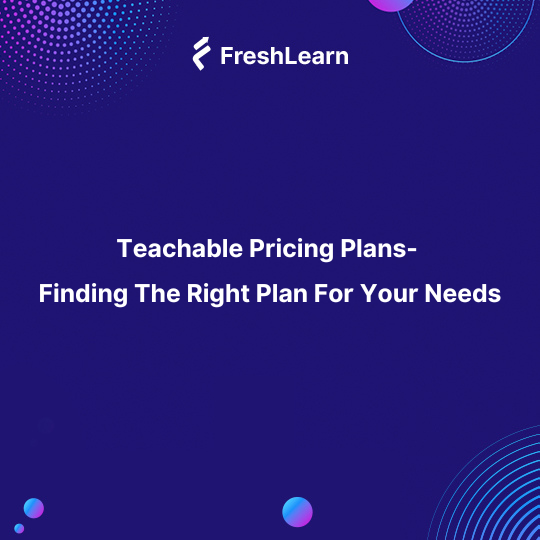 Teachable Pricing Plans- Finding The Right Plan For Your Needs
You've honed your expertise, crafted your curriculum, and now you're ready to dive headfirst into the exhilarating realm of online teaching. That's great!!
Teachable, a popular platform for online educators, holds the potential to showcase your knowledge to a vast and enthusiastic audience. However, before you take that leap, let's take a moment to delve into the pivotal topic of Teachable pricing.
So, Teachable recently made an announcement through email that they're going to increase their prices from August 1, 2023, and people are not happy about it.
Well, It's very usual in the software industry for the price to rise over time, but Teachable's hike appears to have irked their users, especially when compared to alternative learning platforms available out there.
I also found some tweets where users were expressing their disappointment. They feel like this price hike is too much compared to what other similar platforms are offering.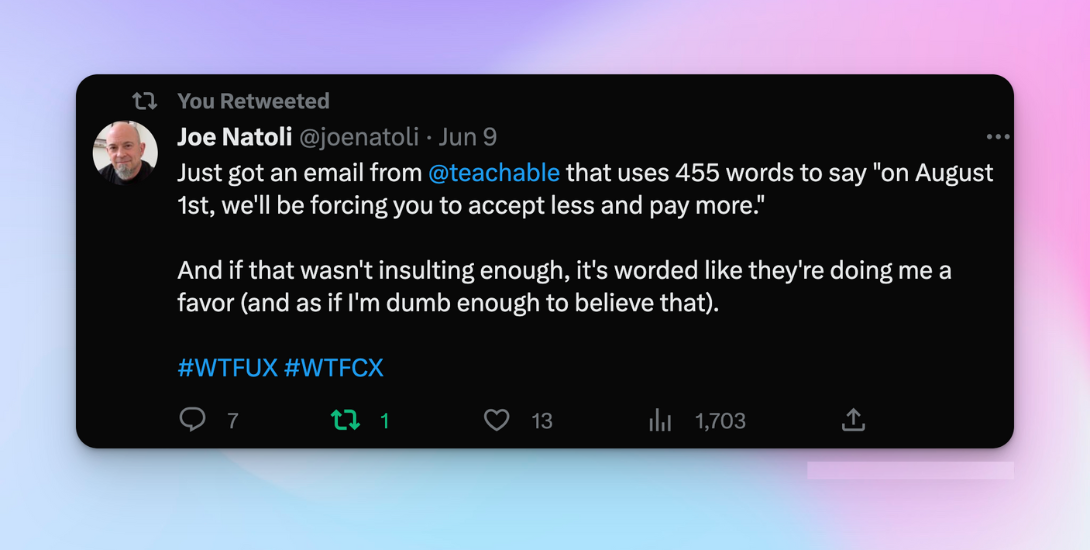 People are also questioning if the new price is really worth it, considering the features, functionalities, and support they'll be getting. I mean, they're not wrong though!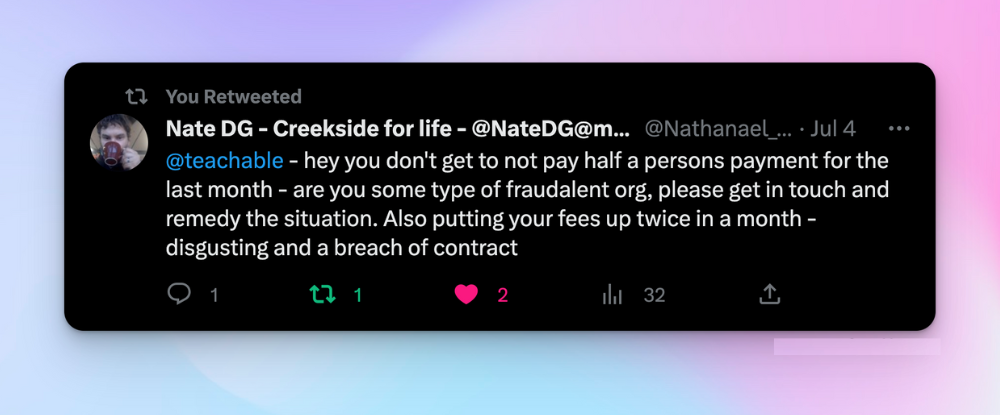 So, yeah, it's clear that Teachable's pricing decision has sparked some serious upset among their audience. The tweets highlight the dissatisfaction with the size of the increase compared to other platforms, and people are genuinely concerned about the value they'll be getting for their money.
It's definitely something Teachable should pay attention to if they want to keep their users happy and prevent them from jumping ship.
However, let's take a closer look at what Teachable is actually offering in their plans and examine the pros and cons as well.
About Teachable
Teachable is not just your ordinary online course platform—it's your ultimate partner in creating, marketing and selling your courses to eager learners.
With Teachable, instructors like you have the power to unleash your knowledge and expertise on a global scale. Whether you're a seasoned expert or just starting out, Teachable has all the necessary tools to create compelling and interactive courses.
You have the creative freedom to construct your courses precisely how you want them, thanks to a user-friendly drag-and-drop editor and a choice of multimedia possibilities such as videos, text, photos, audio files, and quizzes.
But it doesn't stop there! Teachable goes above and beyond by offering robust marketing tools, sales features, and even email marketing integration to help you maximize your course sales.
You have the opportunity to pick what works best for your audience and revenue goals with flexible pricing choices like fixed fees or monthly subscriptions.
Latest Teachable Pricing - Quick Overview

Let's take a closer look at the various Teachable pricing options available for you to explore. They've got a few different plans that cater to different needs, so you can find the perfect fit for your online course business.
Free: $0/ month ($1 + 10% transaction fee)
Basic: $59/ month (5% transaction fee)
Pro: $159/ month (0% transaction fee)
But wait, there's more! By opting for an annual subscription, you can unlock additional benefits and save 33%. So, here's a closer look at what the Teachable pricing plan would look like when you choose the annual option.
Free: $0/ month ($1 + 10% transaction fee)
Basic: $39/ month (5% transaction fee)
Pro: $119/ month  (0% transaction fee)
Additionally, there is a business enterprise solution available specifically tailored for business owners which you can get for $665 per month. However, with an annual plan, you can get it for $499 per month.
Teachable Pricing Comparison
Teachable Pricing- Free Plan:
While the Free plan offered by Teachable doesn't require direct payment for its available features, it's important to note that there are other costs to consider. When utilizing Teachable for free, each sale you make will incur a $1 fee along with a 10% transaction fee.
Additionally, standard payment processing fees, applicable to all payment service providers, should be taken into account. Although these expenses are not exclusive to Teachable, they still represent additional costs that should be considered.
Pros of Teachable Free Plan
The Teachable Free plan offers a wide range of features for online course creation and management.
Technical aspects are handled by Teachable, allowing business owners to focus on developing course content.
The plan includes unlimited video bandwidth and the ability to accommodate unlimited students.
Email support and coaching services are available to assist with any inquiries or guidance needed.
Live coaching services are also provided to enhance the learning experience.
Course design templates are available to streamline the course creation process and you can also create course completion certificates.
Integration with multiple payment platforms allows for convenient payment processing.
Flexible pricing options are offered, including the ability to sell in multiple currencies and create various pricing plans, subscriptions, and payment plans.
Course creators on the Teachable Free plan have access to create quizzes and surveys to gather valuable student evaluations and feedback.
Cons of Teachable Free Plan
The Teachable Free Plan does have some limitations, especially for course creators who have built a successful business. It's designed more as a way to just test the platform, which is common among online course platforms.
Teachable takes a $1 + 10% fee from each sale you make.
Another limitation of the free plan is that it only allows for one admin user. This means you won't be able to have multiple team members or collaborators managing your courses alongside you.
Additionally, you're limited to using only the Teachable subdomain, which may not provide the same level of branding and customization as having your own custom domain.
Who can benefit from Teachable's Free plan?
Teachable Free Plan is particularly advantageous for people embarking on their online course creation journey, as well as those seeking an affordable means to assess the platform's capabilities.
Teachable Pricing- Basic Plan:
For a reasonable monthly fee of $59, Teachable's Basic plan offers course creators several attractive features. With this plan, you can have up to two admin users, create up to 5 courses, and provide unlimited digital downloads to your students. Additionally, you have the flexibility to take on as many coaching clients as you wish.
While Teachable still applies a transaction fee on the Basic plan, it's a more manageable 5% per transaction compared to the Free plan. This means you retain a larger portion of your earnings.
Pros of Teachable Basic Plan
Unlike the free plan, the Basic Plan allows you to use a customized domain name, which adds a professional and credible touch to your course.
With the Basic Plan, you have the option to drip your course content. Instead of releasing all the lectures at once, you can schedule and release them gradually, building anticipation and engagement among your students.
The Basic Plan still provides access to coupon codes for promotional purposes, a community feature to foster student interaction, and the ability to integrate with third-party tools and services for enhanced functionality.
As a newbie in the course creation industry, the Basic Plan offers valuable course creator training resources, helping you acquire the knowledge and skills necessary for success in creating and managing online courses.
Cons of Teachable Basic Plan
The Basic Plan still applies a 5% fee on each sale you make, reducing your overall earnings.
Important features like an integrated affiliate program upsells, Zapier actions, compliance certificates, custom user roles, and bulk student import are not unlocked with the Basic Plan.
The absence of affiliate programs and course upsells restricts your ability to implement effective marketing strategies and maximize revenue potential.
Similar to the Free Plan, you are unable to grade your students or issue certificates upon course completion.
Zapier, a popular marketing tool, is not available with the Basic Plan. This integration enables seamless connections with various apps such as Google Sheets, Mailchimp, and ConvertKit, automating workflow and streamlining your online course creation process.
Utilizing Zapier allows you to automate repetitive tasks, saving time and allowing you to focus on more important aspects of your course creation journey
Who can benefit from Teachable's Basic plan?
Teachable's Basic plan can benefit course creators who are looking for a more professional appearance, want to drip their course content, and are willing to pay a 5% transaction fee on each sale.
Teachable Pricing- Pro Plan
With Teachable's Pro plan, you can bid farewell to transaction fees and enjoy the freedom to create unlimited courses. The admin user limit is expanded to accommodate up to 5 users.
Moreover, in addition to the features offered in the free and basic plans, you gain the ability to provide current students with an affiliate link, allowing them to earn commissions for referring new students to your courses.
Pros of Teachable Pro Plan

With the Pro Plan, you can now grade quizzes and provide certificates to your students upon course completion, boosting their motivation and providing a sense of achievement.
You can take advantage of, of course, upsells on the Pro Plan to drive traffic and promote other related courses within Teachable, expanding your revenue potential.
Unlike the Basic Plan's email support, the Pro Plan offers access to live chat support, providing more immediate and effective assistance for your inquiries and concerns.
With the Pro Plan, you can also seamlessly connect numerous third-party apps with your Teachable school.
Cons of Teachable Pro Plan
The Pro Plan offers a selection of pre-defined templates to choose from for your website appearance. However, customization beyond these templates through coding is not possible in this plan.
Creating custom admin roles is not available in the Teachable Pro Plan. You'll need to work within the built-in roles of Website Owner and Course Author and ensure they meet your specific requirements.
If you already have another website, it's common for online course creators to collect student data such as names and email addresses. This enables effective and direct communication with your students, facilitating a more personalized learning experience.
Who can benefit from Teachable's Pro plan?
The Teachable Pro Plan is an excellent option for creators with a higher earning potential or smaller businesses that have developer resources readily available.
The Business plan offered by Teachable is priced at more than three times the cost of the Pro plan. With the Business plan, you can add up to 20 admin users and gain access to advanced theme customization.
This includes the ability to custom code the appearance of lectures, courses, pages, and layouts for a highly tailored student experience.
Pros of Teachable Business Plan
The Business plan grants access to all the features available in the free, basic, and pro plans, while also providing advanced functionalities.
With the Business plan, you have the ability to create custom user roles, allowing for more precise control and management of user permissions.
Streamline the student management and onboarding process by utilizing the bulk import feature, enabling you to easily import a large number of students into your courses.
The Business plan allows you to add up to 20 admin-level users, facilitating collaboration and delegation within your team.
With the Business plan, you have extensive customization options, including advanced developer customization.
Similar to the Pro plan, the Business plan eliminates transaction fees, ensuring that you retain your entire course revenue.
Cons of Teachable Business Plan
The only drawback of the Teachable Business Plan is its higher cost, which can be considered expensive for many course creator
Who can benefit from Teachable's Business plan?
The Teachable Business plan is particularly well-suited for large organizations or companies seeking an effective solution to train and educate their staff members.
Concluding Thoughts
To wrap it up, Teachable has got you covered with its range of pricing plans tailored to different needs and budgets.
Whether you're a beginner starting out or a big organization looking for advanced features, there's a plan that suits you. Just remember to consider things like transaction fees, features, support, and customization options to make the right choice.
And hey, if you're curious about Teachable alternatives, Freshlearn is worth checking out too! They offer their own unique features and pricing options.
With Freshlearn, you have the freedom to build, market, and sell your digital products directly to your fans. Imagine creating and selling your own courses through a personalized online storefront in less than 60 minutes.
Yes, it's that quick and easy!
Freshlearn provides powerful tools that help you find customers, drive sales, and effortlessly manage your business every day. You can finally change the way your knowledge is valued and start earning money on your own terms.
Get payments directly to your bank account and set the perfect price for your courses – after all, you know your worth best. Plus, you have full ownership of your audience and can build strong connections through email.
So, it's time to turn your skills into a thriving business and embark on a whole new way of making money. Start your free trial today!
FAQs
1. Does Teachable cost money?
Teachable offers different pricing plans. While a free plan is offered to get started, paid options with extra features and perks are also available.
2. What percentage does Teachable keep?
The transaction fees vary depending on the plan. In the Free plan, Teachable charges a $1 + 10% transaction fee, while the Basic plan incurs a 5% transaction fee.
3. Is teaching on Teachable worth it?
Definitely! Teachable is a legitimate and highly popular platform for creating and selling online courses. It offers a wide range of features that facilitate effective online learning, and you even have the option to bundle multiple courses together for increased sales potential.
4. Do I need a website if I have Teachable?
Not necessarily. Teachable hosts all your course content, so you don't need a separate website to deliver your courses. If you already have a website, Teachable lets you link it to your account using a custom domain, making it possible to integrate your online presence seamlessly.

You might also like
Hosted by