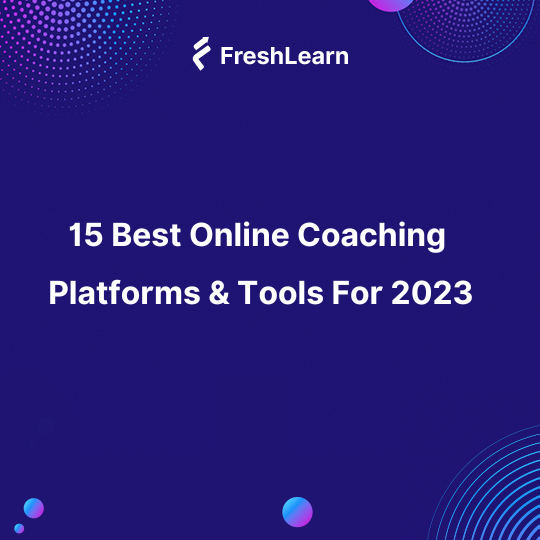 15 Best Online Coaching Platforms & Tools For 2023
Searching for the best online coaching platform to earn seamlessly from home? Check out this blog to read about the 15 best online coaching platforms and tools for 2023.
The online coaching trend has taken the world by storm. If you are to believe the statistics, it is estimated that the online coaching business is a staggering $20 billion industry currently.
And it's a collectively earned milestone. From tutors to health coaches to performing arts instructors - the pandemic pushed coaches from every category to go online to provide their services, resulting in this huge surge.
If you look closely, you'll realize that much of this leap can also be attributed to the newfound practice of e-learning that is equally soaring in demand.
Believe it or not, the experts trust the e-learning market to grow into a $240 billion industry by the end of 2023. This means you can count on the online coaching industry to be only going uphill from here on.
So don't wait anymore - if you've got the skill, join this lucrative community now. The simplest way to start is by signing up for an online coaching platform. And if you're wondering how to choose the right one for you, read on.
What To Consider Before Choosing an Online Coaching Platform?
Here are the 3 most-crucial checkpoints to tick off before choosing an online coaching platform:
1. Ease of use - Whether it's coaching software or any other software in general - it won't make any sense to invest in it if you cannot make any heads or tails of it. So before finally placing your bet on any online coaching platform or software, make sure you are comfortable with its features and settings because well, you'll be using it every day for running your business. So, you might as well want something that doesn't make the job complex rather than simplifying it.
2. Features - Need we explain why it's an important element? Features make all the difference when it comes to buying SaaS like an online coaching platform. So, you must assess whether the software that's luring you is packed with all the features that you need or if it's just the Veblen effect casting its spell on you. Pro tip - some basic features you may want your online coaching platform to possess include automation, third-party integrations, customization, etc.
3. Customer support - When it comes to SaaS, customer support plays an extremely essential role. How? Well, if you ever land a technical hitch in the middle of a busy business day, who are you going to run to for fixing the glitch? The developers. And what if they turn out to be late in fixing the issue or even worse, indifferent towards your concern? Well, you can imagine the chaos that will unfold.
Other important aspects include pricing, customization options, and suitability depending on your business needs.
Top 15 Coaching Platforms & Tools For Your Online Coaching Business
Here's a list of the 15 best coaching platforms and tools to help you flourish your coaching business online:
Paper bell
FreshLearn
Delenta
CoachAccountable
Coaching Loft
TrueCoach
Nutrium
Coach Catalyst
Nudge Coach
Vcita
Calendly
Paypal
Satori
Mailchimp
Canva
1. Paperbell
Paperbell is one of the most loved digital coaching software. For the coaches, Paper bell is an absolute delight as it lets them do what they're best at - coaching - while overseeing the commercial aspect of their business.
So whether it's preparing scheduled sessions for the coaches, handling their billings and payments, or managing their coaching clients - this comprehensive software does it all. But that is just one reason why it's so coveted. The pocket-friendly pricing at which Paper bell provides all these services is the real icing on the cake!
Platform type: Online coaching software. Used by coaches for scheduling, payments, contract signing, and more.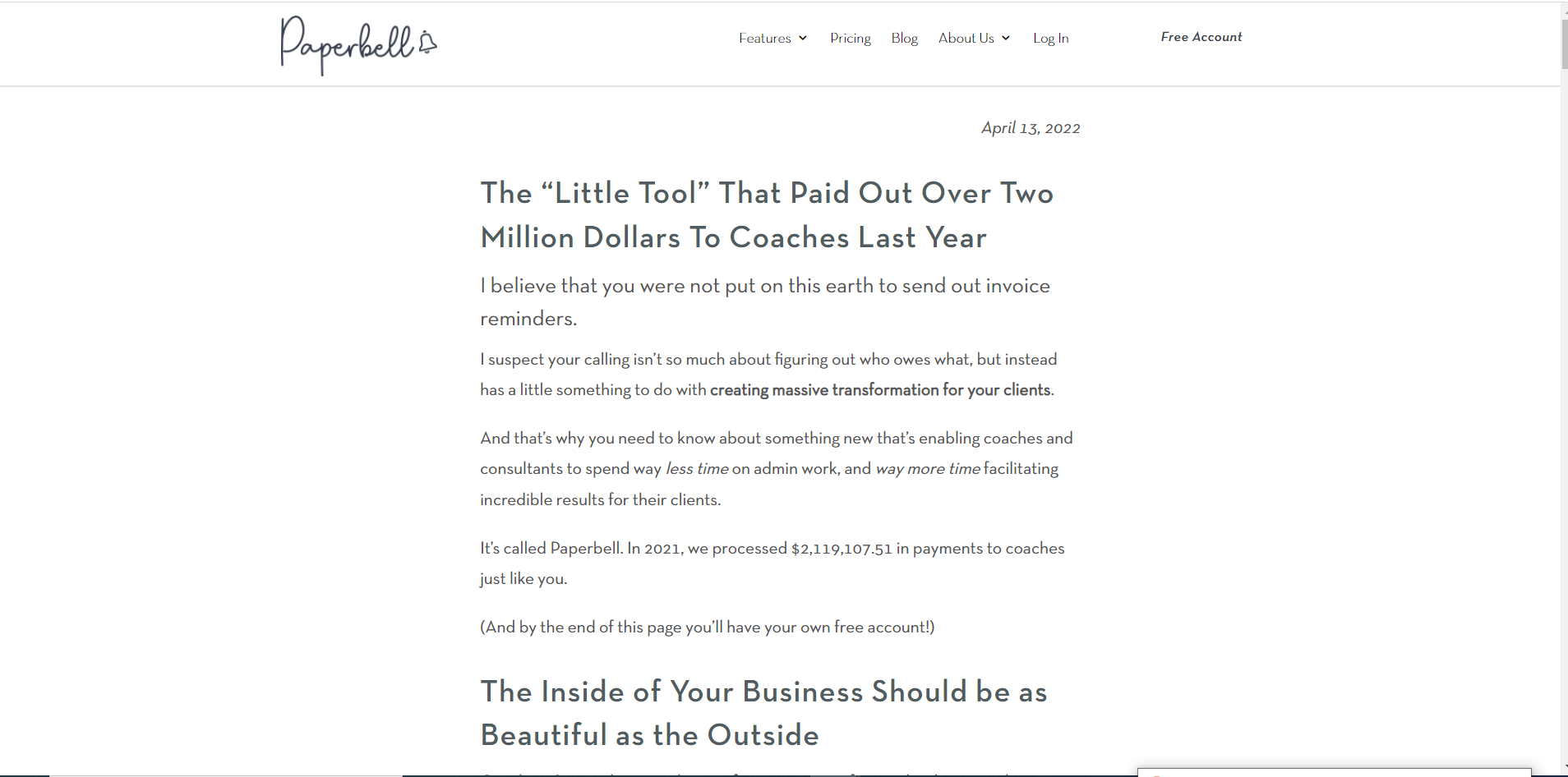 Key Features:
Offers both individual and group coaching.
Provides client overview and complete history.
Allows selling of digital downloads.
Paperbell Pricing: Paperbell offers a free trial. After that, it charges a flat fee of $50/month if you choose to pay monthly or $40/month if you go for the yearly plan.
Paperbell Pros:
Easy third-party integrations.
Offers compliance management.
Automated email lists can be customized.
Paperbell Cons:
Does not provide an API.
Separate client profiles are not available.
2. FreshLearn
If you're looking for an all-in-one solution to help you with live coaching sessions, creating online courses, and landing pages, FreshLearn is the best solution for you.
FreshLearn not only lets you conduct coaching sessions with pure ease but features like drip course content - that releases chapters in small bits - and custom course creation allow you to steer your digital coaching business just how you want it to.
This platform also lets you create and sell course content and assignments and also track progress without any hassle.
But you know what's the best part? Unlike other platforms, FreshLearn doesn't charge you a single penny unless you've made some money through it. So get going - visit FreshLearn and get started for free!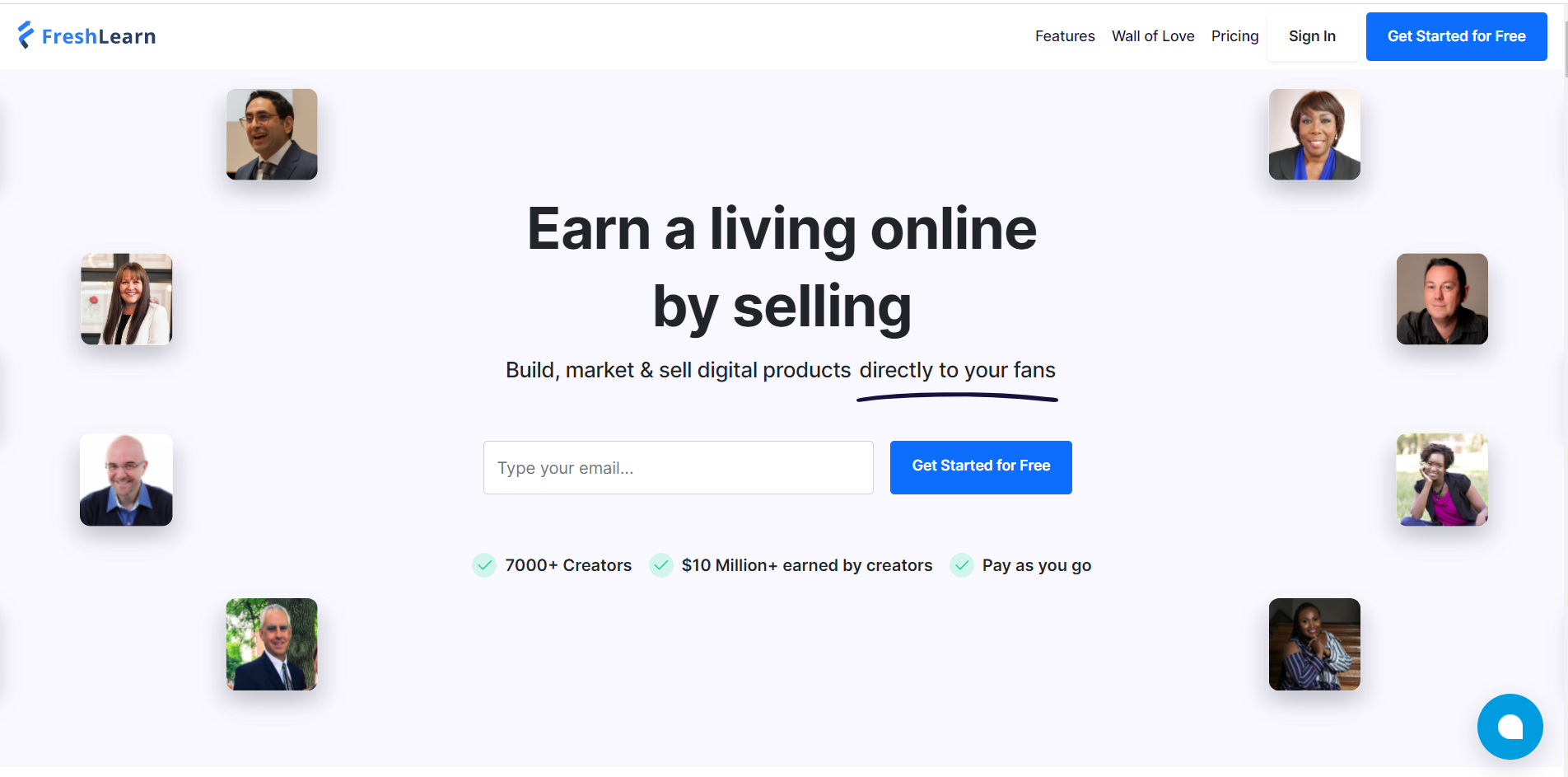 Platform type: Online coaching platform. Especially used by tutors and academic coaches to create and conduct live online coaching sessions, sell coaching courses, materials, and more.
Key Features:
Allows customization of courses.
Conducts quizzes and assessments for progress tracking.
Allows gamification of courses for better learning.
Auto generates forms and certificates.
Offers brand customization for your business.
Easily integrates with third-party apps like Mailchimp, Zapier, and HubSpot.
FreshLearn Pricing:
FreshLearn aims at providing "creator-friendly" pricing and so, is all-free, to begin with. However, if you want additional features, you can get the "Pro" plan which comes at $25/month (if billed annually) or $299/year.
For uber-advanced features, there is a "No Brainer" plan too for just $41/month (if billed annually) or $499/year.
FreshLearn Pros:
Allows hosting of unlimited paid courses.
No need to pay until you make your first $.
Allows hassle-free creation of discount codes and coupons.
It is optimized for mobile devices too.
Provides round-the-clock customer support.
FreshLearn Cons:
The free plan charges a transaction fee of $1 + 9% per transaction.
3. Delenta
A coaching platform the coaches for the coaches, Delenta is an online coaching hub that makes coaching and its management easy peasy.
With a range of features like activity tracking, goal setting, appointment scheduling, and third-party integrations - it is the platform that can help you take your online coaching business to new heights.
Delenta very recently rolled out the integrated video conferencing feature, making it one of the best platforms for live coaching out there!
Platform type: Online coaching platform. Helps in creating and selling coaching packages and courses, creating landing pages for online coaching businesses, and more.
Key Features:
Allows online booking of coaching sessions.
Offers integrated video conferencing.
Provides webhooks and integrations for lead capturing.
Delenta Pricing: Delenta comes with 3 pricing plans - $29/user/month for "Starter", $49/user/month for "Pro", and $79/user/month for "Premium". For larger coaching teams, Delenta offers the "Team" plan that provides a tailored quote for every business.
Delenta Pros:
Allows recording of sessions.
Third-party integrations are available.
HIPAA compliant.
Delenta Cons:
Separate client profiles are not available.
No mobile application.
4. CoachAccountable
At number 4 on our list, CoachAccountable is one such online coaching software platform that helps coaches effortlessly manage their coaching businesses.
More precisely, this platform is really helpful for coaches when it comes to "accountability" or tracking and keeping a check on their client's progress.
It easily integrates with third-party apps like Zoom and Google Calendar and also, allows you to create and sell coaching courses in the form of digital downloads.
Platform type: Cloud-based coaching software. Used by coaches for client management and follow-through.
Key Features:
Tracks individual progress of each client.
Offers smart attendance tracking of the students.
Allows the selling of courses and other digital downloads.
CoachAccountable Pricing: CoachAccountable offers two pricing editions - "Single Coach" and "Team". Both the editions start at $20/month for 2 clients and go up to $400/month for 100 clients. For more clients, there are bigger packages at the rate of $4/client.
CoachAccountable Pros:
Highly customizable.
Allows third-party integrations.
Offers a 30-day free trial without the need for credit card details.
CoachAccountable Cons:
Not compliant with HIPAA.
Not easy to navigate.
5. Coaching Loft
Yet another specialized coaching platform, Coaching Loft is exclusively for all those coaches who are simply done with the fuss of scheduling sessions and everything in between.
This platform allows coaches to schedule appointments and tasks, decide and track goals, and progress, and assess the achievements of their clients.
The best part about this platform is the huge content library of over 500 coaching-related questions and answers that it hosts which enables coaches to discuss these topics with their clients better. Platform type: Coaching management software. Allows coaches to schedule appointments, set reminders and alerts for upcoming sessions, and more.
Platform type: Coaching management software. Allows coaches to schedule appointments, set reminders and alerts for upcoming sessions, and more.
Key Features:
Automates managing coaching sessions.
Offers cloud storage and sharing functionality.
Keeps track of client notes and queries.
Coaching Loft Pricing: Coaching Loft offers a free package for up to 2 clients. For 10 clients, Coaching Loft offers the "Core" plan for $20/month, followed by the "Premium" plan at $45/month for 30 clients, and the "Master" plan at $95/month for unlimited client access.
Coaching Loft Pros:
Offers automated scheduling of sessions.
Handles all billing and invoicing.
Offers a content library.
Coaching Loft Cons:
Doesn't allow customization of reports.
API is not provided.
6. TrueCoach
An online coaching platform exclusively designed to keep the diverse needs of fitness coaches and trainees in mind, TrueCoach is a coaching software platform you just cannot miss out on.
Especially helpful for the coaches, TrueCoach comes with a range of features like email notifications, attendance tracking, and payment processing that effortlessly manage and look after the business for you.
With over 20,000 coaches and gym owners trusting this software for running their online coaching venture, TrueCoach is an amazing pick!
Platform type: Cloud-based one-on-one online coaching software. Used exclusively by gym owners and personal trainers.
Platform type: Cloud-based one-on-one online coaching software. Used exclusively by gym owners and personal trainers.
Key Features:
Offers client management services.
Allows efficient activity and progress tracking.
Provides real-time messaging.
TrueCoach Pricing: For 1 active client on the platform, TrueCoach doesn't charge any monthly fee. For up to 5 active clients, TrueCoach offers the "Starter" plan for $19/month, followed by the "Standard" plan for up to 20 active clients which costs $45/month, and finally the "Pro" plan for up to 50 active clients for a fee of $89/month.
TrueCoach Pros:
Intuitive user interface and is extremely user-friendly.
Provides separate client profiles.
Allows customization of branding for your business.
TrueCoach Cons:
API is missing.
Unoptimized for mobile devices.
7. Nutrium
As the name suggests, Nutrium is yet another online coaching software platform for fitness freaks. The first of its kind, Nutrium is a platform that brings certified and professional nutritionists together on one platform.
This software comes with a list of functionalities that are unparalleled when compared to similar platforms belonging to the same niche.
To name a few, features like automated appointment scheduling, creation of client health records, and telehealth integration set apart Nutrium from other nutrition software and platforms.
So if you're a nutritionist too, now you know which platform to go for!
Platform type: Online nutrition software. Helps nutritionists and other professional health coaches in providing online nutritional coaching and consultation to their clients.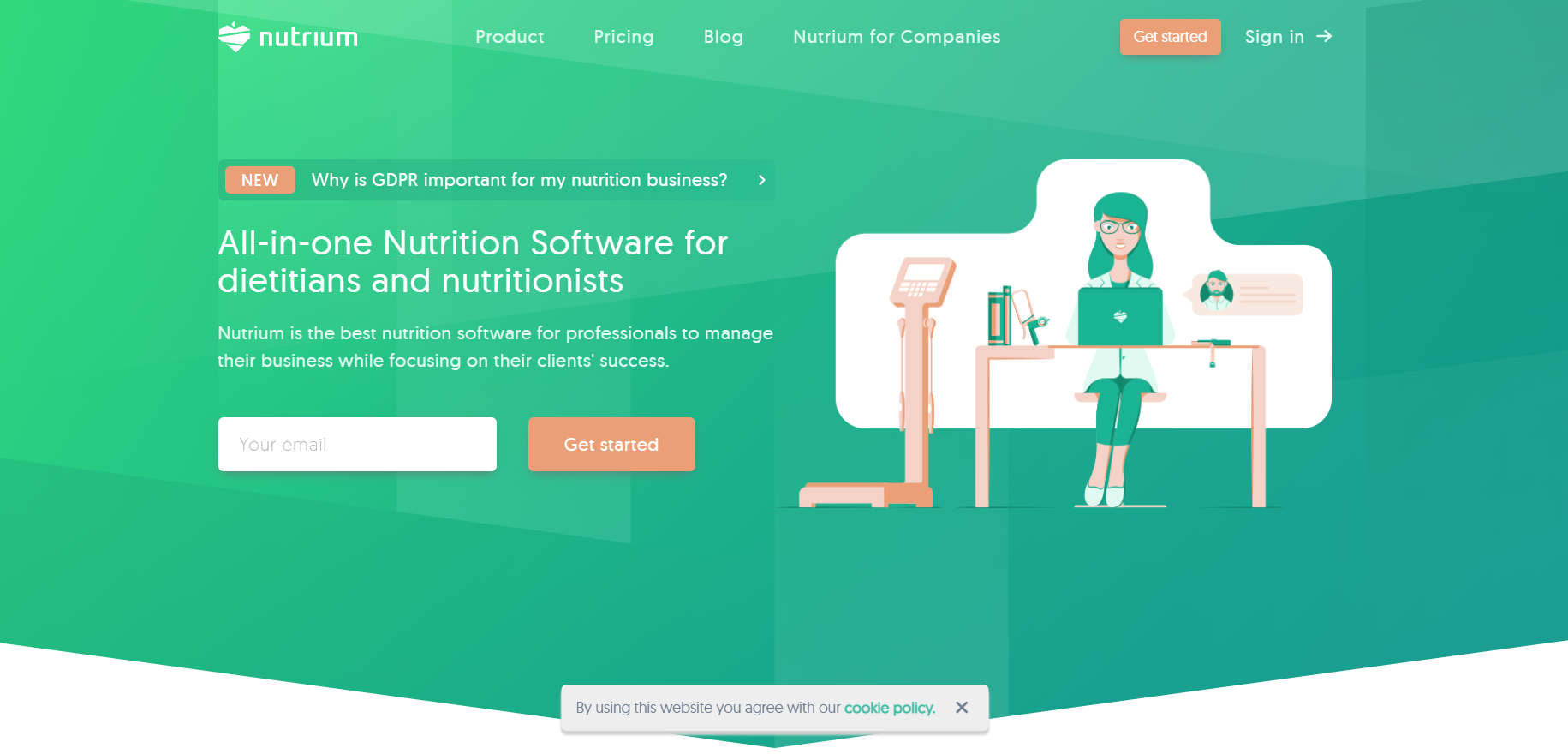 Key Features:
Allows online appointment bookings.
Offers automated scheduling of sessions.
Offers client activity and progress tracking.
Nutrium Pricing: Nutrium has a very exhaustive pricing plan. It offers two kinds of pricing packages - "Meal Plan" for coaches with basic organization needs and "Follow-up" for coaches with advanced business needs. The "Meal Plan" package starts at $35/month for up to 10 clients and goes up to $98/month for more than 75 clients. On the other hand, the "Follow-up" plan begins at $55/month for up to 10 clients and goes up to a max. of $118/month for more than 75 clients.
Nutrium Pros:
Easy to use and navigate.
Provides individual client health records.
A mobile application is also available.
Nutrium Cons:
No activity dashboard is available.
8. Coach Catalyst
Coach Catalyst is an online coaching platform cum app that is amazing for you if you're a fitness trainer who wants to earn more through online channels.
This digital coaching suite not only allows coaches to create and share their workout videos and fitness tips and tricks. It goes a step ahead and takes the burden of client management, progress checks, and receipt of payments off of the coach's shoulders.
With features like "check-in" that simplify the overall client experience on the platform, it is indeed much like an assistant for every fitness coach.
Platform type: Online coaching platform. Helps health coaches like gym owners and fitness trainers create and share coaching videos and sessions, track client progress, and more.
Key Features:
Allows real-time messaging between coaches and clients.
Hosts an online community of coaches and clients.
Allows customizable branding.
Coach Catalyst Pricing: Coach Catalyst offers a 14-day free trial of its services. After that, its monthly pricing starts from $39/per month for up to 12 clients and goes as high as $299/per month for up to 500 clients. However, if you have more than 500 active clients, you need to call them to get a custom pricing quote.
Coach Catalyst Pros:
Exceptional customer service.
Keeps a close check on client progress.
Engaging coaching platform.
Coach Catalyst Cons:
At first, the user interface is difficult to navigate.
9. Nudge Coach
Healthy habits are not developed overnight. Similarly, coaching doesn't reap the best result unless the coach keeps "nudging" their client towards the right, healthy path.
But let's face it - coaches have a tight schedule and far more important things to do than keep tracking the progress of their clients, isn't it?
Well, Nudge Coach understands this and so, it performs the "nudging" for you.
So whether it's tracking the progress of your client or giving them daily reminders to stay fit - Nudge Coach does it all and more to help you run your coaching business ceaselessly.
Platform type: Online coaching platform. Helps health professionals and fitness trainers conduct coaching sessions online.
Key Features:
Offers customizable daily trackers.
Allows group as well as individual coaching sessions.
Easily integrates with third-party applications like Zoom, Zapier, Google Calendars, etc.
Nudge Coach Pricing: Nudge Coach engages its clients by offering a free plan that can be used by 5 clients at once. Then, they have two paid versions - the "Grow" pack that allows up to 50 clients for $60/month and the "Scale" plan that comes at $100/month for up to 100 clients. However, if you have more than 100 clients, you can use Nudge Coach by paying $1/client/month.
Nudge Coach Pros:
Provides individual client profiles.
Forms and templates are customizable.
HIPAA compliant.
Nudge Coach Cons:
Can't look after billing and invoicing.
The scheduling process cannot be automated.
10. Vcita
The ones who run online coaching programs know that after a point, managing the business operations becomes a major pain point. And so to solve this very problem, Vcita was developed.
Vcita is one typical app you can rely upon for scheduling businesses. If you are a coach, with Vcita the entire process of scheduling, marketing, and payment processing would become smooth, simply unparalleled.
The best upside of using this app is that it allows third-party integrations with major platforms like Zoom and Google Calendar, making your pain point, much less miserable and much more manageable.
Platform type: Business scheduling app for professional coaches. Used by coaches for scheduling, client management, marketing, etc.
Key Features:
Offers a customizable client portal.
Offers direct and confidential messaging between the coach and the client.
Two-way syncing with Google Calendar is possible.
Vcita Pricing: Vcita offers a 14-day free trial with each of the 4 pricing packages. The basic package namely "Online Scheduling" charges $12/month. Vcita offers the "Essentials" pack that comes at $19/month, followed by the "Business" plan that comes for $45/month, and the "Platinum" package that costs $75/month.
Vcita Pros:
Centralizes client data for easy retrieval.
Allows receiving and sending of documents.
Third-party integrations can be done.
Vcita Cons:
Online payment choices are limited.
No real-time updates are offered.
11. Calendly
A top tool that you are going to need once you start your online coaching business in full swing is a scheduling app to keep your meetings and appointments in accordance with your daily schedule.
And what better than the pioneer Calendly itself? Simple yet effective software for managing all your client calls and appointments, Calendly is a treat for every online coach as it comes with an array of practical features at a price that's worth it.
With over 5 million active users on board, Calendly is an online coaching tool everyone loves and so should you.
Tool type: Call scheduling software. Helps you to schedule calls, appointments, and meetings with your clients, especially international ones.
Key Features:
A calendar sync of up to six calendars is available.
Integrates well with Zoom, Google Meet, and Microsoft Teams.
Supports payment processing.
Calendly Pricing: For the basic version, Calendly charges no monthly fee. But for advanced features, Calendly offers three pricing plans - "Essentials" which costs $8/seat/month, followed by "Professional" which costs $12/seat/month, and "Teams" for $16/seat/month. For large enterprises with extra security and support concerns, Calendly offers a tailor-made price quotation.
Calendly Pros:
Highly customizable.
Easy to use and navigate.
Allows scheduling automation.
Calendly Cons:
Not optimized for mobile devices.
Limited inventory management features.
12. PayPal
For online businesses like coaching, it's important to have one central financial hub where all things money are managed. PayPal could be exactly that for your business.
Whether it's facilitating your payment receipts, doing all the billing and invoicing, or keeping an eye on frauds and intrusions - this amazing online payment system does it all for you!
Not just that, PayPal also offers swift online payments for merchants in more than 56 currencies. No wonder why more than 325 million individuals trust this app with every single penny!
Tool type: Online payment tool. Helps you to receive payments from your clients right into your bank account.
Key Features:
Allows multiple currency processing.
Provides payment fraud detection and prevention.
Offers cash and compliance management.
PayPal Pricing: The PayPal pricing model is quotation-based differs from business to business. However, PayPal charges a transaction fee of 2.5% + $0.041 per transaction.
PayPal Pros:
Ensures the safety of transactions.
Very easy to use.
Extremely mobile-friendly.
PayPal Cons:
Not available in some countries.
13. Satori
A robust business management tool that's nothing short of an absolute must-have for all business coaches is Satori.
This software does everything you could ever ask for - whether it's tracking leads and onboarding fresh clients or straight away streamlining your coaching business activities as a whole.
If you want to bid adieu to the complexities of running an online business that revolves around client management, Satori is for you.
Tool type: Business management tool. Enables you to facilitate and streamline the different aspects of your coaching businesses.
Key Features:
Offers custom branding.
Integrates with tools like Mailchimp, PayPal, Stripe, and more.
Offers multiple different packages.
Satori Pricing: Satori is all free to start with. However, it also comes in 3 paid versions that include super-essential features - "Starter" at $23/month, "Trailblazer" at $39/month, and "Pro" at $56/month.
Satori Pros:
Completely free to begin with.
Eases online coaching management.
Facilitates client management.
Satori Cons:
Difficult to set up and get started.
No integration with Zoom Meetings.
14. Mailchimp
Mailchimp is a smart marketing automation solution that helps inefficaciously create, send, and analyze email and ad campaigns for your business.
With features like email tracking, mailing list management, multi-channel marketing, and distribution - Mailchimp is pretty much the one-stop solution for all the contrasting email marketing needs of your business.
There's more! It easily integrates with top platforms and other ancillary tools needed for running your coaching marketplace.
Tool type: Email marketing software. It's useful for creating email marketing campaigns for your online coaching.
Key Features:
Builds email campaigns, landing pages, social ads, and more.
Offers powerful marketing automation.
Offers content management and conversion tracking.
Mailchimp Pricing: Mailchimp provides all its basic email marketing features for $0 for up to 2,000 contacts. But if you want add-on features, Mailchimp has 3 paid variants for you - "Essentials" for $9.99/month based on 500 contacts, "Standard" for $14.99/month based on 500 contacts, and "Premium" for $299/month based on 10,000 contacts.
Mailchimp Pros:
Very intuitive user interface.
Easy integration with other tools and software.
Allows customization of CTAs.
Mailchimp Cons:
Paid versions are quite expensive.
Difficult to schedule campaigns.
15. Canva
Visuals and graphics not only make learning easy but also more comprehensible. In the case of online coaching too, graphics and presentations make learning more perceivable and fun for your clients.
And thanks to Canva, now designing a full-blown presentation is not as arduous as it used to be before. Not just that, with the help of Canva, you can also create appealing designs and creatives for your social media handles.
Still, need more reasons to add Canva to your online coaching must-have kit?
Tool type: Graphic designing tool. Helps you design presentations, graphics, and social media creatives for your business from scratch.
Offers graphic designing and customization.
Permits text animation.
Comes with pre-formatted templates.
Canva Pricing: The basic version of Canva starts at $0. If you want more features, you can get the "Pro" version for $9.99 /month. For businesses, Canva has a special "Enterprise" version that comes for $30/user/month.
Canva Pros:
Extremely easy to use.
Supports many formats like jpg, png, pdf, etc.
Can be used on mobile devices.
Canva Cons:
Limited photo editing functions.
Doesn't allow third-party integrations.
Pick the best coaching platform and upscale your online coaching business!
In today's scenario where everything has gone digital, online coaching is the best venture for those with a knack for teaching and training. And with the help of FreshLearn, you can start your online coaching business today - right from your home. Here's how.
FreshLearn is an online coaching platform that enables you to create and conduct live coaching sessions online without any hassle. With super-advanced features, pocket-friendly pricing plans, and 24/7 customer support - FreshLearn is all that you need to get started with coaching online.
So what are you waiting for? Start your coaching business for free with FreshLearn today!
You might also like
Hosted by