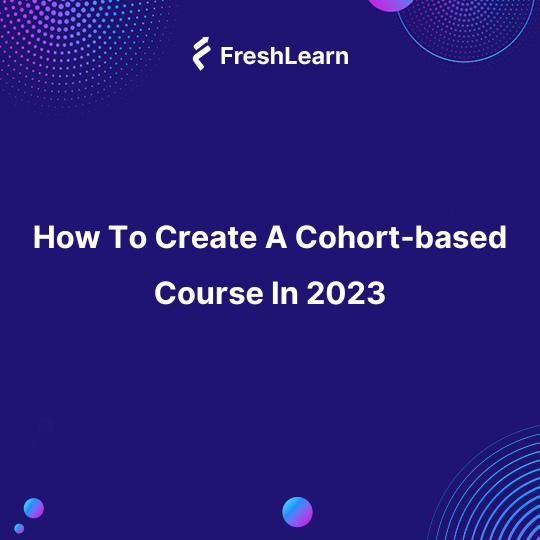 How To Create A Cohort-based Course In 2023
cohort-based courses are the new talk of the town. So in this blog, we'll discuss how to create a cohort-based course and make money in 2023.
How To Create A Cohort-based Course In 2023
Online learning emerged as a superb alternative to offline learning. And slowly but steadily, became mainstream. Really - a survey demonstrates that over 75% of the population already prefer online learning over traditional, on-campus learning! And, all of it makes sense.
After all, online learning methods - e-courses, live classes, and more - successfully transcend the boundaries of time and distance, making knowledge available for everyone, everywhere. In fact, dare we say,
Online learning methods have improved every aspect of traditional learning our era always struggled with!
But, there's one aspect where most online learning methods fail. While online education sure has its own set of advantages, the truth is, that it lacks a sense of community. Thanks to this very monotony, most learners lose the motivation to stay engaged in the lessons. This is also why so many people avoid getting enrolled for an e-course, or even worse, give up on it midway!
However, cohort-based online courses have ascended as the perfect remedy for this pitfall associated with online learning. Designed in a way that makes learners feel the same way they would have felt in a classroom along with the ultimate benefits of online learning, cohort-based courses are the best of both worlds. So don't devoid your online teaching business of this - read this guide and learn how to create a cohort-based course!
Cohort-based Course Guide - What Is A Cohort-based Course?
The term "Cohort-based course" may sound like a new concept to you. But what if we tell you, you had been a part of one? Or maybe, you still are a part of one right now?
Well, as defined by Wikipedia,
a group of students who work through a curriculum together to achieve the same academic degree together
So to put it rather simply, a Cohort-based course is any course that you take along with a group of students. Yes - that's pretty much the same as being in a school, college, or any offline workshop. You learn, but with a group of other people.
Unlike most forms of online education, the thing that makes a Cohort-based course a complete game-changer is the sense of community that it provides. To most of us, online learning means learning alone, facing a screen. This makes the whole process very monotonous.
But Cohort-based online courses defy that. Not only do you learn, but you also get a chance to interact and gain motivation from fellow learners. And that's also the reason why more and more people opt for Cohort-based courses these days.
Want a few examples? Well, consider some of the top-grossing online Cohort-based courses like Super Creative, Smart Passive Income, Ascend, and Ship 30 For 30.
Cohort-based Course vs. Self-paced Course - What's The Difference?
Taking an online course allows you the luxury of learning anywhere. But most people confuse it to be a method of education where one can learn at their own pace. However, that's slightly incorrect. Being wide in scope, online learning through courses comes in various forms. Two of them are self-paced courses and cohort-based courses.
So let's discuss them in detail - what are the differences that separate them?
Type of learning: Cohort-based courses follow a blend of active and passive learning whereas self-paced courses are always passive with no real-time intervention from the tutor.
Structure of learning: Cohort-based courses are both synchronous and asynchronous in structure, similar to traditional learning. But self-paced courses are asynchronous, where you get to decide your learning pace.
Community: Cohort-based courses offer a community learning experience whereas self-paced courses are fully independent.
Engagement: Cohort-based courses are highly immersive which is why engagements are also high. Self-paced courses witness low engagements.
Course schedule: In the case of a Cohort-based course, the course is pre-scheduled by the tutor. Self-paced courses, however, are scheduled by the student.
Why Cohort-based Teaching Is Awesome For Creators?
Still, wondering if cohort-based teaching is right for you? Think no more - here are some of its advantages we want you to know;
You can charge more: Generally, a cohort-based course is more profitable than any usual self-paced course.
Distinguishes you from the crowd: Cohort-based courses involve direct tutor-led learning so it helps your course stand out.
It boosts confidence: As a tutor, directly teaching the cohort boosts your confidence.
You can attract more engagements: The community experience makes the whole session more interactive and immersive.
Helps you grow: Cohort-based courses provide you with feedback from your learners and help you learn and grow.
How To Create A Cohort-based Course In 5 Steps?
Here are the steps you need to follow to create your first cohort-based course;
Step #1: Find your ideal target audience
Step #2: Create your course structure
Step #3: Build the course content and price your course
Step #4: Create a sales page
Step #5: Launch your cohort-based course
Step #1: Find your ideal target audience
Before you start with the course creation, sit down and ask yourself - "who is my target audience"? It's crucial to ask yourself this as it answers a lot of underlying questions.
For instance, figuring out the exact profile of your target audience will help you determine their needs. In exchange, it will give you a better understanding of what kind of cohort-based courses they are hunting for.
Not just this, your target audience profile may also help you understand what they want an ideal cohort-based course to be like. Needless to say, all these pieces of information make the task a lot easier. So, only when you have a clear picture of every aspect of your target audience, that you ready to move ahead to the next steps.
Step #2: Create your course structure
Now that you do know what your audience wants, get started with the next round - deciding upon the course structure.
Generally, cohort-based courses are a mix of both synchronous and asynchronous teaching. This means, unlike a usual self-paced course, the job here isn't done with just a set of pdf, slides, and pre-recorded videos.
To testify to its essence, you will have to conduct a few live classes here and there. So, plan your course structure accordingly and in advance. How many live classes will be allotted in a week? For a single lesson, what number of doubt-solving sessions will you be taking? How many pre-recorded videos will be included in a single session? Having a rough idea of your course structure will help you create the course content much more effectively.
Step #3: Build the course content and price your course
Depending upon the structure, your course curriculum will involve a range of study materials. So start writing the content for each of the - scripts for the live videos, topics for the doubt-clearing sessions, content for the pre-recorded videos, pdfs, presentations - everything! In fact, you can also include gamification to make the course syllabus fun.
Module by module, map out your entire course curriculum and jot down the content for it. Don't make them too lengthy - follow the drip course content method to make every session impactful and easy to digest. And when you're finally finished, move on to the next part - pricing your course.
When it comes to pricing, you need to keep in mind that a cohort-based course is more expensive than a basic self-paced course. So to arrive at a fair price for yours, it's always a good choice to do a competitor analysis first.
After that, consider the value your course holds and also, the price your target audience may be willing to pay. Combining these factors, you'll arrive at the best price for your cohort-based course that's neither too expensive nor too doubtfully cheap.
Step #4: Create a sales page
Now that you are ready with the content, it's time to start reaching out to your target audience. And how can you do that? You guessed it right - by creating a clever sales page for your cohort-based course.
But, what does a good sales page include? It's simple - much like a brochure, your sales page should aim to give out all the details about your course. Adding information like what the course is about or why should the person enroll in it is a must as it makes the sales page appear informative and persuasive. And that's exactly how you want it to be.
Try to do it yourself with good sales page builders provided by the online course platform itself .
Step #5: Launch your cohort-based course
Finally, it's course launching time! With the attention of your target audience directed towards your course, you are all set to launch your cohort-based course and start with the lessons.
See? Wasn't it easy?
Tools You Need For Cohort-based Learning
Before starting with the course creation, have a look at the following list to see if you have all the tools and equipment to start;
A calendar app: Cohort-based courses are all about time management. To make sure you don't miss out on an important live session, calendar apps like Trello, Google Calendar, or Apple Calendar are a must-have.
A communication app: For reaching out to your students regarding doubts or rescheduling a lesson, you will need a communication app. For this purpose, social media platforms like Slack, WhatsApp, or Telegram work the best.
An All-in-One Creator Platform platform: Last but not the least, having an all-in-one creator platform for not only launch your cohort-based course but also your future self-paced courses, sales pages, gamification, etc. Here is a list of some good online course platforms
Choose FreshLearn - The All In One Platform For Launching Cohort-based Courses In 2023
Finally, you have all the knowledge you need to create an exclusive cohort-based course. But is there anything missing? Yes - the right platform to start with. So, here it is.
FreshLearn is an all-in-one creator platform that empowers creators to sell digital products online. FreshLearn is the answer to all your cohort-based course questions. Used, loved, and validated by over 9000+ creators from across the globe, with FreshLearn, you can;
Build your online learning platform with zero coding needs
Create content in every possible way - videos, drip course content, quizzes - anything!
Create memberships for your premium content
Market and sell digital products of all kinds
With many more exclusive features
At 0% extra commission!
Now that creating a cohort-based course got so easy, why wait? Visit FreshLearn and start your free trial today.
You might also like
Hosted by