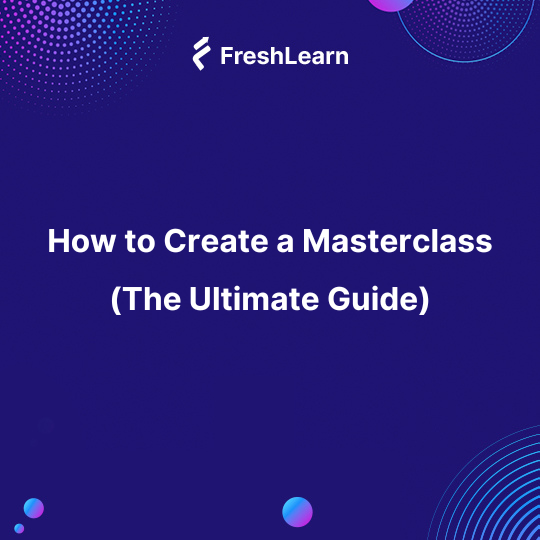 How to Create a Masterclass (The Ultimate Guide)
You want to create a Masterclass. So, we spoke to 100+ creators and put this guide together. This guide will walk you through the entire process.
How To Create A Masterclass in 2023?
Creating a masterclass doesn't have to be overwhelming - in fact, it can be surprisingly easy!
From deciding on a topic, planning out content, marketing your course, and more – putting together a masterclass isn't as intimidating as it may seem.
This blog is the ideal place to start whether you're new to online education or content development or an established professional.
What Is A Masterclass? What's So Special About It?
Remember how schools used to invite an expert to conduct that one mega, special class for grooming a group of advanced students in a subject?
Well, that's exactly what a masterclass is.
Just as the name goes, a "masterclass" is an online workshop taken by a "master" in that subject.
The expert doesn't necessarily teach from scratch.
For the most part, they only offer their specialist advice and provide hands-on knowledge about that particular topic - making the session extra valuable and exclusive for all the right reasons.
Say, for example, if Gordon Ramsay spills his secret sauce on how to cook scrambled eggs to perfection, that'd surely be more than some usual cooking class - that'd be a "masterclass"!
Needless to say, it is this premium quality and the expert touch of the content only that makes a masterclass more exclusive and expensive than any usual course, whether offline or online.
What Do You Need To Start A Masterclass?
A successful masterclass has several puzzle pieces, which you must put together in order to create and promote it.
But where do you even start when it comes to launching a successful masterclass?
Before taking that next big step on your journey of learning, take a moment to consider these 3 questions:
Do you have the right skills? - after all, possessing mastery in the topic is not an option but a necessity.
Have you planned your class theme? - usually, masterclasses cover a narrow, specific topic so you need to be apparent of the theme first.
And lastly, how do you plan to teach? - since masterclasses are shorter in a time span as compared to the usual ones, it's important to sort out your teaching plans before beginning.
What Should A Masterclass Include?
A masterclass allows subject matter expert to share their knowledge and experience with others.
A masterclass's specific material will vary based on the topic matter and the class's goals, but in general, a masterclass should include:
Clear learning goals
The masterclass's learning goals should be defined by the instructor in detail. Ask specific questions like What specific knowledge or skills will participants acquire from your masterclass?
Interactive learning
Activities like group discussions, exercises, case studies, or hands-on projects should keep participants involved in the learning process. The effectiveness of the masterclass will increase with its level of participation and interaction.
Real-world examples
To clarify fundamental ideas and show how they relate in practice, the instructor's teaching style should include real-world examples and case studies.
Practical tips and strategies
Participants should receive useful advice, ideas, and strategies that they can use right away in their jobs or personal lives.
Q &A sessions
Students should have the chance to ask questions and receive answers from the teacher and other students.
Evaluation & Feedback
To help participants hone their skills, the instructor should comment on their work and grade them.
Resources and materials
To enhance participants' learning and growth, the teacher should offer resources and materials such as handouts, checklists, templates, and internet resources.
Opportunities for networking
Participants should have the chance to meet and interact with other experts in their industry since this might result in new opportunities and partnerships.
How To Plan A Successful Masterclass?
Now that you know what you need to conduct a masterclass, here's a clever masterclass checklist for a super successful one;
Decide your goal
The whole blueprint of a masterclass session relies on one single question - what's your aim behind creating it?
As a first move, it's essential to chalk out your personal goals before moving forward with the content part to ensure the workshop's effectiveness on your audience.
Knowing what result you are hoping to achieve with your class will help shape the structure, topics, and tasks you plan on covering.
Whatever objective you have for your masterclass, make sure it's meaningful for participants and adds value to their lives.
Dedicate time to planning challenging yet achievable activities that create conversations among attendees.
Understanding what steps need to be taken in order to reach each objective can help ground the learning process and motivate participants.
Planning out your end goal before setting up a masterclass will allow the class itself to flow more smoothly and become beneficial for those who attend it.
Choose your target audience
Choosing the right target audience can make all the difference!
That's simply because knowing who is most likely to be your learner will help you develop your educational content in a tone and manner that best fits their understanding.
When choosing your audience for a masterclass, it's important to consider the topic of the class and the specific skills or knowledge that you will be teaching.
Take time to gather data and insights on their preferences and needs.
You can also test your marketing efforts to see if they are reaching your desired audience, and adjust your target audience as needed based on the results of your testing.
By thoroughly considering your target audience, you can create a masterclass that resonates with and meets the needs of your intended audience.
Plan your masterclass structure
If you are looking to plan an effective masterclass structure, the first step is to know your desired outcome.
What do you hope your students walk away with?
Do you want them to have a basic understanding of a concept or have in-depth knowledge of it?
Generally, masterclasses are structured in the form of webinars, video tutorials, slideshows, or blogs - all depending on the theme and content of the workshop.
A) Outline the key points you want to cover:
Start by outlining the key points you want to cover in your masterclass. This will help you ensure that you stay on track and include all of the important information.
B). Divide your content into logical sections:
Organize your content into logical sections that flow smoothly from one to the next. This will help your students follow along and understand the material better.
C). Include interactive elements:
Incorporating interactive elements, such as quizzes, exercises, or discussions, can help keep your masterclass students engaged and help them better understand the material.
Here are some tips to help you plan the structure of your masterclass:
Consider the length of your masterclass
Determine the length of your masterclass based on the amount of material you have to cover and the attention span of your students.
Decide what a realistic amount of time is for the course.
Take into account not only how much content you want to include but also allow sufficient time to allow participants to absorb what they have learned and ask questions.
If you need additional time or would like to focus on some specific topics in more detail, you may want to consider offering multiple different masterclasses on different dates.
Practice your delivery
An amazing masterclass means practice, practice, and practice some more!
Delivering your masterclass is as important as preparing its structure-  think of it like a curtain call for your hard work.
The way you say things, the energy you put into it, and how you invite responses from the audience will all make a difference.
Therefore, it's important to practice your delivery if you want to keep the audience interested.
Run through your script multiple times to check you've got all the details down, then when it comes time to perform on stage you can let loose knowing that you are well-prepared!
Decide the price of the session
One of the most crucial tasks in preparing your masterclass is choosing the price for your masterclass.
Masterclasses contain premium content. But beware - don't just blindly price it at a high rate.
Before pricing, take into consideration:
any materials or preparation required
the time spent training session participants,
and the market rates of similar instructor-led classes.
By setting a realistic price point you can ensure that attendees find value in their experience while you gain fair compensation for your labor and expertise.
Fix the time frame
Setting a timeframe upfront can make the process of creating a masterclass easier.
Unlike usual online courses and workshops, masterclass courses are a standalone sessions.
Generally, a good time duration for a masterclass is anywhere between 2-3 hours, considering you'll have a lot more to cover than some regular "do this" and "follow that".
Estimating how long you'll need for each activity helps make sure you get through the agenda, while still ensuring that your participants get an enriching experience.
Take the time to visualize your class and lay out all the tasks that will be included.
It's important to take into account not just what needs to be done, but also how long each step might take, so you don't run out of time in the end.
5 Steps To Create An Online Masterclass
Crafting your masterclass requires several stages of planning, designing, and executing with excellence. Here are 5 steps to get you started
Step 1: Choose your masterclass topic
It's a no-brainer - to set yourself apart, you need to come up with an enthralling topic for your masterclass.
However, since the gist of a masterclass lies in focusing on very specific topics, it's often tough to land one with decent demand.
But here's what you can do.
Let's say you wish to conduct a masterclass on cooking.
So instead of going with teaching a usual recipe, narrow it down to something very definite.
Say topics like kitchen tips and tricks, secret kitchen ingredients and how to use them, or some really stunning cooking techniques.
Now that you know what concept you are going to talk about, identify a few keywords related to it, do quick research, and boom - there you have a list of similar but unique topics that are raging high in demand!
Pro tip: as a bonus, you can teach your learners a signature recipe of yours at the end.
The motto is to make it stand out from the crowd, simple!
Step 2: Name your masterclass
The thing with masterclasses is simple - the game lies in the name.
So ideating an abstract, enticing name for the masterclass is a must, especially for marketing purposes.
And honestly, it's not really rocket science.
Just remember - you should name your masterclass in a way that it is:
sounds clear and concise to understand
depictive of your topic
strong and short.
Also, a little bit of creativity never hurts. After all, you want people to get curious about what's in.
Some examples of the best masterclass names are The Art of Negotiation by Chris Voss, Sales & Persuasion by Daniel Pink, and The Science of Better Sleep by Matthew Walker.
What makes them mention-worthy is the mere fact that they check off all the little specifics that sum up to create a superb masterclass title.
Step 3: Start creating your content
Now, let's talk about the meat of the meal - your masterclass content.
Here, you first need to decide how you will be taking the masterclass.
Since the whole session will be conducted online, your best resort is to stick with the video format.
But don't make it too lengthy - chop it down into small chunks and emphasize explaining the key concepts.
In between, you can also include pdfs, slides, and notes to enhance the overall learning experience of your prospective learners.
As for the content designing part, the formula is simple - keep everything to the point.
Remember, you only have so many hours to bring all your expertise to life.
So keep the content short and crisp.
Make it personal, and share your own references as much as possible.
The whole point is to make the session interactive and laden with a personal touch and not just similar to some whimsical YouTube video.
Step 4: Choose your business model
A masterclass is usually treated as a subscription-based product.
But again, how you decide to get paid for it depends entirely on the end goal that you are looking at.
For instance, let's get back to the basics - why are you creating a masterclass?
Say if it is for making a quick dollar, you can market and sell it as a one-time product.
But let's tweak your goal a little - suppose you are conducting a masterclass for reaching out to your audience and getting leads for your online teaching business.
In that case, you can charge a monthly subscription fee to your customers and give them access to all your online courses and masterclass for up to a month.
This means, your fresh leads will continue getting access to all your content for as long as they pay.
And if you seize this opportunity and serve them with the best, chances are, they'll end up becoming your loyal customers.
Step 5: Promote your masterclass
Content? Done. Pricing? Done. Finally, it's marketing time!
There are a gazillion ways how you can promote and market your product to your audience.
And missing out on any of them would simply translate to procrastinating the success of your masterclass.
So don't hold back - conquer one marketing channel at a time.
Start with creating a landing page for your masterclass.
Then, go ahead and experiment with other channels of marketing like social media and email marketing.
Offer small previews. Devise a content strategy right before the launch. Make blog posts.
There is just no end to how far you can go in promoting your masterclass.
How To Host A Masterclass?
There are multiple ways through which you can host your masterclass. So let's find out how to host an online workshop aka masterclass in the best manner;
Go live on social media
If you don't want to invest in expensive tools for hosting your masterclass, you can go for channels like YouTube and Facebook to host yours.
Choose an online webinar tool
Web conferencing tools like Zoom, GoToMeeting, and Google Hangouts also work fine for hosting online masterclasses.
Pick an LMS platform
To host a workshop like a professional, you can go for LMS platforms like FreshLearn and effortlessly host your masterclass.
Here's how you can create a masterclass on FreshLearn:
1. Navigate to https://app.freshlearn.com/#/dashboard/home
2. Click on "Dashboard"
3. Click on "Products"
4. Click on "Masterclass"
5. Click on "Create Masterclass"
6. Click on "Upload" to upload an image for your masterclass
Next, type your masterclass name here.
Choose your Date & Timezone
Write a great description for your class
Set up your location and the limit on participants
After setting up all the information, Click on "Save"
7. Now, set up your Pricing plan and click on save
Click on " Preview " to check if everything is in place and then publish your masterclass
Your Masterclass is ready!!
5 Best Masterclass to Get Inspired
Here are some best masterclass classes of 2023 that you can take inspiration from:
Since the demand for project managers is increasing, this master class will give you the skills and know-how needed to land your dream job!
It'll also provide all the resources, checklists, and templates essential for success.
Whether it's diving into the world of project management, leading teams and coordinating tasks, or finding job opportunities easily - this seminar has something for everyone.
It covers a range of topics from developers, business analysts, and change managers to young professionals & university grads who want to broaden their knowledge base.
Garry Kasparov, the youngest world chess champion is here to share his winning tactics with you with his Chess masterclass.
Learn Garry's favorite openings, strategies, and tactics - all distilled into detailed lessons to hone your skillset that will develop both your intuition & philosophy.
This masterclass is designed to empower regular people like you.
This seminar offers actual experiences from people like you who have conquered their own finances for success beyond belief.
By the end of this seminar, you'll have developed a better understanding of how to manage your finances - from finding ways to save more and spend less smartly, all in order to alleviate stress while achieving greater happiness
A Clinical & Holistic Aromatherapist and a Registered Aromatherapist, Maria Fiordalisi's masterclass is all about integrating modern aromatherapy to create your next 5 client transformations.
Discover her modern techniques and traditional principles so you may work with your clients to produce spectacular results.
Anna Wintour, a fashion and media icon gives the world access to a creative vision in her exclusive masterclass.
She's teaching people how to express their creativity with confidence and clarity.
Pick FreshLearn And Create Your First Masterclass Ever!
Masterclass courses demand expertise - whether it's for teaching it or creating it.
And while you are a boss in taking masterclasses, allow FreshLearn to show its expertise in creating one.
Loved by over 14000+ creators, FreshLearn is an online platform for creating and hosting all types of online courses and webinars, including masterclasses. We help you;
Build your own online learning platform with zero coding needs
Create online course content in every possible way - video lessons, drip course content, quizzes - anything!
At 0% extra commission
So what are you waiting for? Pick the best free online masterclass hosting platform. Visit FreshLearn and build that superb masterclass right now!
You might also like
Hosted by