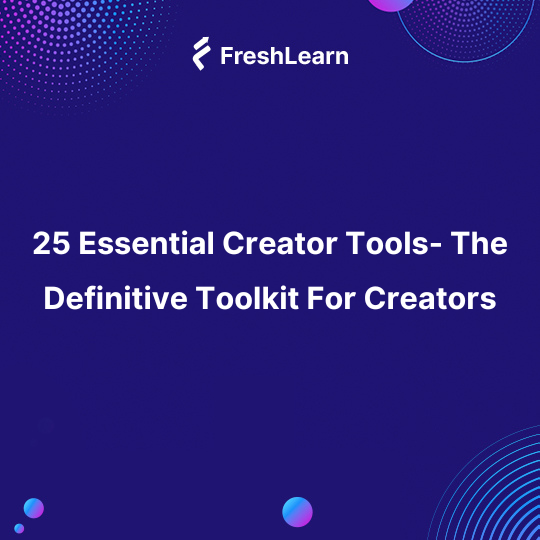 25 Essential Creator Tools- The Definitive Toolkit For Creators
Hey there, fellow creators! We're thrilled to accompany you on this voyage through the digital sphere and show you some incredible tools that every creator should have in their arsenal. 🤩🤩
These 20 tools will rock your world, whether you're a content creator, an artist, or a creative entrepreneur. Seriously, they'll help you level up your work, make things easier, and boost your impact.
From awesome video editing and nifty social media management to creating kickass courses and engaging your community, we've got it all covered. So, strap in, and let's have a look at how these game changers can boost your creativity and bring you closer to your audience...
This is gonna be fun! Let's unleash the power of creativity with our ultimate guide to the top 20 creator tools
A. Video Editing Tools
1. Adobe Premiere Pro
Adobe Premiere Pro is an essential tool in the armory of modern content creators, catering to both seasoned pros and aspiring amateurs. With its rich feature set, this video editing program goes beyond the limits of traditional media production.
How is it useful for creators?
Whether you're an individual creating videos for personal milestones, a budding YouTuber looking to engage audiences through video content, or a marketing professional looking to enhance your skill set, Premiere Pro is the conduit through which your creative vision can be realized.
It allows users to create cinematic experiences by changing colors, adjusting transitions, and injecting films with fascinating soundtracks and effects, seamlessly merging simplicity and sophistication. Its versatility extends to creating engaging animations and multimedia features.
Premiere Pro is not just for YouTube stars; it is also one of the essential content creation tools, for small enterprises, educational institutions, and indie studios. Premiere Pro is more than simply software in this dynamic landscape; it's the link that connects creativity to reality, allowing creators to craft narratives that inspire, inform, and entertain across a variety of platforms and purposes.
Colors are manipulated, transitions are refined, and videos are infused with fascinating soundtracks and effects to create cinematic experiences. Its versatility extends to creating engaging animations and multimedia features
2. Final Cut Pro
Undoubtedly revolutionary in its approach, Apple's Final Cut Pro emerges as a game-changing application, redefining the landscape of video creation, editing, and production.
How is it useful for creators?
Seamlessly merging high-performance digital editing capabilities with native support for an array of video formats, Final Cut Pro marries cutting-edge functionality with user-friendly, time-efficient features, liberating creators to focus on the art of storytelling.
Recent updates have rendered the interface even more approachable, catering to both novices and experts. A standout feature is its streamlined one-step video output, effortlessly facilitating sharing on platforms like YouTube, TikTok, and Vimeo. The program's versatility shines as it seamlessly prepares content for diverse mediums, including DVDs, Blu-rays, and mobile devices.
A unique advantage is its intelligent video clip tagging system, ensuring swift access to assets, thereby optimizing productive hours for actual creative work. By seamlessly integrating motion graphics, video editing, and sound design, Final Cut Pro stands as a comprehensive solution that transcends conventional boundaries, empowering creators to shape their narratives with unparalleled precision and ingenuity.
B. Social Media Tools
Hootsuite emerges as an indispensable companion for modern-day social media managers, equipping them with a comprehensive arsenal to navigate the dynamic landscape of online engagement and brand growth.
How is it useful for creators?
Hootsuite's one platform revolutionizes social media management by seamlessly covering duties ranging from content curation and scheduling to team management and performance analysis.
With support for over 150 app integrations and availability in multiple languages, Hootsuite offers unparalleled versatility and adaptability. As the social media terrain has evolved into a space of discovery, learning, and commerce, Hootsuite positions itself as a beacon of strategic insights, brand building, and customer connection.
From amplifying brand impact through real-time content management system and campaign measurement to delivering stellar customer experiences at scale through AI-infused messaging and human engagement, Hootsuite catalyzes businesses in crafting world-class digital experiences that resonate with audiences throughout their journey.
Buffer emerges as a vital companion for creators of all types in today's dynamic digital landscape, where a compelling online presence is a critical component for success. Its complex platform provides small to midsize organizations and individuals with content research tools they need to master the art of social media management.
How is it useful for creators?
Buffer streamlines the typically complex process of adapting content for varied audiences by seamlessly connecting with a variety of popular networks such as Facebook, Instagram, Twitter, LinkedIn, Google+, and Pinterest.
What sets Buffer apart is its ability to effortlessly automate scheduling, ensuring that your social media posts hit the virtual world at optimal times, thereby boosting efficiency and engagement. Whether accessed through its user-friendly browser extension or convenient mobile apps, Buffer provides the freedom to craft and share content from anywhere across the globe.
Beyond its operational prowess, Buffer extends its offerings to encompass in-depth analytics, presenting users with invaluable insights into their social media performance. The capability to monitor and assess weekly or monthly results, along with the option to export analytics data for further analysis or reporting, underscores Buffer's dedication to informed decision-making.
As an essential tool in the arsenal of every creator, Buffer guides businesses and individuals alike in constructing compelling narratives, fostering active engagement, and honing strategies to enthrall audiences and amplify brand visibility on the ever-evolving digital stage.
Canva, with its user-friendly interface and diverse range of creative capabilities, emerges as an indispensable asset for creators across all skill levels. From crafting eye-catching social media visuals to designing impactful posters, websites, and multimedia presentations, Canva empowers users to elevate their design skills, even if they're just starting out.
How is it useful for creators?
One standout feature is its auto-save function, providing both teachers and students with the peace of mind that their work is always secure. Building upon an array of powerful tools, Canva's graph templates prove invaluable for subjects like math and science, enabling the clear and engaging visualization of specific results.

However, it's Canvas's education-specific features that truly set it apart. Canva for Education facilitates virtual classrooms, collaborative projects, and seamless integration with video chat tools, fostering dynamic learning environments whether in-person or remote. The ability for students to comment and inquire directly, coupled with free online courses such as "Canva for the Classroom," further cements Canva as an essential tool for every creator.
As a platform that not only enhances design proficiency but also fosters collaboration, communication, and creativity, Canva empowers creators to bring their visions to life with confidence and impact.
Sprout Social stands out as another important tool for creators and businesses alike, providing an exceptional social media management platform tailored to meet the needs of a diverse range of organizations. While it may lack a free or budget-friendly plan, its focus on catering to larger organizations with robust requirements underscores its commitment to delivering high-quality solutions.
How is it useful for creators?
The platform's user-friendly interface and streamlined process for attaching social accounts simplify the setup process, setting the stage for efficient management.
A standout feature is the Smart Inbox, which intelligently collates interactions from various social platforms, allowing users to consolidate and manage messages seamlessly. This feature is especially advantageous for agencies, enabling them to organize inbox messages by clients and even categorize messages using customizable tags.
Furthermore, Sprout Social's automation capabilities, including automated publishing and content management, help optimize social media strategies. The platform's insightful analytics empower users to monitor and enhance their brand's performance across different platforms.
In a digital landscape where engagement and audience interactions are paramount, Sprout Social emerges as an indispensable companion for creators, offering the necessary tools to streamline social media efforts and foster meaningful connections with their audience.
'Extra Tip: Leverage sites like Google Trends to identify current trends and craft engaging social media content inspired by them'
C. Newsletter Tools
Mailchimp stands as a cornerstone tool for creators, offering a comprehensive email and marketing automation platform designed to fuel the growth of businesses. With a commitment to empowering millions of customers globally, Mailchimp provides a remarkable blend of cutting-edge marketing technology, unparalleled customer support, and engaging content to catalyze business success.
How is it useful for creators?
Its data-driven recommendations form the bedrock of effective marketing endeavors, enabling creators to effortlessly discover and engage with audiences across email, social media, landing pages, and advertising, all driven by the power of AI.
Mailchimp's allure begins with its accessible entry point - a free email marketing tool that caters to those with subscriber lists under 500 subscribers or 2500 emails monthly, facilitating the creation, management, and dissemination of newsletters.
Beyond its origins in email marketing, Mailchimp has evolved into an all-encompassing marketing platform, extending its repertoire to include landing page creation, postcards, Facebook Ads, Google remarketing, and social ad capabilities.
The recent addition of CRM tools and a seamlessly integrated app experience further solidifies Mailchimp's claim to be the ultimate solution for businesses, effectively shouldering the responsibility of nurturing growth and elevating brand marketing efforts.
ConvertKit has undoubtedly emerged as a crucial tool for creators seeking to thrive in the digital landscape.
How is it useful for creators?
With its user-friendly interface and, more advanced features, it serves as the go-to marketing hub for creators looking to both expand and monetize their audience effortlessly. The Free plan, accommodating up to 1,000 subscribers, facilitates seamless communication through well-designed newsletters.
Offering a selection of responsive templates as a foundation, ConvertKit empowers creators to craft personalized email templates, incorporating fonts, colors, graphics, and links. Moreover, its branded product pages allow unlimited customization, aligning every aspect with the creator's unique brand.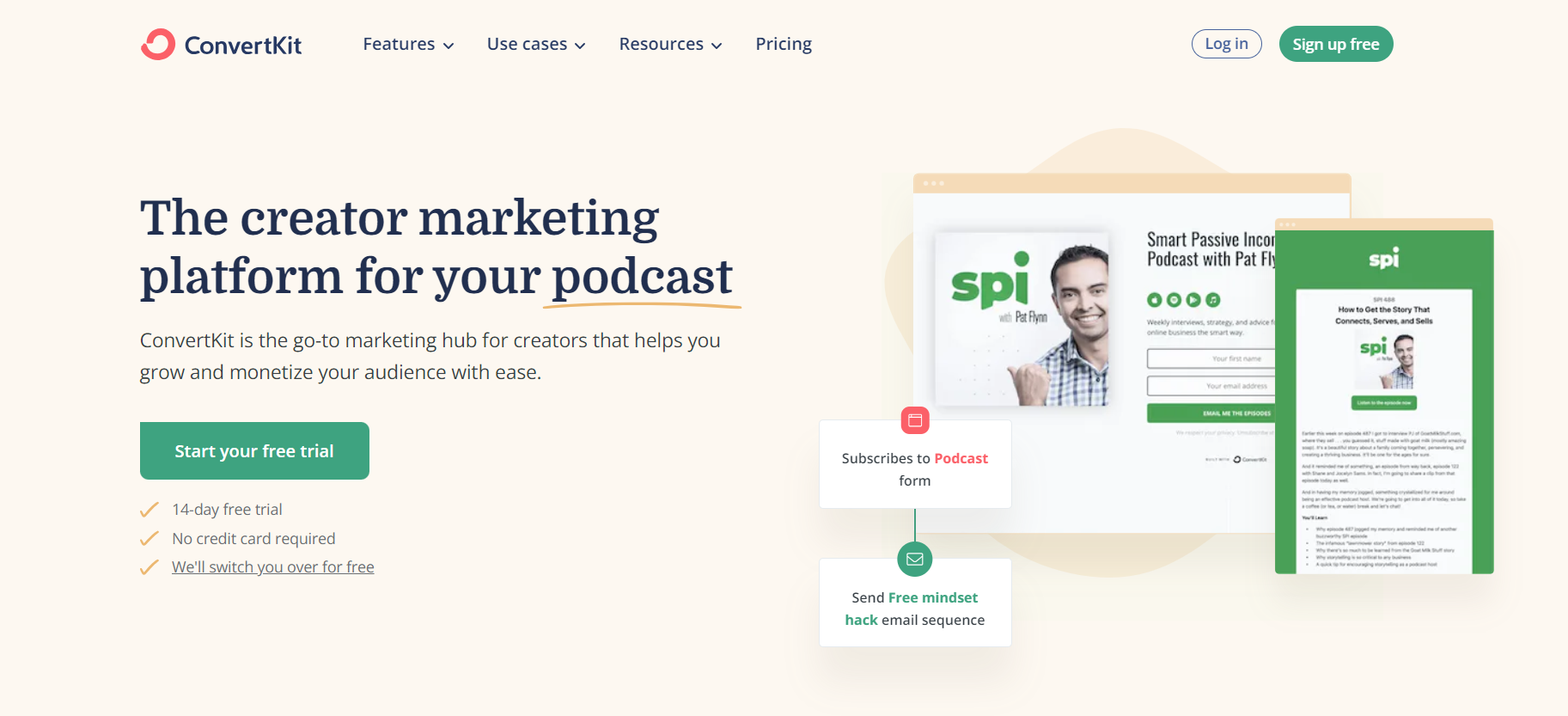 The inclusion of visual automation enables the creation of automated funnels, making it easier to engage super fans and promote paid newsletters. Supported by a vibrant community of like-minded creators, ConvertKit not only offers outstanding tools but also fosters an environment of mutual understanding and growth, making it an indispensable asset for creators navigating the challenges of the industry.
FreshLearn is an all-in-one platform designed for creators that charge no commission on sales and offer round-the-clock support via live chat, email, and phone.
It streamlines the process of crafting and delivering impactful email marketing campaigns and newsletters, allowing you to channel your efforts into cultivating your online knowledge business and engaging with your audience.
How is it useful for creators?
Its arsenal of customizable templates presents a user-friendly interface, enabling you to effortlessly select designs, incorporate your logo, images, and content, and dispatch messages with just a few clicks.
Notably, these templates are designed with mobile responsiveness in mind, ensuring that your newsletters captivate recipients on any device, a crucial consideration given the prevalence of mobile email consumption.
FreshLearn's drag-and-drop editor extends creative liberty, empowering you to tailor email templates to harmonize perfectly with your brand's identity. A standout feature is its accessibility – you need no HTML expertise to craft stunning, mobile-responsive emails within minutes.
By democratizing the process, FreshLearn empowers creators of all backgrounds to create polished and professional newsletters, transcending technical barriers and allowing your content to shine. In the ever-evolving landscape of online engagement, FreshLearn stands as an indispensable tool for every creator, equipping you with the means to connect and communicate effectively with your audience.
D. Course Creation Tools
11. Freshlearn
FreshLearn emerges as one of the indispensable content-creator tools, seeking to cultivate successful online ventures. As the premier course creation platform, it offers a comprehensive solution encompassing live coaching sessions, online course development, and landing pages.
How is it useful for creators?
The convenience of conducting coaching sessions is seamlessly integrated with features such as drip course content, enabling the gradual release of chapters, and customizable course creation, granting creators full control over their digital coaching business.
FreshLearn simplifies the process of turning knowledge into profitable courses and workshops by allowing you to easily design, sell course content, set assignments, and track progress. The unique pricing strategy, however, distinguishes FreshLearn from other platforms.
Creators are only paid once they have produced income. FreshLearn is a vital tool for creators seeking a hassle-free path to developing a thriving online presence, providing the resources required to translate expertise into a successful and profitable online firm.
Teachable stand out as another tool for creators of all kinds who aspire to cultivate thriving online businesses. With its user-friendly interface and comprehensive features, Teachable empowers creators to build impactful ventures through courses, coaching sessions, and digital downloads.
How is it useful for creators?
Regardless of whether you're gaining traction on platforms like TikTok or transitioning your in-person classes to the digital realm, Teachable offers a holistic solution that puts you in control. One of its key strengths lies in its simplicity, making it an ideal choice for beginners looking to embark on their online teaching journey.
The platform's exceptional customer support ensures that creators can navigate any challenges seamlessly. Teachable's versatile toolkit allows you to not only upload videos and create landing pages but also incorporate interactive elements like quizzes and certification systems to enhance the learning experience.
Additionally, the inclusion of features such as coupons, affiliate programs, and analytics further amplifies your ability to tailor and optimize your offerings. In sum, Teachable emerges as an indispensable resource that equips creators with the means to share knowledge, connect with students, and generate meaningful revenue streams, all from a single, intuitive dashboard.
13. Thinkific
Thinkific is a platform that is tailored to the needs of experts and creators who are eager to share their expertise through engaging and interactive online education products. It serves as a cornerstone for individuals looking to generate revenue by imparting knowledge across diverse domains, whether it's mastering a musical instrument, honing digital marketing skills, or exploring any other subject.
How is it useful for creators?
Thinkific's comprehensive approach equips creators with a wealth of resources to efficiently manage their online courses from a single hub. This encompassing toolkit empowers creators to oversee every facet of the educational journey, from crafting course curricula to receiving compensation for their offerings.
Thinkific boasts an array of essential features, such as a versatile Course Builder to structure engaging curriculum, customizable website design tools that align with your brand identity, seamless integration with major e-commerce platforms for streamlined payment processing, and a host of marketing and CRM tools to attract and retain students.
Thinkific also emphasizes student success through its student-centered learning environment. In summary, Thinkific stands as an indispensable asset that empowers creators to actualize their educational ambitions, offering a comprehensive suite of tools that span course creation, website design, payment management, marketing, and student engagement.
E. Community Management Tools
Discord stands as a versatile and free communication application, offering users the ability to seamlessly connect through voice, video, and text chats with friends, gaming communities, and developers. With an expansive user base numbering in the hundreds of millions, Discord has firmly established itself as one of the most popular platforms for online interaction.
How is it useful for creators?
Its primary purpose revolves around facilitating communication in various contexts. By enabling users to effortlessly create Discord servers, the platform serves as a hub for diverse activities. Whether it's assembling friends for spirited group discussions, sharing entertaining GIFs, memes, and snapshots, or engaging in casual conversations, Discord caters to a broad spectrum of social interactions.
Moreover, it offers a valuable toolset for gamers, permitting real-time collaboration and strategic planning through voice channels during gameplay. Discord goes beyond standard communication by offering features like game streaming, allowing users to broadcast their gameplay to friends for advice, amusement, or friendly banter.
Notably, game developers and publishers also harness Discord's capabilities to connect with their communities, granting exclusive access to gaming content, such as concept art, new screenshots, and even early game releases. In essence, Discord's multifaceted functionality positions it as an essential platform for fostering connections, sharing experiences, and nurturing vibrant online communities.
Slack, a versatile messaging app designed for businesses, serves as a powerful tool that revolutionizes organizational communication. It consolidates various communication methods – email, text messaging, and instant chat – into a single, cohesive platform. This integration ensures that vital information remains separate from volunteers' personal email accounts, promoting efficient and organized collaboration.
How is it useful for creators?
By facilitating seamless file sharing, Slack is also a great project management tool that helps teams effortlessly exchange a range of materials such as images, written content, and videos. Additionally, the mentioned feature allows for targeted notifications to individuals or groups, fostering timely and focused communication akin to a digital walkie-talkie system.
Moreover, the platform empowers users to initiate voice or video conference calls, enhancing real-time interaction among teammates.

Slack's capabilities extend beyond mere communication. It enables users to create reminders, leveraging both built-in functionality and integration with tools like Google Calendar and to-do lists. This aids volunteers in tracking upcoming events and deadlines, ensuring they stay aligned with organizational goals.
Furthermore, Slack fosters a sense of community by offering accessible spaces for volunteers and staff, regardless of their physical location. The platform thrives in scenarios requiring swift decision-making, real-time collaboration, spontaneous voice or video discussions, instant attention-grabbing, quick polls or voting, seamless connectivity, and rapid onboarding of new team members
FreshLearn is a comprehensive platform designed to empower individuals in creating and monetizing their online courses.
Through its user-friendly course builder tools, FreshLearn offers a seamless journey for creators to develop and distribute captivating educational content to a global audience. This platform has enabled numerous entrepreneurs to transform their expertise into a profitable income stream.
How is it useful for creators?
Beyond being an exceptional learning hub, FreshLearn also serves as a robust tool for cultivating online communities. By establishing paid or free communities, creators can foster engagement among members while maintaining full control over automation and moderation processes. The platform's features facilitate meaningful interactions between creators and members, enhancing user retention.
FreshLearn simplifies the management of enrolled course members by automating access to specific groups based on predefined criteria. The built-in moderation tools ensure a well-maintained and constructive environment for discussions and comments within these groups.
The platform also seamlessly integrates with payment gateways like Stripe and PayPal, enabling creators to monetize their thriving communities. With the option to connect to personal domains and customize branding elements, creators can establish a community that truly embodies their identity.
F. Checkout Management Tools
FreshLearn is an innovative platform designed to empower individuals to create and monetize their online courses effectively.
How is it useful for creators?
With Freshlearn you can experience the convenience of a pre-built, conversion-optimized checkout page with FreshLearn. Seamlessly accept both one-time and subscription payments online, ensuring security and ease with just a few clicks.
Elevate your course sales with a frictionless payment process that enhances conversions. The dedicated designers and engineers at FreshLearn are committed to refining the checkout experience, focusing on aspects like load times and aesthetics, all geared toward boosting your sales.
Personalize the checkout page to align with your brand – customize colors, logos, and branding to maintain a consistent look.
Plus, with the option to use it on your own domain, the transition to FreshLearn's checkout remains smooth, secure, and aligned with your website.
Stay informed with comprehensive sales and cart abandonment reports, effortlessly track your progress, and conveniently download these insights in CSV format.
ThriveCart serves as a robust solution for streamlining online payment processes. This powerful shopping cart provider and checkout platform offer extensive capabilities, facilitating the seamless sale of various products and services, including digital and physical items, courses, coaching, and more. In essence, ThriveCart empowers online entrepreneurs aiming to boost sales.
How is it useful for creators?
Beyond its user-friendly interface for processing online payments through dedicated checkout pages and links, ThriveCart offers versatile options like pop-ups and embeddable checkouts. This versatility enables integration directly into your website or connection to your sales and landing pages, ensuring a straightforward and secure eCommerce experience.
ThriveCart goes further by enabling the creation of tailored checkout pages using its customizable templates. This feature not only automates sales funnels but also empowers you to continue generating sales even during periods of inactivity.
G. Subtitle Generation Tools
Subly is a versatile transcription tool that revolutionizes the process of adding captions to videos effortlessly. It swiftly generates captions and subtitles through a few simple clicks, which can be easily customized to align with your brand's aesthetic. This intuitive software not only automates transcription and translation but also seamlessly incorporates subtitles into video and audio files.
How is it useful for creators?
Enhancing its utility, Subly offers a one-click solution to resize media for various social platforms like Instagram, Facebook, TikTok, and LinkedIn. Beyond embedding subtitles, the tool empowers users to download SRT, VTT, and TXT files, facilitating uploads to diverse platforms.
The tool's impact extends across industries, benefiting Content Creators, Social Media Executives, Marketing Managers, and more, spanning sectors such as finance, marketing, sports, and coaching.
Subly caters to a wide audience, catering to individual content creators, podcasters, and corporate marketing teams. Its user-friendly design ensures that even novices in editing, transcription, and subtitling can effortlessly harness its capabilities, evolving into proficient users.
Ultimately, Subly redefines the landscape of subtitling, simplifying the process for both beginners and experienced professionals,
Zubtitle offers a user-friendly online editor designed to simplify the process of enhancing your videos with subtitles and making them more engaging.
How is it useful for creators?
With its seamless features, you can effortlessly upload your video and let Zubtitle handle automatic transcription and caption integration in a matter of seconds. The platform also enables you to infuse your brand's distinctive fonts and colors, as well as save customized video templates to expedite future edits.
By choosing from various animation styles, you can create captivating dynamic captions that set your videos apart on social media platforms. Additionally, Zubtitle empowers you to incorporate attention-grabbing progress animations, contributing to enhanced viewer retention through its intuitive online editing interface.
H. Email Marketing Tools
21. Mailchimp
Mailchimp is a leading all-in-one marketing platform that offers powerful tools for businesses of all sizes to effectively engage with customers. It simplifies the process of creating captivating and personalized email campaigns tailored to specific business needs.
How is it useful for creators?
Seamlessly integrating with popular eCommerce platforms like Shopify and WooCommerce, Mailchimp facilitates the synchronization of online store data, enabling targeted email campaigns based on customer shopping behaviors.
The platform provides a wide array of customizable templates, allowing for brand-aligned creativity and personalized communication. The Mailchimp Campaign Manager streamlines campaign management by consolidating various elements within a single digital interface.
It supports crafting focused email series and incorporating events like product launches to enhance marketing impact. The Tasks feature aids in monitoring campaign-related activities, acting as a digital assistant to maintain operational efficiency.
Additionally, Mailchimp's Webhooks feature serves as an all-in-one marketing multi-tool, facilitating diverse campaign tasks such as managing social ads and sending Slack messages, offering a comprehensive solution to various campaign challenges.
22. Freshlearn
FreshLearn's email marketing tool offers a seamless solution for online knowledge businesses seeking to enhance their outreach.
How is it useful for creators?
With the platform's user-friendly features, users can effortlessly send out impactful email campaigns and newsletters, fueling the expansion of their enterprises. Users can effectively engage their audience without unnecessary complexity by selecting a template, inserting content, and hitting the send button.
FreshLearn's email marketing tool facilitates heightened customer engagement by seamlessly connecting with learners across various devices.
The incorporation of compelling calls-to-action and integrated lead capture forms within the email templates significantly improves conversion rates, providing a holistic solution for boosting marketing effectiveness.
With FreshLearn, businesses can elevate their email marketing strategies, resulting in increased engagement and improved conversion metrics.
AWeber serves as a comprehensive email marketing solution, offering a suite of features to enhance your campaigns. You can effortlessly establish and manage mailing lists, gathering valuable data from subscribers.
How is it useful for creators?
The platform empowers you to craft visually appealing newsletters tailored for your audience. Through automated 'autoresponders,' your email marketing becomes streamlined and efficient.
Detailed campaign insights are at your fingertips, enabling informed analysis. AWeber's capabilities span hosting mailing lists, utilizing responsive templates, automation, reports, A/B testing, blog-to-email integration, list segmentation, and even building landing pages.
Notably, the service encompasses customer support channels, third-party app integrations, basic e-commerce tools, and the option to collaborate with multiple users.
I. Review Management Tools
FreshLearn is a platform that enables the creation and sale of digital downloads and online courses without requiring any coding knowledge.
How is it useful for creators?
Easily gather and showcase member testimonials on your website with FreshLearn's user-friendly approach. Say goodbye to the complexity of integrating testimonials – FreshLearn streamlines the process into a few simple clicks. Effortlessly collect testimonials in under a minute using the readily shareable request link.
Replace cumbersome feedback forms with a welcoming 'Get Testimonial' block on your landing page using our feature, allowing you to personalize it with your company logo, an engaging headline, and interactive elements. Tailor the Call to Action button and incorporate a post-submission Thank You message.
Managing testimonials becomes a breeze with FreshLearn's comprehensive dashboard, aggregating all submissions in one organized location for your convenience. Take charge of what appears on your website by filtering and publishing the chosen testimonials with ease.
Trustpilot serves as an online review community bridging the gap between businesses and consumers through authentic customer feedback. By hosting user-generated reviews in an open and inclusive online space, Trustpilot empowers individuals to share their buying and service experiences.
How is it useful for creators?
This platform prioritizes maintaining the integrity of reviews, ensuring they remain uncensored and unaffected by manipulation. This commitment to transparency amplifies customers' voices, fostering transparency, relationship-building, and trust.
Trustpilot's ethos lies in facilitating open communication, allowing businesses to demonstrate their dedication to customer feedback and, in turn, cultivate loyalty. When making future purchasing decisions, Trustpilot stands ready to guide individuals through the online marketplace, enabling informed choices that stem from confidence in the reviews provided.
Conclusion
So, there you have it - our ultimate guide to 25 essential creator tools! We've taken a deep dive into a bunch of game-changing tools that are like your creative sidekicks, helping you turn ideas into reality.
From super-smooth software that makes designing a breeze to platforms that give your work a megaphone, the online world is buzzing with opportunities. These 25 tools are basically a high-five to human creativity and the endless cool stuff we can make with tech.
And guess what? Among these fantastic tools, there's one that's like the ultimate all-in-one creative sidekick – Freshlearn!
It's the powerhouse that combines the best of the best, offering a wide array of features to supercharge your creative journey. From seamless email marketing capabilities to course creation, Freshlearn has got it all under one digital roof.

You might also like
Hosted by