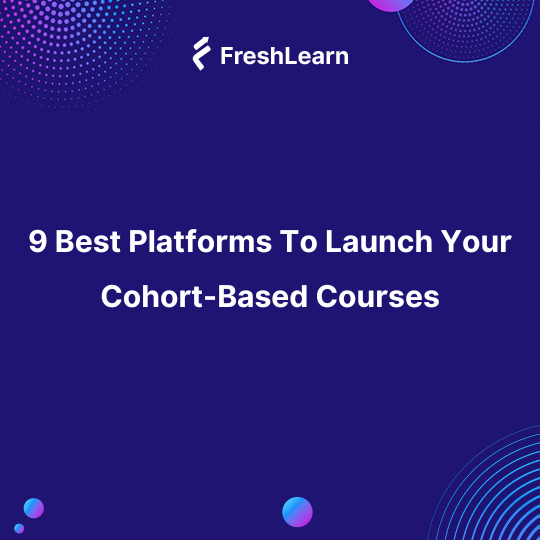 9 Best Platforms To Launch Your Cohort-Based Courses
For many years, education was confined to the classroom and traditional teaching methods, but the advent of online education has brought about a revolution in the way we learn.
With the ability to access educational content and resources online, students can now learn anywhere and at any time, breaking free from the constraints of traditional education.
Cohort-based courses are a great way to do this, as they allow students to learn together in a group and foster a sense of community and collaboration.
But with so many options out there, it can be overwhelming to choose the right platform to host your course.
That's why I've put together this list of the best platforms for launching your cohort-based courses.
In this blog, we'll explore the features, pricing, and pros and cons of each platform, so you can make an informed decision about which one is right for you.
Whether you're an experienced course creator or new to the world of online education, you'll find something of value in this guide.
What Is Cohort-Based Learning?
Cohort-based learning is a type of education model in which students learn together in a group, or cohort, over a set period of time.
Let me make it clear with an example:
Imagine you are enrolled in an online language course.
The course is structured as a cohort-based program, which means that you will be learning alongside a group of students who are all working towards the same goal: to become proficient in a specific language.
Each week, you and your cohort will receive new lessons and exercises to help you build your skills and knowledge.
You might start by learning basic grammar and vocabulary, and then move on to more advanced topics like reading, writing, and conversation.
Along the way, you will have the opportunity to work on group projects and get feedback from your peers and instructors.
Throughout the course, you will have regular check-ins with your cohort, where you can discuss your progress, ask questions, and get support.
According to cohort-based learning stats, when you learn something passively, there's a 72% chance you'll forget it. But when you use it, answer questions about it, and interact with others there's a 69% chance you'll remember it
You might also have the chance to participate in cultural events or guest lectures, where you can learn more about the culture and customs of the language you are learning.
Best Cohort-Based Platforms of 2023
Cohort-based platform: Maven
Maven is a platform that offers cohort-based courses online, creating a learning community where people can take any course from anywhere.
With Maven, you can learn alongside a group of peers, building a sense of community and support as you progress through the course material.
Features:
Maven offers time-limited online classes, allowing students to focus on their studies and stay on track with their learning goals.
The platform has a formal system in place to ensure the quality of its courses and instructors.
Maven's system helps to balance the performance of instructors and students, ensuring that both are held to high standards.
Students are given the flexibility to work at their own pace with self-paced classes but are still given clear goals to strive for.
Pricing:

Maven's pricing model is based on a percentage of your sales rather than a monthly fee. The platform takes a 10% cut from all your transaction sales.
Cohort-based platform: FreshLearn
FreshLearn is a platform that allows you to create and sell online courses and digital products on your own branded website without the need for coding knowledge.
It offers a range of tools and features to help you build, market, and sell online cohort-based courses with ease.
Over 11475 creators have made over $20 million by using FreshLearn to sell digital products directly to their fans on their own branded websites.
Features:

Create and deliver a variety of content types
FreshLearn allows you to create and deliver a variety of content types like masterclasses, and cohort-based courses including live classes through integrations with platforms like Google Meets and Zoom.
The platform offers a range of options for connecting to live classes, providing you with flexibility and the ability to deliver your content in the way that best meets your needs and those of your learners.
FreshLearn provides a platform for real-time discussions and comments, helping to bring learners together and foster a sense of community and collaboration.
By enabling social interaction within the learning environment, FreshLearn promotes a more engaging and dynamic learning experience.
Build quizzes & assessments
FreshLearn includes built-in quizzes and assessments to help you gauge your learners' understanding of the course material.
This feature allows you to get real-time insights into how well your students are comprehending the content, enabling you to take corrective actions if needed.
By using quizzes and assessments, you can ensure that your learners are fully grasping the concepts you are teaching and help them succeed in their studies.
Launch learning community
FreshLearn allows you to create collaborative learning communities where members can learn from each other and engage with each other.
You have the option to launch paid or free communities for members to join.
With complete control over the automation and moderation of community activities, you can ensure that interactions between you and the members are productive and positive.
By fostering interactions between members, FreshLearn can help increase retention and engagement in your courses.
Pricing:
Freshlearn's monthly plan starts from $29 per month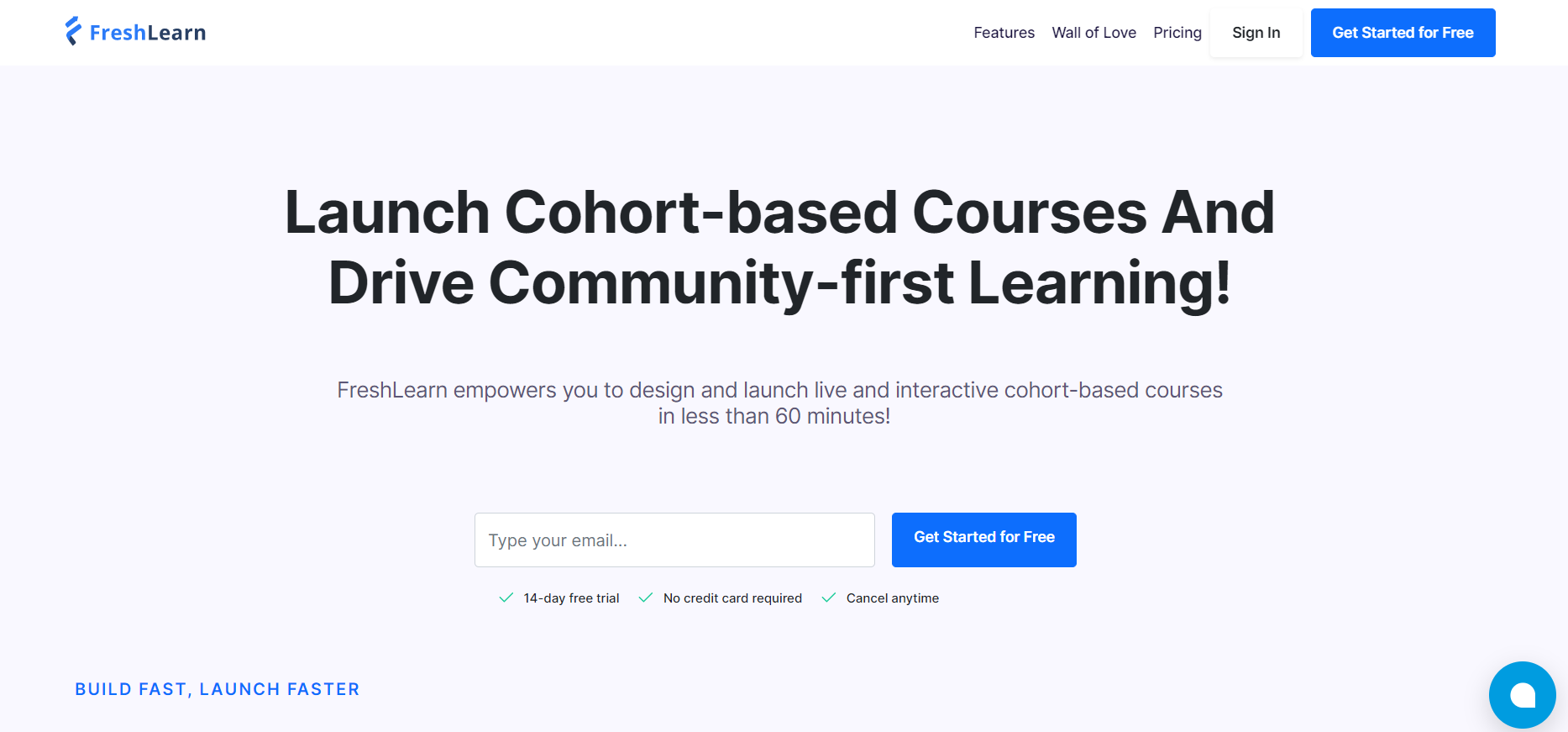 Cohort-based platform: Teachable
Teachable is a comprehensive course creation platform that offers a range of features for building and selling online courses, including the ability to create cohort-based courses.
Features:
Teachable has a user-friendly interface and a range of features for creating and delivering online cohort-based courses, including course creation tools, customizable landing pages, marketing and sales tools, and integrations with email marketing platforms.
It also offers good customer support, with a comprehensive knowledge base and the ability to contact support via email or chat.
Pricing:
Teachable offers four pricing plans, ranging from $39 to $119 per month, which allows you to choose the plan that best meets your needs and budget.

Cohort-based platform: Thinkific
Thinkific has been a top choice for those looking to create and sell cohort-based courses for a while now.
It's known for its excellent course creation tools and its ability to keep students engaged throughout their courses.
It's been a leader in the hosted course platform sector for years.
Features:
Form groups
Thinkific allows you to organize and manage your students in groups, known as "cohorts."
You can add students to a cohort in bulk, create specific links for them to sign up, and even assign managers to each cohort.
This is especially useful if you are training for an outside organization. The platform also lets you run progress reports for each cohort.
Offer Live Classes
Thinkific's integration with Zoom enables you to conduct live lessons for your students.
Scheduling these sessions is easy within the platform, and your students can join from the course player.
This is a great way to provide live instruction and engage with your students in real-time.
Build community
Thinkific also has its own built-in community feature, which allows you to create dedicated spaces for different groups of students, or "cohorts."
Within these learning community spaces, your learners can participate in discussions, attend live events, and engage with existing posts.
There are many possibilities for how you can use these community spaces to foster a sense of community and support among your students.
Pricing:
It has a monthly plan starting from $49- $199.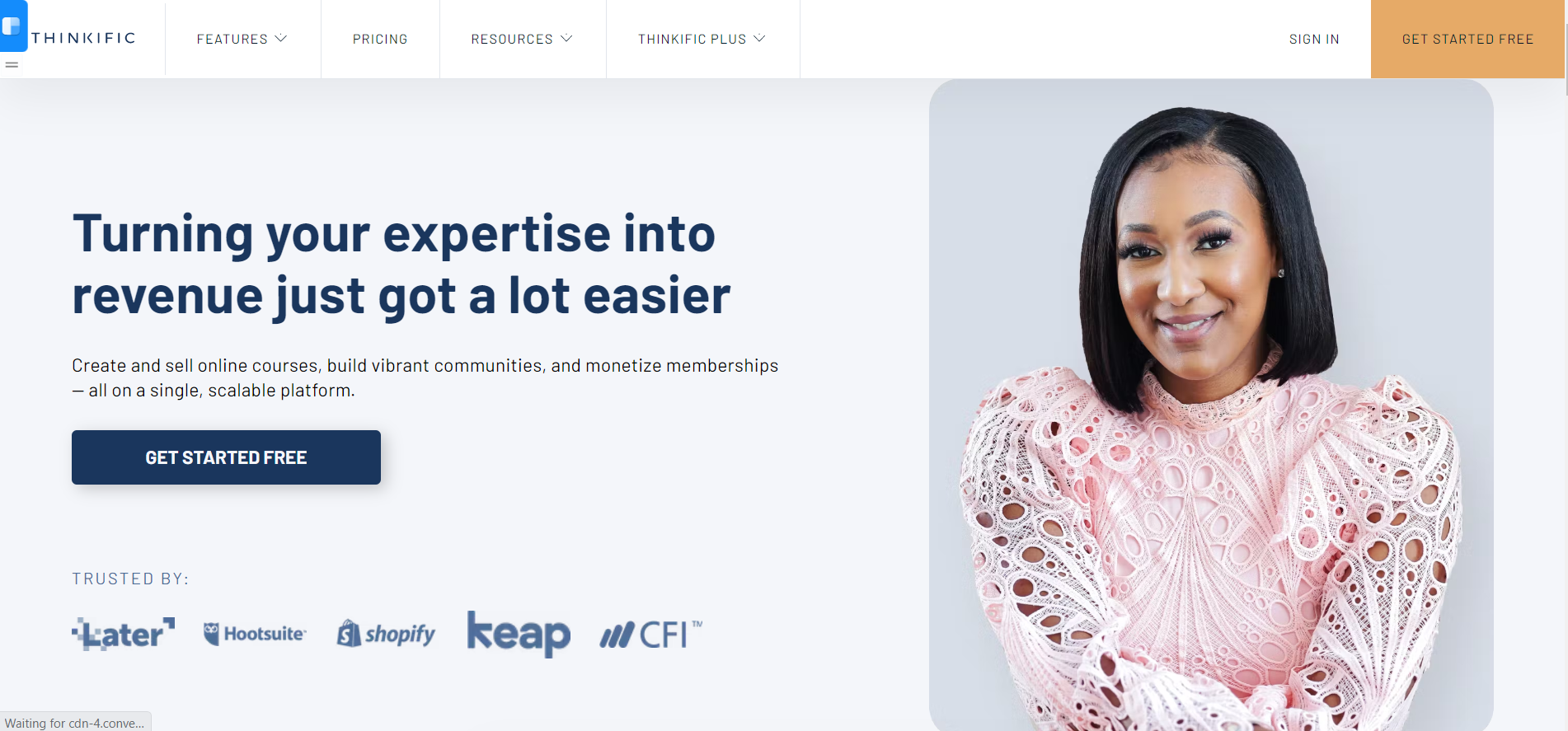 Cohort-based platform: Virtually
Virtually is a platform that offers live online classes in small groups, with a focus on delivering an exceptional experience for both instructors and students.
All of the classes are hosted on a single platform, allowing for a streamlined and cohesive learning environment.
Features:
Hassle-free student registration:
This feature allows students to easily sign up for classes and become members of the platform without any difficulties or complications
Convenient payment processing:
The payment process on Virtually is designed to be convenient and straightforward for students, making it easy for them to pay for classes and other services.
Attendance tracking and evaluation:
Virtually tracks student attendance and provides evaluation tools to ensure that students are participating and engaging in their classes.
The platform offers an extensive library of resources and materials for students to use for research and study in a variety of subject areas.
Cohort-based Zoom classes:
Classes on Virtually are held in small groups, or "cohorts," using the Zoom video conferencing platform.
This allows for more personal interaction between students and instructors.
Timely grading and feedback:
Students can expect timely grading and feedback on their work, helping them to track their progress and understand areas for improvement.
Pricing:

Charges start from $50 per month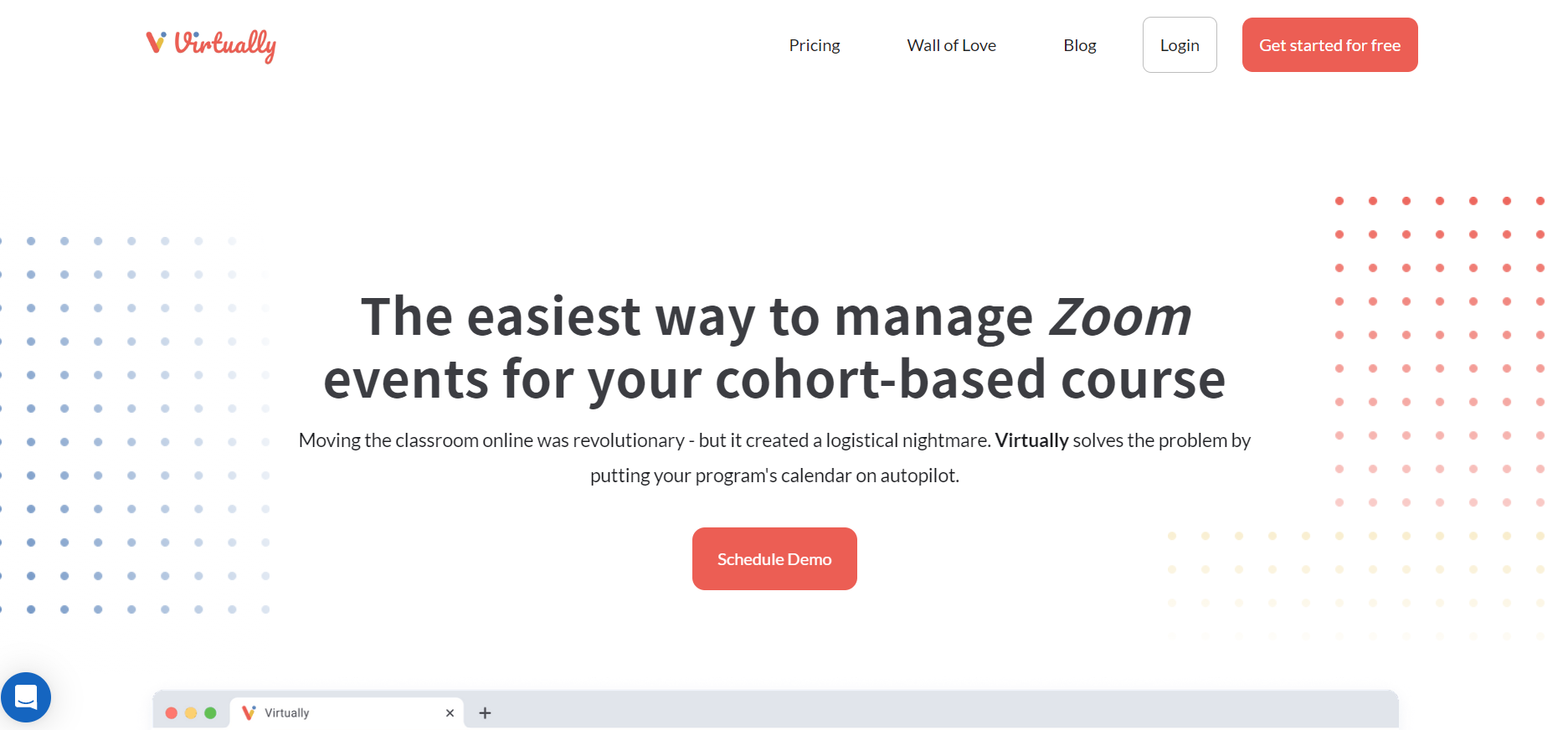 Cohort-based platform: Teachfloor
Teachfloor is a software that simplifies the process of creating and expanding cohort-based courses online.
It is designed to assist online academies in transforming their asynchronous courses into cohort-based ones.
Features:
With Teachfloor, you can easily build and manage your own live online academy using a single, flexible platform.
Using a single, intuitive platform, you can create cohort-based courses and sell them online, all while effectively managing your academy.
Effective student engagement:
Teachfloor helps you to manage your students' activities and provides an interactive learning experience that enhances engagement.
Teachfloor allows you to build a community around your cohort-based course, which helps students connect with each other and can improve student outcomes.
Pricing:
Charges start at $69 per month
Cohort-based platform: Eduflow
Eduflow is an online learning platform that emphasizes collaborative study and regular feedback for students.
It gives instructors the tools to create engaging and effective learning experiences, increase student engagement, and help students retain knowledge.
Features:

Simple software system for instructors:
Eduflow has a simple and user-friendly software system that allows instructors to easily sign in and create their first course.
The platform offers a range of customization tools that allow instructors to edit content, add images, and upload files to their courses.
Eduflow includes a peer review feature that enables students to review each other anonymously, providing valuable feedback to help improve their learning experience.
Intuitive learning design:
The learning design on Eduflow is intuitive and interactive, departing from the traditional classroom model.
The platform has an extensive analytical tool that helps instructors monitor the performance of their students.
Personalized learning and privacy:
Eduflow includes professional learning management systems that offer a personalized learning experience for students while also protecting their privacy.
Pricing:
Charges start at $49/mo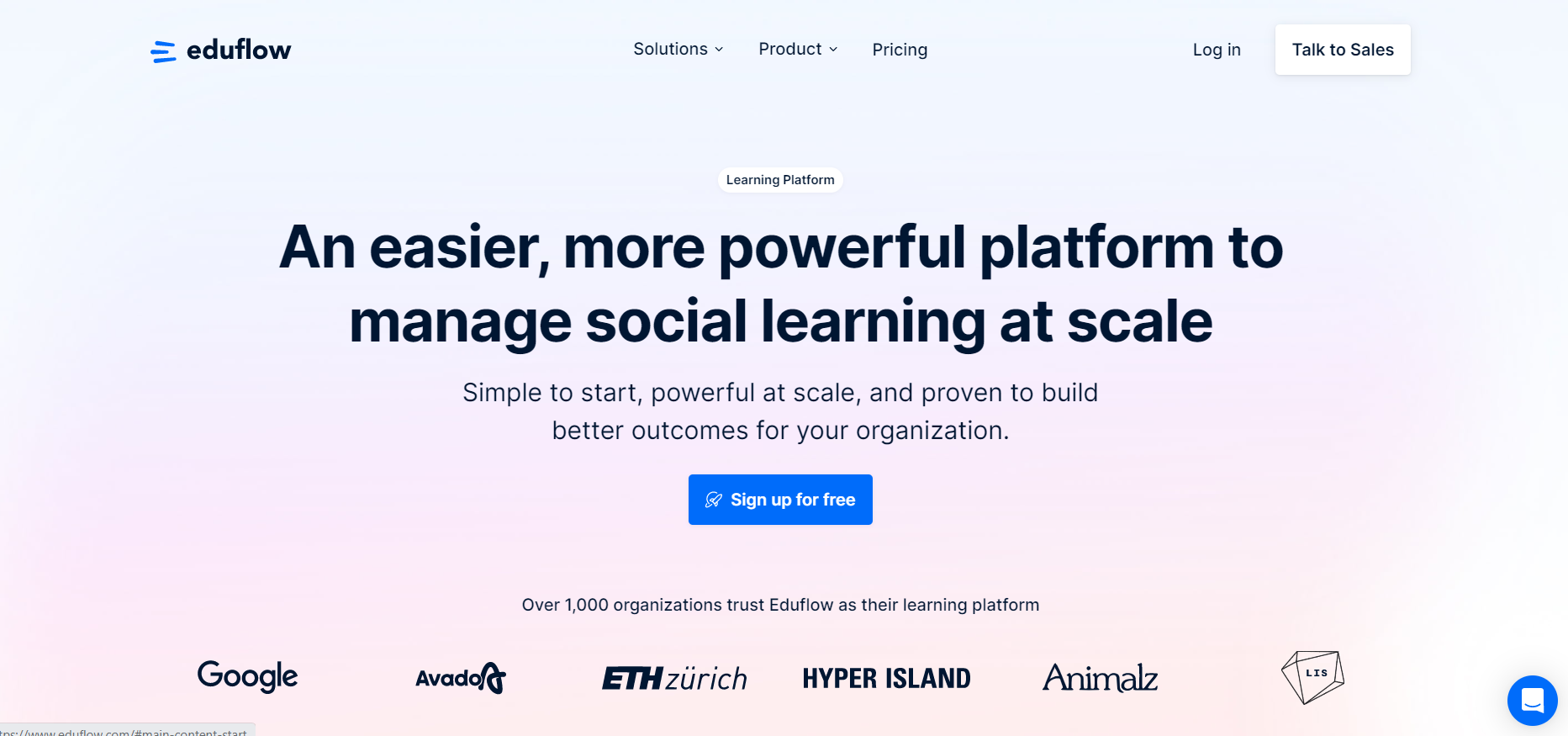 Cohort-based platform: Disco
With Disco, creating cohort-based courses that interact and change is simple. With cohort-based courses, you can quickly create collaborative learning experiences.
Features:

Simplify online course applications
With Disco's simple features, you can easily enroll the right cohort in your online courses, manage your applications and develop a set of unique questions.
Easily accept course payments
Thanks to a built-in Stripe integration and registration page, you can conveniently accept payments for your online course.
With Zoom integration, calendar invites, and other features, you can easily automate the time-consuming aspects of hosting live lessons.
Seamless course onboarding
With Dosco, prepare members for online learning by assigning them tasks like creating a profile or watching a series of videos.
Save time launching cohort-learning experiences
With a few clicks, copy over all the lessons, videos, and course materials required for new cohorts.
Pricing:
You get a free trial for 14 days after which charges start at $60/per mo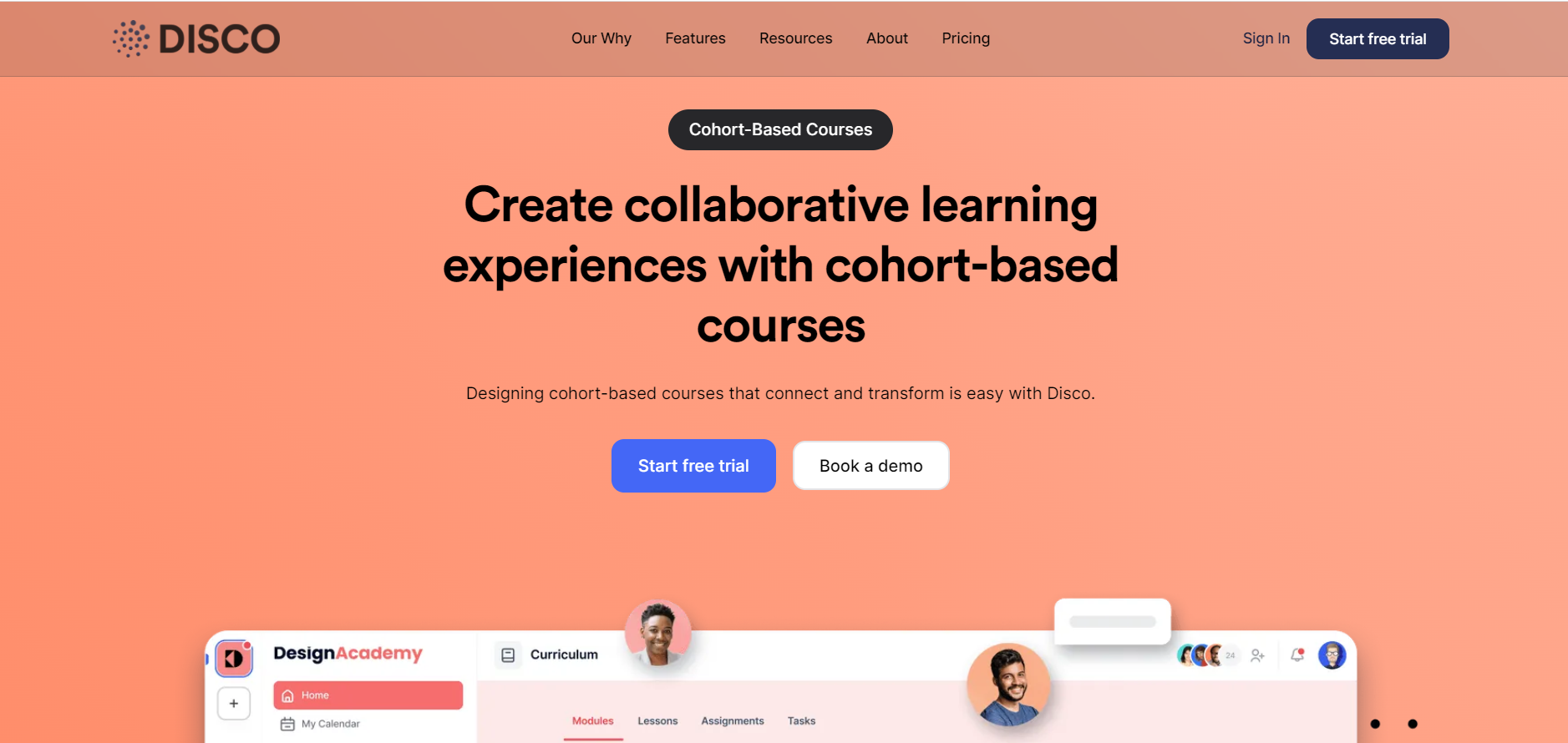 Cohort-based platform: Graphy
Graphy is a one-stop shop for creating live courses, and cohort-based courses, growing your audience, and monetizing your knowledge.
Features:
Create highly interactive online courses with no technical problems and provide your students with a seamless learning experience.
Integrated payment gateways
You can price your content based on your audience. The same currency will be used to collect payments.
Bring your community together in your own safe zone. Share exclusive films, interviews, notes, and other content with your community.
Pricing:
The platform does not charge any fees upfront. They make money only when you make money, with a nominal 10%  platform charge exclusively on successful enrolments in your courses.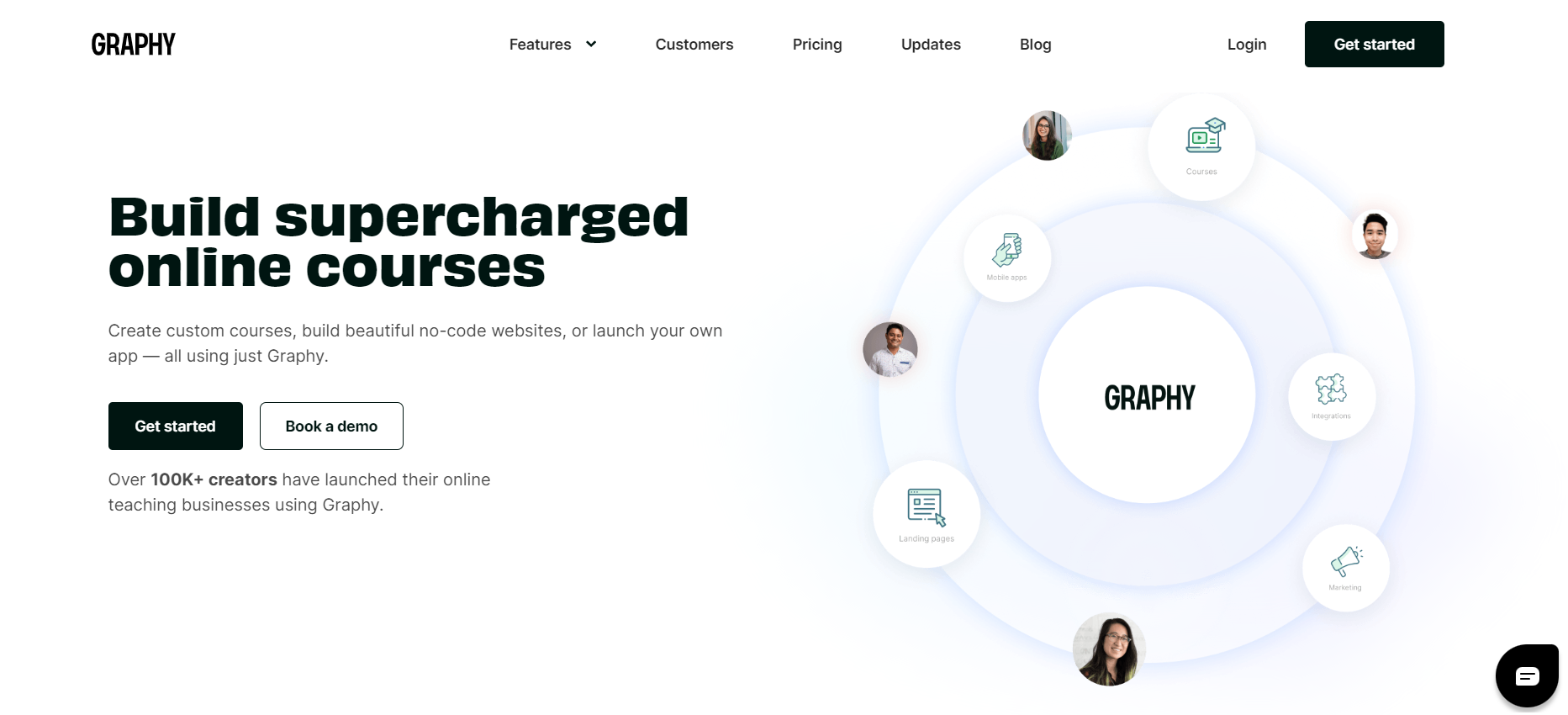 What Should You Consider Before Choosing The Best Cohort-Based Platform?
As a creator or educator, you want to ensure that you have the best tools and resources available to facilitate learning and engagement among your students.
However, with so many options available, it can be overwhelming to choose the right platform for your needs.
Key factors to consider when selecting the best cohort-based platform for you:
Purpose
Choosing the right cohort-based platform should be your #1 priority.
Remember that each platform serves a specific purpose so you need to consider what exactly you are looking to achieve with your platform.
Do you need a platform to facilitate communication and collaboration among students?
Do you need a platform to provide online course materials?
Or, Do you need it to serve both purposes?
Taking time to research will never go in vain; instead, you'll have a clear idea of what your platform wants to serve.
And, this way you can save both money and headaches down the road.
Features and Functionality
Features and functionality are other important factors that you should take into consideration as they directly impact the learning experience of your students.
The right features and functionality can facilitate communication, collaboration, and access to course materials, all of which are essential for a successful online learning environment.
For example, if your course requires live video conferencing, it's important to choose a platform that offers this feature.
Similarly, if you need a platform that can host online tests and quizzes and provide grading functionality, you'll want to ensure that the platform you choose offers these capabilities.
Integration with other tools
When it comes to choosing the best cohort-based platform, integration with other tools should be a major factor in your decision.
By integrating with other tools, you can streamline your workflows, add new capabilities to your platform, and improve data management and collaboration.
For example, integrating with a project management tool can help you track progress and communicate with your team in one place while integrating with a learning management system can enable you to track student progress and provide feedback.
Additionally, integrating with other tools can help you collect and analyze data from multiple sources, giving you a more comprehensive view of your program and helping you make informed decisions about how to improve it.
Overall, integration with other tools can help you get the most out of your cohort-based platform and make it easier to manage and optimize your program.
Cost
There is no denying that cost is an important factor to consider when choosing a cohort-based platform.
Different cohort-based platforms can have widely varying costs, depending on the features and capabilities they offer.
Carefully evaluate the cost of a platform and compare it to your budget and resources to ensure that you're getting the best value for your money.
Important Reminder: Don't just consider the initial cost of the platform, but also any ongoing fees or subscriptions, as these can add up over time.
It's also a good idea to consider any potential cost savings that a platform might offer, such as increased efficiency in managing your program.
By carefully evaluating the cost of a cohort-based platform, you can make an informed decision that aligns with your budget and helps you get the most out of your program.
Security and privacy
Security and privacy are important considerations when choosing a cohort-based platform, as they can help protect sensitive information, ensure compliance with regulations, and maintain trust with students and other stakeholders.
It's important to carefully evaluate the security and privacy measures in place with any platform you are considering to ensure that it meets your needs and requirements.
Pay attention to:
how your data is being stored
who has access to it
and what their policies are regarding the use and sharing of data
Remember that an unscrupulous breach could lead to severe consequences for you or your business.
Do research, ask questions, review documentation, and make sure you fully understand the security measures in place when selecting a provider - better safe than sorry!
Launch Your Cohort-Based Course With FreshLearn Today!
To wrap up, I would just like to say that if you are an instructor or academy looking to launch a cohort-based course, FreshLearn is a platform that can help you do so effectively.
It has all the features and tools you need to get your course up and running and can help you reach a wider audience of students.
No wonder our creators have earned more than $20 million by creating and launching their courses.
So, don't wait any longer, give FreshLearn a try and start launching your cohort-based course today!
To learn more about launching an amazing course, Get on a call with our team now!

You might also like
Hosted by