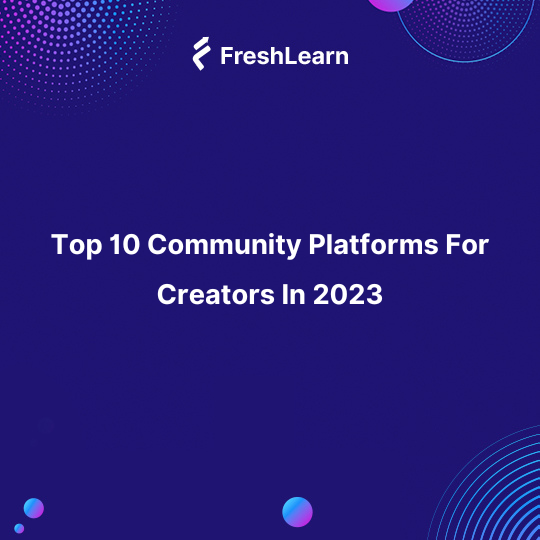 Top 10 Community Platforms For Creators In 2023
Hey there, fellow creator!
Are you ready to develop a vibrant community around your work and advance your online presence? We've got you covered.
In this blog post, we've handpicked the top 10 best online community platforms that are tailor-made just for creators like you. These community platforms are equipped with every feature you could possibly need to interact with your audience, encourage participation, and build a thriving community.
The community platforms compared below are intended mainly for the creators and how these community platforms can help creators monetise their knowledge better.
Some of the key parameters on which the community platforms will be analyzed are
Monetizing here primarily means charging subscription fees from the members of the community. Connect to your bank account and start accepting subscriptions, tips or one-time payments from your community members.
Can you automate the journey of enrolment and enrolment of the members from the community based on certain actions like payments, course enrolments, etc?
White labelling of the community means having the community hosted on your branded domain URL and having your logo and branded colours across. It's your community and it should represent you.
Are your community and its members shown up to other audiences also who are not associated? As an owner of the community do you have access to member's email and names? So, let's not waste any more time—get ready to explore the 10 best community platforms that will supercharge your creator journey and take you to new heights
Top 10 Online Community Platforms of 2023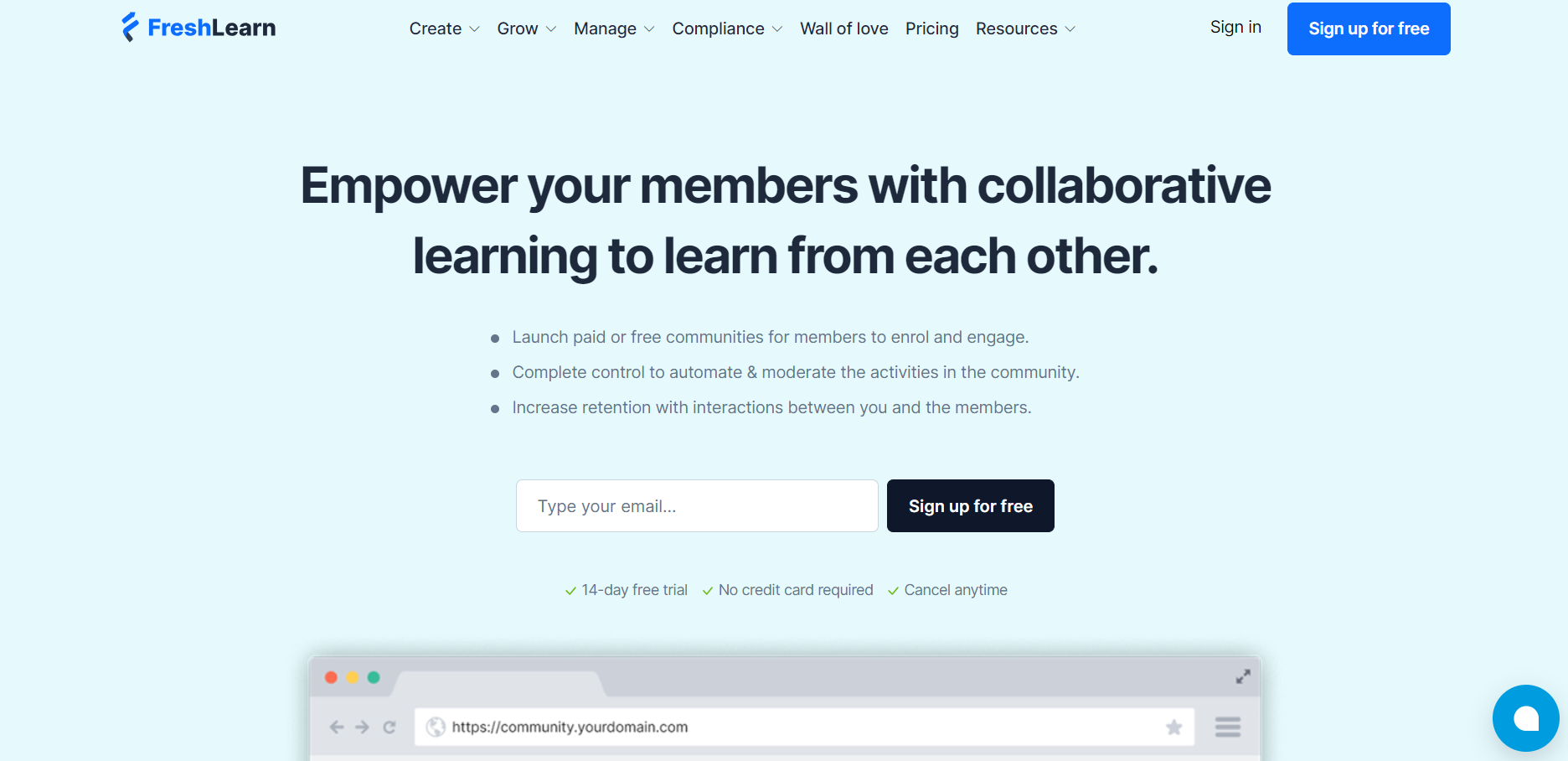 FreshLearn is a feature-rich platform made to let people build and make money from their online courses.
With its intuitive course builder tools, FreshLearn provides a seamless experience for creators to craft, refine, and distribute engaging educational content to a global audience.
Numerous business owners have successfully created their online knowledge businesses by utilizing the power of this platform, turning their knowledge into a lucrative source of income.
FreshLearn excels not only as an exceptional learning platform but also as a powerful tool for fostering online communities.
Let's explore some of its outstanding community features that contribute to its greatness.
Key features:
Monetization of community
FreshLearn Community enables community owners to quickly monetize their thriving communities by accepting safe online payments from members, opening up new prospects for revenue creation and sustainable growth by connecting with major payment gateways such as Stripe and PayPal.
One of Freshlearn's key features is the automation of access for enrolled online course members to specific groups based on predefined rules. This simplifies the process of organizing members and providing them with relevant content and resources.
With comprehensive control options, you can automate and moderate community activities, ensuring a seamless experience for everyone involved.
FreshLearn offers the ability to create both paid and free communities, allowing members to enrol and actively participate.
FreshLearn provides a white-label option for its online community platform, allowing you to customize and rebrand the platform to seamlessly integrate it with your own company.
You can connect your own domain and customize the community with your brand's colours and logos, establishing a cohesive and personalized experience for your community members.
FreshLearn Community is intended for mobile devices to be highly accessible and user-friendly, delivering a seamless and pleasurable learning experience on smartphones and tablets.
Pros:
Freshlearn offers a centralized space for members to communicate, share knowledge and collaborate, thereby fostering online community engagement
Offers a platform with a rich resource pool where members can share documents, tools, templates, and other material
Allows enhanced visibility and networking among community members to showcase their skills and work with other like-minded individuals
Cons:
Since it is a no-code platform, it might not appeal to individuals who enjoy coding and prefer to write code themselves
Pricing:
Free of charge. Users can upgrade their profiles independently, though.

Talking about online communities and leaving out Facebook groups would not be fair. Facebook groups are indeed great at bringing people together based on similar interests or goals.
You can say it's like a gathering spot where people connect and engage in discussions and build relationships
Key features:
Monetization of community
Members of Facebook groups are not required to pay to join a community. Certain organizations, on the other hand, may choose to charge money for access to unique content or premium services.
These costs are set by the group administrators and are not imposed by Facebook. If you want to join a group that has a fee, you will be able to know how much it costs before you join. You could also join a group that does not charge any fees.
To automate the enrollment process in Facebook groups, you have two options. First, you can leverage third-party tools that integrate with Facebook groups, allowing you to create automated workflows and rules for member enrollment.
Another option is to use Facebook's native tools, such as Messenger bots, to send automated messages to members who have enrolled in courses or paid for memberships, streamlining the enrollment journey.
The biggest problem with Facebook groups is that as a community owner, you don't know the email address or other details of the members in the community. Facebook walls that information and keeps it to themselves.
One of the key features is that Facebook groups are easy and free to create. It has a user-friendly interface for everyone who wants to start or find a group of their interest
Facebook has dedicated mobile applications for both the iOS and Android platforms, that allow you to use Facebook on your smartphones and tablets in a seamless manner.
Pros:
It's very easy to join or create a community on Facebook Since almost everyone uses Facebook, joining a group only takes a few clicks
Creating Facebook Groups is cost-free, which is one of their main benefits. You don't need to pay any running expenses to start a group and add members.
You can quickly create email lists, schedule postings, and events using its simple tools while staying in touch with your community
Cons:
One of the biggest drawbacks of Groups is that they necessitate constant monitoring of membership requests, content, and comments
Closed groups on Facebook can be difficult to manage since it will take a lot of effort to add and remove people from a group
Also in huge groups, not all questions or remarks are appropriately addressed, and things can occasionally turn bad.
Pricing:
Free of charge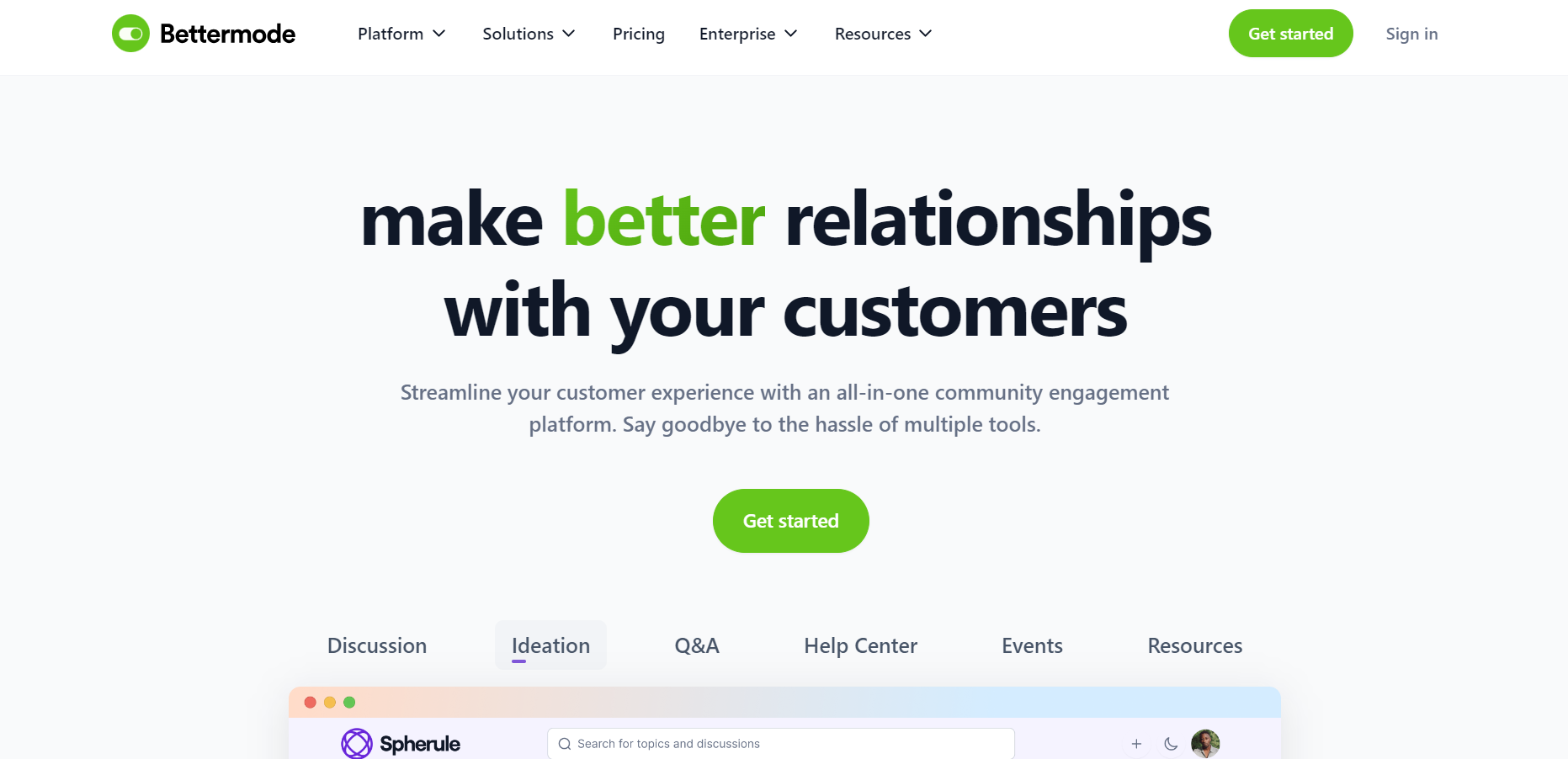 Bettermode is a cutting-edge community platform that can be completely customized and it is used to assist companies and creators in launching branded online communities.
Communities created with Bettermode can be either publicly or privately accessible. Additionally, it can function as a standalone community website or be integrated into a product and website.
Key Features:
Monetization of community
Bettermode is a free platform where anybody can create and join groups with no membership or subscription fees.
While some communities may charge fees for access to special material or premium services, these payments are determined by the community owners and are not required on Bettermode.
However, you can also monetize your community through memberships, selling products and services, affiliate marketing etc.
In Bettermode, you can automate the enrolment and management of community members based on actions like payments and course enrolments.
This includes automatically adding members to a community upon payment, sending reminders for upcoming payments, updating records when members enrol in courses, and generating reports on member progress. These automation workflows help streamline community management and ensure efficient tracking and support for members.
With the help of a powerful built-in filter, it enables you to take community safety and moderation to a new level by automatically reporting postings that include offensive language.
It is an all-in-one platform where you can streamline your customers' experience, without spending much time learning a new tool or multiple software.
Bettermode allows you to remove its branding entirely and achieve complete customization for your community by using your own domain, logo, email address, and other personalized elements.
Yes, it is mobile friendly and also integrates with your favourite tools and connects with your business workflow.
Pros:
It is a dynamic community platform that serves as a versatile solution, catering to the diverse needs of businesses, organizations, and individuals seeking to establish and nurture an online community
It is ideal for groups and companies looking to network with people who have similar interests.
It has a user-friendly interface that simplifies navigation and interaction, making it effortless for users to engage with the platform.
Cons:
It is quite expensive
It has a poorly organized analytics dashboard
Lacks mobile app
Pricing:
The advanced plan starts from $599 per month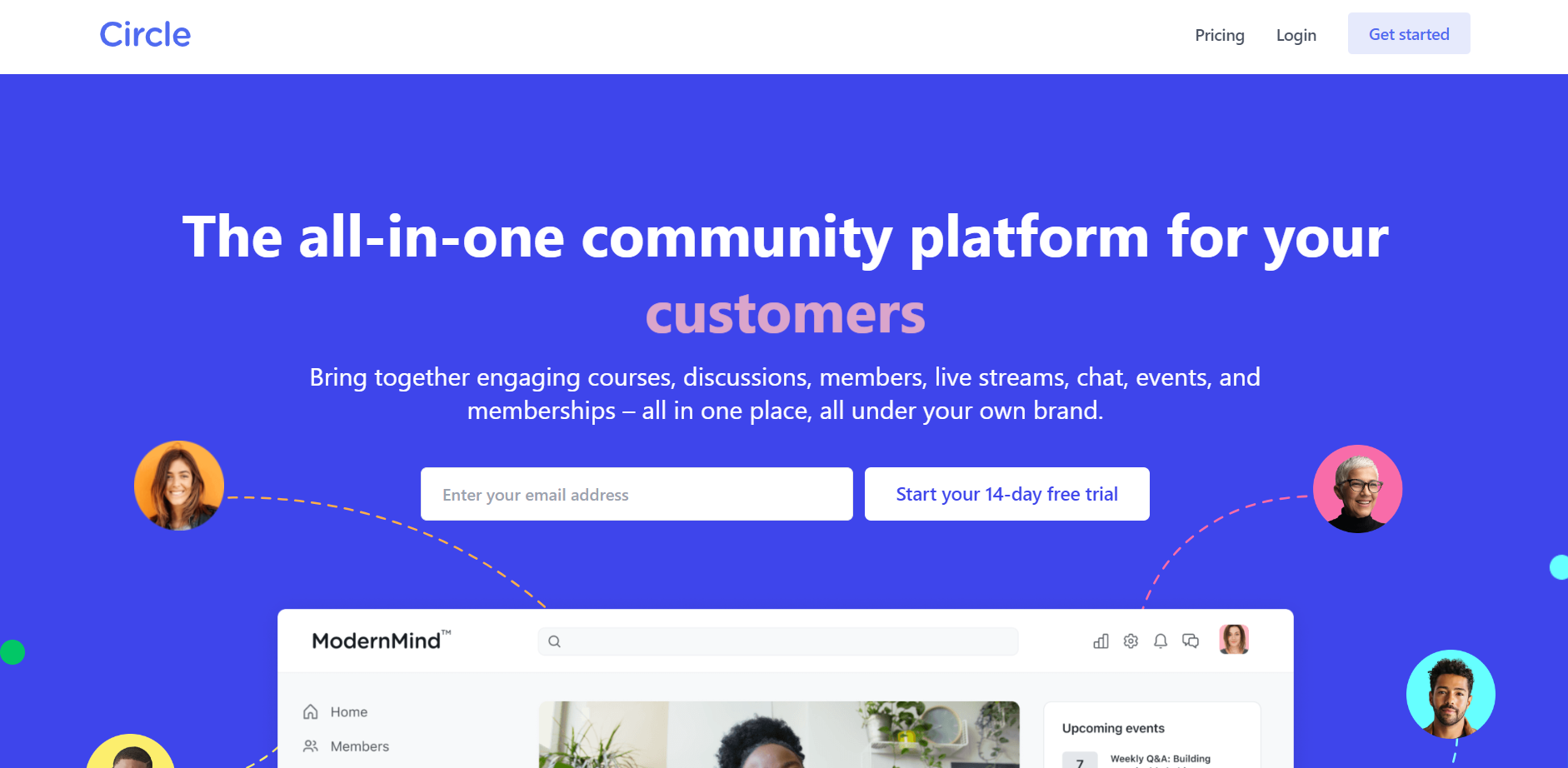 Circle is an open community platform that has been carefully designed for creators who want to bring their community members together around their compelling content, develop lively debates, and build a devoted following of paying subscribers.
Members can easily communicate with one another through smooth direct messaging capability in addition to engaging in discussions.
Key features
Monetization of community
Circle.so is a free platform for creators to build and manage their online communities. While it does not ask community members to pay to join a community, creators have the option to charge a membership fee.
This fee can help cover the costs of running the community, such as hosting, moderation, and marketing. With Circle.so, creators can utilize features like discussions, live streaming, events, and memberships to create engaging and successful communities.
Every time a tag is added to a member, you can program automation to add the member to a specific location. Alternatively, have your community automatically welcome new members as they sign up.
Private topics can only be shared by admins and moderators of the topic space, and anyone who receives the special link can access it even if they are not logged in or members of the space. Non-members can only view or leave comments after logging in and joining the topic space and community.
Being able to completely own the members of your community is another best thing about Circle. The only way to gain your audience's trust and keep them around is to provide them with good content, which cannot be forced onto them.
Circle provides the ability to white-label email notifications by configuring a set of DNS records supplied by SendGrid (our email delivery service) on your domain hosting system.
Integrations are one of the features that makes Circle a reliable platform. You can integrate with web pages, social media platforms, or your own website
Pros:
Circle provides users with an intuitive experience because of its slick and approachable interface, which rapidly grows accustomed to and is simple to use.
You can seamlessly integrate with over 3000 applications through Zapier. With Circle, you can also expand your capabilities by enabling you to connect and automate various workflows, enhancing the efficiency and productivity of your community.
You also get comprehensive analytics that helps you to track valuable insights into your community. By tracking key metrics and engagement indicators, you gain a deeper understanding of your community's growth, activity, and overall success.
Cons:
Circle communities provide content creators with a number of advantages, but they are rather pricey compared to the alternatives.  You'll need to buy a lot of add-ons with a small range of functions, and these can add up quickly in price.
Regardless of the plan you select, Circle imposes transaction fees in addition to the steep cost.
If you're a course creator, it might not be an ideal choice since it lacks some functionality
Pricing:
The basic plan starts at $39 per month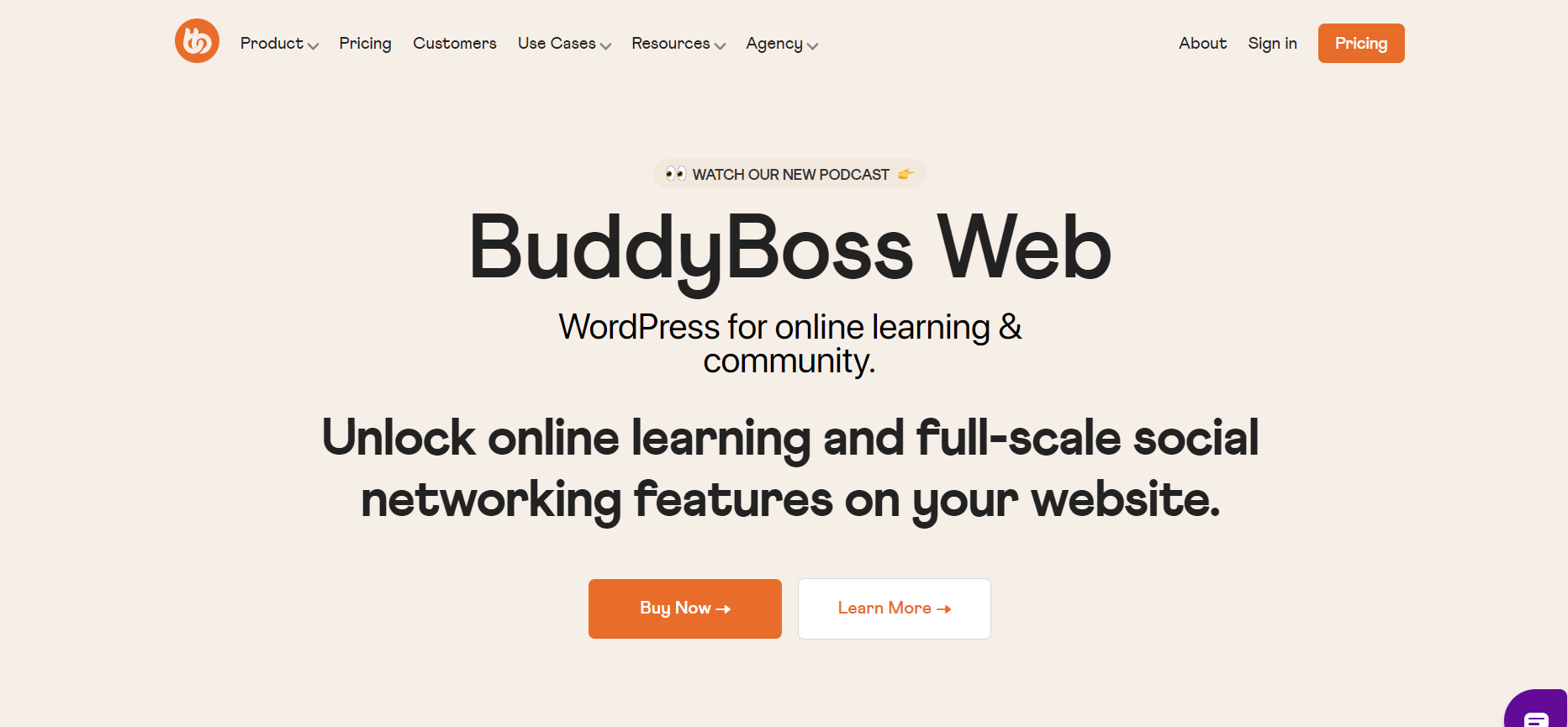 BuddyBoss is a powerful WordPress plugin that empowers you to build robust online communities.
This versatile platform offers you the freedom and control to sell memberships and courses, establish a central hub for employee training, launch your customized mobile app, and unleash a range of additional possibilities.
Key features:
Monetization of community
It facilitates seamless integration of selling access to your community, utilizing popular platforms like WooCommerce.
You can effortlessly charge members a one-time fee to join your community or establish a recurring revenue stream through monthly subscriptions.
Additionally, you have the flexibility to create exclusive member-only content that can be accessed by paid users.
BuddyBoss integrates perfectly with the top automation plugins, enabling you to use over 100 tools & plugins or actions taken in your community to start automated processes in BuddyBoss.
With built-in GDPR setups and cookie consent, Buddyboss provides members choices over how their own personal data is gathered, used, and shared.
The design of BuddyBoss fits your brand. So, in order to meet the requirements of your community, you are free to completely personalize it.
It also gives you the option to send direct messages to other community members and create unlimited groups and events as well.
Since BuddyBoss is an open-source white-label solution, its flexible design gives you the ability to completely tailor it to the needs of your project.
If your course or community uses BuddyBoss Web powered by WordPress, your platform can synchronize between web and mobile in real-time.
Pros:
BuddyBoss keeps your community dynamic with live notifications, ensuring that members stay updated on important activities and interactions within the platform.
From creating groups and organizing events to fostering community engagement through gamification, BuddyBoss offers a diverse set of tools to enhance the community experience.
With BuddyBoss, you gain access to a wide range of powerful and modern design options, allowing you to customize the look and feel of your community site to align with your vision
Cons:
Steep Learning Curve for Beginners
Absence of Dynamic Content Feature
Pricing:
$228 per site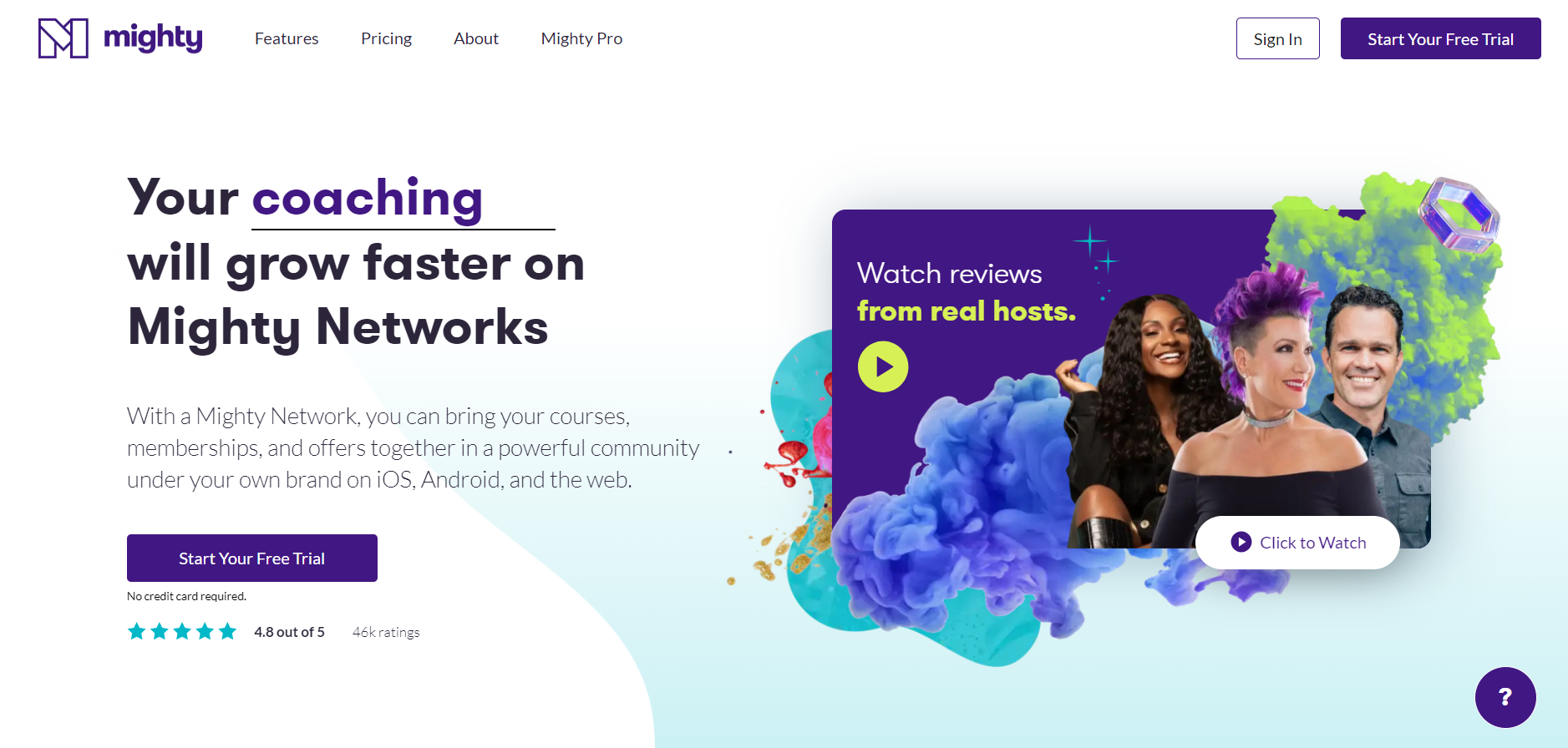 Mighty Networks is a comprehensive software platform that unifies community, courses, content, and commerce.
It offers versatile Spaces that blend various interactive elements such as live streaming, events, courses, forums, messaging, and a diverse range of written and video content.
Key features:
Monetization of community
Mighty Networks does not require a subscription fee from community members. You can choose to make your Mighty Network free to join, or you can charge a monthly or annual subscription fee. If you choose to charge a subscription fee, Mighty Networks will take a percentage of the subscription fees as a service fee.
Your Mighty Network can function independently or symbiotically join your tech stack. Using Zapier connectors, you can build personalized email onboarding workflows, keep your CRM current, incorporate Mighty into your sales funnels, and more.
In Private Mighty Networks, visitors have the ability to find the network but are unable to access it unless they receive an invitation or have their membership request approved. Only hosts and existing members have the privilege of viewing profiles, content, and activity within the network.
On the other hand, Secret Mighty Networks are exclusive to members who have been directly invited, ensuring that the network remains hidden and inaccessible to others.
With Mighty Networks, getting started is simple. While getting accustomed to the platform could take some time, once you do, things will go a lot more smoothly.
There isn't really a learning curve for end users, and getting around shouldn't be too difficult.
Mighty Pro, powered by Mighty Networks gives you full white-label features.
Your own app, which users can get from the iOS store or the Google Play Store, can help you connect your members.
Mighty Networks offers mobile applications for iOS and Android. So it makes no difference what kind of technology your community members are utilizing. Also with MightyPro, you can get your very own custom-branded mobile app.
Pros:
Mighty Networks provides member profiles, allowing users to create personalized profiles with information, interests, and preferences
In addition to individual messaging,it supports group direct messaging. This feature allows members to engage in group discussions, share ideas, ask questions, and collaborate with multiple individuals simultaneously.
The platform provides event management capabilities, enabling community leaders to create and manage both virtual and in-person events.
The platform facilitates the formation of mastermind groups within the community. Members can join or create small groups focused on specific topics, industries, or interests. These groups foster peer-to-peer learning, networking, and collaboration among like-minded individuals.
Cons:
It charges a transaction fee on all paid plans
It does not offer live chat support as part of its customer support services. This means that users do not have immediate access to real-time chat assistance for troubleshooting or inquiries.
Pricing:
Pricing starts at $33/mo
An all-encompassing online platform, Podia enables users to easily develop and commercialize online courses, memberships, and downloaded content.
Users can contribute to discussions and generate material depending on a course they are enrolled in thanks to additional features like webinars and basic community services.
Key features:
Monetization of community
Monetize your work by receiving direct payments from your supporters. For this, you can customize your community as a dedicated space where you can share updates and offer rewards to fans who wish to support your endeavours directly.
You can also encourage discussions centred around your products and courses, allowing members to engage with lessons, showcase their work, and enhance their overall experience.
With Podia, you can streamline the experience for your members by providing seamless access to your products within your community.
By taking advantage of the automatic enrollment feature to effortlessly onboard members into your products, enabling them to dive right in.
Public topics within your community are accessible to all members, allowing for widespread visibility and engagement. On the other hand, private topics are exclusively viewable to members who have received a specific invitation, ensuring a more restricted and selective audience.
Closed topics take this level of exclusivity a step further, as they are only visible to members who are subscribed to a particular plan, enhancing the exclusivity and targeted nature of the discussions held within those topics.
With Podia, you have the flexibility to establish both free and paid communities, enabling you to foster engaging and interactive spaces for your audience.
It also offers customer support features, ensuring you can provide top-notch assistance to your online business
Once you upgrade to a Pro plan or higher, you can enable white labeling and rebrand the Podia community platform to make it look like it is a part of your own website
Podia's website has been designed to work well on all devices and you can easily access it on your mobile devices as well as your desktop computer
Pros:
Podia gives you the flexibility to monetize your community while providing valuable content and engagement opportunities
You can set up private topics within your community, ideal for running cohorts or mastermind groups
You can easily integrate your digital products, whether they are online courses, e-books, or other downloadable content, providing your community members with valuable resources that complement their learning journey.
Cons:
If you prefer building custom tools for your business, Podia might not be the tool you're looking for
Pricing:
The mover plan starts at $33/mo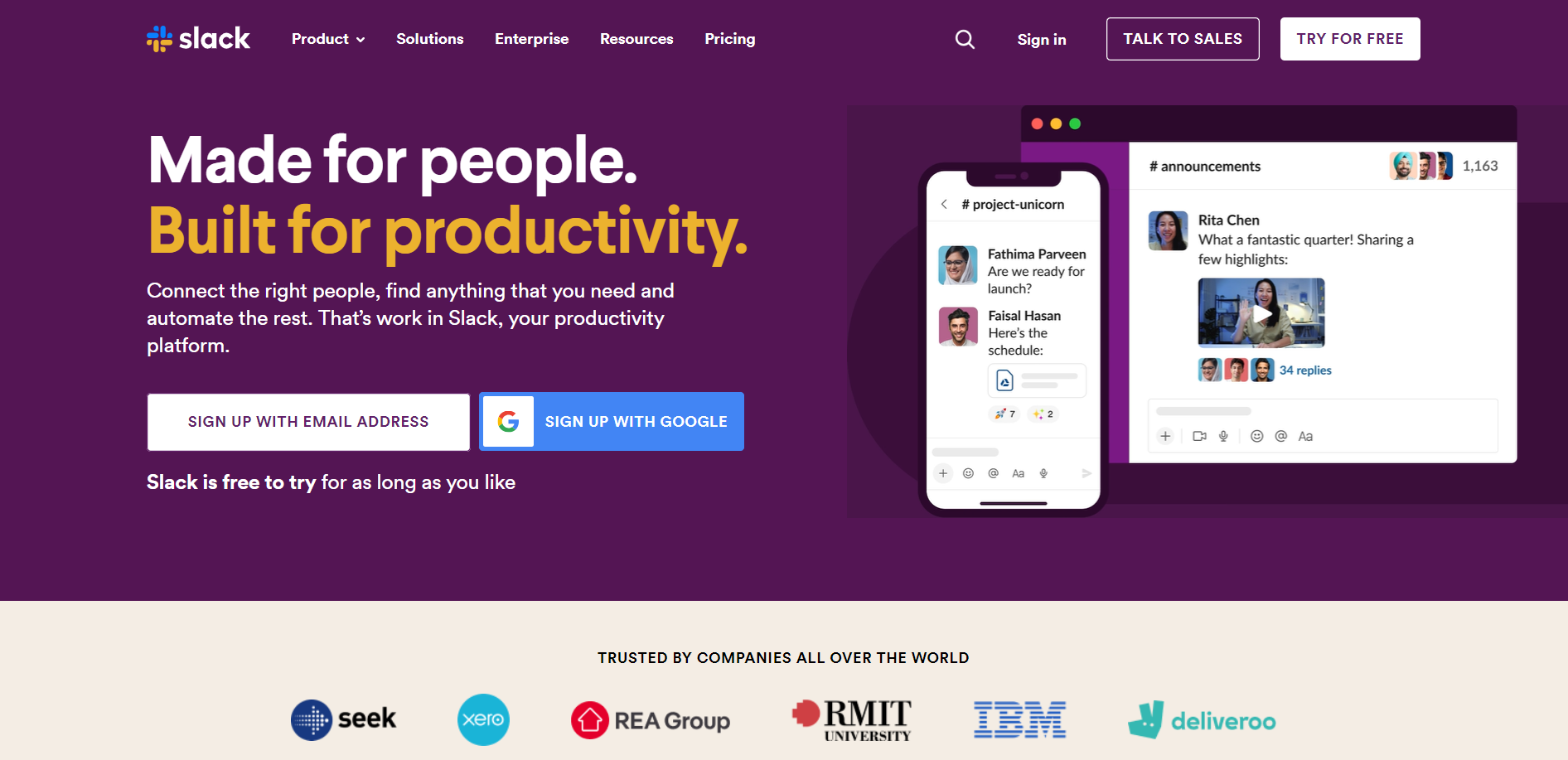 Slack is a business messaging app designed to facilitate seamless communication and connect individuals with the information they require.
By fostering collaboration and enabling unified teamwork, Slack revolutionizes organizational communication and enhances productivity within companies.
Key features:
Monetization of community
Monetizing your Slack community can be achieved through various approaches, including selling access to the community through subscription fees, offering advertising space to businesses seeking to reach your members, and selling products or services directly to your community members, especially if they align with their interests and needs.
Automate routine jobs like updating your followers and streamline all procedures, from hiring to feedback gathering.
Slack also has over 2,400 integrations, allowing you to seamlessly integrate and streamline different procedures within your community.
Slack provides robust security measures, including features like single sign-on, domain claiming, and support for enterprise mobility management, to ensure that only authorized individuals and approved devices can access your company's information, enhancing data protection.
With its seamless real-time communication capabilities, extensive feature set, and user-friendly interface, Slack stands out as the leading choice for businesses and teams in need of an exceptional chat application.
Slack has a white-label feature, meaning you can rebrand the Slack Community interface to match your company's branding. You can also change the name of the community, the welcome message, and the footer text.
Slack ensures a mobile-friendly experience for communities, offering a comprehensive range of features accessible through the Slack mobile app on smartphones and tablets.
This user-friendly app allows you to seamlessly engage with your community by sending messages, participating in conversations, and accessing files, even while on the move.
Pros:
Because your target members are likely already using it, it will be easier for you to develop a community on Slack.
The availability of free community establishment on Slack undeniably contributes to its widespread popularity.
Slack benefits from a thriving ecosystem of integrated tools and services that complement its functionality, providing users with a wide range of options to enhance their workflows, productivity, and overall experience within the platform.
Cons:
Slack lacks built-in moderation features, making it challenging for community managers to effectively moderate and regulate the content and interactions within their community.
It does not offer native monetization features, limiting the options for community managers to generate revenue from their community.
Some users find Slack to be expensive, especially for larger teams or organizations that require advanced features and additional storage.
Pricing:
It's free. However, the Pro plan starts at $ 7.25 per month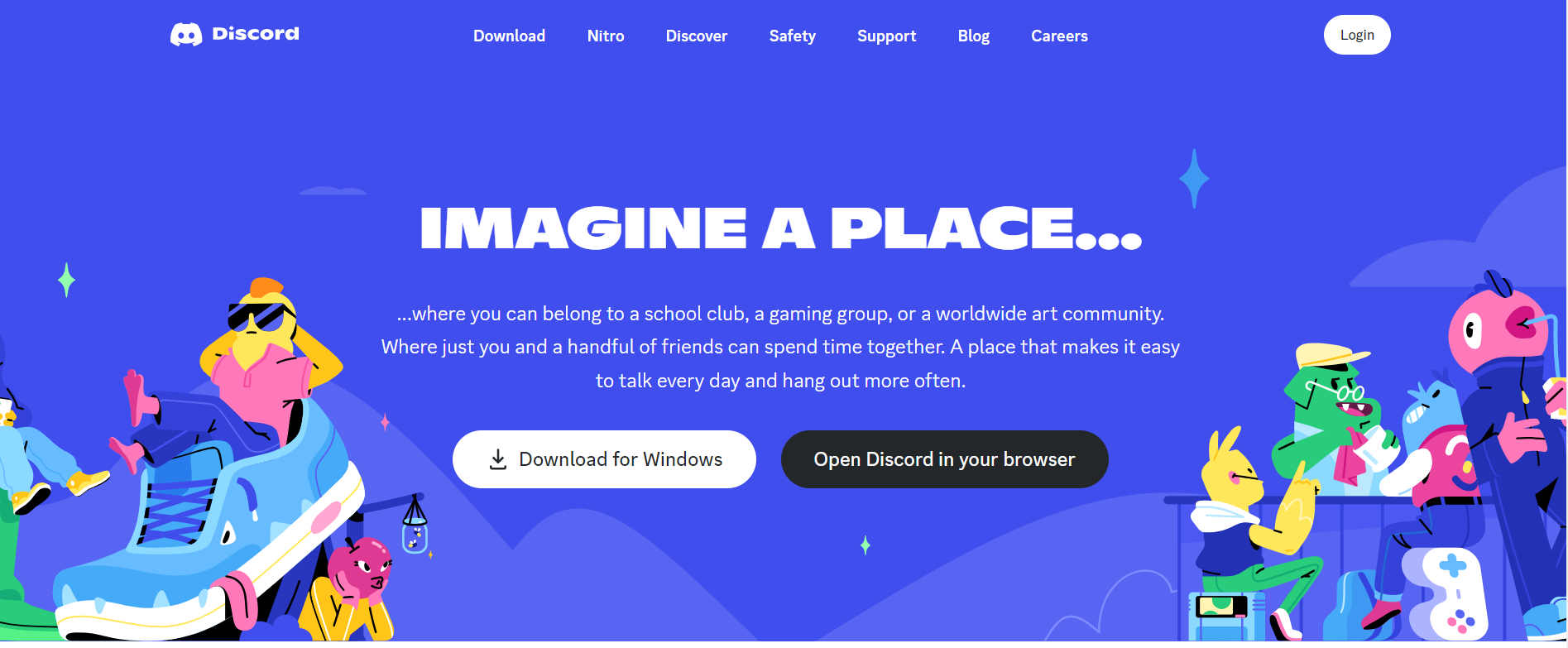 Discord, a widely adopted platform, has gained immense popularity among gamers as a dedicated space for online connection and engagement.
Additionally, Discord offers the ability to join larger servers, facilitating networking opportunities and enabling communities to thrive in a shared environment.
Key features:
Monetization of community
With Server Subscriptions, you can effectively monetize your Discord server by providing your community members with the opportunity to purchase monthly subscriptions.
These subscriptions grant them access to special server perks and, based on your configuration, exclusive channels for engaging in discussions.
By implementing this feature, you can offer a value-added experience to your members while generating revenue for your Discord server.
Discord incorporates AI-powered bots that bring automation and enhanced functionality to communities.
These bots can perform various tasks such as moderating conversation, managing user roles, and even playing interactive games.
Despite the fact that Discord is a secure platform, improper permissions can expose your server to unneeded dangers.
So, rather than setting permissions on each particular channel, it is generally preferable to specify them for the entire category. This will reduce the possibility of making mistakes
Discord features community discovery mechanisms that enable users to explore and discover new communities of interest.
Through tags, categories, search functionality, and recommendations, users can find and join communities relevant to their hobbies, interests, or professional pursuits.
Discord does not offer a Whitelabel feature. However, it allows the creation of personalized welcome screens for new members. These screens can include customized messages, guidelines, and helpful information to orient and engage newcomers.
Discord is undoubtedly mobile-friendly. It has a mobile app for both iOS and Android devices and it's easy to text chat, voice chat, share screens and files etc.
It can easily integrate with other tools like Common Room, Patreon, Twitch, YouTube, and Zendesk
Discord offers a free-to-use model, allowing users to create and manage communities without any upfront costs.
It offers a diverse range of community management features to facilitate efficient and engaging community experiences.
Pros:
It can easily integrate with other tools like Common Room, Patreon, Twitch, YouTube, and Zendesk
Discord offers a free-to-use model, allowing users to create and manage communities without any upfront costs.
It offers a diverse range of community management features to facilitate efficient and engaging community experiences.
Cons:
Discord allows users to maintain a level of anonymity if desired which can lead to potential challenges in community management
Discord imposes a character limit of 2,000 characters which might hinder in-depth discussions
Since it has an informal UI, Discord is usually not  preferred mostly by the B2B community
Pricing:
It is free to use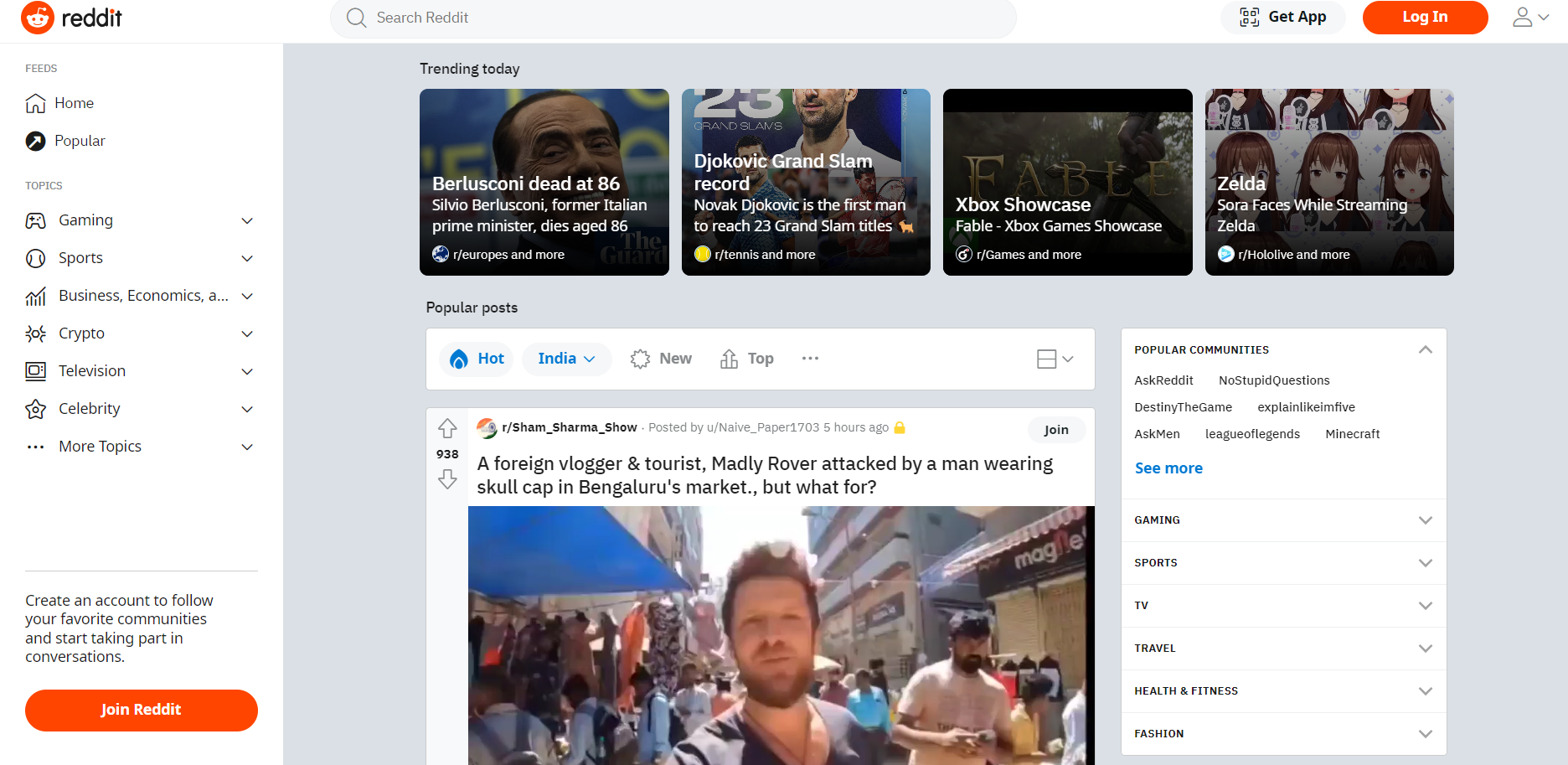 Reddit is a social networking site that enables anyone to start and run their own community, or "sub-reddit," as Reddit refers to it.
It serves as a social aggregation site where users can curate content they discover online or create themselves, fostering a community-driven experience of sharing and organizing materials.
Key features:
Monetization of community
Reddit does not require a subscription fee from community members. However, some subreddits may charge a fee for users to access particular features or premium material, such as early access to new posts or premium discussion threads.
Reddit upholds strict moderation standards to maintain the quality and integrity of its communities.
It also uses Reddit bots for automation features for sending messages to new community members, running polls and surveys to gather feedback, and scheduling posts for future publication.
Reddit's privacy features enable you to control who may access community material by choosing whether to make posts and comments public or accessible to only members of the community.
Compared to many other social networking platforms, Reddit generally has fewer intrusive advertisements. While ads do exist on the site, they are typically less obtrusive and blended within the platform's interface.
Reddit is well known for its lively and active niche communities, where like-minded people come together to connect and share their passions.
Reddit provides a white label feature, enabling businesses to create customized versions of Reddit aligned with their brand identity.
These whitelabel communities offer personalized experiences for customers and employees, facilitating product/service promotion, brand awareness, and website traffic generation.
To create a Whitelabel community, businesses can contact Reddit for a quote and collaborate on tailoring the platform to their specific requirements.
You can download the Reddit mobile app on the App Store or Google Play, which works well on both iOS and Android phones and tablets.
Alongside the mobile app, Reddit also offers a mobile-friendly website optimized for viewing on smartphones and tablets. The mobile website grants access to a wide array of features similar to those available on the mobile app.
Pros:
Reddit offers a simple and intuitive user interface, making it particularly accessible for beginners
By adhering to proper etiquette and actively engaging in relevant communities, businesses can leverage Reddit as a platform to build brand awareness and establish meaningful connections.
Posting compelling and relevant content on Reddit has the potential to rapidly increase traffic to external websites or resources
People from diverse backgrounds and professions can participate in open discussions, contributing their perspectives and engaging in thoughtful debates.
Cons:
It can be a time sink, meaning it can be highly addictive and consume a significant amount of time.
It has a non-regulatory environment. While the platform has moderation standards and guidelines, the enforcement can vary across different subreddits.
Pricing:
It's free of cost
Final Verdict
You have a ton of excellent options when looking for the best online community platform for creators.
Each platform has a special set of features and advantages that are tailored to the demands of creators like you.
However, Freshlearn would be the one we would choose if we had to choose one that really stands out from the competition.
Why? Well, Freshlearn offers a wide range of robust features that make community management a breeze. And the best part? Its user-friendly interface makes navigating the platform a piece of cake.
You can seamlessly integrate your content, ensuring that your community members have easy access to everything you have to offer.
So, whether you're an artist, educator, entrepreneur, or any kind of creator, Freshlearn is the ultimate platform to connect, inspire, and thrive alongside your community.
You might also like
Hosted by