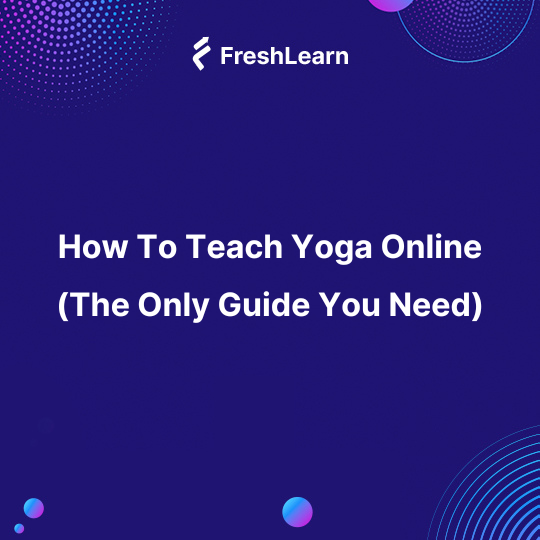 How To Teach Yoga Online (The Only Guide You Need)
Interested in becoming an online yoga trainer? Our step-by-step guide will show you how! From setting up your online course to marketing and getting your early customers, we'll walk you through everything you need to know to be successful.
How To Start Teaching Yoga Online?
There was a time when yoga was only taught in person, at a studio. But now, thanks to the internet, you can learn yoga from the comfort of your own home.
Yoga is a great way to improve your own practice and help others find the same peace and happiness you've found.
But where do you start?
This guide will walk you through the basics of setting up your own online yoga class.
Why Should You Start An Online Yoga Studio?
The global yoga market size is forecast to reach $66.2 billion by 2027 and is expected to have a compound annual growth rate of 9.6% from 2021 to 2027.
So, if you're a yoga enthusiast, there's no reason not to start your own online yoga studio.
Here are just a few reasons why an online yoga studio can be great for you and your practice:
. You can reach a global audience. With an online studio, you can teach people in your local community. You can reach yogis all over the world with your classes.
You can teach from anywhere. As long as you have an internet connection, you can teach from home, from a coffee shop, from the beach... wherever you happen to be.
You can create a flexible schedule. You're not tied to a set schedule with an online studio as you would with a brick-and-mortar studio. You can teach classes whenever it works for you and your students.
You don't have to worry about overhead costs. No need to rent space or buy equipment when you have an online studio - all you need is a computer and a webcam.
Tips To Start Teaching Yoga Online
Yoga is an incredible practice that can truly change people's lives.
And there's no better feeling than being able to share that with others.
Now, you may be thinking,  "How can I teach yoga online? Isn't that kind of weird?"
Well, actually, it's not!
In fact, teaching yoga online can be a great way to reach a wider audience and build your very own yoga empire!
Here are a few tips to get you started:
Get Your Yoga Teacher Training Certification
Considering a yoga teacher training?
Here's what you need to know.
Whether you're looking to deepen your personal practice or take your career in a new direction, teacher training can be a transformative experience.
But with so many options out there, it can be tough to know where to start.
Here are a few things to keep in mind as you begin your search:
First, think about what type of yoga you want to teach. There are many different styles of yoga, each with its own unique focus and benefits. Do some research and find a program that aligns with your interests and goals.
Next, consider the format of the program. Will you be able to commit to intensive, on-site training, or are you looking for something more flexible? There are many options available, so make sure to find one that will fit into your life.
Finally, don't forget to check the credentials of the program you're considering. Look for programs that are accredited by a reputable organization such as the Yoga Alliance. This will ensure that you're getting high-quality instruction from experienced teachers.
Taking the time to do your research upfront will help you choose a teacher training program that's right for you
Here are 10 of the best  yoga training certifications that you can consider:
Choose Your Yoga Course Topic
Teaching yoga online can be a great way to share your passion for yoga with others from the comfort of your own home.
But before you start sharing your knowledge with the world, it's important to choose a course topic that resonates with you.
Here are a few things to consider when choosing your yoga course topic:
What style of yoga do you practice? There are many different styles of yoga, from Ashtanga to Yin Yoga. Choose a course topic that aligns with the style of yoga that you practice.
What are your interests outside of yoga? Do you enjoy hiking, meditating, or cooking? Incorporating your interests into your course topic will help you create a well-rounded experience for your students.
What do you hope your students will get out of the course? Keep your students' needs in mind as you choose a topic. If you want them to walk away feeling more relaxed, choose a topic that focuses on stress relief. If you want them to build strength and flexibility, choose a topic that focuses on those goals.
Choosing the right yoga course topic is an important step in teaching yoga online.
Consider all of these factors as you make your decision, and you'll be sure to create a course that your students will love.
Set Up Your Filming/ Streaming Location
Before you stream or film yoga content, it's important to:
Consider the lighting. You'll need to make sure that your space is well-lit so that your students can see what you're doing. Natural light is always best, so if possible, film near a window. If not, you'll need to set up some artificial light sources.
Think about the background. You don't want anything too distracting in the background of your video, so choose a spot with a plain wall or simple curtain behind you.
Pay attention to the sound. There should be minimal background noise in your recording so that your students can hear your instruction clearly.
Make sure the camera is at the right height. You want it to be level with your mat so that your students can see your entire body as you demo the poses.
Teach And Record Your Class
Teaching yoga online can be a great way to reach a wider audience and share your love of yoga with people all over the world.
But it can also be a bit daunting to know where to start.
The good news is that there are plenty of resources available to help you get started teaching yoga online.
One way to teach yoga online is to record your class and make it available for people to watch on their own time.
This is a great option if you want to reach a wider audience, or if you simply don't have the time to teach live classes.
You can record your class using a simple webcam or phone camera, and then post it on a website or social media platform.
If you want to take things a step further, you can also live to stream your yoga class.
This is a great way to connect with students in real time, and it allows people to practice along with you no matter where they are in the world.
You can live to stream your class using platforms like YouTube Live or Facebook Live.
Teaching yoga online is a great way to reach more people and share your passion for yoga with the world.
Whether you record your classes or live to stream them, there are plenty of options for teaching yoga online.
So get creative and start sharing your yoga practice with the world!
Choose A Platform To Launch Your Course
These days, there are plenty of platforms to choose from when you're looking to launch an online course.
But if you want to teach yoga online, you might want to consider a platform that's specifically designed for fitness instructors.
That's because these platforms tend to have features that are tailored to the needs of fitness professionals, such as the ability to sell memberships and track student progress.
In addition, many of these platforms offer attractive templates that can give your course a polished look.
Of course, there's no need to limit yourself to just one platform - you can always experiment with different ones to see what works best for you and your students.
But if you're looking for a good place to start, FreshLearn could be just what you need.
Promote Your Online Class
You've finally done it. You've taken the plunge and created an online yoga class.
But now that you've created your online classes, it's time to start promoting it.
Here are a few ideas to get you started:
A). Create a compelling website
Your website is often the first stop for potential students, so make sure it's clear, concise, and easy to navigate.
Be sure to include a link to your online class so that interested students can easily sign up.
B). Use social media
Social media is a powerful tool for promoting anything, and your online yoga class is no exception.
Create engaging posts on Facebook, Twitter, and Instagram that will pique people's interest and encourage them to check out your class.
C). Offer freebies
Who doesn't love a freebie?
Offering potential students a free trial of your online yoga class is a great way to get them interested in what you have to offer
You could also offer discounts for referrals or give away Yoga mats or other equipment as prizes for contests or competitions.
Build Your Online Yoga Community
Why should you build an online yoga community?
For starters, it's a great way to connect with like-minded people from all over the world.
With a community of fellow yoga enthusiasts, you'll never have to practice alone again.
You can also share tips and advice, exchange yoga props and gear, and even find new yoga teacher training programs.
Plus, an online yoga community can be a great marketing tool for your business.
By creating a space where people can connect and interact, you can build relationships with potential customers and drive traffic to your website or blog.
However, you can easily create a thriving online community with FreshLearn.
With our simple-to-use platform, you can create your own online community to share knowledge and grow as an individual or company.
Final Thoughts
Now that you know how to start teaching yoga online, it's time to get out there and give it a try!
Don't be afraid to experiment until you find what works best for you and your students.
If you need help getting started, contact Freshlearn.
From creating eye-catching course graphics to promoting your courses, we've got you covered.
Don't wait any longer to start sharing your passion for yoga with the world – contact us today!
You might also like
Hosted by