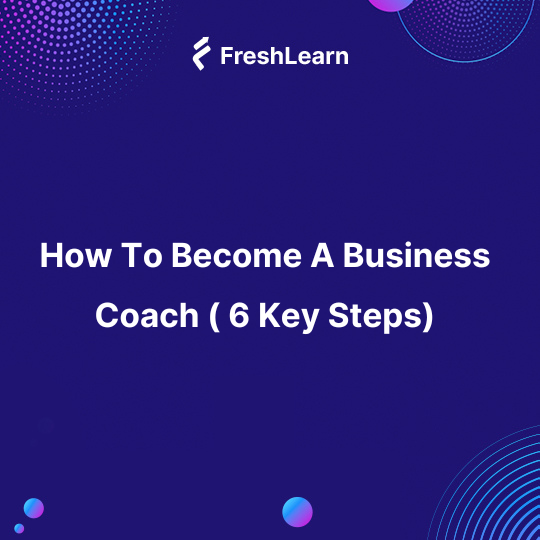 How To Become A Business Coach ( 6 Key Steps)
Learn how to become a successful business coach with these six easy steps for breaking into the industry.
If you're looking for a new career that is both challenging and rewarding, then becoming a business coach may be the perfect option for you.
There's no doubt that coaching is a lucrative business opportunity.
But what if you're not sure how to become a business coach?
Don't worry - it's not as difficult as you might think.
In this post, we'll outline the steps you need to take to start your own coaching business.
Keep reading to find out!
What Is Business Coaching?
You might be asking yourself, what is Business Coaching?
Well, let me give you an example.
Business Coaching is when you meet with someone who has been successful in business, and they help you to create a plan to achieve your own business goals.
This could be anything from finding new customers to increasing sales.
You would be surprised to know that the market size of the coaching industry in the U.S. has grown by about 1.2% since 2016.
And, it was recently valued at $11.6 billion (measured by revenue) in 2021.
Having said that, let me highlight the main goals of business coaching:
helps businesses achieve their objectives and reach their full potential
provides a much-needed sounding board for business owners, as well as offers guidance and support on a wide range of topics, including marketing, sales, finance, human resources, and operations.
helps business owners develop leadership skills and learn how to effectively manage and motivate employees
Business coaching is not size fits all solution.
The type of coaching that works for one business might not work for another.
For example, if you're looking to improve your sales numbers, you might seek out a coach who specializes in sales strategies.
Similarly, if you're trying to streamline your operations, you might look for a coach with experience in process improvement.
By taking the time to identify your specific needs, you can ensure that you find the right business coach that suits your needs.
Why Do You Need A Business Coach?
Any successful business owner will tell you that it takes more than just hard work to achieve success.
In order to reach the top, you need to have a clear vision, a strong work ethic, and the ability to make informed decisions.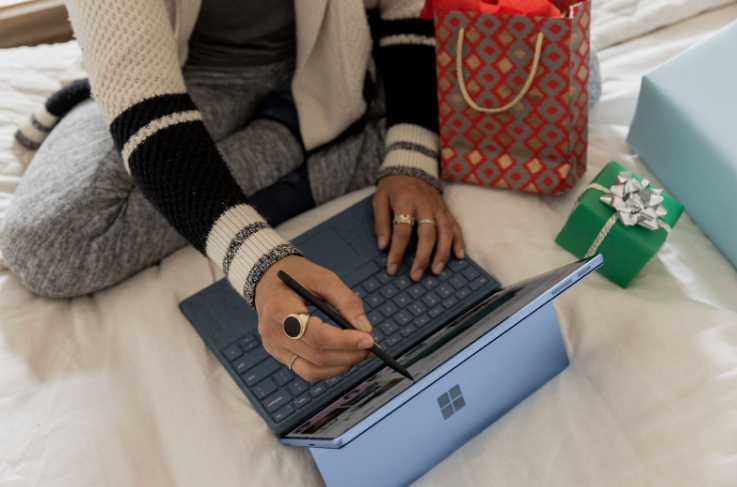 And in fact, they actively seek advice from coaches on a regular basis.
According to a study, 14% of business executives say that they hire coaches to improve their business management skills.
And, 61% of business executives say they improved their business management skills, thanks to coaching.
A good business coach will help clarify your goals, identify your blind spots, and develop the strategies that need to take your business to the next level.
And while the benefits of coaching may seem obvious, many entrepreneurs don't realize just how transformative working with a coach can be.
How Can You Become A Successful Business Coach?
If you're still reading, then chances are you're interested in becoming a business coach.
Business coaching is a great way to help people achieve their professional goals.
Here are a few tips on how to become a business coach:
1. Identify Your Niche And Your Audience
If you're thinking about starting a business coaching practice, the first step is to identify your niche and your audience.
This may seem like a no-brainer, but it's important to get clear on who you want to serve and what kind of problems they need help with.
Once you've picked your niche, you can start to build your marketing strategy and position yourself as an expert in your field.
Keep in mind that business coaching is a highly competitive industry, so you'll need to stand out from the crowd if you want to succeed.
But if you focus on helping businesses solve specific problems, you'll be well on your way to becoming a successful business coach.
2. Build Your Business Coaching Plan And Set Your Prices
Once you've identified your niche, it's time to build your business coaching plan.
To get started, first, take some time to research the business coaching industry.
This will help you better understand the market and assess the competition.
Once you have a good understanding of the landscape, you can start to formulate your own coaching plan.
Begin by identifying your target market and sector.
Then, decide what business coaching services you'll offer and how you'll deliver them.
For example, will you provide one-on-one coaching or group sessions? Will you offer courses or workshops?
Once you know what services you'll provide, it's time to set your prices.
This can be a tricky task - you don't want to charge too much and turn away potential clients, but you also don't want to undervalue your services and end up working for peanuts.
A good rule of thumb is to start by charging less than your competitors and then raising your prices as your client base grows. With a little planning and some careful pricing, you'll be well on your way to becoming a successful business coach.
3. Market Your Coaching Skills
If you want to become a business coach, you need to market your coaching skills.
And by "skills" I don't mean your ability to talk endlessly about your tennis game or give unsolicited relationship advice.
No, I'm talking about the actual coaching skills that you bring to the table.
Here are a few tips on how to market your business coaching skills:
A). Get Certified
Nothing says "I'm a professional business coach" like a certification from an accredited organization.
This will help you stand out from the crowd and show your clients that you're serious about your craft.
B). Use social media
Platforms like LinkedIn, Twitter, and Facebook are great ways to connect with your clients.
Use these platforms to share helpful articles, blog posts, and other resources that will help them grow their businesses.
C). Speak at events and conferences
This is a great way to showcase your expertise and build credibility with your clients.
Choose events that are relevant to your target market and focus on delivering valuable content that will help them achieve their goals.
D). Write articles or blog posts about business coaching
This is a great way to share your knowledge and insights with potential clients.
When writing, be sure to focus on topics that will be helpful for your target market.
E). Offer free content
Create free content that highlights your knowledge and experience, such as blog entries, videos, podcasts, and so on.
Provide your target audience with helpful hints, observations, and recommendations that can aid in problem-solving.
F). Give Free Consultation
Give potential clients a complimentary session to help them understand your coaching services and how you can assist them.
Take advantage of this chance to connect with and earn the trust of potential customers.
4. Build Your Online Business Coaching Presence
Building an online coaching presence can feel like a daunting task.
Where do you start? How do you stand out from the sea of other coaches?
But don't worry!
I'm here to help you build an online coaching business that will make you want to jump out of bed in the morning (after hitting snooze a few times, of course).
First things first: your website. This is where people will go to learn more about you and your coaching business.
So make sure it's clear, concise, and easy to navigate.
Include information about your services, testimonials from happy clients, and a strong call to action (like signing up for a free consultation).
Next, focus on creating content that will help you attract your ideal clients.
This could be blog posts, video tutorials, or even just helpful tweets or Facebook posts.
Whatever form it takes, make sure your content is informative, engaging, and authentic.
Finally, don't forget about the power of social media.
Use platforms like Twitter, LinkedIn, and Instagram to connect with potential clients, promote your services, and build your brand.
Just remember to be professional - this is still the business we're talking about!
By following these simple tips, you'll be well on your way to building a successful online coaching business.
5. Expand Your Network
One of the best ways to become a business coach is to expand your network.
Get to know other business owners and professionals in your industry.
Connect with them on social media, attend industry events, and offer your services as a coach.
The more people you know, the more likely you are to find clients who need your help.
You can also use your network to learn about new business trends and developments.
By staying up-to-date on the latest business news, you'll be able to offer your clients the best possible advice.
So get out there and start networking! Your future clients are waiting.
6. Collect Feedback
As a business coach, one of the most important things you can do is to collect feedback from your clients.
This feedback will help you to improve your services and make sure that your clients are getting the most out of your coaching.
There are a few different ways that you can collect feedback from your clients.
One way is to ask them for their input at the end of each coaching session.
This will give you an opportunity to get their thoughts on what you did well and what could be improved.
Another way to collect feedback is to send out surveys or questionnaires after each coaching session.
This will allow you to gather more detailed information from your clients about their experience with your coaching.
Finally, you can also ask your clients for feedback during informal conversations.
This can be a great way to get spontaneous and honest feedback about your coaching.
Whichever method you choose, collecting feedback from your clients is essential for improving your business coaching practice.
Become A Business Coach With Freshlearn
You want to be a business coach.
You have the experience, know-how, and drive to help others achieve their professional goals.
But where do you start?
One option is to create courses on FreshLearn.
With FreshLearn, you can design and deliver engaging, informative courses that will help your students reach their potential.
And best of all, you can do it all from the comfort of your own home.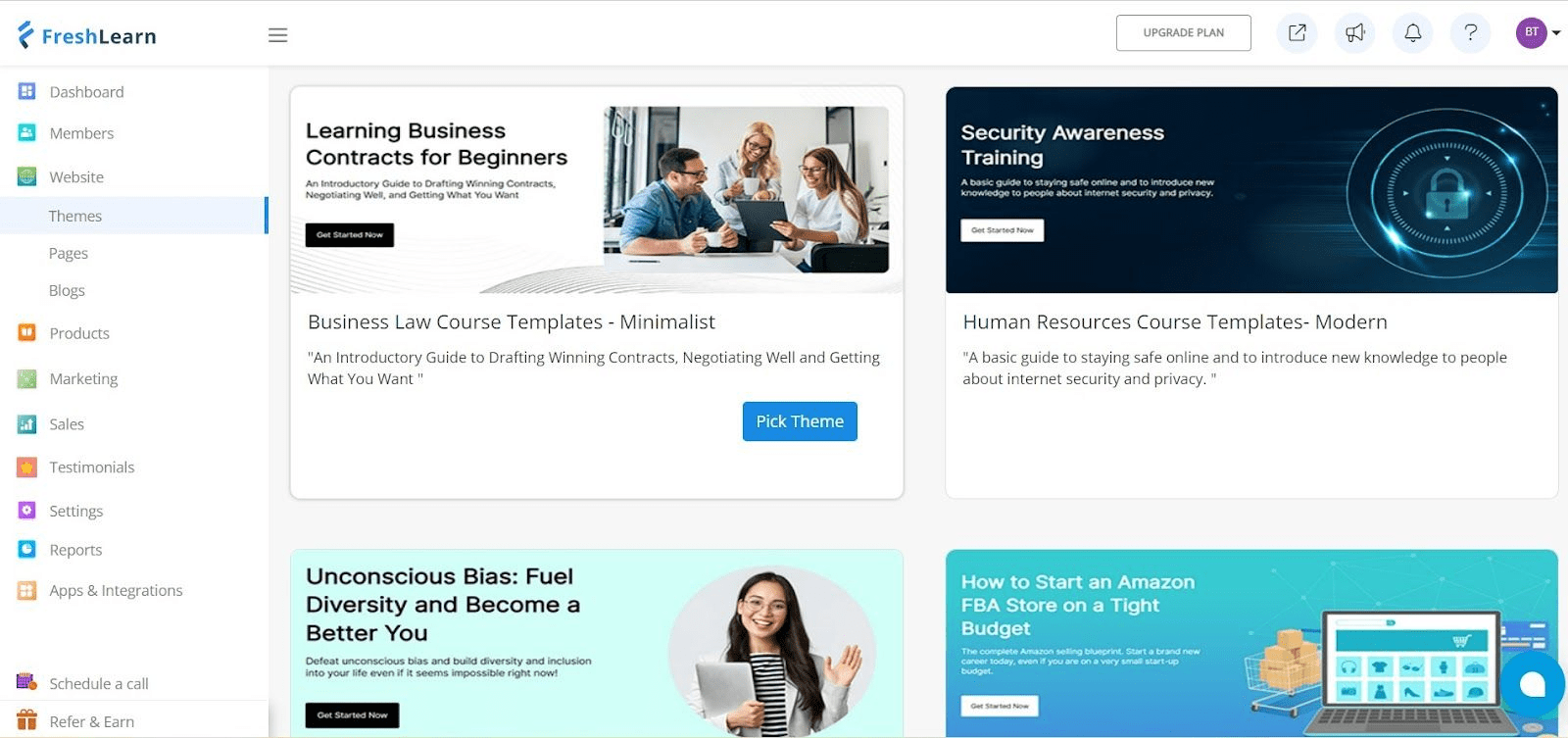 A business coach with FreshLearn
We offer a wide range of themes for you to choose from.
Whether you're looking for something classic or contemporary, serious or playful, we've got you covered.
For example, if you're wanting to focus on sales coaching, you can choose a theme that includes modules on topics like prospecting, cold calling, and closing deals.
Or, if you're wanting to focus on career coaching, you can choose a theme that includes modules on topics like resume writing, networking, and interviewing.
No matter what your area of expertise is, FreshLearn allows you to create a course that will help your students succeed.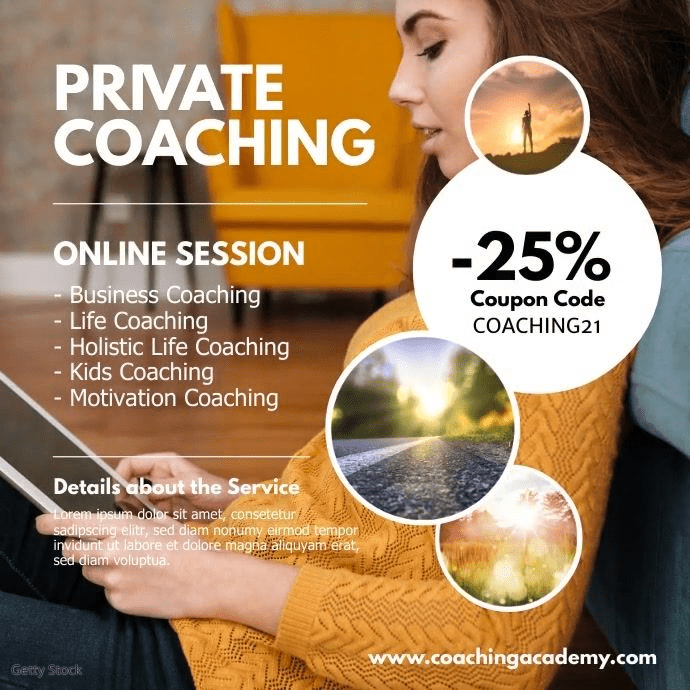 With FreshLearn, you can also add coupon codes to your courses to help promote enrollments.
Not only will this give potential students a discount, but it will also make them feel like they're getting a good deal.
With FreshLearn, not only will you be able to make some money from your course, but you'll also be able to earn money by referring us to your friends
Here's how affiliate marketing works: let's say you have a business coaching course that you want to sell.
You create a landing page on your website and promote it to your potential customers.
When someone clicks on your affiliate link and buys your course, you earn a commission.
Isn't that great?
So what are you waiting for? Get started today and become the business coach you've always wanted to be.
Do You Have What It Takes To Become A Great Business Coach?
Business coaching is a great way to help people achieve their goals and fulfil their potential.
As successful business coaches, you can make a real difference in the lives of others.
To become a successful business coach, you don't need any special credentials or experience, just follow these simple steps and you'll be on your way.
And if you need any help along the way, our team at FreshLearn is always here to support you.
Schedule a call today to learn more about creating and selling courses that will change people's lives - and make you some extra income too!
You might also like
Hosted by