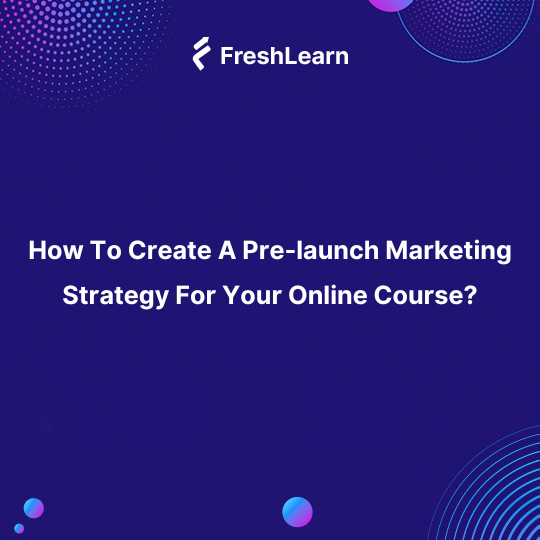 How To Create A Pre-launch Marketing Strategy For Your Online Course?
In this blog, I will share some of the pre-launch marketing strategies for your online course and you can use them for yourself to make your course a success.
Your online course is your baby.
It is the culmination of months or years of work and that is why you are so excited about it. However, the success of your course depends a lot on how well it is launched.
A well-planned, pre-launch campaign can make your course a smashing success, but a poorly planned and executed campaign can destroy your course before it even gets off the ground.
In this blog, I will share some of the pre-launch marketing strategies for your online course and you can use them for yourself to make your course a success.
What Is A Pre-Launch Marketing Strategy & Why Should You Try It?
A pre-launch marketing strategy is a plan that is put in place to generate interest and excitement for a product or service before it is officially launched.
This type of marketing can be used to build buzz, generate leads, and create anticipation for the launch.
The approach you take for successful product launch marketing will often depend on the type of product or service that is being launched.
In our case, we're talking about launching an online course, so creating a sense of urgency and excitement around the course may be used as a pre-launch marketing campaign.
This can be done by sharing your marketing flyer template on social media, email marketing, or content marketing.
The goal of a pre-launch marketing strategy is to build an audience for the course and create a buzz around it.
This will help to ensure that when the course is released, there are people who are interested in taking it.
It is important to make potential students feel like they are getting access to something special and exclusive, and that they will be missing out if they don't sign up.
If done correctly, a pre-launch marketing campaign can be a powerful tool for driving enrolment and ensuring the success of an online course.
Plan Of Action To Create a Buzz For Your Online Course
Take Your First Step & Create A Landing Page
If you're planning to launch an online course, one of the best marketing strategies you can use is to create a landing page.
A landing page is a single web page designed to capture leads and convert them into customers.
It's the first step in your sales funnel and a powerful tool for marketing your course. In fact, 48% of marketers build a new landing page for each new campaign.
Your landing page should be designed to get visitors to take action. The first step is to create a compelling headline that grabs attention and makes people want to learn more.
You'll also want to include a strong call to action, such as a free trial or a discount for early bird customers.
And of course, you'll need to include all the essential information about your course, such as the price, the course outline, and the benefits of taking it.
Creating a landing page is a great way to generate interest in your online course and build your list of potential customers.
By following the tips above, you can create a page that's optimized for conversion and start marketing your course with success.
Create A Great Lead Generation Landing Page Using These Tips
If you're an online instructor, one of the most important aspects of your course is the landing page.
This is the first page that potential students will see when they visit your course website, and it's important to make a good first impression.
Here are some tips for creating an effective landing page for your online course:
1. Keep it simple.
The landing page should be easy to navigate and understand. Too much information can be overwhelming, so make sure to include only the most important details.
2. Use persuasive language.
Your goal is to convince potential students to enroll in your course, so use language that will appeal to them. Be clear about the benefits of taking your course, and make sure to address any concerns they may have.
3. Include a call to action.
Tell visitors what you want them to do, whether it's signing up for your course or downloading a free resource. Make it easy for them to take the next step by providing a clear and concise call to action.
4. Use visuals.
People are more likely to remember information that is accompanied by a visual. Include images or videos on your landing page to help potential students learn more about your course.
5. Test and optimize.
Always be testing and optimizing your landing page to ensure that it's performing well. Use analytics to track your page views and conversion rate, and make changes accordingly.
Run Effective Ads To Reach Your Targeted Audience
As a pre-launch marketing strategy for your online course, you should consider running ads.
This will help to generate interest and awareness for your course, and can also be a great way to drive traffic to your course website or landing page.
When running ads, you should consider using a variety of platforms and strategies to reach your target audience.
For example, you could use Google AdWords or Facebook Ads to reach people who are searching for related keywords or topics.
You could also use retargeting to reach people who have visited your website or landing page in the past.
Tip To Create A Perfect Ad:
There's no surefire formula for creating the perfect ad, but there are a few things you can do to improve your chances of success.
First, think about your target audience and the type of message that resonates with their needs.
Next, keep your ad copy clear and concise, and make sure to include a call to action. Finally, don't forget to test your ad before you launch it, to see how it performs and make any necessary tweaks.
Ultimately, the goal is to generate interest and awareness for your online course so that people will sign up when it launches.
By running ads as a pre-launch marketing strategy, you can reach a wide audience and get them excited about taking your course.
Get Your Word Out With Social Media Outreach
As the online world continues to evolve, so too do the marketing strategies for online courses.
In the past, pre-launch marketing for online courses typically consisted of placing ads in relevant online directories and forums.
However, with the rise of social media, online course marketers are now turning to social media outreach as a way to generate interest and build anticipation for their courses.
Also, as of January 2022, there are 3.96 billion total social media users across all platforms. This means you can really reach out to a wide range of audiences.
By creating a social media profile for your online course and actively engaging with potential students on platforms like Twitter, Facebook, and LinkedIn, you can generate a buzz around your course and get people talking about it long before it launches.
In addition to generating interest, social media outreach can also help you build a rapport with potential students and get valuable feedback that can be used to improve your course.
How Can I Use Social Media Outreach, You Ask? This Is How
There are a few ways to do social media outreach for an online course. One way is to create a landing page for your course on a social media platform like Facebook.
This landing page should include information about your course, as well as a sign-up form.
Another way to do social media outreach is to create content that promotes your course. Your content can take many different forms, from blog posts and infographics to videos.
Whatever form it takes, this content should be shareable and engaging.
If you want your online course to be successful, social media outreach is an essential pre-launch marketing strategy.
By using social media to reach out to potential students and promote your course, you can set your course up for success.
Build An Email List Just Like You Build Your Relationships!
An email list is a valuable asset for any business, but it can be especially helpful for launching an online course.
By building an email list before you launch your course, you can create a group of interested potential students who will be excited to hear about your offering.
There are different ways to build an email list. One is to offer a freebie in exchange for an email address.
This could be a PDF guide, an audio recording, or even just a tip sheet. However, whatever you offer, just make sure it's something that will be attractive and appealing to your target market.
Another way to build an email list is to host a webinar. This is a great way to get people interested in your course and to show them what you have to offer.
You can promote your webinar through your existing channels, and then offer a discount to those who attend.
Building an email list is a great way to create a group of people who are interested in your course, and who will be excited to hear about your launch.
By offering a freebie or a discount, you can entice people to sign up, and you'll be well on your way to a successful launch.
Remember, whatever method you use to build your email list, be sure to focus on quality over quantity.
It is better to have a smaller list of interested and engaged potential students than a large list of uninterested or unengaged people.
Offer a free preview: A Mini-Course Before The Official Launch
An online course preview is a great way to generate interest and build excitement for your upcoming launch.
By offering a free taste of what your course has to offer, you can attract potential students and get them excited about what they'll be learning.
Plus, a preview can also help you gauge interest levels and get feedback about your course content before you go live.
One option to offer a free preview is to create a short video that gives an overview of the course content.
Another option is to create a mini-course that covers the first few lessons of the full course. Or, you could simply make a few selected lessons from the course available for free.
When you're planning your free preview, be sure to include a mix of content from different modules or units in your course.
This will give people a well-rounded overview of what they can expect to learn if they enroll. And be sure to promote your free preview widely - on your website, social media, and in any other marketing channels, you're using.
Whichever approach you choose, make sure that the free preview provides enough value to whet the appetite of potential students without giving away too much. You want to leave them wanting more!
Ready To Create A Buzz??
You've spent months, maybe even years, developing your online course. After all that hard work, now it's time to launch your course and start making money!
But before you can launch, you need to create a buzz. You need to let people know that your course exists and that it's going to be amazing!
The best way to create a buzz is to start with a prelaunch. A prelaunch is a period of time (usually 2-4 weeks) before your course launches when you start marketing and promoting your course.
During your prelaunch, you'll want to do things like creating a landing page for your course, starting a social media campaign, and reaching out to your network of potential students.
You can also offer a discount for people who sign up during the prelaunch period.
Give your online course a boost with FreshLearn. It has the features you need and it's very easy to use.
Plus, it does not require any coding knowledge. So if you're serious about launching an online course, be sure to prelaunch with FreshLearn.
Sign Up Today and see the difference in your success!
You might also like
Hosted by