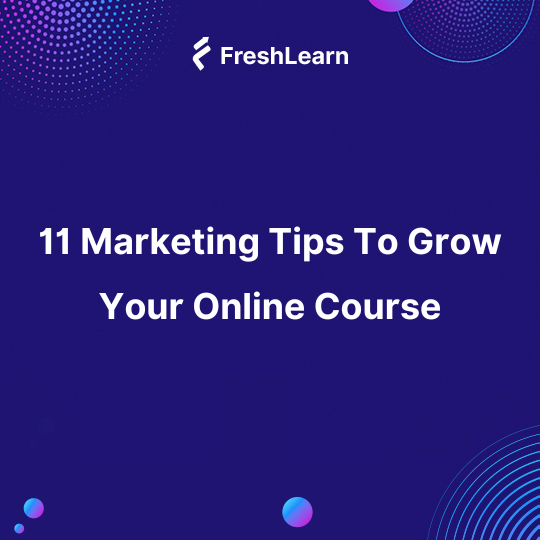 11 Marketing Tips To Grow Your Online Course
Check out these 11 simple and cost-effective marketing tips to grow online courses and earn revenue.
Introduction
Online courses have been around for quite some time. However, the real boom took place during the pandemic. Many people enrolled in different courses during the lockdown. Online learning platforms like Code Academy, LinkedIn, and edX witnessed a spike in enrollments. In fact, edX reported a 15-fold increase in the number of registrations in April 2020. According to Research and Market's study, the online education market will reach $350 billion by 2025.
It's not just these enterprise-level Edtech companies that are growing. Several online course creation platforms have democratized the process of building online courses.
Today, anyone with skills and experience in a particular domain or skill can build a course within a few days or hours. You don't have to go through a lengthy process of storyboarding, animating, or developing and testing the course. Most of online course creation platforms are no-code platforms. So, you can build your courses with the help of drag-and-drop functionality.
With online courses, you can:
Minimize efforts, and maximize revenue: You don't have to take classes at dedicated times to earn money. Just create and upload your courses on the online course platform, and earn every time someone enrolls in your course. You can earn even when you're on vacation and till the course is running.
Start an alternate revenue stream: You can earn extra revenue through online courses apart from the main work you do.
Grow a community: You can build a community for your learners so they can engage, exchange new ideas, and grow together. Who knows, you might even hit on an idea for a new business or course!
Get leads in a unique way: The course can be a good start for generating leads for your business and converting them. For example, HubSpot increased its leads by 115% year on year through its free online courses in Q1 of 2020.
How To Promote Online Courses?
Online courses have made it easy to earn revenue. But the democratization has also made it difficult for creators to attract the audience's attention and get them to enroll in the course. Let's look at an example. When we searched for online bakery classes, we saw results from popular marketplaces. It's no secret that these websites will have several bakery courses. Vying for the attention of your audience will be an arduous task.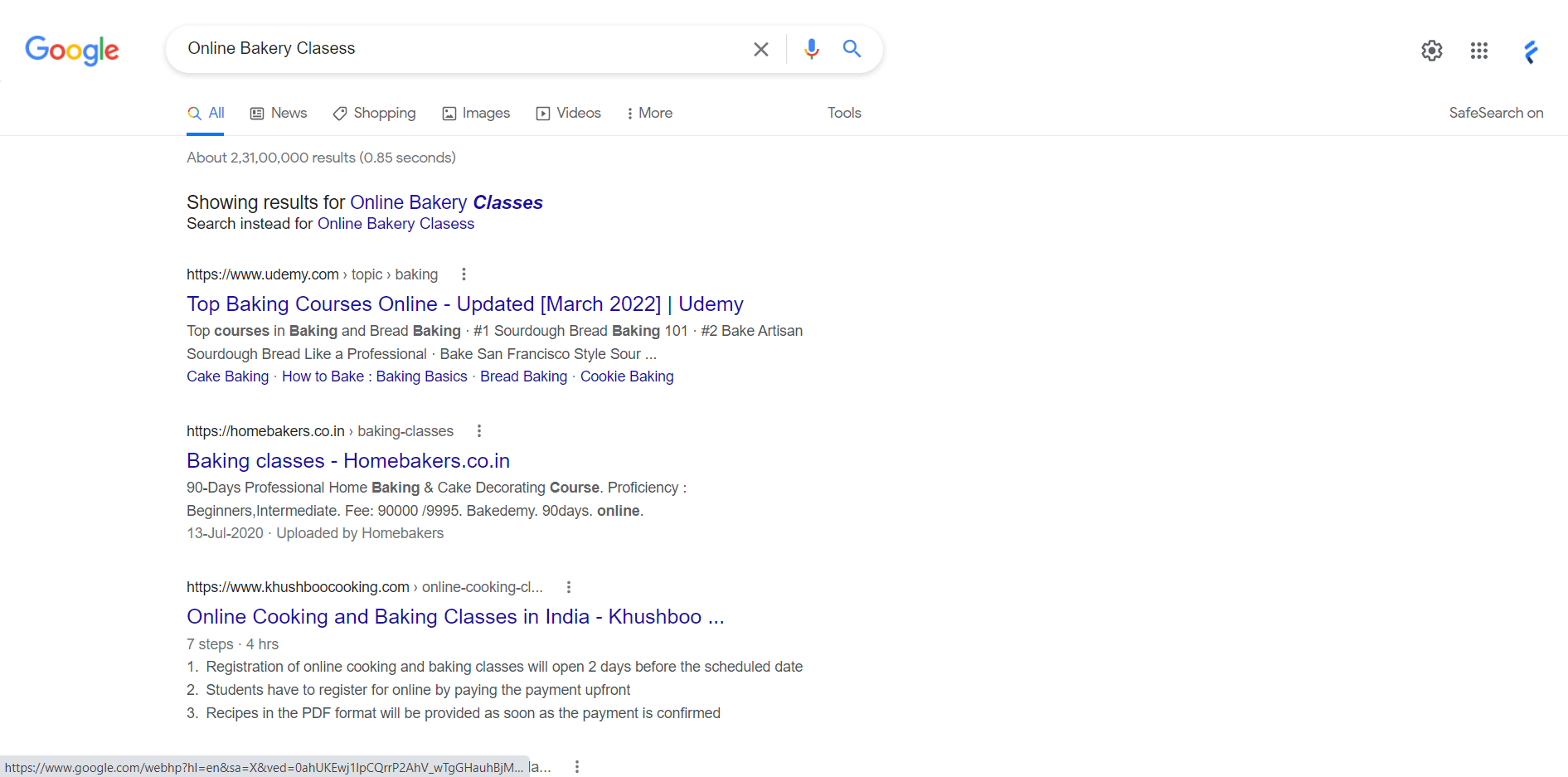 That's why it's essential to know how to market the online course. It's the only way to grab your audience's attention and grow your business.
Here are some marketing tips that you can follow to grow online courses.
Presell your online course
Promote on YouTube channel
Build social proof
Publish the launch video on social media
Create a free mini-course
Host a free masterclass
Offer some free digital products & start email nurture campaigns for them
Bundle your course and offer a discount
Partner with other course creators and cross-promote
Use Facebook Ads
Create an affiliate program
11 Marketing Tips To Grow Online Course
1. Presell your online course
You can promote your online course before the official launch date in pre-selling. This will give you time to gauge the response and give you more time to develop the course material. But more importantly, you can make your learners feel special by assuring them that they will be one of the selected few to enroll in the course and benefit from it. You can even slash the prices and inform them that they can avail of discounts if they pre-register for the course. This will help create a sense of urgency and compel them to pre-register.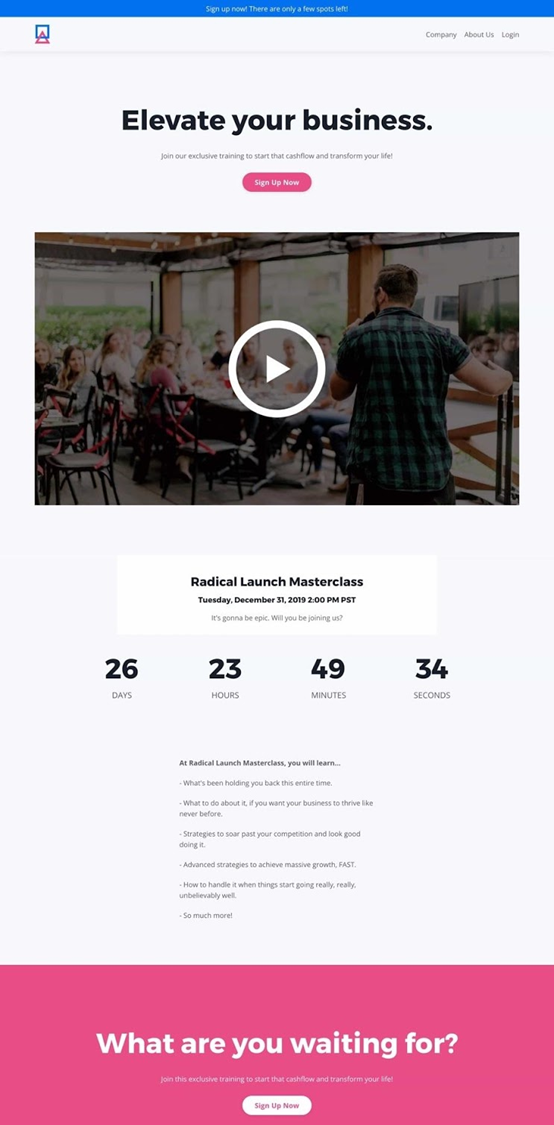 2. Promote on the YouTube channel
YouTube attracts 30 million daily active users, YouTube has 2.527 billion worldwide users and over 95% of global Internet users watch it. It is also the second most popular social media platform. That makes YouTube one of the most attractive platforms to promote your online course. If you already have a YouTube channel with a decent number of subscribers, promoting your course will be quite easy as you have already built your authority on the platform.
However, if you don't have a channel yet, it might be a good idea to create a channel and upload a few videos regularly before promoting your course. Once you've built authority, you can create videos to promote your course.
Remember to use the relevant hashtags and keywords in the description to enable the learners to discover your channel quickly. Remember to add the link to the course in the video description to allow direct enrolments.
3. Build social proof
Social proof is crucial to getting more registrations for your course. 88% of customers trust online reviews as much as personal recommendations. Hence, focus on getting student testimonials.
You could offer free access to the course to select audiences in exchange for a text or video testimonial. Promote these testimonials everywhere, such as the landing page of your course, emails, and social media. It will help in increasing the conversion rates for your course.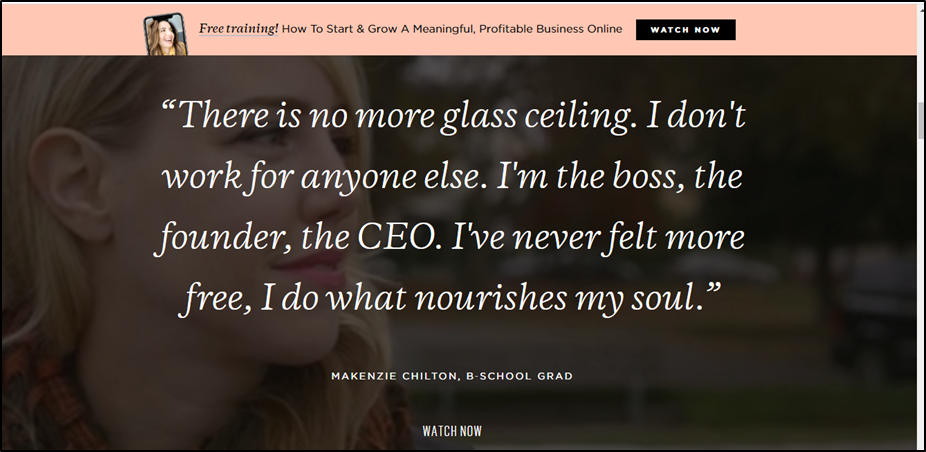 4. Publish the launch video on social media
Apart from YouTube, you must also publish a launch video of your course on social media. Social media platforms like Instagram, Facebook, and TikTok are used widely by people. Create a business account on these accounts and publish posts regularly to build your social media presence and authority.
Once you've built authority, you can publish a launch video of your course. The launch video must discuss why you've created this course, how the user will benefit from it, etc. Remember to provide the registration link in the video. You can also do a social media live to interact with the learners in real-time.
5. Create a free mini-course
Have you noticed how some companies offer you a free trial of their product before upgrading to their paid plan? The objective is to allow you to try out the product thoroughly and understand its value before making a payment.
You can do that too! You can create a free mini-course for your learners to give them a preview of what they can expect to learn from the full course. Create so much value through the mini-course that they feel the need to enroll for the complete course. By the end of the mini-course, selling the paid course will become easy.
6. Host a free master class
A sure-shot way to build your credibility with your audience is by hosting a free master class. In these masterclasses, you can engage with potential learners, share knowledge that's closely related to your course, and have a question-and-answer session with them to address their queries.
A free master class can serve as a promotional activity to market the online course. You can promote your course at the end of the master class and give them special early-bird discounts or other attractive perks to nudge them to enroll.
Please remember to choose a good online course creation platform to create and market the master class. FreshLearn, for instance, allows you to build, market, and sell your master class and other digital products seamlessly.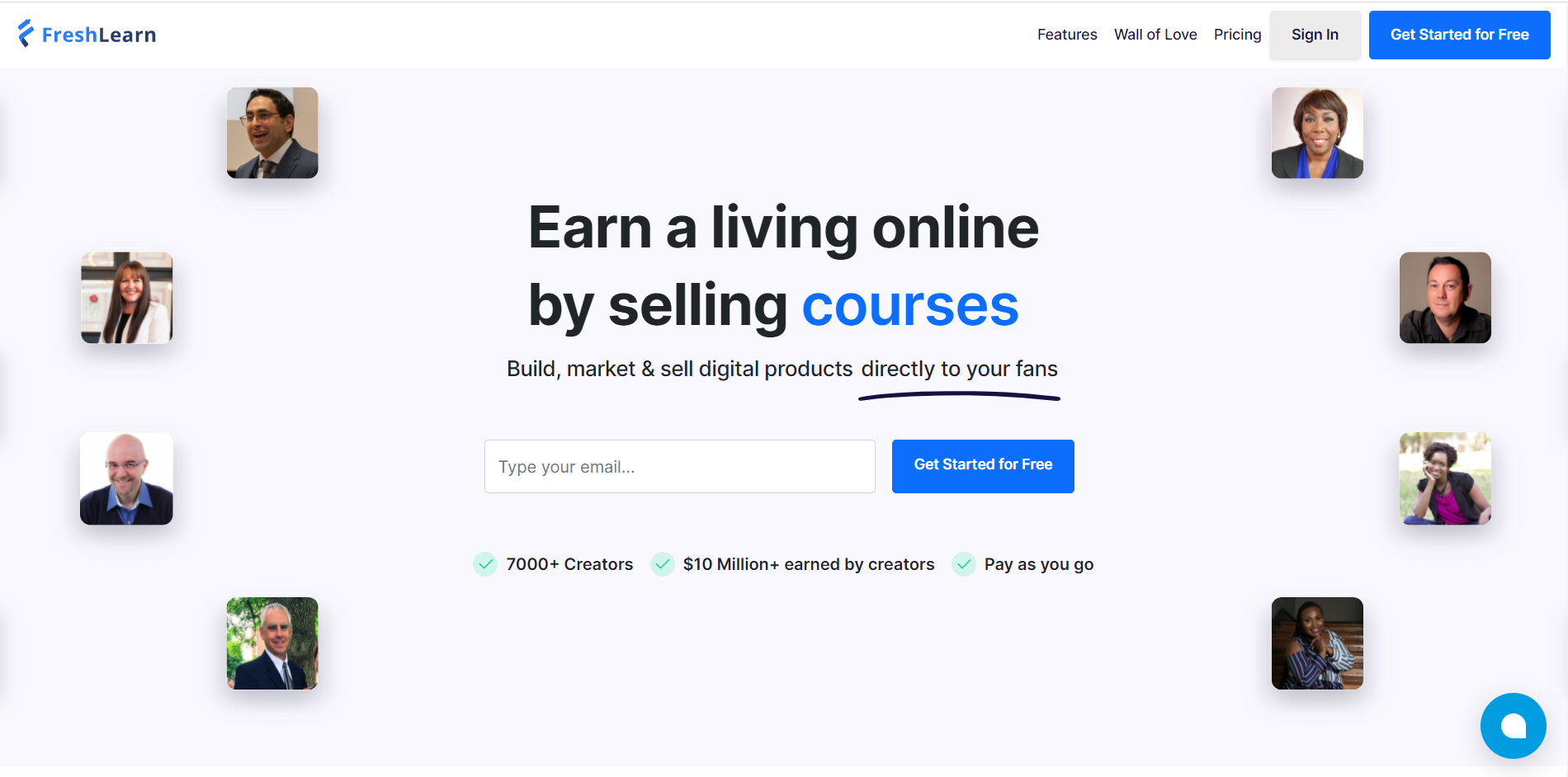 7. Offer some free digital products & start email nurture campaigns for them
Free digital products are a great way to create awareness about your online course and nudge them to enroll. These digital products can be in the form of blogs and ebooks. You can choose to keep it as gated or as open content. However, remember to capture the email id of the learners and start a drip campaign to email them about the free course. The purpose of the digital product is to demonstrate authority in your area of expertise.
Ensure that the content is closely related to your course and optimized for SEO for organic reach. It could be on general market trends, tips for growing business, etc. The idea is to give learners a preview of what they can expect from your course. Remember to provide a CTA at the end of the blog or ebook for the learners to sign up.
8. Bundle your course and offer a discount
If you've created multiple courses that are interrelated with each other, bundle them together into a single product and sell them at a discounted price. Look at the following example. The course creator has bundled 12 major digital marketing topics into a single course and is offering a discounted price of $14.99. This strategy will be a viable option for learners who can gain maximum knowledge at a minimum cost.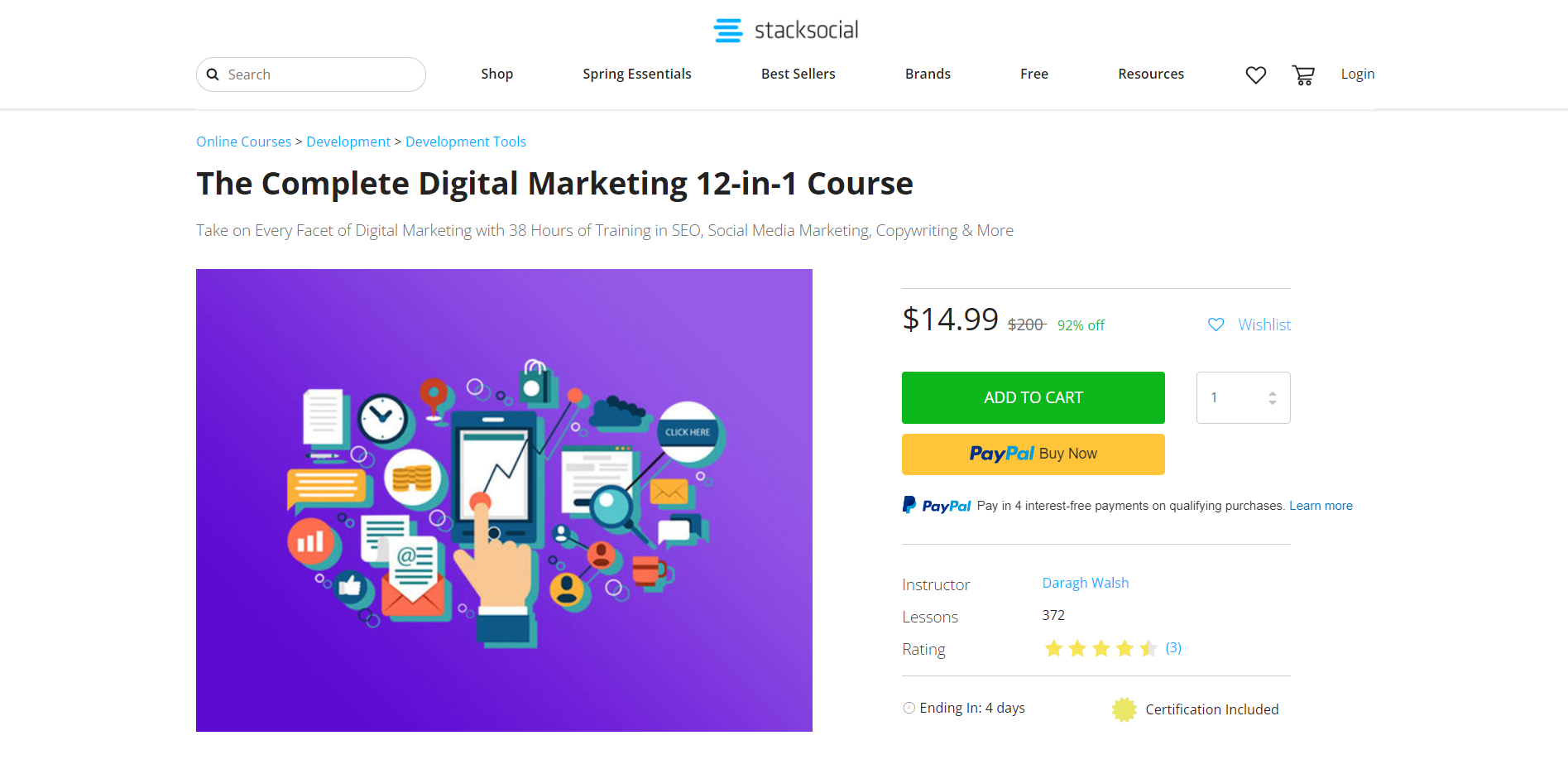 9. Partner with other course creators and cross-promote
While owning your subscriber list and sending them emails is an ideal way to market the online course, you can consider partnering with other course creators to reach more audiences and cross-promote your course.
As many leaders would tell you – it's time to focus on collaboration, not competition. Approach a course creator whose audience you believe will benefit the most from the course and plan a promotional strategy that would benefit both parties.
10. Use Facebook Ads
Facebook has over 2.9 billion monthly active users. That makes it one of the viable digital platforms to market online courses. To make the most of this platform, you can do Facebook ads.
Facebook ads allow you to determine your target audience and display the ads to only those who match the criteria you choose. For example, if your course is for entrepreneurs, you can select entrepreneurs, business executives, solopreneurs, freelancers, etc., as your demography.
You can also set other criteria for laser-sharp targetings, such as location, behavior traits, etc. Ensure that your ads look visually appealing, and have a strong copy, a clear CTA, and a registration link to your course. Also, make sure that your sales funnel is seamlessly built to guide the visitor into becoming a learner.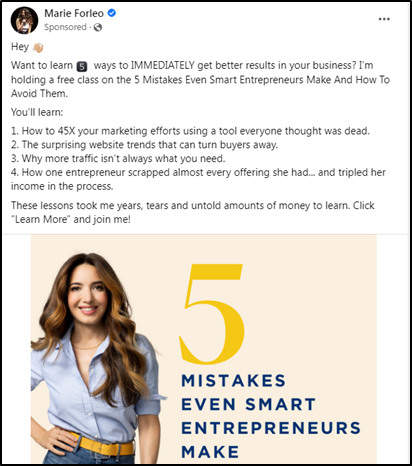 11. Create an affiliate program
Another easy way to reach out to more learners is through an affiliate program. Find bloggers, podcasters, and industry publications with a well-established audience that could benefit from your course and reach out to them.
Build an affiliate program that would be financially viable for both. For example, you can give them a unique coupon code to promote their content. So, every time someone registers using the code, the person or publication gets paid the agreed amount. An affiliate program saves you time and effort in building the audience. You can promote the online course directly to their audience.
How To Plan A Marketing Strategy For Your Online Course?
All these are proven marketing tips. However, you don't have to implement them all to market the online course. Choose the ones that would fit your budget and get more leads for your course. What's more important is a robust marketing strategy. Without a strong marketing strategy, your efforts would be useless. Here are a few tips for marketing the online course.
Know your audience thoroughly: Know their demography, behavior traits, pain points, and ambitions to get an idea of what content would appeal to them the most.
Build a strong value proposition: You need to show a key differentiator for your course that makes it unique from other courses. List them down and build on them to demonstrate value.
Budget: Your marketing activities would depend on your promotional budget. For example, if you have a shoestring budget, a Facebook ad might not be your right choice. Instead, you can focus on getting organic traffic through free digital products and social media marketing.
Choose the right online course creation platform: Choose an online course creation platform that will allow you to upload your course and market it seamlessly with your branding. FreshLearn, for instance, will enable you to build your landing pages and brand all your digital touchpoints, such as the landing page, registration page, and payment page, the way you want.
Measure and iterate: Keep measuring the effectiveness of your marketing strategies. For example, the open rate, clickthrough rate (CTR), and conversion rates, and keep iterating your strategy to improve sales and revenue.
We hope you find these tips to market the online course useful.
Contact us if you're planning to kick off your online course creation and marketing journey. We'll be happy to help you.
Hosted by