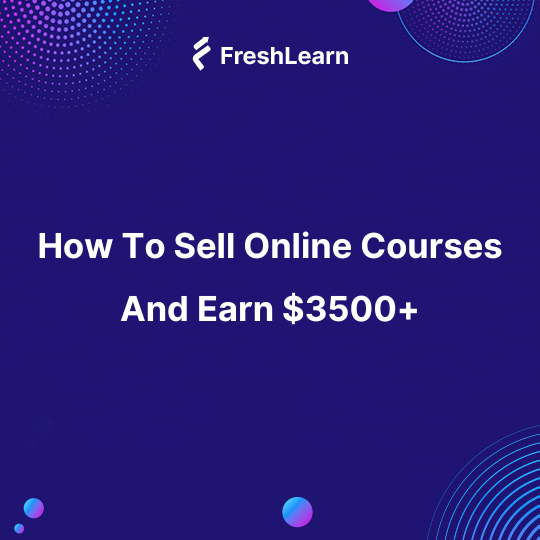 How To Sell Online Courses And Earn $3500+
With the creator economy thriving and online courses gaining market traction, you can leverage and develop your online learning business in 9 simple steps.
This blog will explore basic yet successful techniques for selling online courses and earning a considerable income.
We'll go over topics like picking a topic, generating material, marketing your courses, and where to sell online courses, with the ultimate objective of building a profitable online course business that generates $3500 or more each month!
So, let's get started on how to sell online courses and earn an income:
Step 1:Pick Your Online Course Niche
Step 2: Set goals
Step 3: Select Your Course Hosting Platform
Step 4: Create an Online Course
Step 5: Seed Launch Your Online Courswebs
Step 6: Pick Your Pricing Strategy
Step 7: Promote Your Course
Step 8: Increase the Worth (And Value) of Your Online Course
Step 9: Focus On Customer Experience
Step 1: Pick Your Onlne Course Niche

The first step is to pick a niche for your course. This could be anything from creative writing to web development. But it's best not to keep it too broad or specific.
The idea is to choose a topic that you are passionate about and that others are eager to learn about. Then, research online and see what courses are already offered in your domain.
One great way to find your niche is by experimenting on different social websites with various topics and seeing which ones generate the most interest and engagement.
Once you've determined what individuals are interested in, you can begin developing a course around that topic.
For example, if you have 2-3 ideas of niches, create Instagram, Facebook, or YouTube videos on them and see which niche is gathering the most engagement.
Step 2: Set Goals
So, now that you've taken the first step of deciding to create a course, let's move on to the next one: setting some goals. What do you envision for your course?
Are you aiming to help people acquire a new skill or maybe you want to educate them about a specific topic? Perhaps you're even aiming to become the ultimate resource on a particular subject.
Whatever your goals are, it's crucial to jot them down and keep them in mind throughout the course creation process.
This way, you'll stay focused and ensure that your course meets the needs of your students. Remember, having clear goals will guide you toward creating a course that truly delivers value.
Step 3: Select Your Course Hosting Platform
Selecting your hosting platform is one of the most critical steps, as the right marketplace to sell online courses will determine the overall experience for the end user.
There are different online course platforms to choose from that offer a wide range of features and are user-friendly.
Some big names in the industry are Teachable, Thinkific, and Kajabi. But we highly recommend you consider FreshLearn!
FreshLearn
FreshLearn is an online course creator platform that helps creators set up, manage, and sell online courses.
It comes with popular monetization features and 24x7 live chat support. FreshLearn course builder is user-friendly and easy to learn.
Additionally, the platform posts helpful and detailed videos on its YouTube channel to help creators set up their businesses in no time.
Unlike other platforms, FreshLearn supports embedding different video players like YouTube, Vimeo, etc. and is also the only platform in the space that has taken gamification as a feature seriously.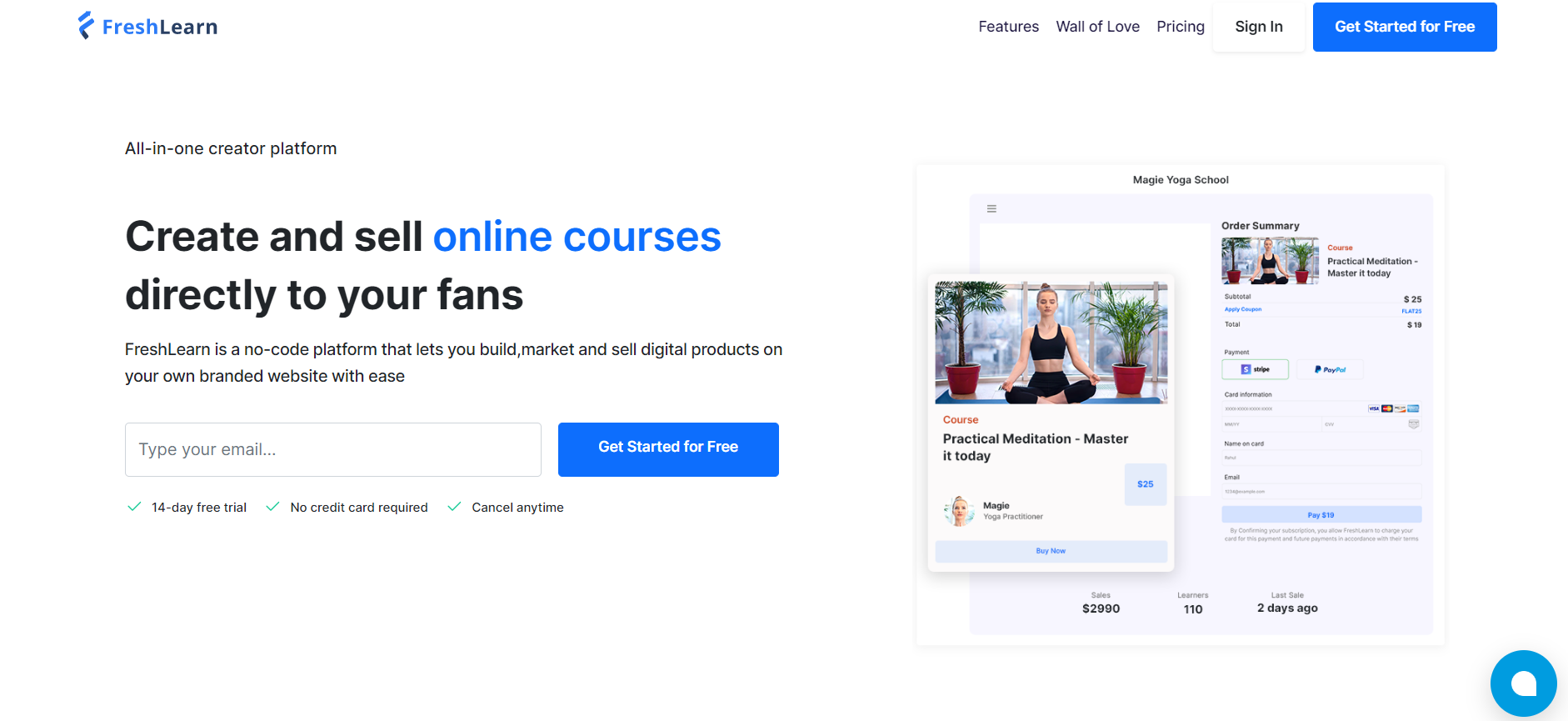 FreshLearn has consistently proved that it meets the many standards of the rising creator economy and even surpasses them to keep itself future-proof.
We can only wait to see more features and innovations that Freshlearn plans to bring to the table soon.
Teachable
Teachable is one of the oldest platforms for selling online courses. Though it is a popular platform among the course creators as highly functional with numerous options for customization, Teachable differentiates its support service to creators based on the pricing plans they have subscribed to while also having limited monetization features in the platform.
But Teachable can also confuse first-time users because of its complicated course builder.
Thinkific
Thinkific is feature-rich with tools for assessment, certificates, on-lesson discussion, easy customization, and more.
It is a popular learning management system for selling online courses because it does not charge its creators a commission rate while also providing unlimited courses, students, and enrollments in all its paid plans.
But like Teachable, Thinkfic also prioritizes its support services based on the pricing plans the creators have availed of and charges a hefty $399/month for advanced features with no concierge migration support services available in any of its pricing plans.
Kajabi
Kajabi is also an old online course creation platform and is an all-in-one platform that lets instructors build and launch successful online courses.
In addition, Kajabi provides other monetization features to its creators like podcasts, website building, coaching, etc., and also offers its creators a 0% commission rate in all its pricing plans.
Having said that, Kajabi's pricing plans are among the most expensive in the industry.
With no free plan and the most basic plan starting at $149/month, going all the way up to $399/month, Kajabi's prices are high compared to other platforms considering the features that creators avail are the same.
After you've decided on a hosting platform, you'll need to register an account and start building your courses.
This process is usually very straightforward; most platforms will have detailed instructions on creating your courses.
Take advantage of any help or support offered, as this can be invaluable in creating your courses online.
Step 4: Create an Online Course

Now that you've decided on a platform and a specialty, it's time to start creating courses. It is critical to properly arrange your course content because this is what your students will study. Keep the following in mind while you create your courses:
Course Content
When you plan your course content, keep in mind that you are teaching a course, not merely presenting information.
Your students should learn from your course, not just receive information. Therefore, be sure to create a syllabus or outline for your course and plan your lessons carefully.
Your courses should be designed with a logical flow and include activities and exercises for your students to complete.
Course Structure
Don't forget to arrange your courses in a way that's as smooth as butter for your students to glide through!
Use headers and subheadings to arrange your information and make it easier to read. You may also wish to make slides or videos to go along with your courses.
Using a modular approach may also be helpful, with each module covering a specific topic. Preparing a proper structure for your course will help your students stay focused and ensure that they learn the material properly.
Course Format
Your courses should be delivered in an engaging and exciting format. You may want to consider using videos, audio recordings, or interactive exercises.
Using a variety of multimedia elements will ensure that your students remain engaged with the subject.
Be sure to test your courses on different devices and browsers to ensure that they are displaying correctly. Make sure that any format you choose is exciting and engaging for your kids.
Step 5: Seed Launch Your Online Course
To sell online courses, seed Launching your online course is a great way to get started. A seed launch is a pre-sale campaign where you offer your course at a discounted price to generate interest and enrollment. Using this approach is an excellent way to get your course up and running and make money.
When you first publish your online course, make sure to include the following:
A Compelling Offer - When seeding your course, make sure to offer it at a discounted rate. This will spark curiosity and assist you in enrolling students.
A Strong Sales Pitch – Your sales pitch is critical when seeding your course. Making a solid sales funnel for why someone should purchase your course helps put your image out there, even if it may sometimes fail to bring in students.
A Good Marketing Strategy – You need to have good marketing efforts and strategies to generate interest in your course. Utilizing various methods, such as social media, email marketing, and paid advertising, will benefit.
A Well-Designed Landing Page – Your landing page is critical when seeding your course. It needs to be well-designed and easy to use. The page should also include a video that explains your course in detail.
Step 6: Pick Your Pricing Strategy
Now that your course is all set to go, it's time to get your pricing hat on. There are a couple of options here, so let me break it down for you
First up, we've got the Transactional Model. This is for students who just want to take up a single course where it's easier for them to pay a one-time fee for the course they want to take.
Next, we've got the Subscription Model. This is like a membership to a whole buffet of courses where students pay a monthly fee and get access to all the courses they want. It's great for those who want to dive into multiple courses.
Both models have their perks and quirks. With the Transactional Model, some students might only be interested in one course and not stick around for the long haul. On the flip side, the Subscription Model can be a bit heavy on the wallet for some students.
When deciding on your pricing strategy, it's important to consider what your students need. Maybe you can even consider offering a free trial to entice more enrollments. So, go ahead and put yourself in your student's shoes, and find the pricing plan that'll make them say, "Sign me up!"
Step 7: Promote Your Course
Once your course is created, you will need to promote it to generate interest and enrolments. Promoting your course can be a challenge, but it is crucial to have a strong marketing strategy in place.
To sell online courses, you can employ various methods to promote your courses, such as social media, email marketing, and paid advertising.
Social Media
Social media is an excellent tool for promoting your course. It is vital to use numerous platforms such as Facebook, Twitter, and LinkedIn.
Use social media to share interesting and engaging material that will keep your audience's attention.
You can also market your course by running social media ads. Social media is an excellent tool to rapidly and simply reach a large number of individuals.
Creating a profile for your course and sharing it with your followers can allow a space for interaction and engagement to take place.
The platform can also promote your courses by posting updates about your course and promoting special offers while providing sneak peeks of the content.
Email Marketing
Email marketing is another excellent way to promote your course. You can send out email campaigns to previous students and subscribers and offer discounts to those who enroll in your course.
When creating your email campaign, be sure to make a strong case for why someone should purchase your course.
Including testimonials from previous students will help build trust in your brand and convince others to enroll.
Including videos and images can help capture your audience's attention and increase the chances of enrolment.
Paid Advertising
To create leads, paid advertising platforms such as Google AdWords, Facebook Ads, and LinkedIn Ads can be employed. Your advertisements can also be tailored to specific consumers depending on their location and interests.
This is a good strategy for reaching out to a specific group of people who are likely to be interested in your course.
You can additionally monitor the effectiveness of your advertising to determine how effectively it is working. When producing your advertisement, keep the benefits of students in mind.
Let us consider how you can utilize Facebook ads to market online courses.
Facebook ads are a powerful tool for creating a profitable online course and driving more students to enroll.
Whether you're targeting potential customers with highly targeted ads or encouraging current students to refer their friends, there are many different ways to leverage the power of Facebook advertising for your course.
Settings To Launch Facebook Ads For Course Creators
In order to start a Facebook campaign, you first need to set up your Facebook pixel account.
Here's how:
Step 1: Log in to your Facebook account and Navigate to 'Events Manager' -> Pixel
Step 2: Select 'Create a pixel', read how it works, and hit 'Continue'.
Step 3: Enter your pixel name, and provide your own website URL.
Step 4: Incorporate the pixel into your website in the HTML code. You can also do so via an integration.
Step 5: Complete the process by clicking on 'Continue'.
How To Set Up Your First Facebook Ad Campaign For Selling Online Courses?

Once you have your Facebook pixel set up, make sure to do the following settings in your Facebook Ads Manager account.
Step 1: Navigate to 'Ads Manager' -> 'Ad Set' -> 'Audience' - 'Create new audience'.
Step 2: Enter the necessary details.
You'll need to develop your ad strategy and choose the right targeting options to reach your ideal audience.
This may include -
creating custom audiences based on website visitors or existing customers
setting up lookalike audiences that target similar individuals
experimenting with interest targeting to find new potential students
You can also set up conversion tracking so that you can see which ads are driving the most signups for your course, and optimize accordingly.
Step 3: Next, go to 'ads Manager' -> 'Ad Set' -> 'Placements'. Select 'Automatic Placements' to let the Facebook algorithm make the most out of your ads.
Step 4: Next, go to 'Ads manager' -> 'Ad set' -> 'Budget and schedule'.
Here you can decide the amount you are willing to spend on your Facebook ad campaign and the timing of your ad delivery.
You can click on the relevant option from the dropdown corresponding to 'Optimisation for ad delivery' to optimize the particular item.
You can choose from 'Landing page views', 'Impressions', 'Link clicks', and 'daily unique search'.
Plus, set the budget you have fixed for your ad campaign on Facebook under the 'Budget and schedule' section.
Step 5: Navigate to 'Ads manager' -> 'ad' -> 'Format'
Under the 'Create Ad' tab, select the format of the ad you'd like to display on Facebook - Carousel, Single image or video, or Collection.
You can further customize the look of your ad, including the image size, text, etc.
With the right Facebook ads in place, you can start seeing real results for your online course business.
Whether you're looking to generate more leads and sales from advertising alone, or simply using ads as a way to build awareness and encourage word-of-mouth referrals, there are many different ways to use Facebook ads to achieve your goals.
Step 8: Increase the Worth (And Value) of Your Online Course
One of the best ways to increase enrollment in your online course is to increase the value of your courses, thereby increasing the value of your course (and how expensive you can make your course). You can do this by adding new content, improving the quality of your content, offering special bonuses, and using upsells.
New Content
Your course's value can be increased by including brand-new, original content. Exercises, lessons, and modules can all be added to boost the value.
Updating your content will keep it fresh and relevant. When adding new content, be sure to focus on the needs of your students.
A fantastic method for increasing the value of your course is to include fresh additional content that is not necessary for course completion but is provided as an incentive for those who want to learn more.
Quality Content
The quality of the content you provide is also crucial. Students will be more likely to enroll in your course if the content is of high quality.
You can improve the quality of your material by ensuring that it is well-written and thoroughly researched.
You can also incorporate movies, photos, and infographics to make your content more entertaining.
Special Bonuses
Offering special bonuses is another excellent way to increase the value of your course. For example, you can provide bonus lessons, exercises, or even products.
When creating rewards, be sure to focus on the needs of your students. If you can provide them with valuable and relevant bonuses, they are more likely to enroll in your course.
Upselling and Cross-selling
Upselling is a great way to increase the value of your course. You can offer additional products or services that are related to your course.
But remember that it is essential only to select the ones that increase the end value of your course.
Step 9: Focus On Customer Experience
The customer experience is essential for any business, but it is vital for online courses. Students need to feel supported and confident in their purchases.
They must believe that they are receiving good value for their money.
A user-friendly interface is one technique to improve the customer experience. Students should easily navigate your course website and find the information they need.
In addition, the platform can significantly help creators and make things easier with automated grading and reporting tools.
For an enhanced customer experience, it is crucial for students to promptly reach out for any inquiries or concerns, ensuring they receive exceptional assistance.
By offering help materials such as FAQs and tutorials, students can find the information they need without contacting you.
Build & Sell Your First Online Course Using FreshLearn!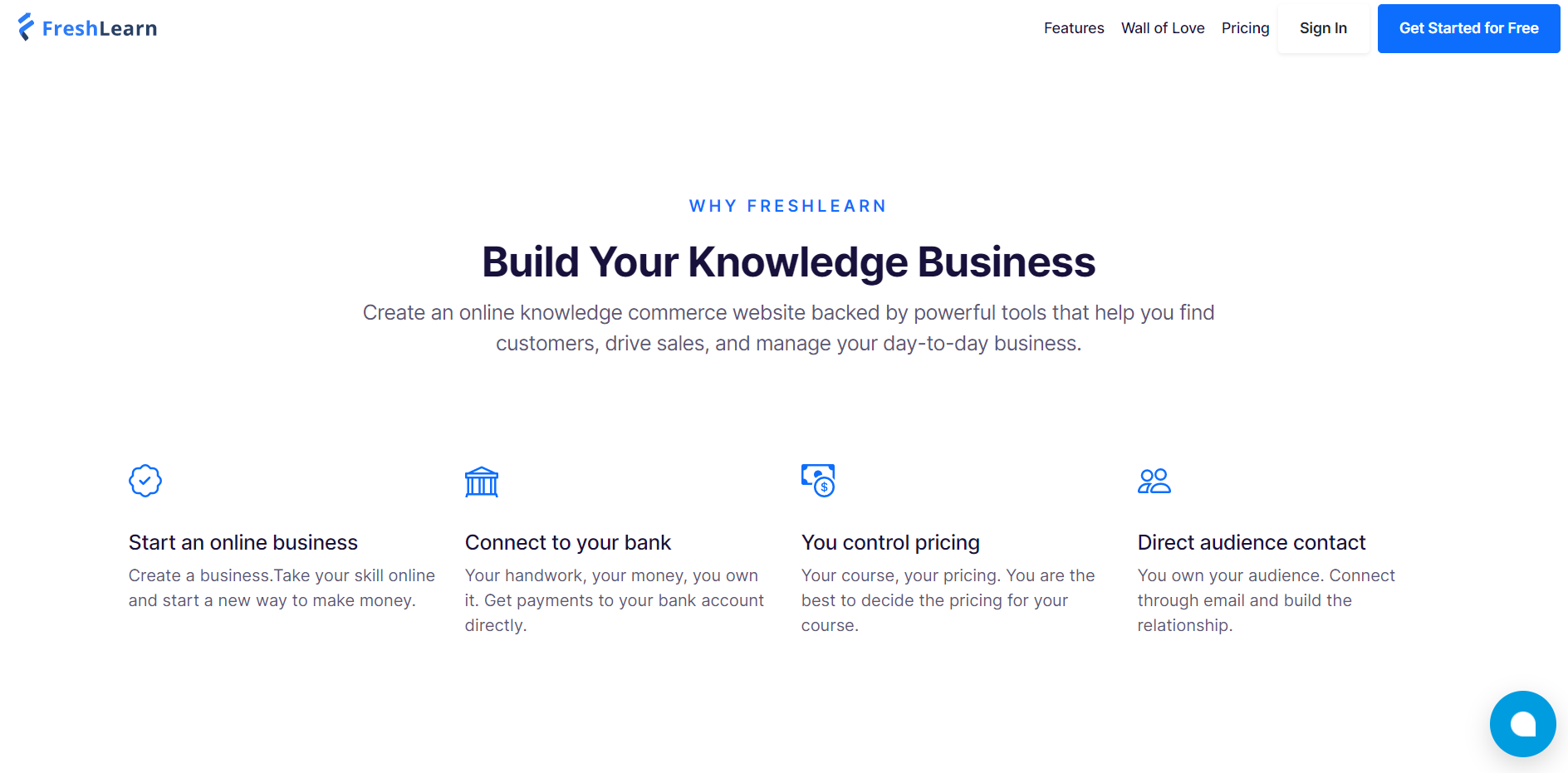 To kickstart your online business, you should have a strong foundation in place. All that's left now is your dedication and drive to see it through. Just remember, that building a successful business takes time and effort. It's not an overnight process, but with the right tools and strategies, you can make it happen.
If you're ready to embark on your online school journey, FreshLearn offers an ideal starting point for your online business. Their platform is user-friendly, and they provide excellent 24x7 support for creators and students. You can easily create top-notch courses that engage and educate your students.
So why wait? Start today with a free forever plan and begin your exciting online business journey!
FAQs Related To Sell Online Courses
1. Is it profitable to sell courses online?
Yes, selling courses online has become a lucrative venture for individuals and businesses. The e-learning industry has witnessed remarkable growth in recent years, presenting ample opportunities to generate substantial income.  
Offering high-quality and relevant course content, adopting efficient marketing techniques, and selecting the correct target audience are the keys to success. You can dramatically increase the profitability of your online course by focusing on these factors.
2. How do I sell an online course to someone?
Selling an online course involves a step-by-step process to effectively attract and engage potential customers. Here's how you can sell an online course:
Step 1: Pick Your Online Course Niche
Step 2: Set Goals
Step 3: Select Your Course Hosting Platform
Step 4: Create an Online Course
Step 5: Seed Launch Your Online Course
Step 6: Pick Your Pricing Strategy
Step 7: Promote Your Course
Step 8: Increase the Worth (And Value) of Your Online Course
Step 9: Focus On Customer Experience
3. Which platform is best for selling courses?
FreshLearn stands out as the top choice among online course creation platforms for selling courses. It combines robust features with affordable pricing, offering a user-friendly interface for course creation, marketing, and student management. Course creators find it an excellent platform to deliver a seamless learning experience to their students.

You might also like
Hosted by