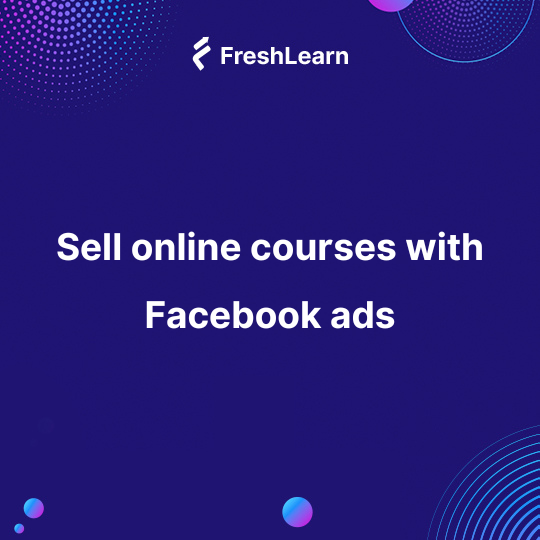 Sell online courses with Facebook ads
Learn how you can use Facebook Ads to sell your online courses like a pro. From setting up your campaign, targeting the right people, and measuring success - we've got you covered!
Tips and tricks to sell online courses with Facebook ads
Looking to sell your online courses through Facebook ads?
Whether you're new to marketing your courses on social media or are a seasoned pro, there are plenty of tips and tricks that can help you maximize your results.
But, before we dive into them, you first need to understand why and when you need Facebook ads for online courses.
Let's go!
Why do you need Facebook ads to promote your online course?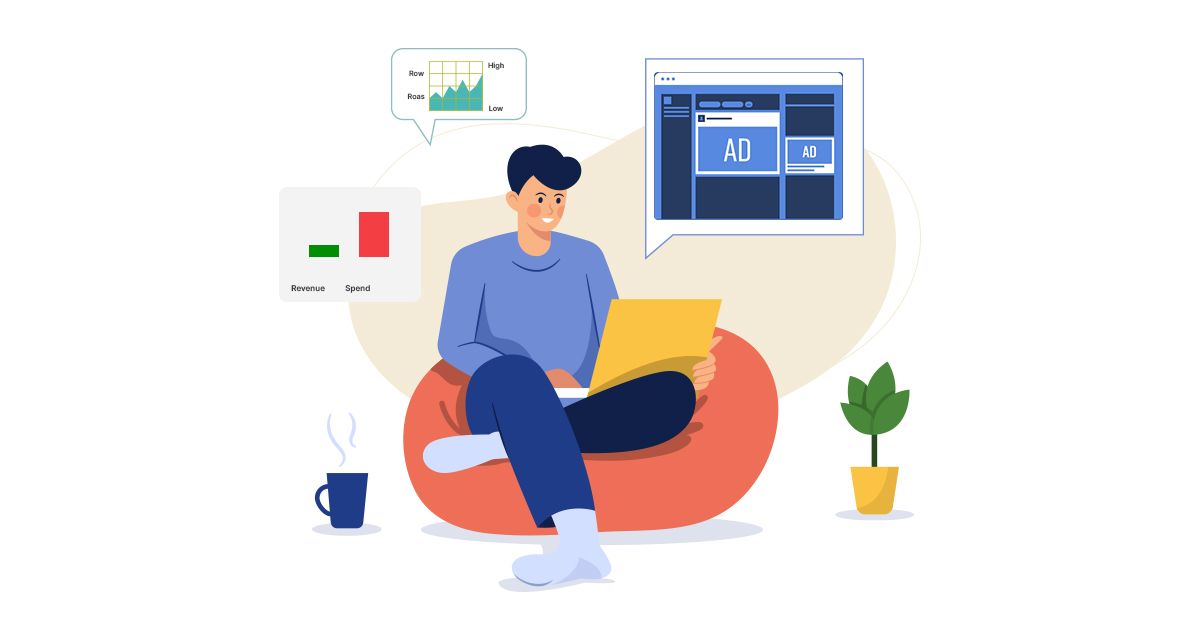 Facebook ads are a powerful tool for promoting your online course and driving more students to enroll.
Whether you're targeting potential customers with highly targeted ads or encouraging current students to refer their friends, there are many different ways to leverage the power of Facebook advertising for your course.
So, why do you need Facebook ads, you ask?
To build brand awareness - let more people know about your online school and even a specific course.
Re-engage visitors - Remind your visitors of a specific digital product they were previously eyeing, and left it at that, with the help of promotions, coupons, and discounts.
Enhance sales - The end goal of your Facebook advertising, as is the case with any other type of advertising, is generating and enhancing sales. You can use these ads to promote upsells to existing customers who already know the value of your product and are more likely to invest again.
Now that you know why you need Facebook ads, it's time to know when you need them (and when you don't!)
When should you start promoting your course with Facebook ads?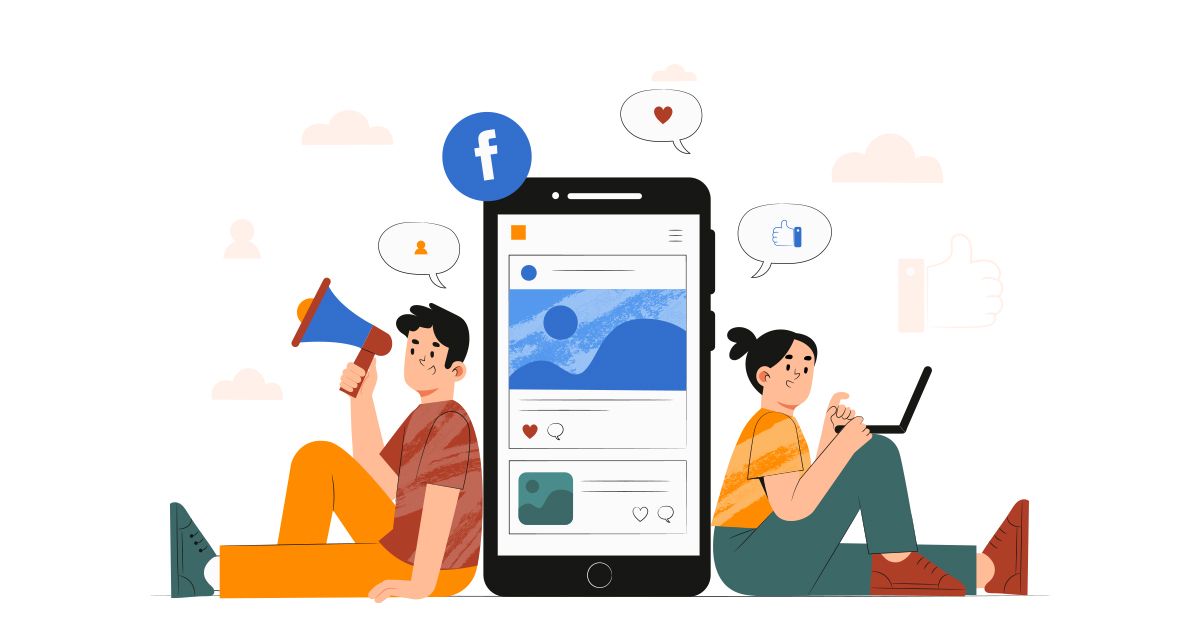 One mistake that most online creators make when wondering how to sell online courses on Facebook is investing in Facebook ads right after publishing their course.
Course creators often think they need to rely solely on Facebook ads and other forms of paid advertising if their course is going to be successful.
If that were the case, no creator would need to put in any real effort and they would all be ranking number one by just paying Meta to promote their course.
Do you see how problematic that just sounded? Exactly!
That's now how it works. So, you gotta but what does this mean?  It means you have gotta spend your bucks at the right time and in the right way.
Before you go all in with your Facebook advertising budget -
A). Have an offer validation -
Make sure that your course is super relevant in the market and that people are ready to pay for it.
To do this practice, get a minimum of 3-5 people out of your network to buy your course first. I emphasize 'people out of your network', i.e., complete strangers.
This way you will know that it is a totally unbiased decision and that those people bought your course because it truly has the potential to offer value to them.
B). Have an offer that resonates with your target audience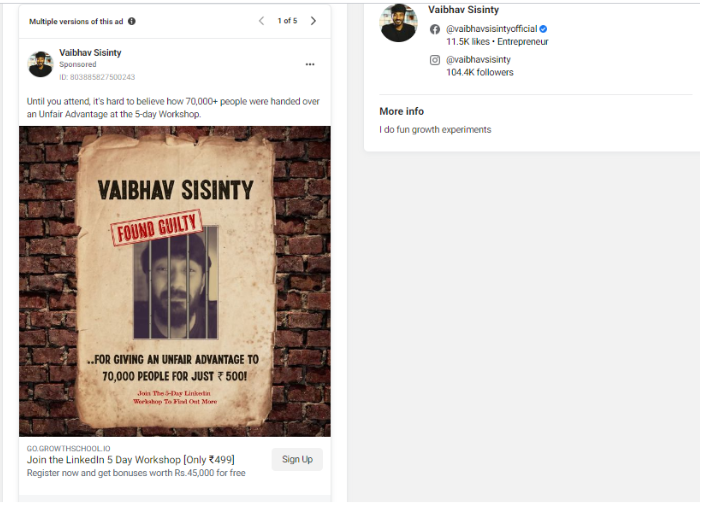 Make sure that your Facebook ads relay a message that your target audience can relate to - something that interests them.
To do so, you have to engage with your target audience (more on that below).
Once you are totally sure that your digital product meets the above 2 criteria, go ahead and spend those dollars on Meta advertising.
Here is what FreshLearn creator Daisy M. had to say about how implementing these parameters has helped her reap a manifold of rewards.
"My latest course combines three things that people care most deeply: conversational language learning (CLT), speaking lessons from abroad which I call 'conversation training' because of its focus on natural conversations rather than drills or forms; international travel tips so we can all feel inspired by exploring new places while understanding the culture there too - plus a lot more! The result has been nothing short."
In short, the goal is to find something your target audience cares about and then give them some advice.
Factors to consider before starting a Facebook ad campaign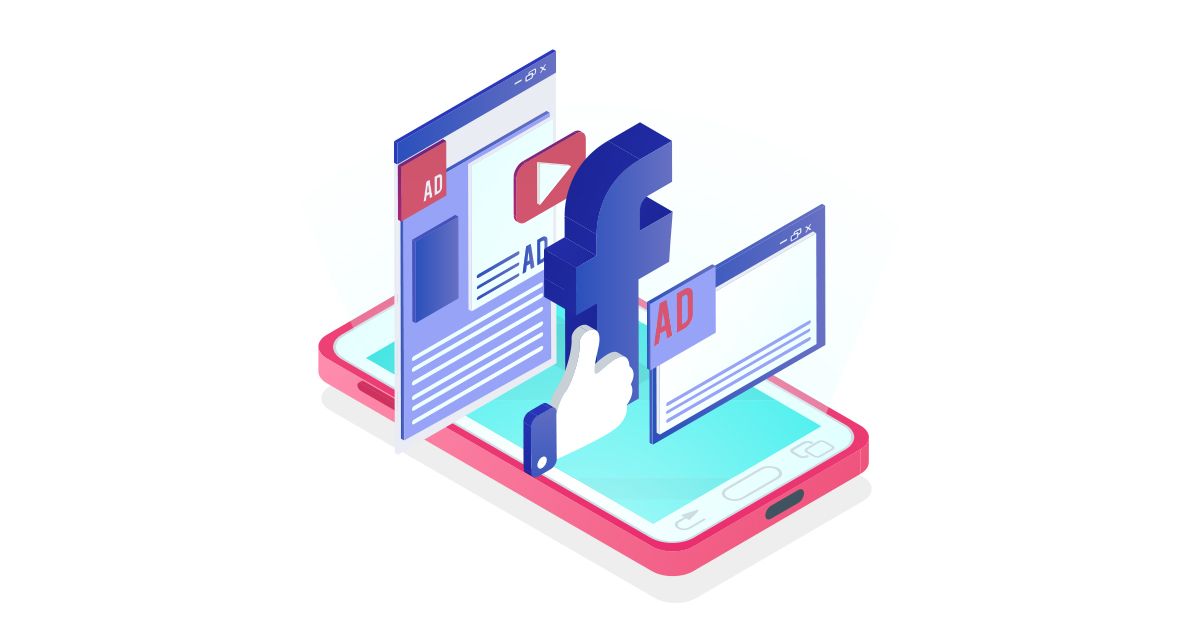 Before you dive headfirst into your first Facebook ad campaign, there are a few things you need to get out of the way first.
When it comes to promoting your online course with Facebook ads, there is no one-size-fits-all approach. Some courses may benefit from early promotion and aggressive targeting, while others may do better if they are promoted more gradually and with a less specific audience in mind.
Yet, there are a few things you cannot totally ignore.
First -
A). Identify your target audience
As I have already mentioned, one of the most important things to keep in mind when using Facebook ads for your online courses is targeting. By properly targeting your audience with interests, demographics, and behaviors, you can ensure that the people who see your ads are genuinely interested in what you have to offer.
B). What are their problems?
Understand what your target audience wants - what are their problems? Once you are aware of the problems, you will also be able to figure out the solution they are looking for. This will help you figure out if your course is going to be a perfect fit for the solution they want.
C). How can your product solve its problems?
It is important to carefully consider your target market and the type of content you will be offering in your course. This can help in forming decisions about what types of Facebook ads will be most effective at attracting potential students.
For example, if you are specifically targeting aspiring digital marketers who want to learn more about SEO techniques, then you might choose to promote your course with paid search ads or boosted posts that feature content related to SEO strategy.
To complete the above steps, you have to interact with your audience and get to know them on a personal level.
And, that is only possible when you have an active social media page.
Optimize your Facebook and Instagram pages
A successful marketing campaign requires optimal social media strategy which includes having an active presence on popular platforms like Facebook, Instagram, etc., where users can discover your business or brand easily through posts from their friends
You can never underestimate the power of a well-built Facebook page. The same goes for your Instagram page.
This is because, when considering Facebook advertising, this page is going to act as your sales landing page.
That's right!
People who find your ads interesting are going to check out your Facebook page, and see what it has to say about your product.
So, first, get the basics right -
Pick a profile and cover pictures that convey the motto of your business
Create a comprehensive page description
Have your content planning ready for at least the next 1 month
Once you have the above set in place, move on to the content that your Facebook page will display.
A well-run campaign on social media will give you more opportunities to gain conversions with your placements!
When creating one though there are some things that need attention.
Make sure all posts are original and interesting enough so people don't just scroll past them when they're sitting in their newsfeeds waiting anxiously until lunchtime comes around again (I know I do).
Has specific content planned out beforehand which could include anything from live videos where viewers get asked questions straight into upload?
Try to do at least one post per week in order to attract followers interested enough in your brand (and convert potential buyers).
The more engaging and creative your posts, photos/videos will be seen by many people who could potentially click on them or buy something from what they see - which means it's essential for getting conversions!
Understand the customer conversion journey
Your Facebook ad campaign must go with the journey of the customers they are targeting.
This broadly includes -
Awareness
Consideration
Conversion
Now, what exactly do you have to do to cater to customers in the individual stages?
Have a look at the sales funnel for an online course:
1. Awareness
This is for people who don't know about your brand and products yet. So, your aim is to make them aware of your course and offers and enhance traffic and engagement at this stage.
Make content educating people about your online course
Your content should be compelling enough to convince people that your product will provide them with the value and information they are looking for.
For this, I will reiterate the point of having an offer that resonates with your audience like this one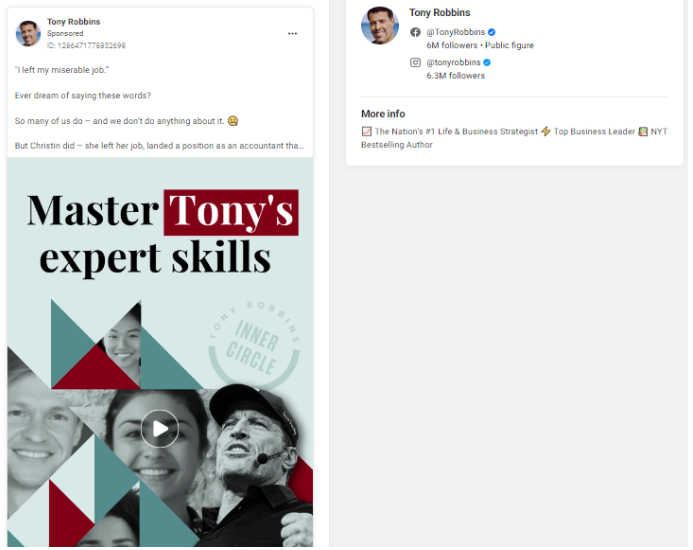 Better engagement and interaction with your ads mean greater interest from buyers.
If you are sure that your audience is super relevant, you can even go from enhancing traffic to actually getting them to purchase your course.
2). Consideration
This is for the section of your audience who already know that your product exists and you have to get them to consider buying your course.
First, collect data on the people who interacted with your awareness-stage ads.
Next, target them with ads detailing your course a bit more.
You can also extend offers, such as a free mini course, or webinar to lure them to give you their email IDs.
Then you can further engage with them via email marketing or more targeted ads on Facebook.
The goal here is to gather maximum leads for conversion.
3). Conversion
Although conversion can happen at any stage depending on the audience and the product you are offering, this stage will comprise ads specifically to make sales.
Use remarketing ads to target visitors who have already visited your website, signed up for your free course or webinar, or provided you with their email Ids.
Ever noticed how the product you just searched for on Amazon shows up on every social media platform you log into right after?
This technique uses a tracker like a cookie (in the case of a website) or a conversion pixel (in the case of Facebook) to trace your audience around the web, that too, anonymously.
This way, Facebook will show these visitors more ads about your course, in an attempt to re-engage them so that they buy your products once they are convinced and ready.
Some useful tactics here are flashing limited-time deals and offers, like this ad by Jay Shetty.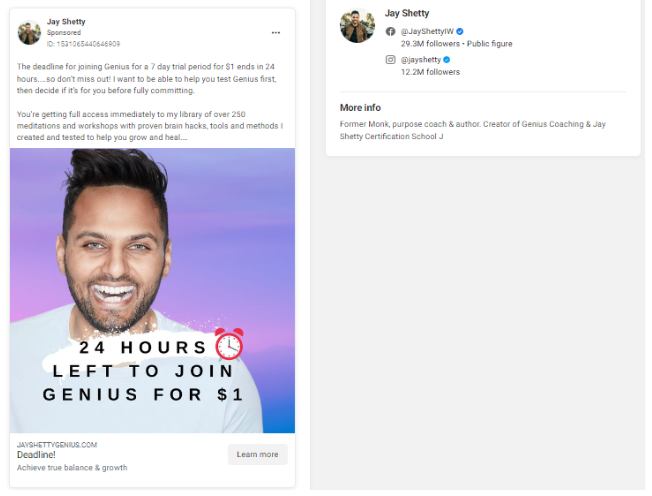 This will create a sense of urgency among your visitors and result in sales.
Once you figure out the above, getting course sales will only get easier.
Consider the stage of your course development
If you are just getting started with creating your online course, it may be beneficial to start promoting early on in order to build excitement and interest among potential students.
However, if you already have a finished product that is ready for sale, then it might be more effective to wait until later in the marketing cycle and only promote to a more targeted audience once you've fine-tuned your course content.
Take steps to complement the customer conversion journey
Once the stages are clear, you need to take note of the -
What defines your unique customer journey
The type of content that will suit each step of your customer journey
Define who your audience comprises at each step of the funnel
Figure out your campaign objective for each step
Settings to launch Facebook ads for course creators
In order to start a Facebook campaign, you first need to set up your Facebook pixel account.
Here's how:
Step 1: Log in to your Facebook account and Navigate to 'Events Manager' -> Pixel
Step 2: Select 'Create a pixel', read how it works, and hit 'Continue'.
Step 3: Enter your pixel name, and provide your website URL.
Step 4: Incorporate the pixel into your website in the HTML code. You can also do so via an integration.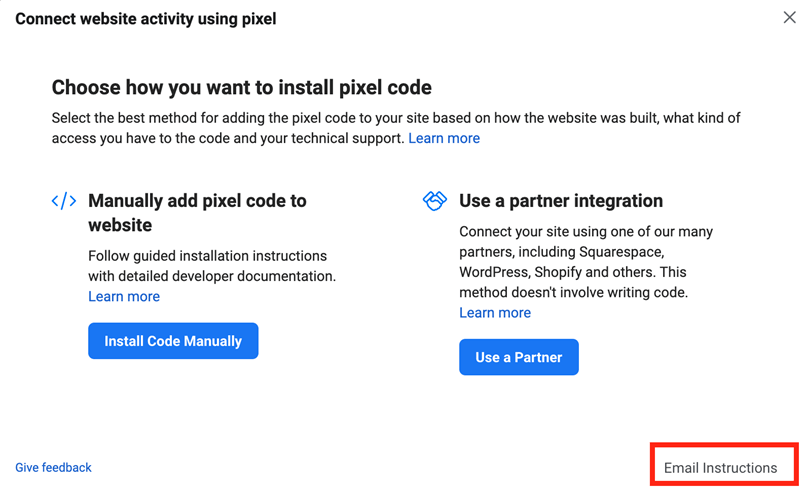 Step 5: Complete the process by clicking on 'Continue'.
How to set up your first Facebook ad campaign?
Once you have your Facebook pixel set up, make sure to do the following setting in your Facebook Ads Manager account.
Step 1: Navigate to 'Ads Manager' -> 'Ad Set' -> 'Audience' - 'Create new audience'.
Step 2: Enter the necessary details.
You'll need to develop your ad strategy and choose the right targeting options to reach your ideal audience.
This may include -
creating custom audiences based on website visitors or existing customers
setting up lookalike audiences that target similar individuals
experimenting with interest targeting to find new potential students
You can also set up conversion tracking so that you can see which ads are driving the most signups for your course, and optimize accordingly.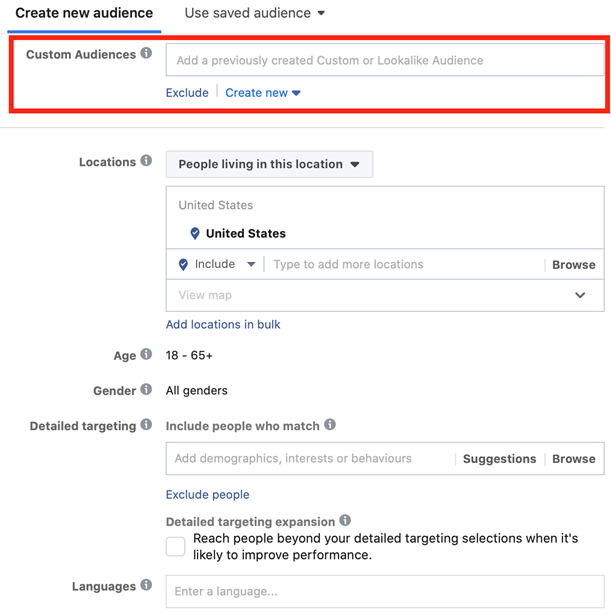 Step 3: You can select or deselect the specifics of your audience under detailed targeting.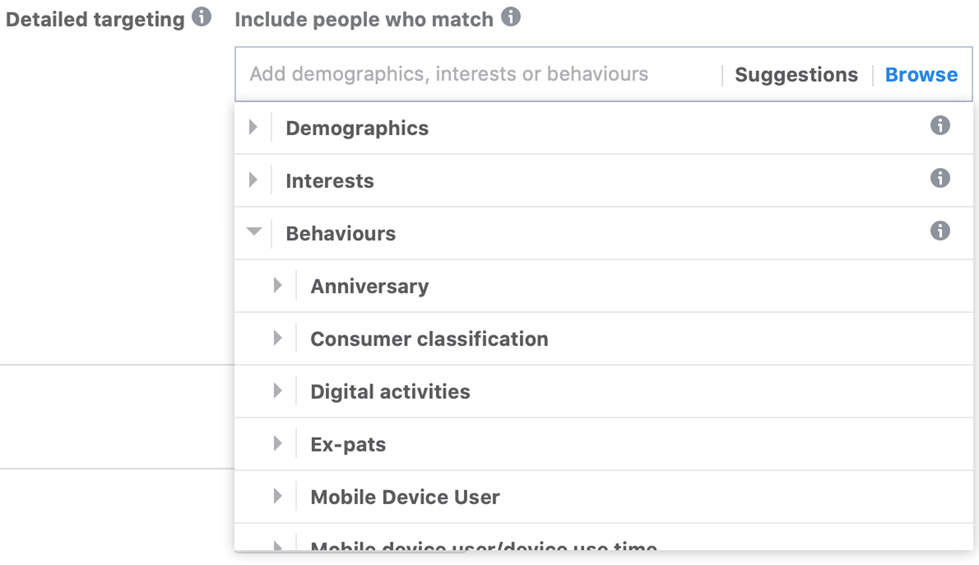 Step 4: Next, go to 'ads Manager' -> 'Ad Set' -> 'Placements'. Select 'Automatic Placements' to let the Facebook algorithm make the most out of your ads.

Step 5: Next, go to 'Ads manager' -> 'Ad set' -> 'Budget and schedule'.
Here you can decide the amount you are willing to spend on your Facebook ad campaign and the timing of your ad delivery.
You can click on the relevant option from the dropdown corresponding to 'Optimisation for ad delivery' to optimize the particular item.
You can choose from 'Landing page views', 'Impressions', 'Link clicks', and 'daily unique search'.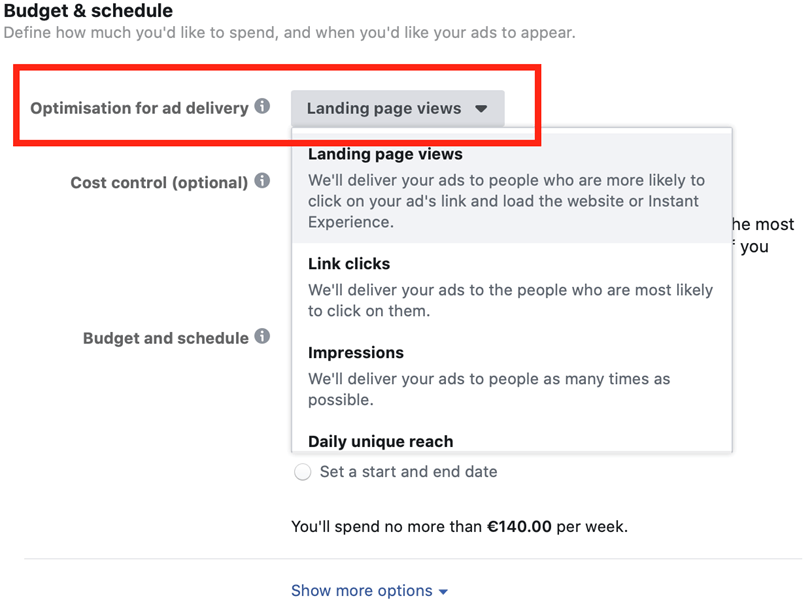 Plus, set the budget you have fixed for your ad campaign on Facebook under the 'Budget and schedule' section.

Step 6: Navigate to 'Ads manager' -> 'ad' -> 'Format'
Under the 'Create Ad' tab, select the format of the ad you'd like to display on Facebook - Carousel, Single image or video, or Collection.
You can further customize the look of your ad, including the image size, text, etc.

With the right Facebook ads in place, you can start seeing real results for your online course business.
Whether you're looking to generate more leads and sales from advertising alone, or simply using ads as a way to build awareness and encourage word-of-mouth referrals, there are many different ways to use Facebook ads to achieve your goals.
Things to consider before publishing your first Facebook ad campaign
Once you have the settings on your Facebook ads manager account updated, your first instinct will be to go ahead with publishing your first campaign.
But, before you do so, make sure the following concerns are addressed -
1. Have variations in your ads: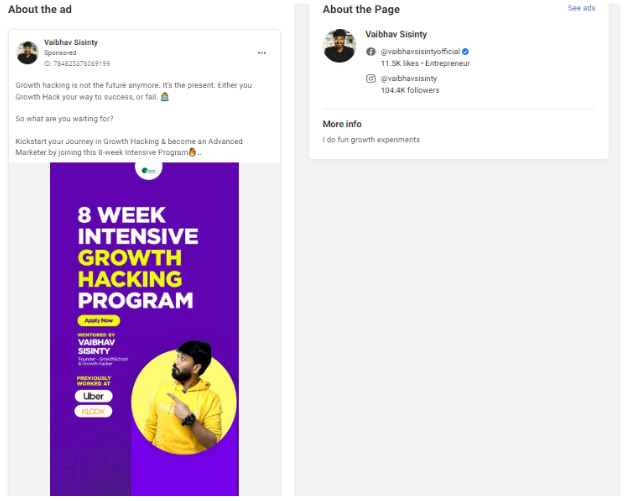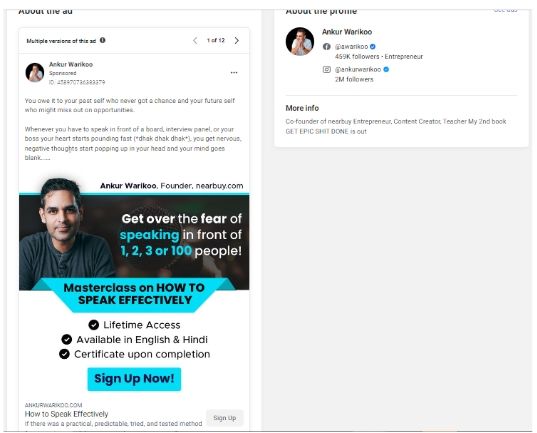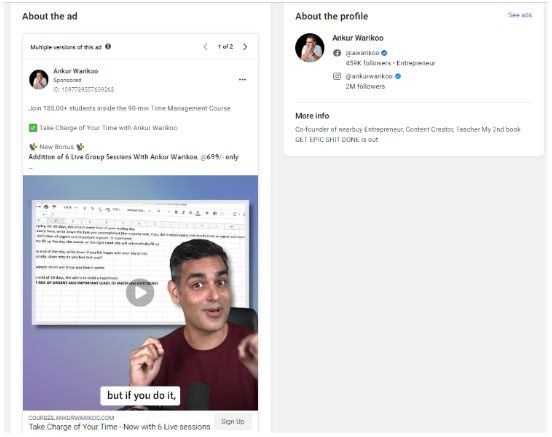 Getting one ground-breaking ad copy and one creature that will turn heads is not enough.
Always have variations of ads for the Facebook algorithm to do its job optimally.
Usually, the number of variations you can fit into your ad campaign depends on your budget, which brings us to the next point.
2. Determine how much money you need: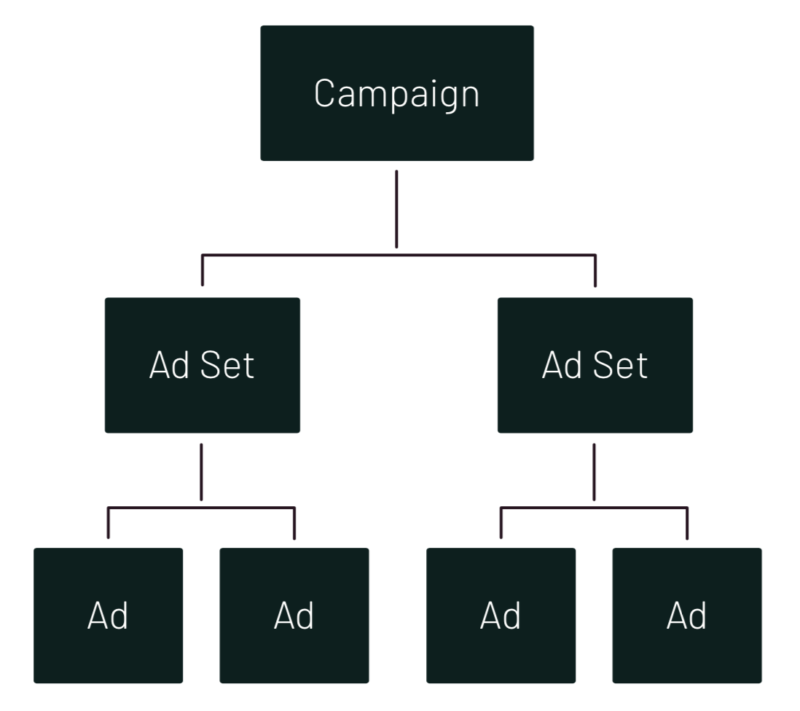 You won't know if the water is warm enough before you step into it, right? Similarly, you won't know which ad works well with which group audience until you test it.
However, if you are not willing to spend the money and time that experimenting requires, you can leverage direct outreach and Facebook groups to find out what your audience is looking for (more on the lines of getting to know and interacting with your audience, as I have discussed before).
Decide on the variations of ads you can fit within your budget. Generally speaking, the higher the budget, the more the number of ad variations you can put out there.
Start with a humble number, say consider a campaign where you spend $50 per day, which can include around 3 ad sets, with each set comprising 2 variations. From there, you can scale up to 4, 5, or more.
Considering the above factors can give you a fair idea of how much money you would need to spend on this campaign.
3. Understand the general KPIs or key performance indicators:
Determine the following numbers specific to your course niche -
The average CTR (click-through rate)
The average CPC (cost per click) and CPL (cost per lead)
The average landing page conversion rate
Now, get the same data for your course and tally them. You will get an understanding of how your ads are performing, and if and where they are lacking.
For instance, the average landing page conversion rate is 25% and the average CPC is $2, but you are spending a CPC of $5 and getting only an 11% conversion rate.
So, you know you have to work on targeting different audience groups and test out different ad copies and creatives.
After gathering your course's advertising data, use the Facebook Ads dashboard for a comprehensive performance analysis and to pinpoint areas needing improvement.
4. Optimize and scale your campaign:
Once you have ad campaigns that are performing well, i.e., giving you higher conversions at a lower rate, consider duplicating those campaigns for a different audience.
Say, you change the demographics a little. This way, you are actually scaling up your campaign by including more people within your target audience.
If you have ad campaigns that are not that profitable or have stopped performing, consider trying out permutations and combinations of the different techniques mentioned above to optimize them until they do well.
Common Facebook Ads myths
Now that you are aware of the what's and hows of Facebook ads, let us bust some common misbeliefs around them.
Myth 1: You have to use separate ad sets for separate placements
I would say it's not mandatory or even the best idea to have different ad sets, say for your newsfeed and for your story.
What I would rather suggest is using variations of the same ad set for your story and for your newsfeed.
Plus, now Meta connects a user's Facebook and Instagram accounts and considers them one.
So, if your ads perform better on Instagram, Meta will show more ads to the specific audience there, saving you the extra costs of spending on the same ads for Facebook.
Myth 2: Showing the same ad to a person more than twice leads to ad fatigue
The truth is that there is no hard and fast rule as to how many times you need to show one ad to a person to make them convert into customers.
In the US, there is already high competition for online course creators and your audience is more likely to get distracted by other ads.
So, it's quite possible that a person may not pay attention to your ads the first couple of times they come across them.
So, you may want to show them your ads a couple more times!
Myth 3: Duplicating campaigns after their engagement drops will lead to better reach
As I have mentioned before if an ad set or a whole campaign has stopped performing the way it used to, duplicating it is a leap into a greater loss.
The only way out here is to try out different audiences, other creatives, and ad copies.
So, improvise, adapt, and overcome!
Now, you know the basics of how to get started with Facebook ads.
Did you know that another great place to market your courses is FreshLearn?
Not only that, you can actually get your course ready from scratch on the all-in-one platform too!
After all, the best way to get the word out about your product is to get it on as many platforms as possible!
So, if you have not started your online course on FreshLearn yet, try it for free today! (or you'll be missing out!)
You might also like
Hosted by