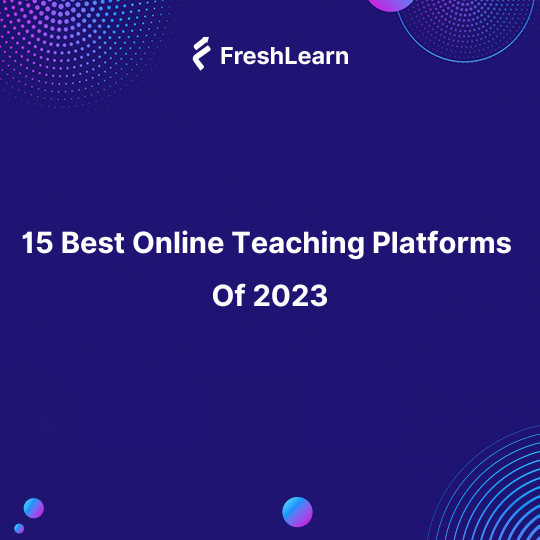 15 Best Online Teaching Platforms Of 2023
It goes without saying that technology is revolutionizing education, and online learning environments are setting the pace.
So, If you're a teacher attempting to reach more students or a learner looking for flexible educational options, guess what? Your search ends here!
We've compiled a list of the most innovative and effective platforms available right now. Get ready to dive into interactive virtual classrooms, personalized learning experiences, and so much more as we explore the top 15 online teaching platforms of 2023.
Let's get started!
What Are Online Teaching Platforms?
Online teaching platforms are like digital classrooms where learning happens over the internet. Imagine being able to take a lesson without leaving the comfort of your jammies or your warm couch - that is the power of these platforms!
They're websites or apps where teachers and students come together to exchange knowledge and ideas virtually. It's not just about textbooks and lectures; these platforms offer interactive features like video conferencing, chatrooms, and file sharing, making learning engaging and dynamic.
Whether you're attempting to study a new language, advanced calculus, or even painting, there's almost certainly an online teaching platform out there waiting to link you with the perfect teacher and a complete community of learners.
Importance Of Choosing The Right Online Teaching Platform
Selecting the right online teaching platform is a big deal for both teachers and students. It's like picking the perfect tool to make learning online smooth and enjoyable. Let me break down why this decision is so important:
Easy to Use: Think of it like this – the platform should be as easy to use as your favorite social media app. No one wants to struggle with a complicated interface, right? It should be simple for both teachers and students to navigate without any tech headaches.

Cool Features: Just like a smartphone with all the latest apps, the right platform should have awesome features. Stuff like live video classes, interactive whiteboards (think of them as digital chalkboards), chat rooms, and things that make learning fun and interactive.
Grow Without Worries: Imagine having a class that keeps growing, and suddenly the platform crashes. Not cool! So, the platform you choose should be able to handle all your students, even if you become the next online teaching sensation.
Everything in One Place: You know how you organize your photos and files on your computer? The platform should let teachers upload and organize stuff like class notes, videos, and quizzes in one neat place. No hunting around for materials!
Talking, Not Just Listening: Learning shouldn't be a monologue, it should be a dialogue. The platform should let teachers and students talk, discuss, share thoughts, and work together. Imagine it like a virtual classroom where everyone participates.
Your Style, Your Brand: Teachers and schools have their own style, just like your favorite sneakers or a cool hat. So, the platform should let you tweak things to match your unique teaching vibe. Consistency is key!
Bang for Your Buck: Finally, think of it like shopping – you want something that gives you good value for your money. The platform should be worth what you're paying, making your teaching life easier and more effective.
Evaluation Criteria For Comparing The Online Teaching Platforms
Course Creation Tools
Here, we will look if the platforms offer a wide range of tools to create engaging and interactive courses.
Student progress tracking
We'll consider the platform's ability to track student progress and provide analytics on their performance.
Integration and Compatibility
We'll also assess the platform's compatibility with other tools and systems used while you're teaching online.
Support and Security
We'll consider factors like availability of customer support channels (email, chat, phone), response time user access controls, compliance with privacy regulations) to ensure a safe and reliable teaching environment.
Pricing
Lastly, we'll compare the pricing models of different platforms, considering factors such as subscription plans, tiered pricing based on the number of users or features, and any additional costs for premium features or support.
Top 15 Online Teaching Platforms
Online Teaching Platforms #1:  Freshlearn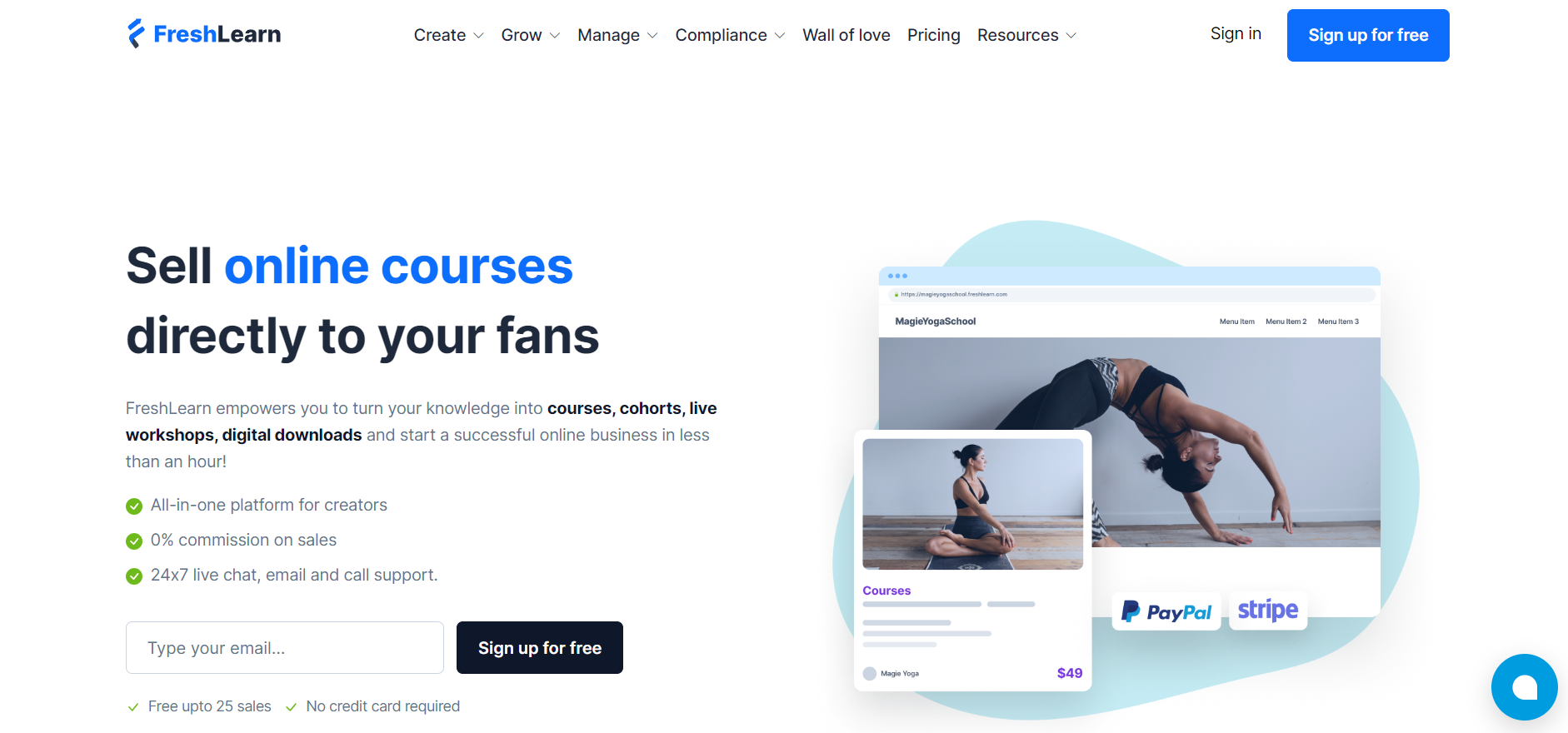 Established in 2020, FreshLearn has been dedicated to providing personalized and customizable solutions to creators, enabling them to transform their expertise into various learning formats such as online courses, masterclasses, and digital downloads.
FreshLearn is the ultimate solution for anyone in search of a versatile platform that covers all their online coaching and course creation needs.
Course Creation Tools
FreshLearn makes course creation a breeze with its user-friendly drag-and-drop course builder. You don't need any coding skills to create courses.
Simply drag and drop the elements you need, and FreshLearn takes care of the rest. You can quickly and easily construct compelling courses using a variety of learning materials including text, photos, audio, video, slides, and interactive elements.
FreshLearn even provides video hosting at no additional cost, eliminating the need for multiple platforms and reducing your course creation expenses.
With FreshLearn's focus on engagement and collaboration, you can empower learners to excel in their learning journey, providing them with relevant touchpoints that facilitate effective learning experiences.
Student progress tracking
With Freshlearn you can easily monitor enrolments across courses and masterclasses, sorting them by date and other criteria.
Managing ongoing assessments, reviewing answers, completion percentages, and creation dates can also be done easily
You can also gain insights into learner activities and content consumption, including chapters, comments, and more.
It is also easier for you to check assignment statuses and track student submissions.
Integration & Payments
FreshLearn simplifies payments and integration by offering various options. You can easily connect to Stripe, Paypal, or Razorpay to collect one-time or recurring payments in 135+ currencies.
FreshLearn charges 0% commission, ensuring you keep all your earnings. Also, you can scale globally with multiple payment methods. Enjoy instant transfers without hidden fees or delays.
Support and Security
FreshLearn offers outstanding customer service to its subscribers. You get 20/7 hours of customer support service.
For this, you can contact or use live chat to get assistance. If you have inquiries, encounter platform issues, or require assistance with any other aspect of the platform, the dedicated support team is prepared to help you right away.
Pricing
Free plan: $0
Pro plan: $39
No Brainer: $69
LinkedIn Learning is a large on-demand library that provides educational films on a variety of business, technology, and creative topics. It offers more than 13,000 top-notch courses with an aim to help people realize their greatest potential.
What sets it apart is its personalized course recommendations, which are tailored based on data-driven insights from millions of professionals within the global LinkedIn network.
Course Creation Tools
Sadly, LinkedIn Learning does not offer course creation tools. It is a subscription-based service that provides customers with a large library of pre-recorded courses. Rather than offering course creation tools,
LinkedIn Learning serves as a platform where individuals can explore a diverse range of topics such as business, technology, and creative skills. Users can access and learn from a vast collection of professionally produced courses at their own pace.
Student progress tracking
LinkedIn Learning provides comprehensive student progress tracking features to enhance the learning experience. Learners can easily monitor their own progress by accessing the "In Progress" tab on their My Learning page.
This tab conveniently displays all the courses they are currently engaged in, along with details such as time spent and the percentage of course completion.
Integration & Payments
LinkedIn Learning provides seamless integration options with a wide range of learning management systems (LMS) and other platforms like Blackboard, Canvas, Desire2Learn, Moodle, and Saba.
Moreover, LinkedIn Learning offers integration with various other platforms, including Salesforce, Workday, Google Workspace, and Microsoft Office 365.
Support and Security
LinkedIn Learning offers robust support options, including 24/7 customer support through phone, email, and chat.
Users can also access a comprehensive knowledge base, participate in forums, and seek assistance via LinkedIn Learning's active social media presence.
In terms of security, LinkedIn Learning prioritizes data protection through secured websites, data encryption, physical security measures at their data centers, and ongoing employee training on security protocols.
Pricing
Monthly Plan: $39.99 per month.
Annual Plan: $299.99 per year.
Online Teaching Platform #3: Byju's
BYJU'S is a renowned ed-tech company that has revolutionized the way students learn. It has reached over 150 million students globally, empowering them with innovative educational resources.
Through its comprehensive platform, BYJU'S is transforming the educational landscape by delivering personalized learning experiences that inspire and enable students to excel academically.
Course Creation Tools
Similar to LinkedIn Learning, Byju's offers a vast library of pre-recorded courses covering diverse subjects, such as K-12 education, test preparation, and professional development.
Student progress tracking
Through personalized learning plans powered by artificial intelligence, students receive tailored guidance based on their strengths, weaknesses, and goals.
Practice exercises and quizzes further reinforce understanding, while performance reports showcase students' progress over time and compare their performance with peers.
Parents can track their child's progress through the Parent Zone, accessing information on goals, quiz performance, and app usage.
Monthly progress reports and one-on-one calls with parents ensure ongoing communication and support for the student's academic journey.
Integration & Payments
Byju's can be integrated with a variety of platforms, including Google Classroom, Clever, and Edmodo.
Support and Security
Byju's provides comprehensive support and security features to ensure a safe and seamless learning experience. You get 24/7 customer support access through phone, email, and chat, along with a knowledge base and forums for assistance.
Talking about security, Byju's employs industry-standard measures, including data encryption and two-factor authentication. Additionally, parental controls allow parents to monitor their child's app usage.
Pricing
BYJU'S - The Learning App (for students in grades K-12): $9.99 per month and  $99.99 per year.
BYJU'S - JEE Main (for students who are preparing for the JEE Main entrance exam): $19.99 per month and  $199.99 per year.
BYJU'S - NEET (for students who are preparing for the NEET entrance exam): $19.99 per month and $199.99 per year.
Online Teaching Platform #4: Skillshare
Skillshare is also one of the best online learning platforms that opens up a world of possibilities. Skillshare has everything you need, whether you want to learn something new, show off your abilities through projects, or even impart your knowledge as a teacher.
The goal behind Skillshare is to bridge the professional skills gap and make top-notch learning accessible to everyone.
Course Creation Tools
You get access to a video editor that lets you record, edit, and enhance your videos with music, effects, and professional transitions.
You can capture your screen and voice with the screen recorder as you deliver engaging lessons and also create presentations using the slideshow creator
Skillshare further supports teachers through a community forum for collaboration, a blog with valuable teaching insights, and a resource library filled with helpful templates, lesson plans, and articles.
Student progress tracking
You can easily view which classes your students have watched and how much time they've dedicated to each. This helps identify engaging content and areas where they might require extra assistance.
You can also monitor how your students are progressing on assignments and projects. This allows you to provide guidance and support where needed.
Also, it is easy to stay connected by sending messages to your students, offering encouragement, and addressing any concerns. This helps maintain motivation and keeps them on the right track.
Integration & Payments
Skillshare seamlessly integrates with various popular platforms like Slack, Trello, and Google Classroom
Skillshare pays teachers on the 16th of each month through Tipalti. Teachers' earnings are based on class minutes watched and successful referrals. Payment options include PayPal, ACH/e-check, and wire transfer.
Support and Security
Skillshare provides comprehensive support with 24/7 customer assistance through email, phone, and live chat. Their knowledge base covers various topics, including platform usage, troubleshooting, and class selection.
The platform fosters a vibrant community forum for users to seek help, connect, and share experiences.
Skillshare prioritizes security and it employs SSL/TLS encryption, has secure data storage, strong passwords, two-factor authentication, and fraud prevention measures to safeguard user data.
Pricing
Free 7-day trial
Monthly subscription: $19 per month
Annual subscription: $165 per year (billed annually)
Online Teaching Platform #5: Kajabi
Kajabi is a comprehensive business platform that offers a wide range of features to help organizations grow
With features like marketing emails, customizable templates, advanced automation, chat support, code editing, and the ability to host webinars and events, Kajabi provides everything businesses need to thrive online.
Course Creation Tools
Kajabi offers powerful course creation tools for creating and delivering online courses. With its course builder, you can easily organize and customize your course content, including videos, quizzes, and interactive elements.
Kajabi also provides hosting, marketing tools, and in-depth analytics to help you effectively promote and track the performance of your courses.
Student progress tracking
Kajabi provides comprehensive student progress-tracking features. You can easily monitor course, module, and lesson completion to see how far students have progressed.
Additionally, you can assess their quiz performance and track video engagement to gain insights into their learning journey.
Integration & Payments
Kajabi integrates with email marketing platforms such as Mailchimp and Constant Contact, CRM systems such as Salesforce and HubSpot, payment processors such as Stripe and PayPal, webinar software such as GoToWebinar and WebinarJam
Kajabi offers diverse payment options for accepting payments. You can securely receive payments through major credit cards, including Visa, Mastercard, American Express, and Discover.
Additionally, Kajabi integrates with PayPal and Stripe, enabling customers to pay through their PayPal accounts or with their debit/credit cards. Moreover, Kajabi now supports Apple Pay, and a future feature will introduce Google Pay as a payment option.
Support and Security
Kajabi offers 24/7 support via email, phone, and chat. Their knowledgeable team assists with troubleshooting and provides prompt assistance.
They also provide various resources, including a comprehensive help center, a community forum for collaboration, and diverse training options like webinars and coaching.
In terms of security, Kajabi includes SSL encryption for secure data transmission, two-factor authentication for enhanced login security, regular data backups for data protection, and staff training to ensure awareness of security best practices.
Pricing
Basic Plan: $149 per month
Growth Plan: $199 per month
Pro Plan: $399 per month
Online Teaching Platform #6: Udemy
Udemy is one of the best online teaching platforms that empowers instructors to create comprehensive online courses on their chosen subjects.
With Udemy's course development tools, instructors can effortlessly upload a wide range of instructional materials, including videos, source code for developers, PowerPoint presentations, and other valuable content to enrich the learning experience.
Course Creation Tools
Udemy provides instructors with a comprehensive set of course creation tools to develop engaging and top-quality courses. These tools include a user-friendly course creation wizard, a versatile content editor for multimedia integration, and  a quiz builder for assessments
It also has a discussion forum for interactive learning, a grading system, and a marketing dashboard for tracking course performance and reaching potential students.
Student progress tracking
Udemy equips instructors with effective tools to monitor student progress. These include a comprehensive student progress dashboard that showcases completion rates, lecture engagement, and quiz results.
Instructors can also access detailed engagement reports, revealing students' course activity. Additionally, instructors can communicate directly with students through the Udemy platform, fostering engagement and addressing any queries or concerns.
Integration & Payments
Udemy offers you integrations with tools like Moodle, Blackboard, Canvas,  Google Analytics and Mixpanel, and many more
Udemy accepts payments from credit cards, debit cards, and PayPal. This makes it easy for students to purchase courses.
Support and Security
Udemy provides robust support for both instructors and students.  Instructors can get  24/7 support, a knowledge base, a community forum, and a mentorship program. And, students can get access to 24/7 support, a knowledge base, a community forum, and a student satisfaction guarantee.
Udemy offers data security through encryption and strong account measures. They have a dedicated team to protect course content and partner with trusted payment processors for secure transactions.
Pricing
The price of a course depends on a variety of factors, including the length of the course, the instructor's experience, and the demand for the course
Online Teaching Platform #7: Khan Academy
Khan Academy provides a personalized learning experience with practice exercises, instructional videos, and a customizable dashboard.
Their extensive range of subjects includes math, science, history, art history, and more, catering to learners from K-14 and offering test preparation for exams like the SAT, Praxis, and LSAT.
Course Creation Tools
Khan Academy offers course creation tools like the Video Editor and Scripting Editor for creating and editing videos and scripts.
Users can access the Content Hub for educational resources and engage with the Community for collaboration and feedback on their course creation.
Student progress tracking
Khan Academy offers tools like Progress Reports, Skill Reports, and Assignment Reports to track and assess student progress. These reports provide insights into a student's mastery level, overall progress, and performance on specific skills and assignments.
Integration & Payments
Khan Academy integrates with popular educational platforms like Google Classroom, Canvas, and Schoology, making it seamless for teachers to assign Khan Academy content and monitor student progress.
Khan Academy offers flexible payment options, which include credit cards, debit cards, and PayPal, for user convenience.
Support and Security
Khan Academy provides robust support options, including a help center, forum, and live chat, to assist users with content, troubleshooting, and community interactions.
They prioritize user data security through measures like data encryption, two-factor authentication, and regular security audits.
Pricing
Learning in Khan Academy is Free. However, it does provide a premium subscription service called Khan Academy Plus for $9.99 per month or $99.99 per year.
Online Teaching Platform #8:Teachable
Teachable is a platform designed for creators looking to enhance their businesses by offering courses, coaching, and digital downloads.
It empowers creators to maintain ownership over their content and deliver a seamless learning experience to their students, regardless of their online presence or transition from in-person to virtual formats.
Course Creation Tools
Teachable provides you with an easy-to-use drag-and-drop course builder, access to a library of pre-made content, and a variety of monetization options so that you can simply create and sell your courses.
Additionally, the Teachable analytics dashboard offers valuable insights into student engagement, enabling you to enhance your courses and boost sales.
Student progress tracking
Teachable offers student progress tracking features like tracking lesson completion, viewing video heatmaps to identify watched portions, and accessing quiz scores with detailed responses.
This enables you to assess student engagement and understanding and provides valuable insights for instructional improvements.
Integration & Payments
With Teachable you get a variety of integration options like Mailchimp, Constant Contact,  Google Analytics, and Mixpanel, etc.
Teachable payment options include Stripe and Paypal but the fees vary depending on the payment method you choose. For example, the fee for Stripe is 2.9% + $0.30 per transaction, while the fee for PayPal is 2.9% + $0.30 per transaction.
Support and Security
Teachable provides comprehensive support options, including 24/7 customer support via email, live chat, and phone. Their knowledge base and community forum offer additional resources for assistance.
It also offers security by implementing SSL encryption, two-factor authentication, and regular data backups to safeguard your information and that of your students.
Pricing
Free plan: $0  per month + 5% transaction fee
Basic: $39  per month + 3% transaction fee
Pro: $119 per month
Business: $499 per month
Online Teaching Platform #9: Udacity
Udacity is an online learning platform that bridges education and job opportunities on a global scale. They collaborate with industry experts to create hands-on, project-based learning programs.
This approach ensures that students gain the in-demand technology skills that employers highly value.
Course Creation Tools
A number of course development tools are available in Udacity, including the Learning Platform, a cloud-based platform for hosting and delivering courses. It also offers Udacity Studio, a web-based authoring tool.
The Curriculum Design Team at Udacity also offers instructors advice on how to develop excellent online courses.
Student progress tracking
Udacity's student progress tracking system allows both students and instructors to monitor course progress. It includes a progress bar, a list of completed and incomplete items, a time tracker, quiz scores, and project grades.
Integration & Payments
Udacity integrates with popular learning management systems (LMSs) like Blackboard, Canvas, and Moodle, allowing students to access Udacity courses seamlessly through their preferred LMS.
Udacity offers convenient payment options, including credit cards, PayPal, and wire transfers, ensuring a hassle-free payment experience for students enrolling in Udacity courses.
Support and Security
Udacity provides comprehensive support options, including a help center with tutorials and FAQs, a community forum for student and instructor collaboration, and email and live chat support.
Udacity Security offers data encryption, two-factor authentication, continuous security monitoring, and a data breach response plan to safeguard student and instructor data.
Pricing
Udacity offers a variety of pricing options for its courses and nanodegrees. The cost of a course or Nanodegree depends on the length of the course, the level of expertise required, and the features included.
Online Teaching Platform #10: Moodle
Moodle is a powerful and secure learning platform that offers educators, administrators, and learners a comprehensive system to create personalized learning environments.
It is developed by the Moodle project, led and coordinated by Moodle HQ, and backed by a global network of more than 80 Moodle Partner service companies, ensuring its ongoing support and enhancement.
Course Creation Tools
Moodle offers a range of course creation tools to facilitate the creation and management of online courses. These tools include a Course Creation Wizard for step-by-step course setup and a Simple Course Creator for a streamlined creation process
It also has an SCORM Content Creator for creating SCORM-compliant content and the isEazy Author tool for designing interactive and captivating courses.
Student progress tracking
Moodle offers features to track student progress, including activity completion tracking, a grade book for tracking student grades, and various reports for monitoring student participation and performance.
Integration & Payments
Moodle offers integrations with  Blackboard, Canvas,  zoom, Skype, Google Drive, Slack, and many more
It supports payment from PayPal, Stripe, and Paytm
Support and Security
Moodle provides support through documentation, forums, and email support for subscribed users. Users can access comprehensive online documentation and seek assistance from the community through forums.
For those with a support subscription, email support from Moodle experts is available. Moodle also offers various training options, including online and instructor-led courses, to help users master the platform.
The security feature of Moodle employs measures such as password protection, data encryption, user authentication, and regular security updates.
Pricing
MoodleCloud: Starts at $110 USD per year
Moodle Partner: Varies depending on the number of users and the level of support required
Online Teaching Platform #11: Thinkific

Thinkific is a comprehensive online learning platform that empowers businesses and entrepreneurs to easily create, market, and manage their own online courses.
With Thinkific, you have full control over every aspect of the course creation process, from designing your course to monetizing it.
Course Creation Tools
Thinkific provides a range of course creation tools to help you build and sell online courses. These tools include a versatile course builder for designing and organizing your course content and a quiz builder for adding interactive quizzes
Thinkific also offers you a community builder for fostering student engagement, a marketing tool for promoting your courses, and a payment processor for seamless transaction management.
Student progress tracking
With Thinkific, you have convenient features to track your student's progress. You can easily check the percentage of a course that each student has viewed and completed.
The activity feed keeps you informed about the lessons they have accessed and their recent login activity.
Additionally, you can generate progress reports to get a comprehensive overview of how your students are advancing through the courses.
And don't forget, you can also review their quiz results to assess their performance.
Integration & Payments
With Thinkific, you can integrate with a number of tools like  Mailchimp, ActiveCampaign, ConvertKit, PayPal, Stripe, Google Analytics, Mixpanel, HubSpot, and many more
ThinkificWhen it comes to accepting payments from your students, Thinkific offers convenient options. You can use Thinkific Payments, their built-in payment processor, which allows you to accept payments without the need for a separate integration.
However, you can also integrate with PayPal and Stripe and accept payments in different currencies
Support and Security
Thinkific offers 24/7 customer support, so you can reach out for assistance whenever you need it. However, if you require self-help, they have a  knowledge base with helpful articles, tutorials, and videos that cover a wide range of topics. They also have a  community forum, where you can connect with other creators and  ask questions
Thinkific also ensures that your data is protected by employing robust measures. All customer data is encrypted, both at rest and during transmission. They also have firewalls and intrusion detection systems in place to safeguard their network from unauthorized access and malicious activities.
Pricing
Free: $0
Basic: $36
Start: $74
Grow: $149
Expand: $374
Online Teaching Platform #12: Podia
Podia is a versatile online platform that enables users to create, sell, and engage with various digital products like courses, memberships, and downloads. It even offers webinar capabilities and basic community features for content creation and discussions related to courses.
Course Creation Tools
Podia gives you access to a range of course creation tools to build and sell online courses effortlessly. You can use the course builder to organize your content with videos, text, quizzes, and more.
Your students can easily access your courses on any device through the user-friendly course player. Plus, Podia provides marketing tools like email, social media, and affiliate marketing to help you effectively promote your courses.
Student progress tracking
With Podia, you have convenient tools to track your student's progress and keep them on the right path. The progress bar lets students know how far they've come in each lesson.
Keep your students engaged with quizzes to gauge their understanding and identify areas that may require further support. Additionally, with detailed reports, you can give an overview of your students' accomplishments, including completed lessons, quiz results, and overall grades.
Integration & Payments
Podia allows for integrations with popular tools like  Mailchimp, ConvertKit, Stripe, PayPal, Google Analytics and Mixpanel
With Podia, you have flexible payment options such as credit cards, PayPal, Stripe, Apple Pay, and Google Pay.
Support and Security
Podia's support team offers 24/7 support through email, live chat, and phone
When it comes to security, Podia uses SSL encryption to protect your data during transmission and also offers two-factor authentication for an added layer of security. Also, they regularly conduct security audits to maintain the highest standards.
Pricing
Free: $0 per month
Mover: $33 per month
Shaker: $75 per month
Online Teaching Platform #13: EdApp
EdApp is a mobile learning management solution that is trusted by numerous teams worldwide.
It's completely free and operates in the cloud, making it accessible for both large and small businesses in any industry.
Course Creation Tools
EdApp's course creation tool offers a user-friendly drag-and-drop interface to easily add text, images, videos, and quizzes.
Templates are available for various subjects. Assessments like quizzes, surveys, and polls can be added to measure student learning. Detailed analytics track student engagement and progress.
Student progress tracking
EdApp makes it easy to track student progress in a few ways. You can see your student's progress in each course, Quiz scores are also tracked, helping you identify areas where students may need additional help.
Additionally, you can see how engaged students are by tracking their login frequency and course activity, giving you insights into their motivation levels.
Integration & Payments
Edapp allows you to integrate with your favorite apps like Okta, Cornerstone,, Workato, Zapier, Canva, and many more
EdApp makes it convenient for you to pay for your subscription with various payment methods. The most commonly used payment is a credit card. But, if you're a larger organization, you get an option to pay through an invoice upon request.  EdApp also offers a SaaS (Software as a Service) option which is perfect for businesses that prefer monthly or annual payments.
Support and Security
EdApp offers a range of support options for your training needs. You can access 24/7 live chat, email support with a 24-hour response time, a helpful resource center, and a community forum for user assistance.
EdApp prioritizes data security through SSL encryption, firewalls, regular backups, and employee training on best practices.
Pricing
Free: $0 per month
Do it yourself: $2.95 per month
Managed: $2.95- $5.95 per month
Enterprise: Decided on a call with the team
Online Teaching Platform #14: LearnWorlds
LearnWorlds is a training solution designed for both individuals and enterprises. It's user-friendly, dependable, and packed with powerful features. With LearnWorlds, you can effortlessly customize the platform to match your brand and create a tailored training experience.
Whether you need to train employees, educate customers, or sell online courses to a broad audience, LearnWorlds has got you covered.
Course Creation Tools
LearnWorlds offers a user-friendly course builder with drag-and-drop functionality. It supports various course types like SCORM, xAPI, and HTML5.
You can utilize a library of assets, create different course types, design various assessments, and track course performance through a reporting dashboard.
Student progress tracking
LearnWorlds offers time-saving Question Banks, customizable feedback screens, seamless integration of SCORM assessments, branded certificates, and flexible tagging for personalized learning paths. These features enhance the training experience by streamlining assessment creation, providing tailored feedback, and recognizing learner achievements.
Integration & Payments
Learnworlds enables you to connect with Stripe, PayPal, Shopify, Apple Pay, Quaderno, BanContact, and more
Popular payment methods via Stripe, like Apple Pay, Google Pay, Klarna, and Afterpay/Clearpay are available in Learnworlds.It is also widespread in some countries/regions services such as SOFORT, iDEAL, Przelewy24, Bancontact, and Giropay.
Support and Security
LearnWorlds provides data security through SSL encryption, firewalls, regular data backups, employee training, and a transparent data privacy policy.
They hold security certifications from reputable organizations, including SOC 2 Type 2 and ISO/IEC 27001:2013.
Pricing
Starter: $24 per month + $5 per course sale
Pro Trainer: $79 per month
Learning Center: $249 per month
High Volume & Corporate: Call the team
Online Teaching Platform #15: Preply
Preply is an online language learning platform that makes it easy to find, schedule, and connect with a tutor so that you can learn a language more effectively.
Preply is an online language learning platform with the largest collection of language tutors worldwide. They provide interactive one-on-one online lessons, customized lesson plans, group lessons, and even corporate language training.
Course Creation Tools
Preply does not have its own course creation tools. However, tutors can use live video chat, a whiteboard, file sharing, and messaging to create and deliver engaging courses.
These tools facilitate face-to-face interactions, annotation of course materials, file sharing for resources, and seamless communication between tutors and students.
Student progress tracking
Preply provides features to effectively monitor student progress. Tutors can generate detailed lesson reports that track attendance, participation, and overall progress. Progress charts can be used to visualize student growth over time
Additionally, Preply values student feedback, allowing learners to provide input on their tutors and learning experience for continuous improvement.
Integration & Payments
With Preply, you can integrate with Google Classroom, Slack and Zoom
To make your subscription payment on Preply, you have two convenient options: credit card or PayPal. They also accept major credit cards such as Visa, MasterCard, AmEx, and Discover
Support and Security
Preply prioritizes user support and security. Our 24/7 customer support is available to assist with any questions or issues. They have robust security measures, including a secure payment system, data encryption, and account verification.
Student safety is also ensured through a rigorous tutor screening process, a feedback system, and a fair cancellation policy.
Pricing
Signing up for Preply is absolutely free, and there are no charges to create and host your profile on our platform. You only pay a commission when you start getting bookings from students.
It's important to note that for every trial lesson with a new student, the commission is 100%. This means that you'll receive the full amount for those trial lessons.
Wrapping Up
So there you have it! When it comes to online teaching platforms, you've numerous options to choose from. But let me tell you, there's one platform that truly stands out from the rest - Freshlearn.
Freshlearn takes online teaching to a whole new level with its incredibly simple UI, fantastic features, and excellent support. Whether you're a seasoned pro or just dipping your toes into the teaching world, Freshlearn has got your back.
Trust me, you don't want to miss out on this game-changer.
So why wait? Sign up for Freshlearn today and get ready to rock your virtual classroom like never before.

You might also like
Hosted by