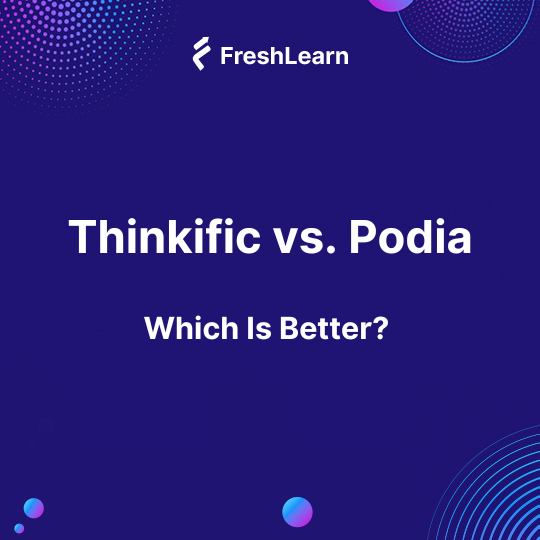 Thinkific vs. Podia: Which Is Best? (Updated 2023)
Learn how Thinkific and Podia stack up against each other to constantly deliver on the climbing expectations of online creators. Also, get your free trial on FreshLearn!
Thinkific and Podia are two popular online course creation platforms. Thinkific and Podia provide creators with the tools to deliver and monetize their content and make the learning experience smooth for their students.
However, with the creator economy increasingly getting more prominent and active, creators are now choosing platforms offering more benefits at an affordable price, rather than the bare minimum.
This is where platforms like FreshLearn come into play.
So let's see where Thinkific and Podia stand against the growing expectations of creators, as well as the offerings of FreshLearn
Thinkific vs Podia vs FreshLearn - Comparison Checklist
To go into detail on Thinkific vs. Podia, we have to understand the online course platforms in detail.
What is Thinkific?
Thinkific is a complete course-building platform that enables users to create, manage, market, and sell online courses.
Thinkific provides interactive features and a simple interface that allows creators to build practical courses and delivers automated features that lighten the load on the creators.
In addition, Thinkific offers many features that other online course creation platforms lack, such as built-in interactive whiteboard capabilities.
Benefits of Thinkific
The platform has a wide variety of formats available to create content, including video and audio courses which helps learners engage with the content more extensively.
Thinkfic also has a feature that automatically generates course completion certificates once a student has completed the course program.
The platform allows you to set up an online school with a wide range of online courses, with unlimited student and enrollment options in all of their paid plans.
Thinkific allows its creators to connect a payment gateway of their choice to the account.
Thinkific also has an affiliate program with a lifetime recurring commission of 30% on all monthly or annual payments.
Thinkific does not charge its creators a commission rate. Instead, the platform has a 0% commission rate for all its plans.
Disadvantages of Thinkific
Thinkific does not support the embedding of different video players and only includes Amazon S3 or Google Drive content.
The platform still does not have Masterclass or Newsletters, two top-rated options in this industry. If you are looking for better options to Thinkific in this regard, here is a detailed post on Thinkific alternatives.
The platform's advanced features like create unlimited courses, build unlimited communities, Brillium exams integration, and onboarding packages are only available to the creators who have subscribed to their Enterprise Plan ($399/month).
Thinkific as a platform does not offer white-label services to its creators unless they have the highest plan, i.e., Premier Plan which costs $399/month.
Thinkific's pricing plans are a bit complicated. It has a Growth Add-on package that charges creators as per the number of active students.
The platform has a chat support option only for creators who have subscribed to higher plans to get immediate support.
Currently, the platform does not provide content migration support in its plans or premium packages.
Thinkific Pricing
Thinkific pricing plans are categorized in four different ways:
Free 0 USD/mo. (Limited courses and unlimited students)
Basic 39 USD/mo. (Unlimited courses, students, and content)
Pro 79 USD/mo. (Unlimited courses, students, and content)
Premier 399 USD/mo. (Unlimited courses, students, and content)
What is Podia?
Podia is a platform that makes it easy for anyone to share their knowledge and create an online course around it.
Podia helps creators monetize their content in classes and webinars; they can also manage events, host communities, etc.
The platform provides end-to-end solutions for creators and educators on their platform with a simple, straightforward interface to navigate and use.
Benefits of Podia
Podia has a certificate generator function which is a great tool that automatically creates course completion certificates for learners after they have completed the course. This takes the burden off the creator as well.
The platform allows users to create online courses utilizing different file formats like video, audio, or document. Providing more varied mediums in the learning process can enable learners to have a more comprehensive and accessible understanding of the subject.
Without having to pay extra, Podia offers you the strength of an email marketing platform.
Podia integrates with hundreds of course creation tools so you can retain everything you require on a single platform without having to give up the ones you enjoy using.
One of Podia's biggest perks is that the platform has a commission-free policy.
Podia allows its creators to connect to their choice of payment gateways.
The interface of the platform is easy to learn and offers many features.
Podia provides concierge migration support services for its creators. In addition, the platform takes care of all the creators' data when moving from one platform.
Disadvantages of Podia
Podia does not allow its course instructors to embed video players from different sources like YouTube, Vimeo, etc. The platform only includes Amazon S3 or Google Drive.
Podia has limited features compared to Thinkific and other online course creation platforms. If you are looking for feature-heavy options, here are some good podia alternatives that will help you make a more informed decision.
Podia provides only Email-based support for its creators, that too, only to creators who have availed of the Shaker plan or higher, starting at $89/month.
It does not remove its branding on the creators' page unless they have subscribed to the Shaker or a higher pricing plan.
Podia's sign-in and registration have a similar interface, which can hinder the overall comfort of the user.
The platform charges an additional transaction fee of $20 per seat.
Podia does not allow users to test the platform before committing to their plans and signing up.
Podia Pricing
With a 0% commission rate, Podia pricing is quite simple. Podia's pricing is based on the features and services they provide in each plan.
The different Podia pricing plans are:
Mover Plan - $39/month
Shaker Plan- $89/month
Earthquaker Plan - $199/month
Thinkific vs Podia Comparison: Which is the Better Online Course Creator Platform?
The main difference between Thinkific and Podia is that Podia is a much better online course creation platform for creators as it offers incredible customer service through email marketing features, while Thinkific only assists those who have subscribed to high-priced plans.
Podia also helps its creators with a concierge migration support service, while Thinkific fails to satisfy its creators when migrating to other platforms, leaving their data vulnerable.
Compared to Thinkific pricing plans, Podia is a much more creator-friendly platform. However, Thinkific's Pro Plan and Business Plan have a significant hike in prices, with the highest plan at $299/month compared to Podia's highest plan at $199/month.
In addition, the Thinkific pricing system is complex because of the Growth add-on in the package.
Though both platforms have a 0% commission rate, Thinkific still charges commissions for their first two plans.
Likewise, though Podia offers its plans with a 0% commission rate, the platform still charges its creators $20 per seat.
Therefore, when looking at the creator community's standards for their platforms, Thinkific performance is weaker compared to Podia's performance, with minimal customer support, concierge migration, or affordable plans.
Podia, however, fulfills the demands of the creator community with room for improvement.
Neither Podia nor Thinkific support the feature to embed video players from third-party sources. Their features are similar and do not add anything new to the platform that makes them stand out.
Considering Thinkific vs. Podia differentiation, FreshLearn comes out as a better and more promising Thinkific alternative that delivers constant innovation.
It offers an all-inclusive package with a reasonable commission rate and excellent customer support to its users.
FreshLearn takes the online course creation platform landscape to a whole new level with its unique features and creator-friendly pricing.
Freshlearn is the best online course platform that offers all the necessary features like creating and selling online courses, selling digital products, digital downloads, community features, etc. to keep your online learning journey smooth and hassle-free.
Try FreshLearn for Free today!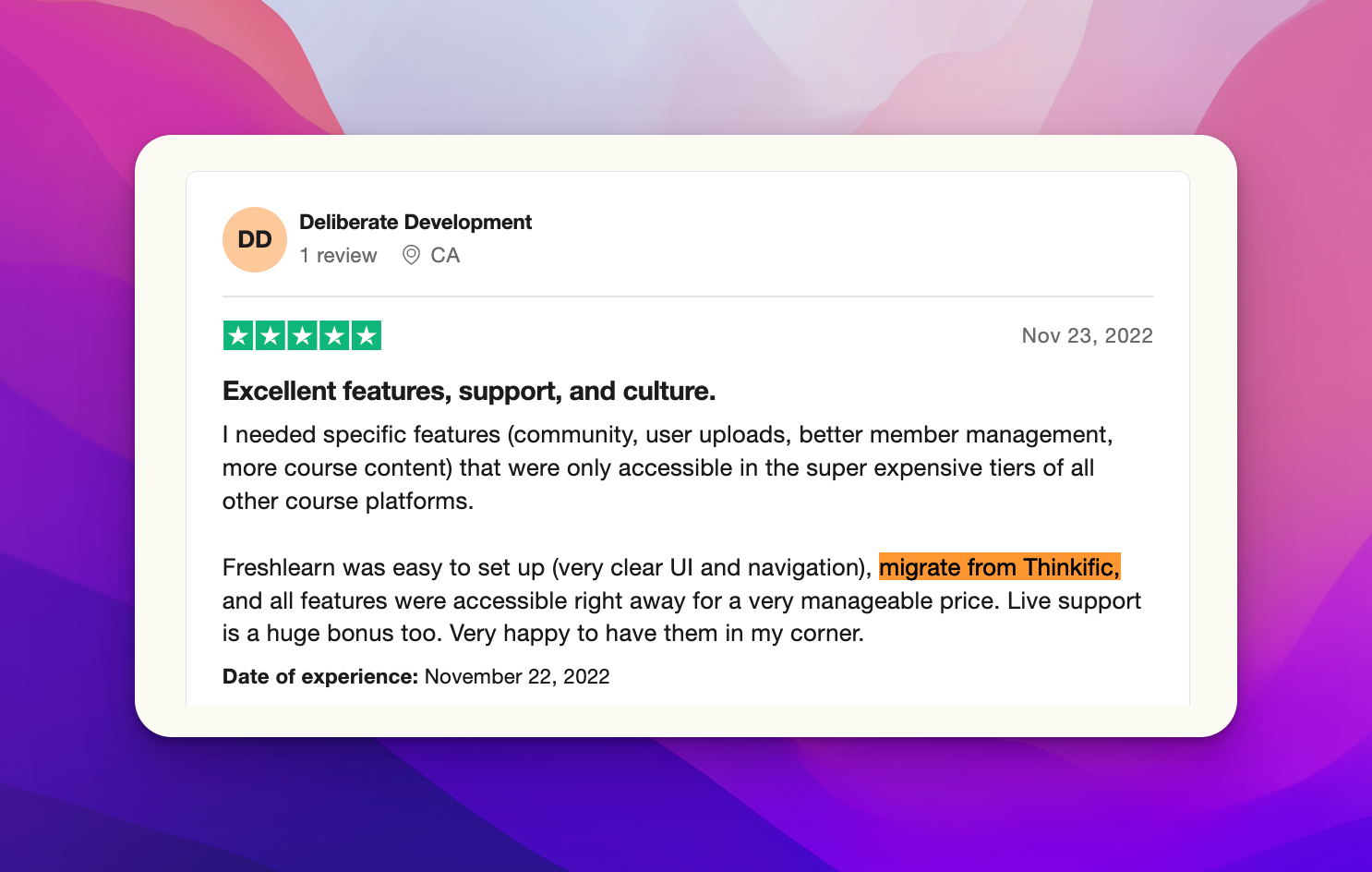 You might also like
Hosted by