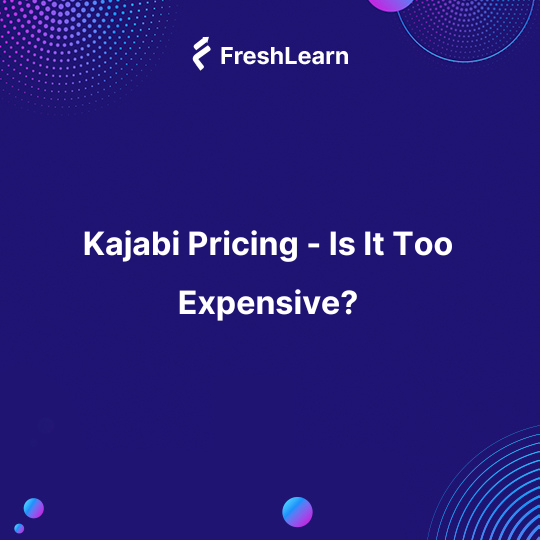 Kajabi Pricing - Is It Too Expensive?
Wondering if Kajabi pricing is too expensive for your 1 personal business? In this article, we compare Kajabi prices to other platforms & help you decide if it's the right investment.
Kajabi Pricing 2023 - Is It Too Expensive? Let's Find Out
Wondering if Kajabi pricing plans are worth the kind of money they charge? Here's a detailed guide, plus alternative platforms that are cheaper.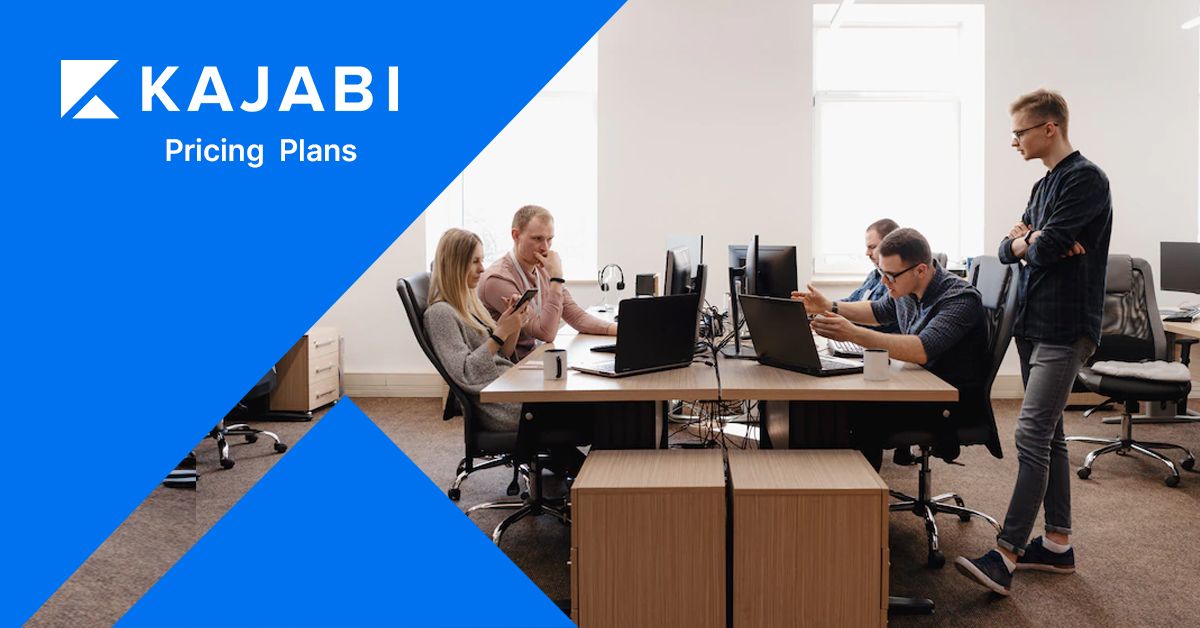 If you are a course creator or are planning to become one, you must have come across the name Kajabi at least once. And, now you are debating whether you should get a subscription to the platform, aren't you?
Kajabi is a popular online course creation platform that has been around for the longest time - long enough to be believed as the best course hosting platform by some (not us of course 😜)
However, despite being the OG, Kajabi's exorbitant cost confounds many.
Is it worth it? If it is, which plan to choose?
If these are the questions bugging you, then you are right where you should be!
So, let's dissect Kajabi pricing to make it easier for you now, shall we?
Latest Kajabi Pricing - Quick Overview
Last updated on 30th November 2022
If you are desperately hunting the search engine for "how much does Kajabi cost?", then just know that there is no single price point.
Kajabi has 3 pricing plans. These are:
The Basic Plan @ $149/mo
The Growth Plan @ $199/mo
The Pro Plan @ $399/mo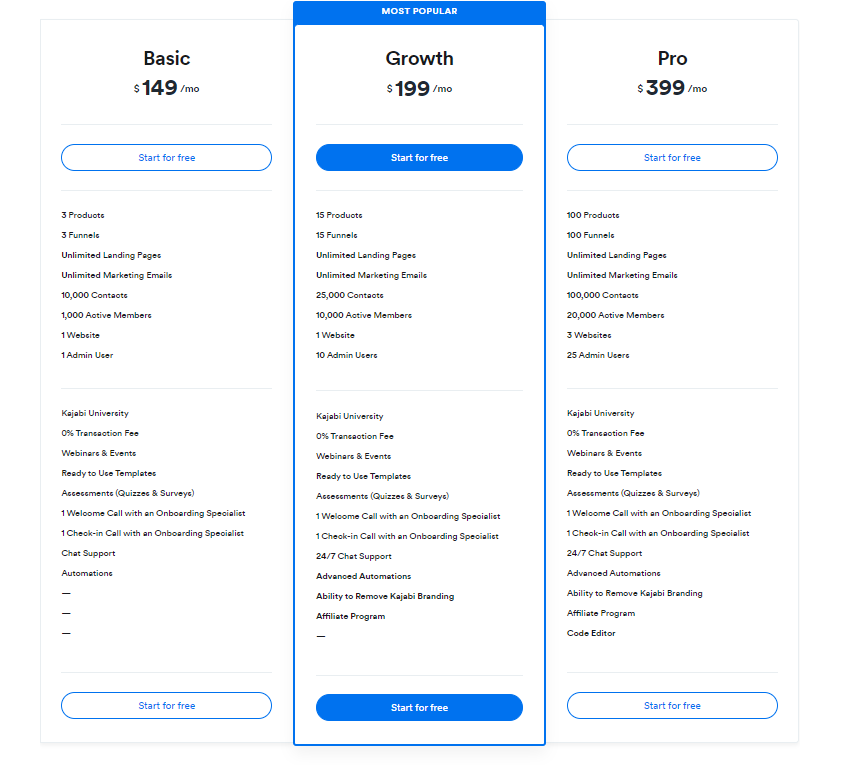 However, they do offer a discount of 20% on the monthly fees for each plan if you opt for their annual subscription.
In that case, you can get the
The Basic Plan @ $119/mo
The Growth Plan @ $159/mo
The Pro Plan @ $319/mo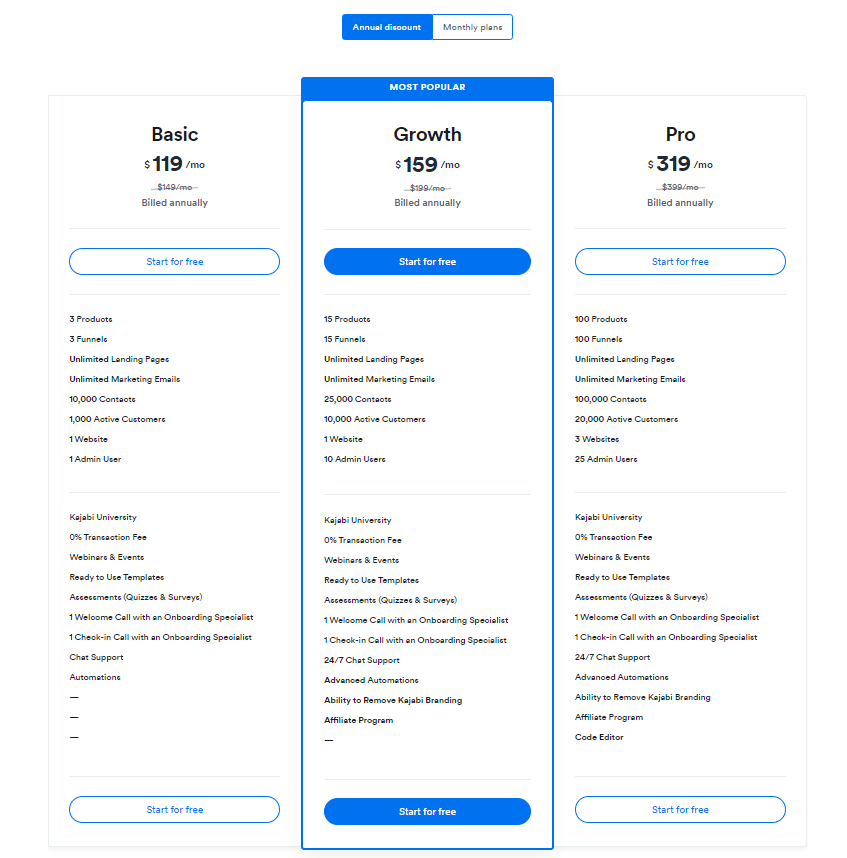 Now you may be wondering, "Does Kajabi have a free plan?"
No, Kajabi does not offer a free plan. This is a bummer for course creators just starting out. So, if you want to test the waters before committing to a platform, you might want to try out a Kajabi alternative that offers a free plan such as our very own FreshLearn.
Make them feel bad -
If you've made up your mind to overpay, sure, let's dig in deeper.
The basic plan is a decoy to push you to the Growth plan (smart right?)
Kajabi Pricing - Plan Comparison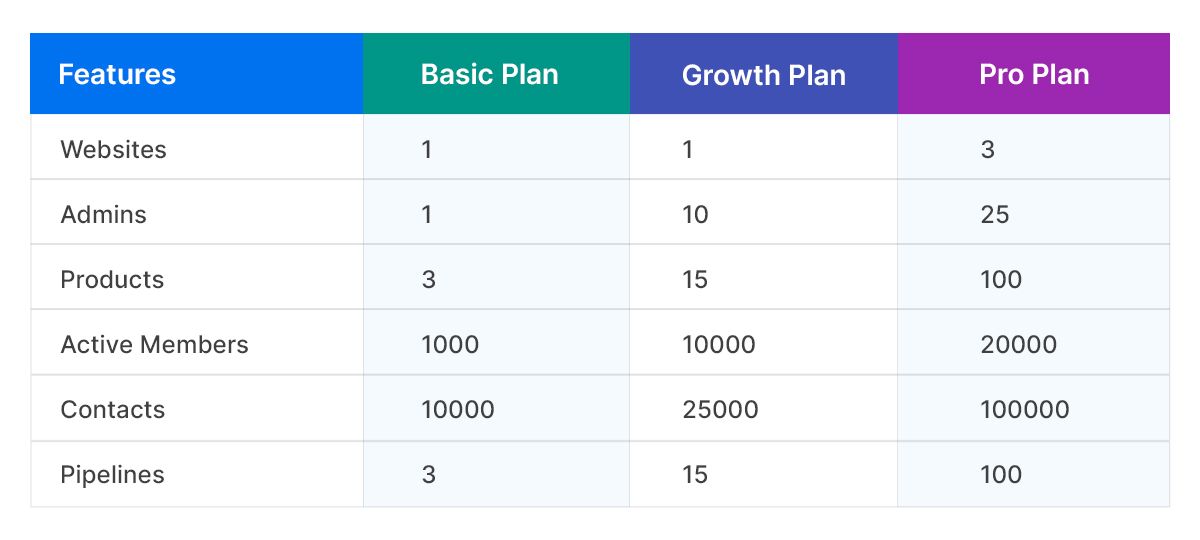 All of these plans are completely free of any commission or transaction fees, which is a thumbs up despite the steep prices.
Now, let's dig into the details of each plan!
Kajabi Pricing Plan - Basic
This is the cheapest plan that Kajabi offers to course creators. So, if you are a beginner and want to save some hard-earned cash, you can kickstart your course creation journey with the basic plan.
The plan comparison table provided above must have already given you a rough idea of what this plan offers.
Now, how is that going to make or break your business? Let's find out!
Pros of the Kajabi Basic Plan:
Helps you get acquainted with the platform at a lower cost before investing in a pricier plan
Lets you send unlimited emails to members and create unlimited landing pages
Offers readymade customizable templates
Allows hosting of virtual events and webinars without third-party app integrations
Cons of the Kajabi Basic Plan:
Accommodates only 1 website, 3 digital products, and 3 pipelines
Lacks advanced automation features
Does not provide custom branding
Lacks the Affiliate Marketing feature
Live chat customer support is not available 24x7, and only during regular business hours from 9 am to 7 pm
Who is this intended for -
Newbies or creators trying to create a course for the first time
So, if you are an advanced marketer, you might not benefit much from this plan and have to switch up.
Kajabi Pricing Plan-Growth
The most popular Kajabi pricing plan is its Growth plan, which will add 3 more features to your dashboard besides all those already available in the Basic plan.
These include White-labeling, Affiliate Marketing, and automation.
These features can give a significant boost to your course creation journey, making it suitable for creators who already have their website up and running and only need a few integrations.
Pros of the Kajabi Growth Plan
Amps up the limits for products, admin users, pipelines, active users, and contacts
Lets you remove the Kajabi branding from your website
Gives you access to the entire Automation toolset
Let you enhance your sales network and revenue using Affiliate Marketing
Extends 24x7 chat support
Cons of the Kajabi Growth Plan
Still limits the number of digital products and pipelines to 15 each, which can be a hindrance to several course creators
Limits other important accommodations like memberships and contacts
Lets you create only 1 website, just like the Basic plan
Lacks a Code Editor
Who is this intended for -
Creators with an intermediate brand presence that want to expand
If you are not really keen on expanding your business right away, then you can still do with the Growth Plan. If that's not the case, keep reading!
Kajabi Pricing Plan - Pro
The Kajabi Pricing Pro plan isn't that different from the Growth plan except for offering an additional feature - the Code Editor.
Plus, it extends the limits on digital products, pipelines, active users, websites, etc.
These additions to the Pro Plan make it suitable for established businesses managing a significantly large customer base and looking to scale even further.
Pros of the Kajabi Pro Plan:
Unlocks all Kajabi features available
Offers the Code Editor to let developers modify the code of websites, pages, and products built using Kajabi.
Lets you create up to 3 websites, 100 products, and 100 pipelines, and accommodate up to 25 admin users, 10000 active members, and 1 lakh contacts.
Cons of the Kajabi Pro Plan:
Does not remove limits on digital products, memberships, pipelines, and other facilities
Comes at a whopping subscription fee of $399 per month, which is much costlier compared to other platforms
Who is this intended for -
Established creators looking to scale up
The close similarity among the Kajabi pricing plans can be confusing, yes. So, if you can't decide which one to pick, that's okay. We're here to help you make the best bet.
Which is the Best Kajabi Pricing Plan for You?
Let's summarize the basic understanding you've reached now in terms of pricing plan suitability

My beef with Kajabi is this.
Kajabi doesn't offer a no-brainer solution for creators with zero limits on products and other features, even on its premium and most expensive plan.
But, are there Kajabi alternatives that do?
Let's find out!
How Does Kajabi Pricing Plan Compare with Other Course Creation Platforms?
The best way to make the most out of your platform subscription is to perform a thorough analysis and comparison of the multiple options available today.
Sounds like a lot of work? Fret not, we have got you covered.
I have written detailed comparison posts. Read these posts to get an in-depth idea of where Kajabi stands compared to its competitors.
While on the hunt for the best alternative to Kajabi, you should consider a platform that has earned its creators $20 million+ in revenue in the last 3 years.
Drumroll for FreshLearn 🥁🥁
We are an all-in-one platform with everything a creator needs to sell online. We are only getting better every day.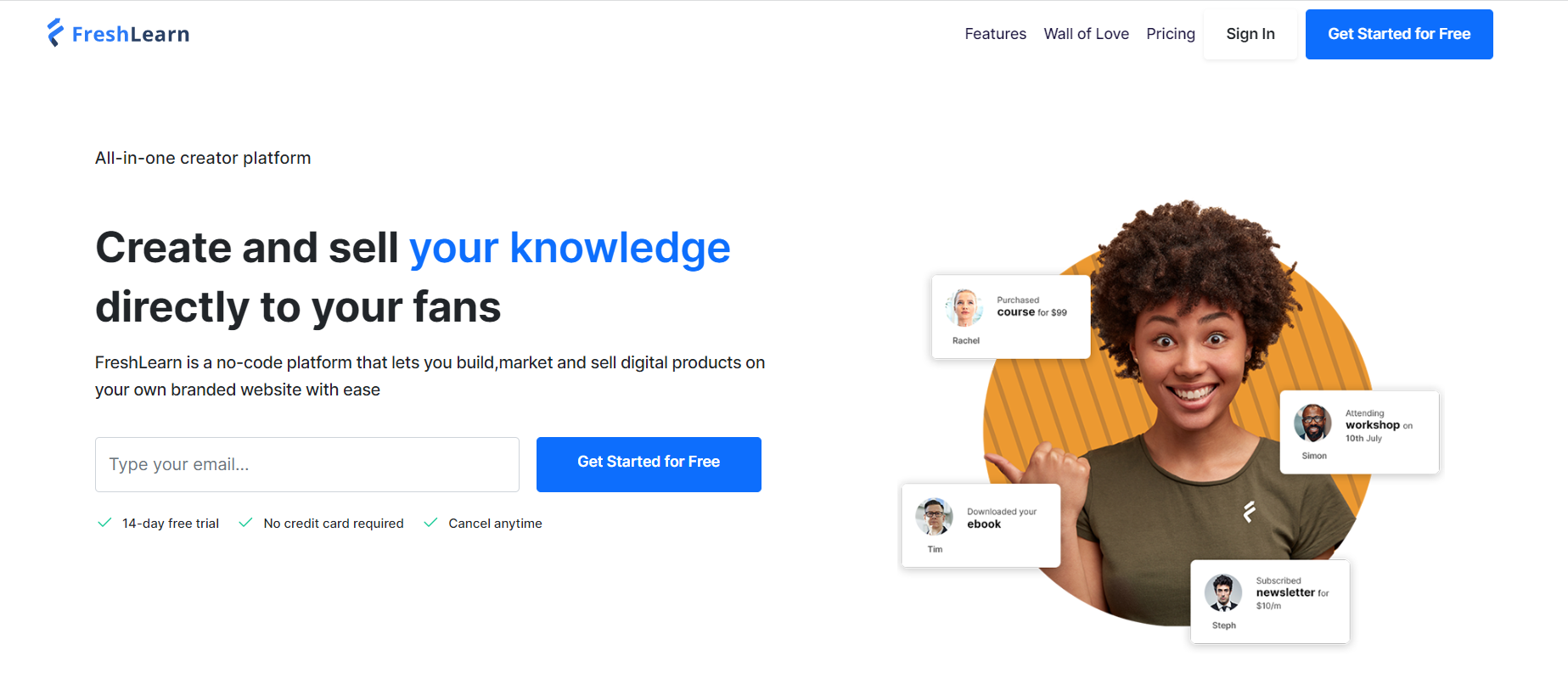 If I was your friend, I'd ask you to get Freshlearn & use the savings to market your course. (Just trying to help :)
What also makes FreshLearn the best membership site platform is that you can create and sell unlimited digital products on ALL plans, free or not! - A benefit none of Kajabi pricing plans offer.
Freshlearn is 4X cheaper with the same features.
Moreover, if you wish to upgrade to FreshLearn's paid plans, you can do so at a much lower cost than Kajabi.
Even the costliest FreshLearn pricing plan is available at just $41/month, almost 4 times more affordable than Kajabi's Basic plan!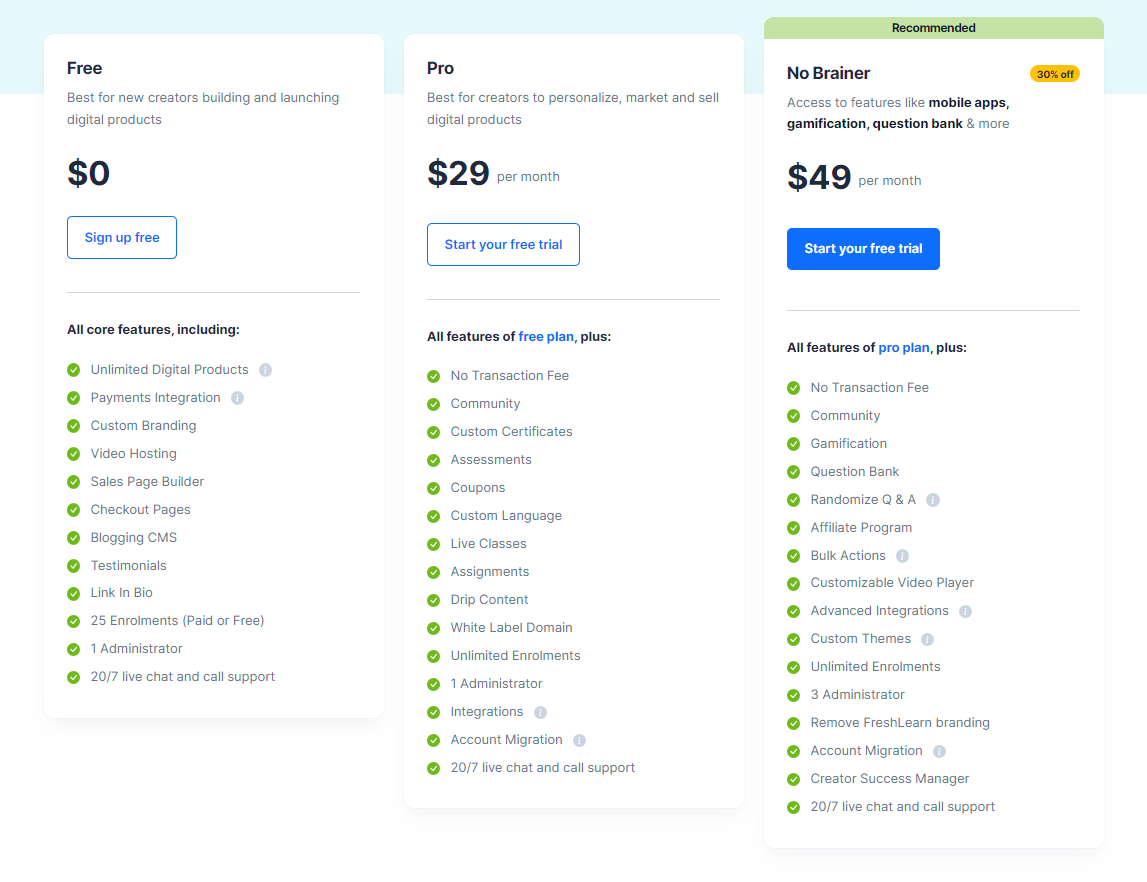 That sounds like a great deal, right?
Try it yourself, and who knows, it might end up being just the refreshing twist you're craving on your course creation journey!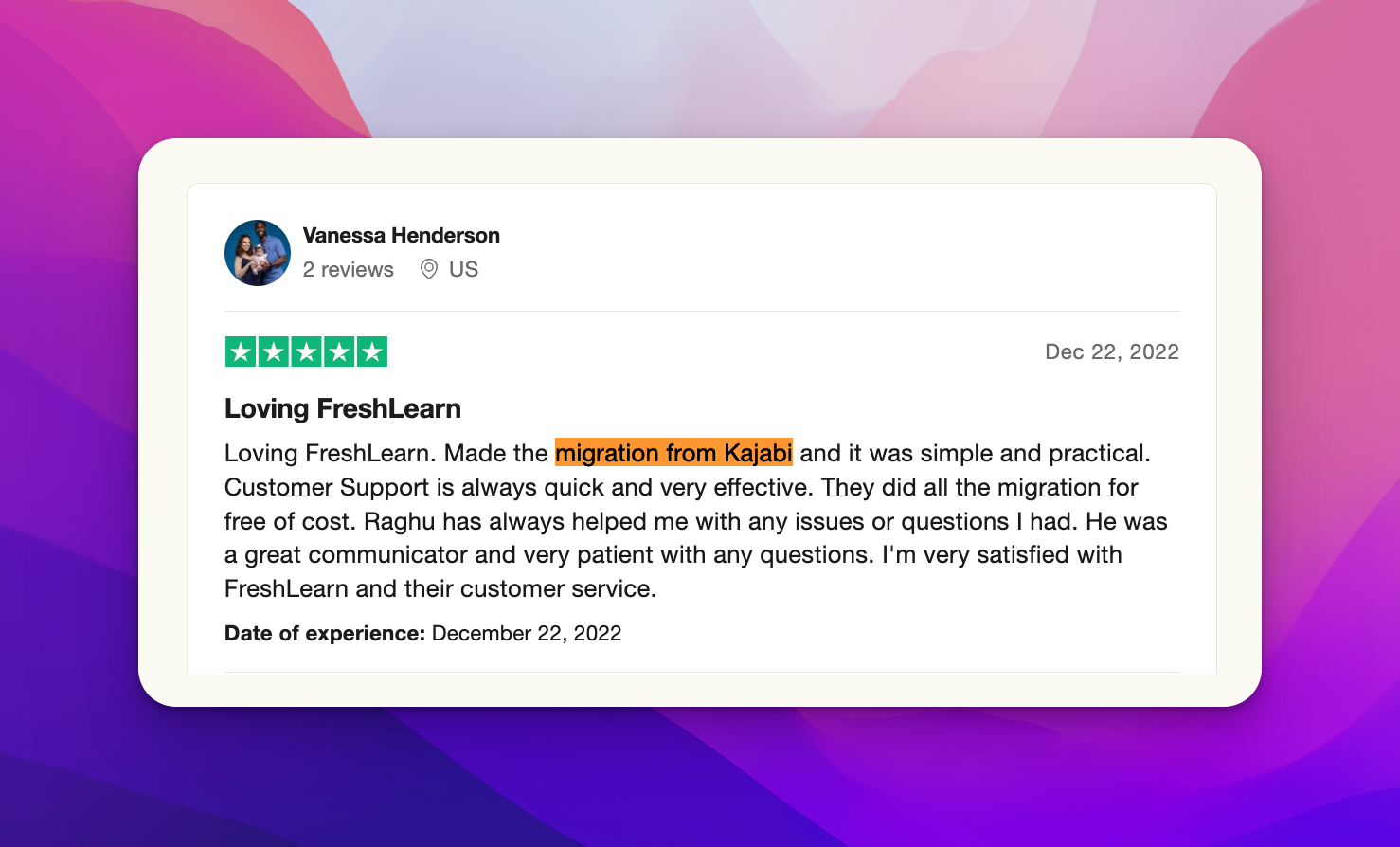 Frequently Asked Questions (FAQs)
1. How much does it cost to use Kajabi?
Kajabi offers different pricing plans. The Basic Plan provides all the essential features to grow your business It is available for as low as $119 per month if you choose to pay annually. The Kajabi Growth Plan costs $199 per month if you prefer to pay on a month-to-month basis.
2. Is Kajabi worth the money?
Yes, Kajabi serves as a comprehensive tool that enables you to manage various aspects of your digital content, including website functionality and payment management. It offers a wide range of features that make it highly beneficial for businesses.
3. How much does Kajabi cost per year?
The Kajabi Basic Plan costs $149 per month or $119 per month if you opt for the annual payment option. The Kajabi Growth Plan is priced at $199 per month or $159 per month when paid annually. The Kajabi Pro Plan, which provides advanced features, is available for $399 per month or $319 per month with the annual payment option.
4. Does Kajabi take a percentage of sales?
No, Kajabi does not deduct a percentage of your sales. Once you subscribe to Kajabi and pay the applicable subscription fee, you will retain 100% of the profits generated from your business.
5. How many websites can I host on Kajabi?
With the Kajabi Pro Plan, you can host up to three different websites within your account. This allows you to manage multiple online presences or distinct projects using a single Kajabi subscription.

You might also like
Hosted by