Kajabi vs. Teachable: Which Is Better? (Updated 2023)
This article explains how Kajabi vs Teachable comparison pans out in terms of features, pricing plans, and overall experience. Is there an alternative that provides a better creator experience?
Both Kajabi and Teachable, are two of the oldest and most popular all-in-one platforms for creators and educators.
They let creators and instructors create, publish, and sell online courses under their brand with complete control over their business, from the pricing to the services.
However, creators want better when it comes to better customer support and help from online platforms.
Plus, they want these platforms to have a seamless interface that is easy to use with affordability in mind.
This is exactly what platforms like Freshlearn prioritize!
So let's see how the Teachable vs Kajabi vs FreshLearn comparison weighs against these criteria as learning management systems.
Kajabi vs Teachable vs FreshLearn - Comparison Checklist
What is Kajabi?
Kajabi offers its creators ready-to-use templates and marketing emails for their customers. This platform also helps creators easily set up webinars and events, quizzes and surveys for their students.
Benefits of Using Kajabi
Kajabi's course-builder contains more features compared to Teachable
It has a more intuitive interface that creators can work on.
The platform also provides creators with automated email marketing campaigns to enable effective customer communication.
Kajabi provides various monetization features like podcasts, coaching, website builders, etc.
Kajabi can automatically generate course completion certificates.
Your company on Kajabi is adaptable enough to integrate with a wide range of popular tools like Calwndly, Stripe, Google Analytics etc.
The platform supports content in different formats like video, audio, and documents in its content creation process.
You can also sign up to be a Kajabi Partner through their affiliate program and receive a 30% lifetime commission for each new member you recommend.
It also lets creators connect to the payment gateway of their choice.
Kajabi does not charge any commission for its services on paid plans
Limitations of Kajabi
The platform still lacks some essential monetizable features like a Masterclass, Newsletters, and Digital Downloads.
Creators using Kajabi will not be able to embed different video players.
Kajabi's pricing plans are expensive not only compared to Teachable but also to other LMS platforms like FreshLearn and other Kajabi alternatives.
Regrettably, Kajabi does not provide a free plan for creators who want to experience the platform before committing.
Kajabi limits the number of products, pipelines, contacts, websites, and active students based on the pricing plan to the creators are subscribed to.
Kajabi only offers 24x7 live chat support for its creators that have availed of the Growth or Pro plans, which start at $199/month.
Kajabi also fails to provide concierge migration for their creators, leaving them to move all their data manually.
Kajabi Pricing
Kajabi pricing offers three different plans which are based on the usage limits. These are:
Basic Plan - $149 / month
Growth Plan - $199 / month
Pro Plan - $399 / month
What is Teachable?
Teachable is an LMS and marketplace for creators that help you sell and monetize your skills and knowledge on any subject.
Teachable was established in 2014 and is popular for its customization options and web hosting services.
In addition, Teachable offers course template designs for its creators to help create an efficient online business.
Benefits of Teachable
Teachable's email marketing tools help creators keep in touch with the progress of their students and maintain effective communication.
It lets creators section off chapters for a better understanding of the flow.
The platform offers a free plan for creators where they only pay once they begin to earn.
Teachable lets creators provide unlimited courses and coaching services at the lowest-paid plan, unlike Kajabi.
All of Teachable's pricing plans are much more affordable than Kajabi's, with the basic plan costing just $39/per month.
Limitations of  Teachable
Teachable's checkout page has its own branding.
It is not very easy to use.
Teachable does not support different payment gateways for its creators.
Teachable also has a 45-day offset period before crediting the students' payments to the creator's account.
Teachable fails to provide other monetization features like a Masterclass, Newsletters, or Digital Downloads. Here are some best Teachable alternatives.
Teachable does not offer a 0% commission rate even on paid plans. The commission rate for each service can vary from 5% to 9% depending on one's chosen plan.
By joining Teachable's affiliate program, you can make up to 30% commission by referring creators to Teachable.
Teachable provides customer support only to the creators subscribed to the higher plans.
Teachable also fails to provide concierge migration support services to its creators.
Teachable Pricing
Teachable pricing plans are categorized based on the features customers can avail of and the platform's commission rate. These are:
Free Plan - $1+9% commission
Basic Plan - $39/month+5% commission
Pro Plan - $119/month
Business Plan - $299/month
Kajabi vs Teachable: Which Course Creator Platform is Better?
Inclusivity
The main difference between Kajabi and Teachable is that Kajabi offers features that make it an all-in-one platform, and Teachable focuses more on processing payments.
Features & Performance
Teachable website builders' features are inefficient and can't hold a candle against Kajabi's safe and secure websites.
Kajabi offers several critical elements for a successful website, such as a custom domain, video backgrounds, blog posts, testimonials, and much more.
Unlike Teachable, Kajabi's content creation is easy to understand and not confusing with more features that creators can utilize.
However, Teachable and Kajabi both fail to provide when considering the feature to embed different video players, deterring a streamlined experience for the customers.
Migration Support
Teachable and Kajabi are complicated online course platforms to move to or from if a creator decides to change their platform because they fail to provide any concierge migration support services to its creators.
Payment
Kajabi also does not have a 45-day wait policy before their creators get paid, unlike Teachable.
Payment Gateway
Kajabi's platform provides creators with more options to get paid, which results in more money being led back into the platform, while Teachable does not allow that service to its creators.
Pricing & Commission
Though pricing puts a significant damper on Kajabi as the best course platform, unlike Teachable, the platform does not charge any commissions to its creators.
Free Plan
Teachable's performance gets plus points when we consider the free plan it provides for the creators, experiencing the platform before committing to it and the charge for its services only when the creators start earning.
24x7 Chat Support
Both platforms also fail to provide 24x7 live chat support for their creators, failing to help their creators or doing so only for creators who have availed of the higher-priced plans.
None of these platforms is the best contender for online course creation, but when it comes down to subscription price alone, Teachable is the clear winner. Kajabi's prices are off the roof when it comes to LMS platforms.
FreshLearn - A Better Alternative to Kajabi and Teachable
FreshLearn, a young online course creation platform gained great attention in the creator economy recently. It offers personalized and customization solutions for every creator and provides various assessment and certification features for creators.
FreshLearn is a platform that provides better services and features in areas where Kajabi and Teachable fall short.
As an all-in-one creator platform, FreshLearn is a practical alternative to Kajabi and Teachable for the following reasons.
The platform's content creation interface is intuitive and user-friendly.
FreshLearn uploads detailed videos on their YouTube channel to help budding creators in setting up their businesses.
FreshLearn provides different payment gateways such as Stripe and PayPal.
FreshLearn allows several monetization features on its platforms which you can earn by selling Online courses, Masterclass, Sales page or Digital Downloads.
Advanced features we usually get in Teachable's Expensive plans like bulk student uploads and course enrollments are available in FreshLearn's No Brainer Plan at $41/month, which is significantly cheaper than both Teachable and Kajabi.
Unlike Teachable, creators do not have to wait for 45 days to get their money in their accounts.
FreshLearn provides unlimited blogs, paid online courses, masterclasses, and unlimited paid enrollments in their Free Plan itself.
Unlike Teachable, there is no need to subscribe to a high-priced plan for customized checkout and thank you pages; all this is offered by FreshLearn in their Free Plan.
Unlike Kajabi and Teachable, FreshLearn supports embedding different video players such as YouTube, Vimeo, Amazon S3, and Google Drive, streamlining the creator and student experience.
FreshLearn also provides automated certificates for students.
FreshLearn is an LMS platform that provides gamification in its features. This feature is proven to help students achieve their goals faster.
FreshLearn provides 24x7 live support for its creators and also has a YouTube channel detailing the course creation process for its creators.
FreshLearn provides Free content migration support services for its creators.
FreshLearn's pricing plans are affordable and feature-rich. The platform has three simple pricing plans:
Free Forever Plan at $1+9% commission
Pro Plan at $25/month at 0% commission
No Brainer Plan at $41/month and 0% commission
Kajabi vs Teachable - The Final Verdict
In a Kajabi and Teachable comparison, FreshLearn triumphs as a better platform for content creators who want the best of both services and features, along with affordable pricing.
FreshLearn offers the most simple ways for users to create incredible-looking online courses that are also appealing.
They have a responsive support staff, and as things are now, FreshLearn is only going to get better.
FreshLearn aims to help creators make the best first impression and assist them in growing their businesses with ease.
If you're looking for an online course platform that provides wonderful customer service and features then Kajabi and Teachable, FreshLearn is the platform for you.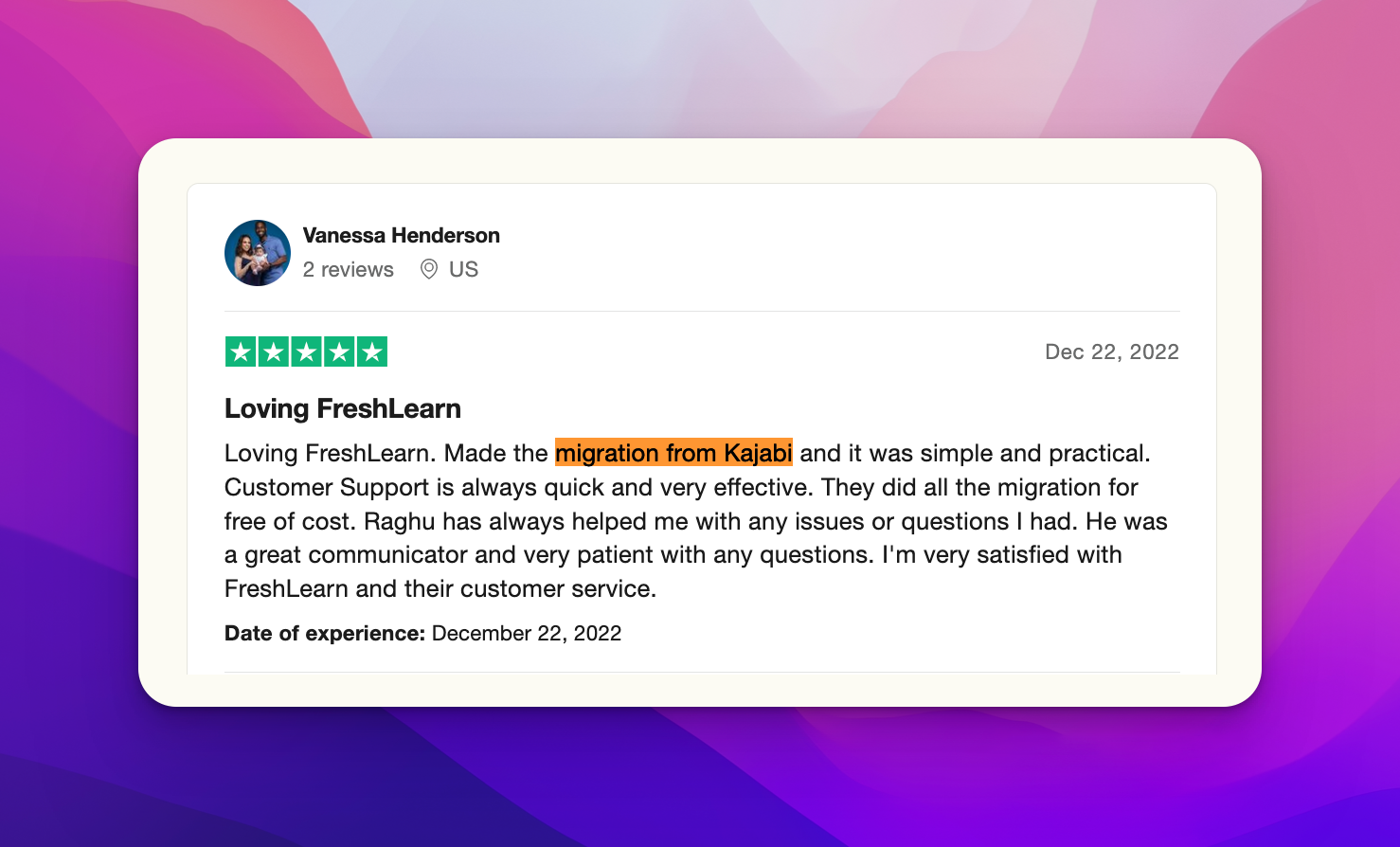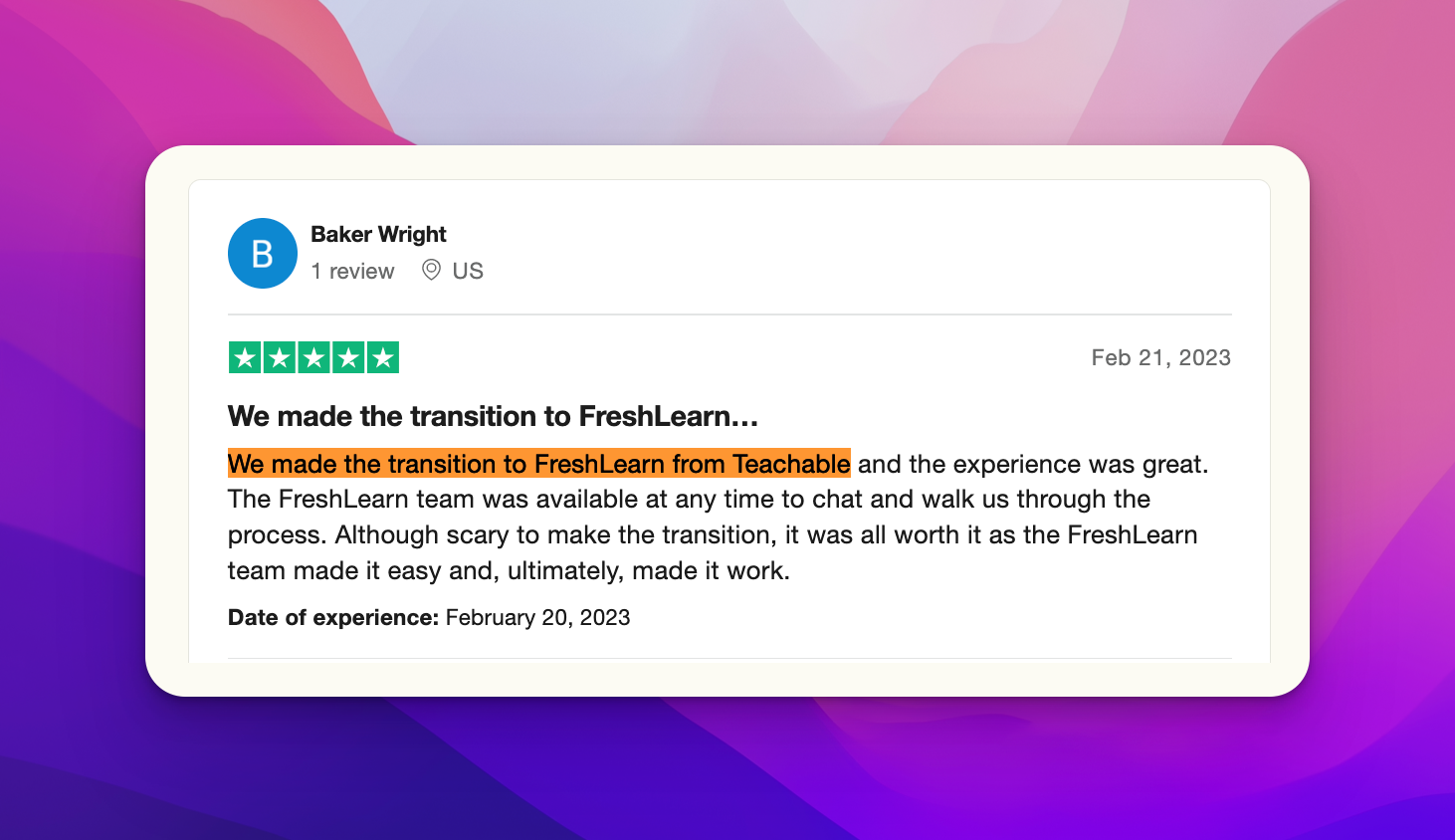 Frequently Asked Questions (FAQs)
1. What is the difference between Teachable and Kajabi?
Teachable and Kajabi are both online course platforms, but they offer different quiz formats. Teachable allows graded multiple-choice quizzes with performance tracking, while Kajabi allows students to answer open-ended questions in paragraph form and upload various file types like photos, audio files, or PDFs.
2. Who is Kajabi best for?
Kajabi is an ideal online business portal primarily designed for small businesses. It offers a comprehensive suite of tools, including funnel creation, email marketing, and CRM management, making it an excellent platform for individuals and businesses interested in selling online courses.
3. What percentage does Teachable take?
Teachable has different transaction fee structures based on the plan chosen. The Pro and Business plans have 0% transaction fees, while the Basic plan has a 5% transaction fee. Users on the Free plan pay $1 + 10% transaction fees. Additionally, payment processors may charge processing fees for credit card transactions.
4. What is cheaper than Kajabi?
FreshLearn is a more cost-effective alternative to Kajabi, providing content creators and instructors with a platform to create and sell online courses in less than 60 minutes. It offers a user-friendly interface, robust features, and affordable pricing for course creators seeking a budget-friendly option.
You might also like
Hosted by