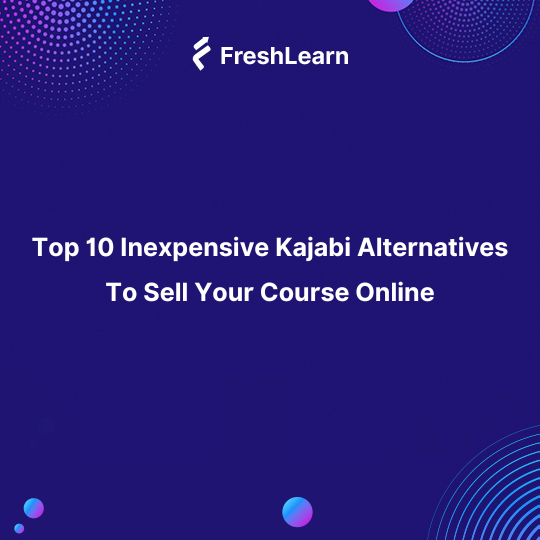 Top 10 Inexpensive Kajabi Alternatives To Sell Your Course Online
Kajabi is a business platform that offers many features for creators and instructors. It's an affordable, all-inclusive business management system with tailored pricing plans to suit your needs.
Kajabi is a business platform that has been designed to help content creators and business owners launch and grow their content in the form of learning programs. It offers an all-in-one business solution that helps you create and scale an e-learning venture.
Kajabi is easy to learn, set up, and manage even for new users. It consists of all the basic and advanced features you need to create courses or coaching programs. However, there are many business platforms available in the market and Kajabi may not be the best business solution for everyone.
But then Kajabi is very expensive. We have compiled a list of Kajabi alternatives that are all-in-one and less expensive. We've put up a comprehensive list of its advantages and disadvantages and pricing differences to assist you in making an informed decision.
The following are the 10 Kajabi alternatives we'll be discussing in this post:
FreshLearn
Teachable
Thinkific
Podia
LearnDash
Mighty Networks
ClickFunnels
Ruzuku
SkillShare
LearnWorlds
Before looking into the Kajabi alternatives, let's get to know and understand the pros and cons Kajabi has in store for its creators.
What is Kajabi?
Kajabi comprises a content and learning management system whose goal is to make the process of starting your own business as easy as possible, by giving you everything you need in one place.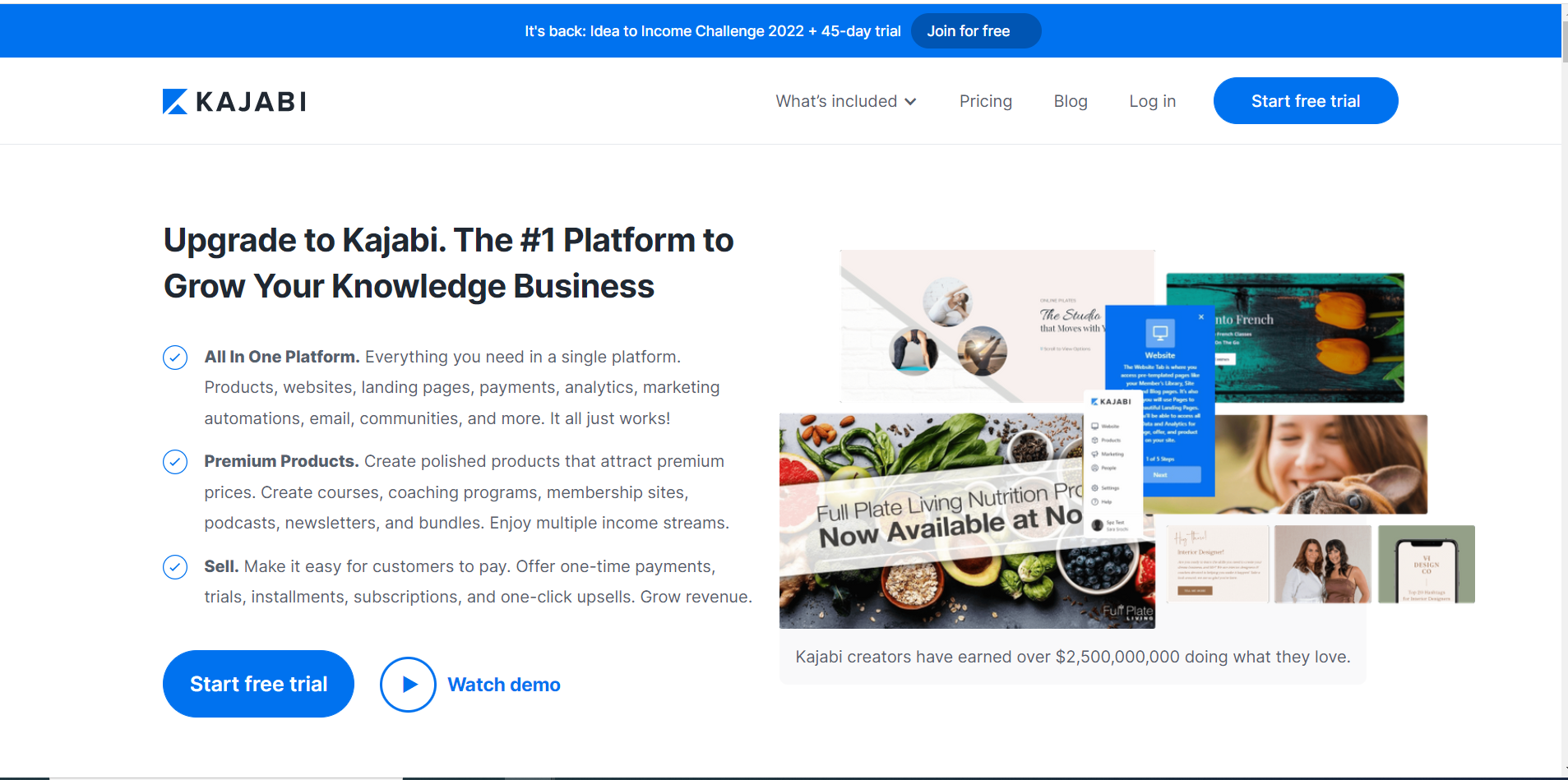 It allows creators to accept payments, obtain insights into customers' progress, and automate targeted marketing campaigns to provide personalized experiences for their users.
Besides, here are some other ways in which individuals can benefit from this platform.
Pros of using Kajabi:
The certificate is generated automatically on the user's graduation date and time to indicate that the degree has been completed.
Kajabi offers a simple marketing automation tool for content producers who want to manage their email campaigns automatically.
Kajabi has a lot of channels for monetizing content. Podcasts, website development, coaching, and other things may be lucrative for creators.
Kajabi supports a variety of payment options, giving creators more control and insight into their finances.
Kajabi allows you to add a wide range of content formats to your course. Video, audio, and document files are all available, allowing you to take courses with varied learning outcomes for every student.
Kajabi's documentation and knowledge base allows for a smooth onboarding experience.
That being said, existing Kajabi users often complain about some common cons of this platform.
Cons of using Kajabi:
Kajabi does not allow for the inclusion of different video players, but it does take content from S3 or Google Drive.
Kajabi still lacks certain crucial monetization capabilities such as Masterclass, newsletters, or Digital downloads.
The basic plan costs 149$ which is costly compared to the features offered by other platforms for the same price.
Features like page editing, email customization & automation, and landing page designing are very basic considering the prices.
Kajabi's pricing is rather expensive for an online course platform. It costs $149, which is much higher than other similar services.
It does not provide a free plan option for creators.
Kajabi lacks one-on-one customer support.
It does not provide a service that automatically transfers courses or resources from other platforms.
Kajabi Pricing: (Free-trial included + 0% Transaction fees)
Kajabi pricing has below pricing plans
Basic - $149/month
Growth - $199/month
Pro - $399/month
Let's now do a detailed understanding of the top 6 Kajabi alternatives and do a thorough comparison with Kajabi.
Kajabi Alternative #1: FreshLearn
FreshLearn is a one-stop shop that allows content creators and instructors to create and sell online courses in less than 60 minutes.
You can convert your expertise into various learning formats such as online courses, Masterclass, and Digital Downloads, among others.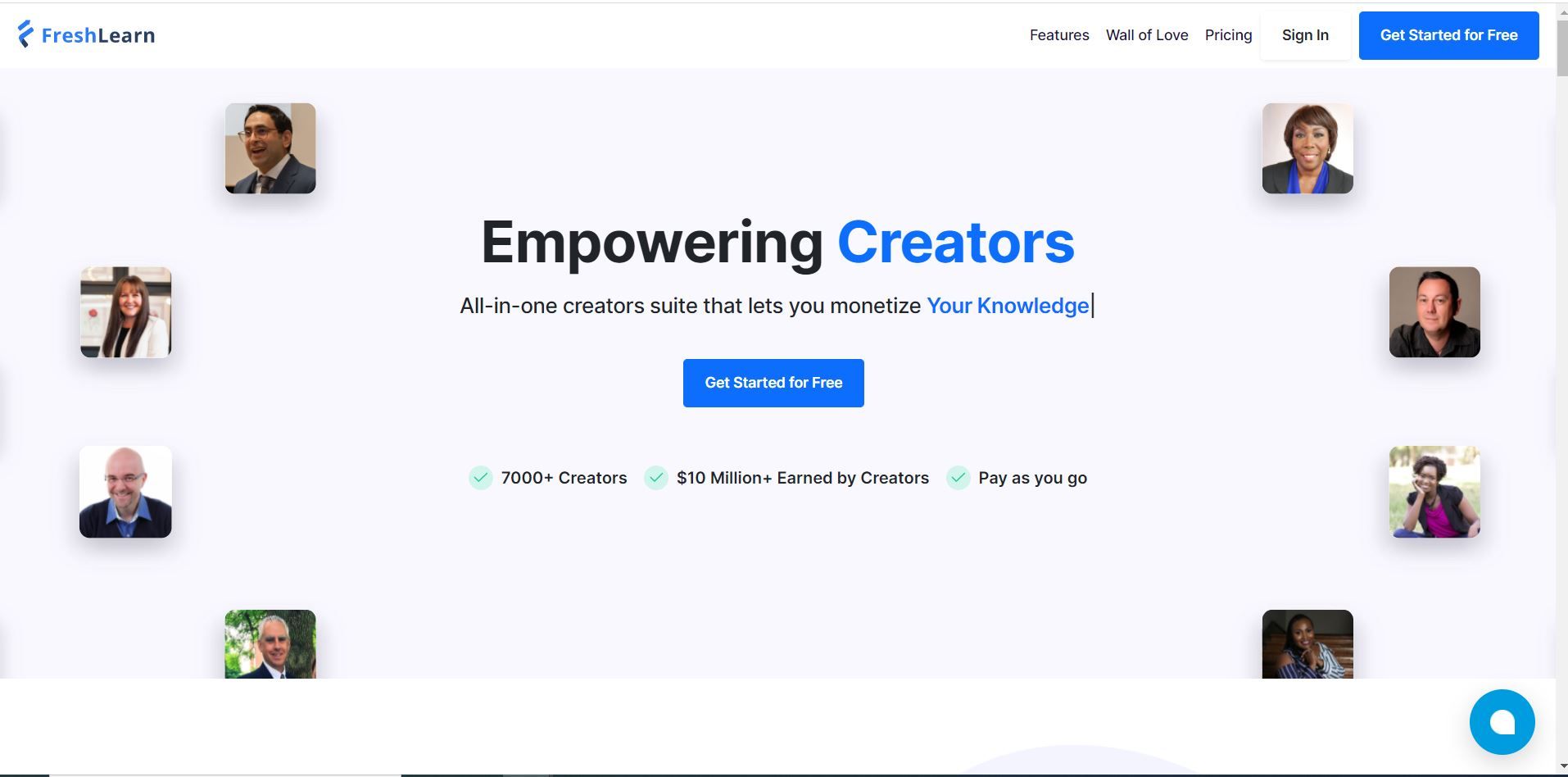 FreshLearn was launched in 2020 with the idea of creating personalized and customized content solutions for individual creators and instructors.
The platform also helped provide impactful assessments and certification for the learners as soon they complete their course.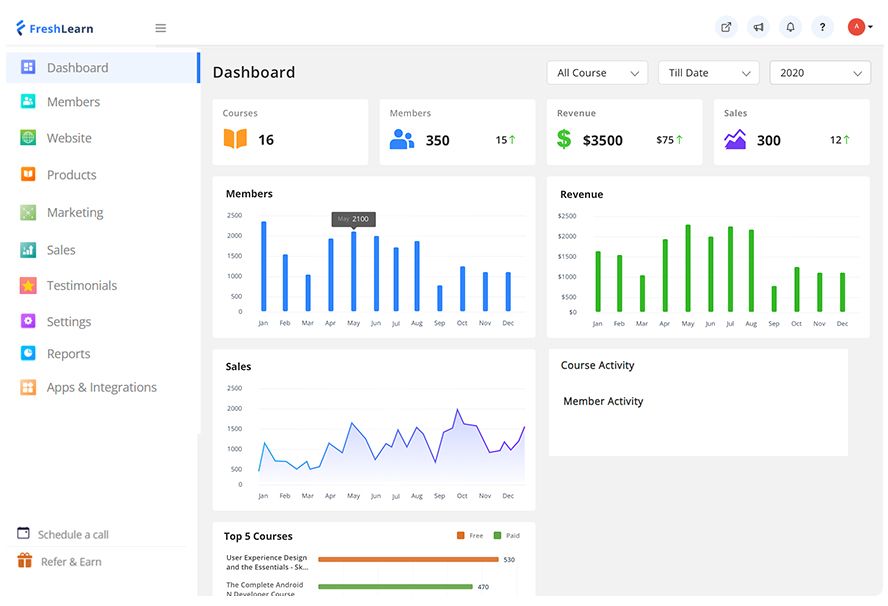 FreshLearn also lets creators provide meaningful evaluations and certificates on the learners' level of competence that can be digitized into a variety of formats such as Courseware (Online Courses), Masterclass Modules, and Digital Downloadables.
Here are some reasons that can make FreshLearn the best Kajabi alternative.
Benefits of choosing FreshLearn over Kajabi
Despite its fresh inception, FreshLearn's concepts of user-friendly design have assisted creators in making a better first impression on potential students.
You get up and running with your internet business quickly and consistently with a variety of revenue options, such as Online courses, Masterclass, and Digital downloads.
FreshLearn's content management system supports a variety of delivery methods, including video and audio codecs, and includes player plugins like YouTube or Vimeo on your website by embedding them.
FreshLearn allows creators to connect their own choice of payment gateways, such as Stripe or PayPal, and have money immediately transferred into their accounts as soon as someone signs up.
There are no extra costs for superior features like coupon codes and affiliate marketing. They're already included in the $29/month Professional plan, which is far superior compared to Kajabi.
Student completion certificates are automatically generated at the end of any course.
Plus, for an affordable price, FreshLearn makes it possible for its users to utilize their resources as much as they want for an unlimited time with 24/7 customer service.
The FreshLearn Academy also has useful how-to guides for anyone interested in developing their online courses and programs.
FreshLearn vs Kajabi: Price Comparison
The different pricing plans for FreshLearn are:
Free Forever Plan = $0 ( $1 + 9% commission for every sale)
Pro Plan = $29/month (0% commission)
No Brainer Plan = $49/month ( 0% commission)
FreshLearn vs Kajabi: Quick Comparison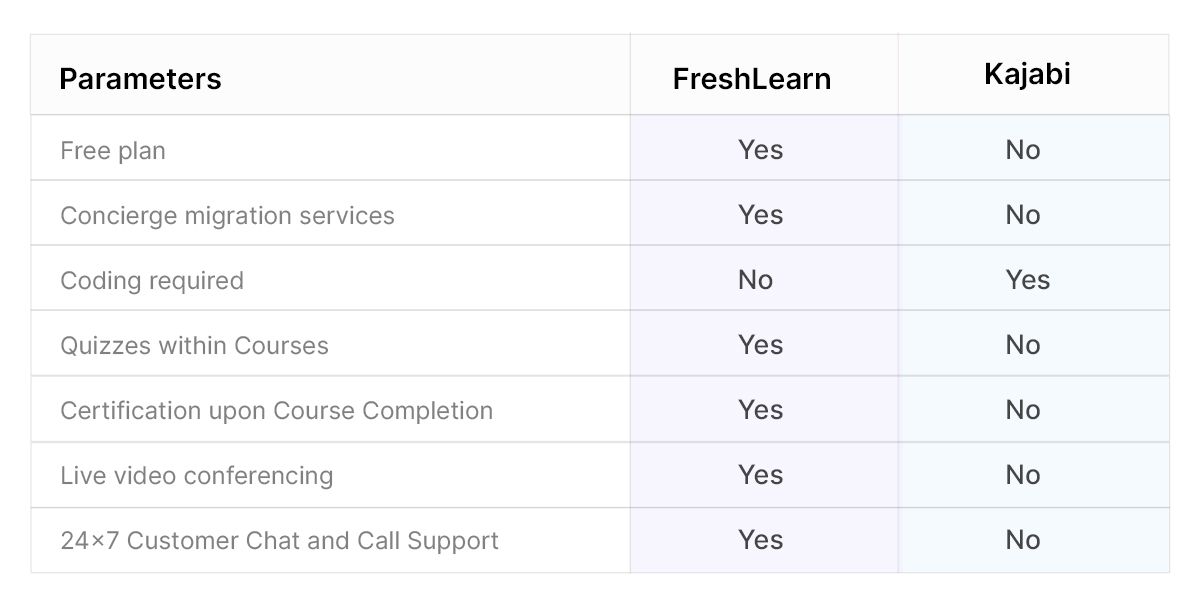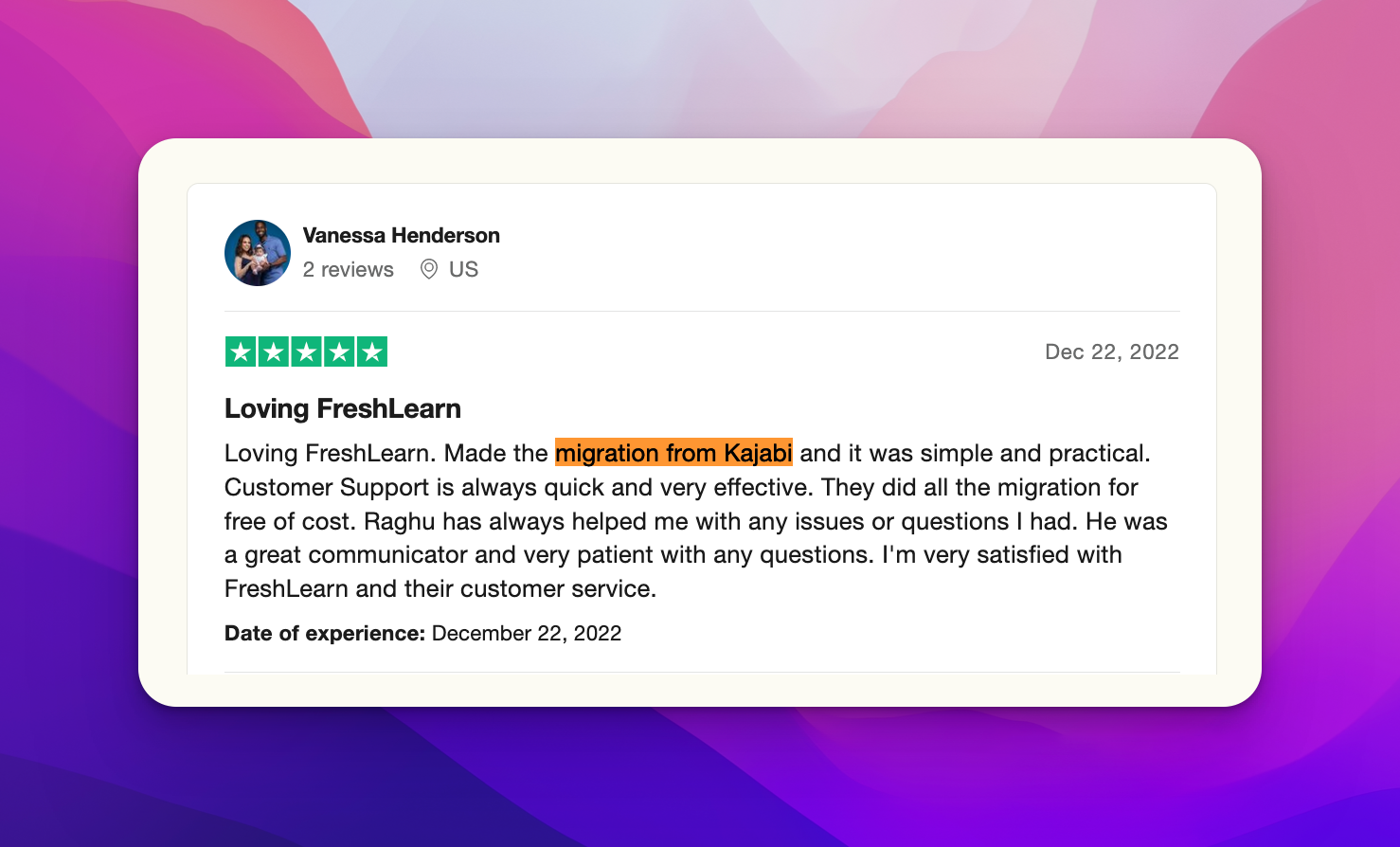 Kajabi Alternative #2: Teachable
Teachable is one of the first technology platforms to launch in 2014. It serves as an all-in-one online course platform that helps instructors create and sell courses over the Internet by functioning as a Learning Management System.
It's a popular site among course creators and instructors since it is highly practical and offers a lot of customization possibilities for websites, landing pages, emails, and so on.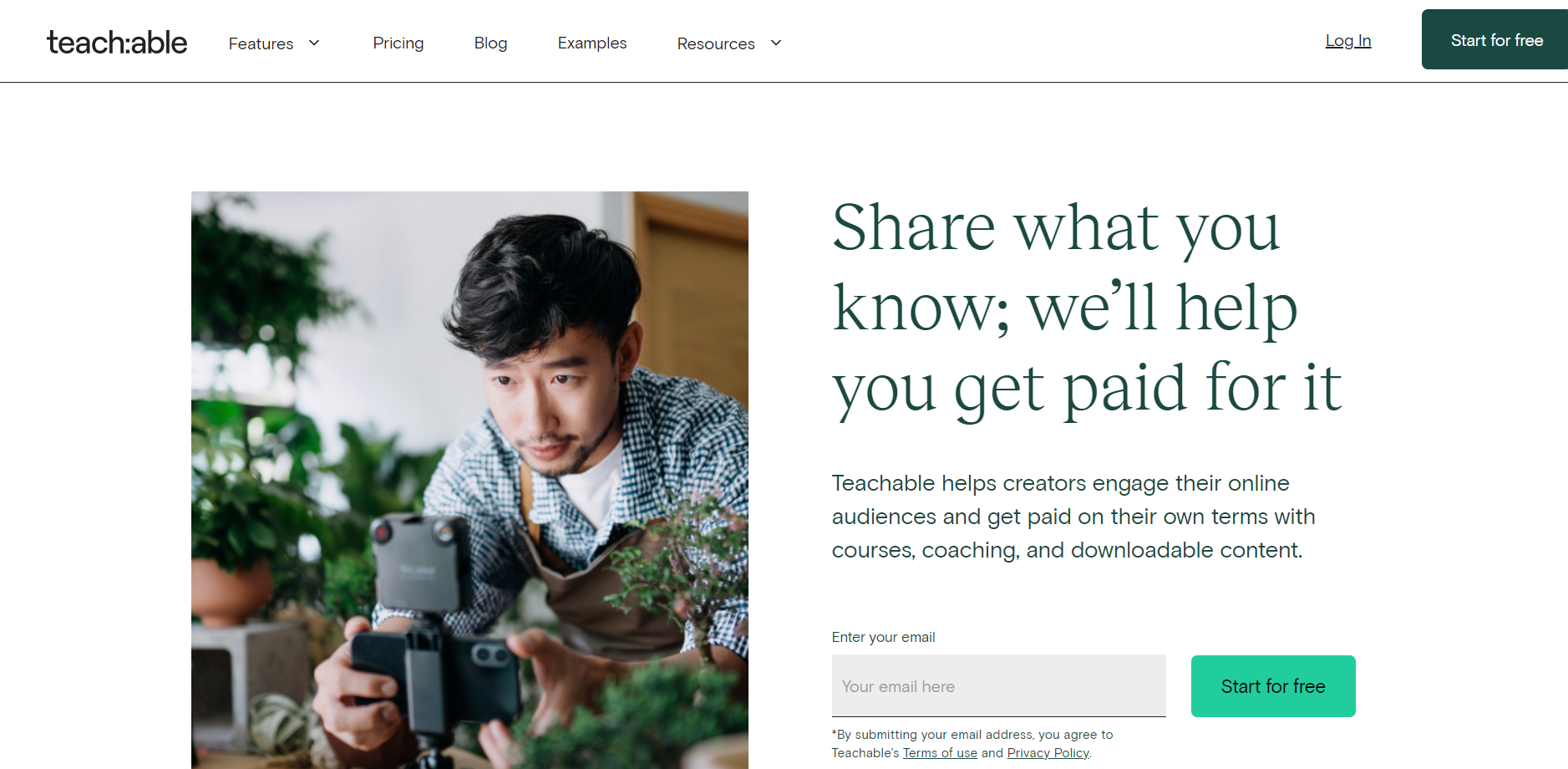 Benefits of using Teachable:
Teachable allows instructors to logically break down their courses into sections and chapters for a smooth learning experience for the students. Teachable is a feature-rich course platform that provides free online hosting for instructors to set up and establish online courses.
It is a feature-rich course platform that provides free online hosting for instructors to set up and establish online courses.
The email Teachable provides courses in a variety of formats, such as video, audio, and document.
The email marketing feature allows instructors to send personalized emails to enhance communication and connection with their students.
Teachable provides a Free Plan, so you'll only be charged if your course or program starts producing revenue. One of their low-cost plans may get you in the door, but it's worth spending a little extra for more features.
Teachable, however, separates its creators based on pricing plans. The more costly plan gives you greater access to its customer care services.
However, it does not currently provide live chat assistance, and it's not possible to easily link the platform with other systems. This means that instructors must move their courses from one platform to another manually.
Teachable vs Kajabi: Pricing Comparison
The most basic plan, which costs $1+9% commission for the first sale of an enrolled student, goes up to four different levels:
$39/month plus 5% commission
$119/month plus 10%
$299 a month plus 15%.
Kajabi Alternative #3: Thinkific
Thinkific is a digital learning platform that allows you to design, market, and sell courses with a single dashboard, giving you total control of your brand and business.
It's a popular learning management system for creators because of important features such as skill assessment, certificates, on-lesson discussion, simple customization, and deeper learning functionality.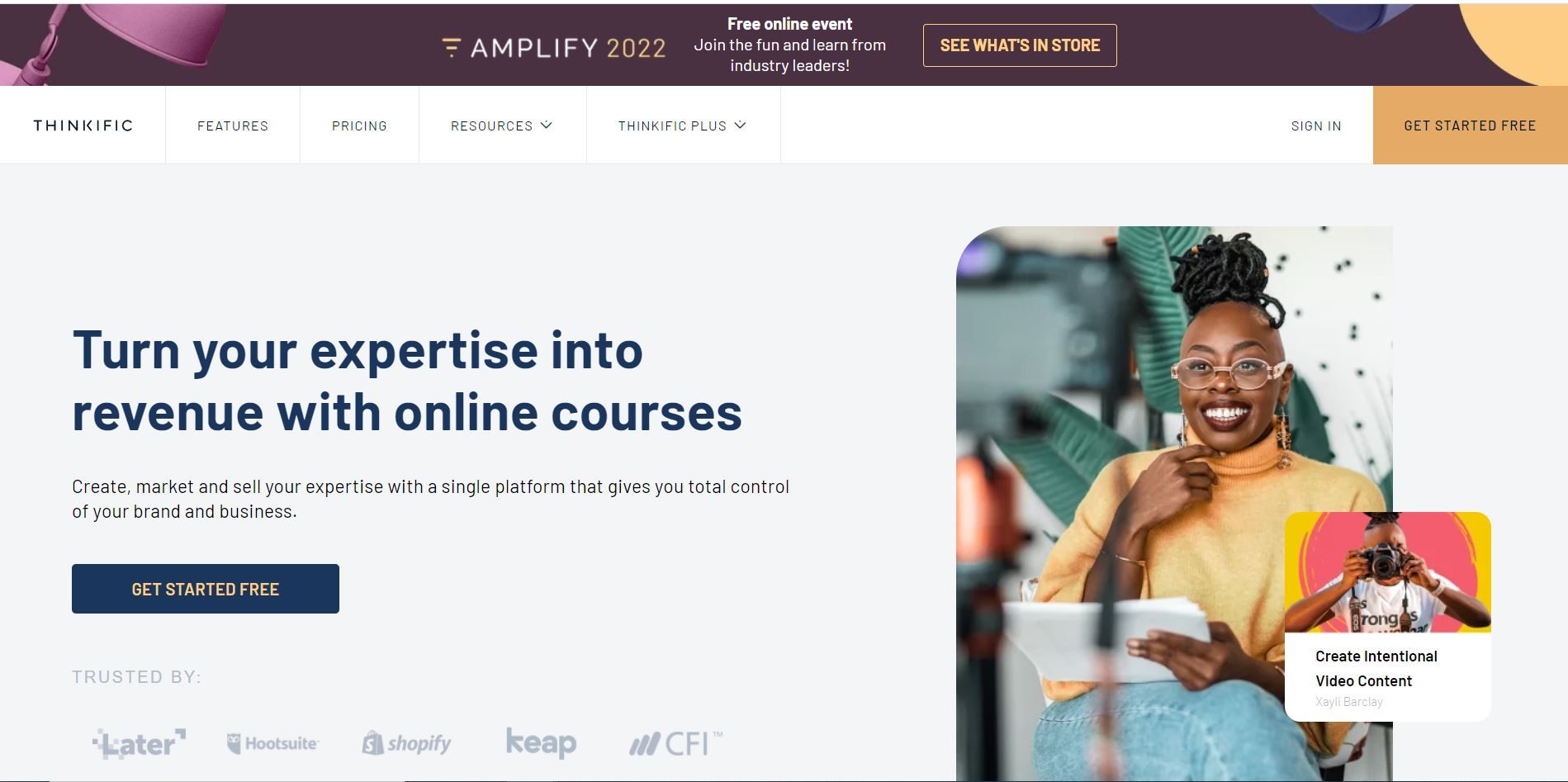 Benefits of Choosing Thinkfic
In the Thinkific course builder, you may use a variety of course content formats, such as video, audio, and document.
In comparison to Kajabi, the Thinkific course builder is more feature-rich. For their online courses, creators can use the chapter creation feature to create surveys, polls, and other important elements.
Once a student completes the course, Thinkfic creates an official certificate immediately.
The creators may also choose their payment gateway. While Teachable keeps the money for 45 days, Thinkific pays the instructors immediately when someone signs up for the course.
However, unless you upgrade to their top tier, i.e., the Premier Plan, Thinkific does not offer full white-label services. Similarly, premium features, like bulk member uploads and course enrollments, are only available on the Enterprise Plan.
Other revenue alternatives such as Masterclass, Newsletters, or Digital Goods are not available and it does not support the embedding of different video players.
Plus, like Teachable, Thinkific differentiates customer support based on the pricing plan you choose.
Thinkific vs. Kajabi Pricing comparison:
The pricing tiers for Thinkific are based on the features you want and the number of active users.
Free plan - $0
Basic - $39/month
Pro - $79/month
Premier - $399/month
Kajabi Alternative #4: Podia
In 2014, Podia was established as a simpler and more user-friendly method for creatives. Podia is a cutting-edge learning management system that allows its creators and instructors to use end-to-end solutions.
It enables sellers of courses, event management, downloads, member registrations, and community management.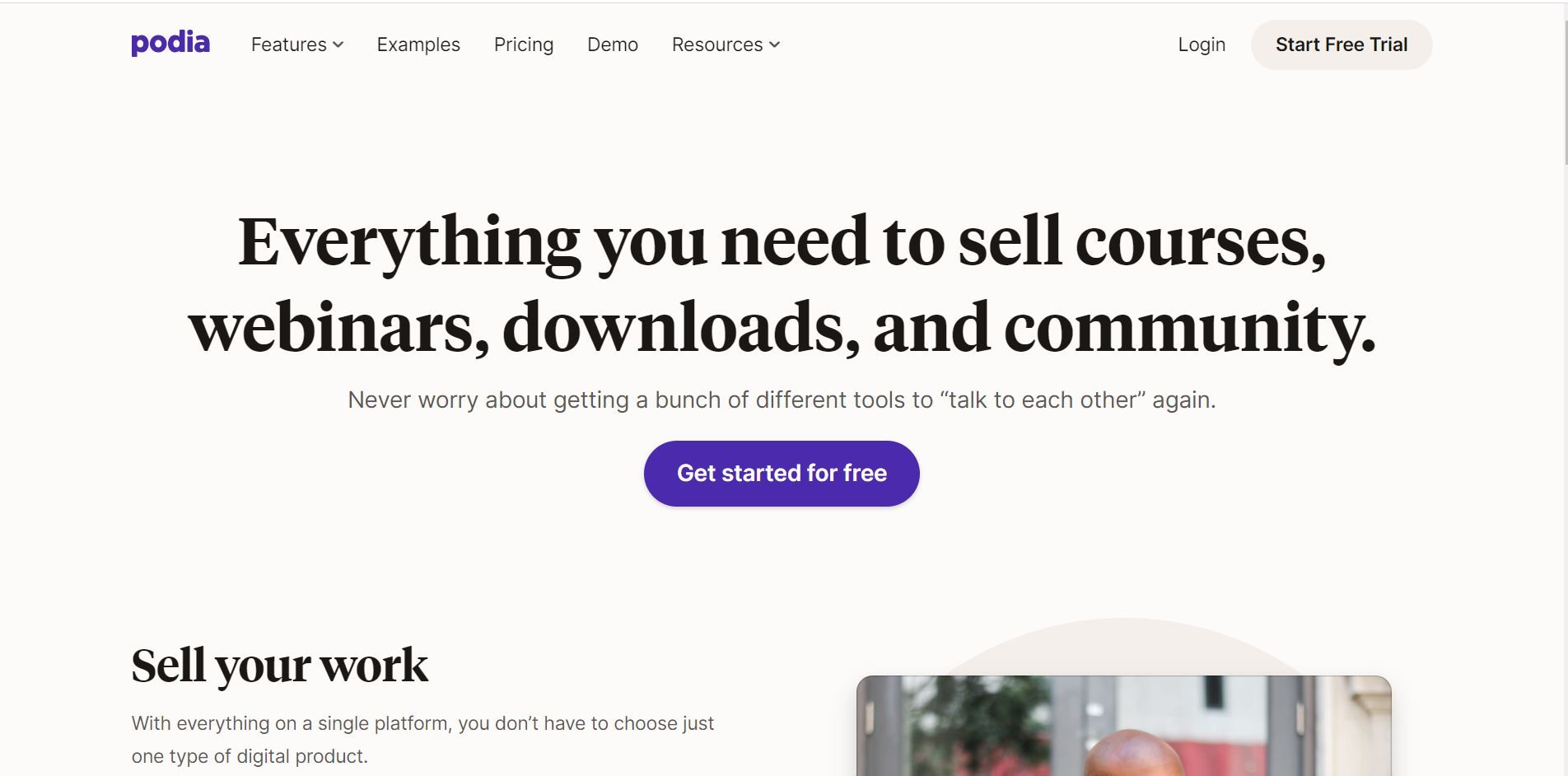 Benefits of Choosing Podia
Podia is software that allows you to make unique offerings such as events, digital downloads, and online courses. Creators may also make money by putting their expertise out there in the form of learning programs.
Podia allows you to deliver a more diverse education because the numerous formats available in your courses - video, audio, and document files - give it greater flexibility.
The certificate creator is simple to use and can be used to automate other operations.
Podia allows creators to choose their payment gateway with convenience.
Podia provides a wealth of information and documentation for creators, but it does not offer continuous live chat support.
Again, Podia is an excellent method to get your video content out there. However, it does not support additional players and uses only S3 or Google Drive instead.
Plus, its sign-in and registration screens are quite similar, making the onboarding process difficult.
Podia, as a course builder, also lacks certain capabilities. Plus, it charges an extra $20 per seat. The platform does not provide a free plan for creators as a trial.
Podia vs. Kajabi: Pricing comparison
The different pricing plans of Podia are:
Mover - $39/month
Shaker - $89/month
Earthquaker - $199/month
Kajabi Alternative #5: Learndash
LearnDash is a WordPress plugin that enables instructors to run courses online on top of the WordPress CMS, turning their website into a powerful learning management system.
Instructors can develop and sell courses, monitor student development, give performance bonuses, and issue certificates with the help of LearnDash.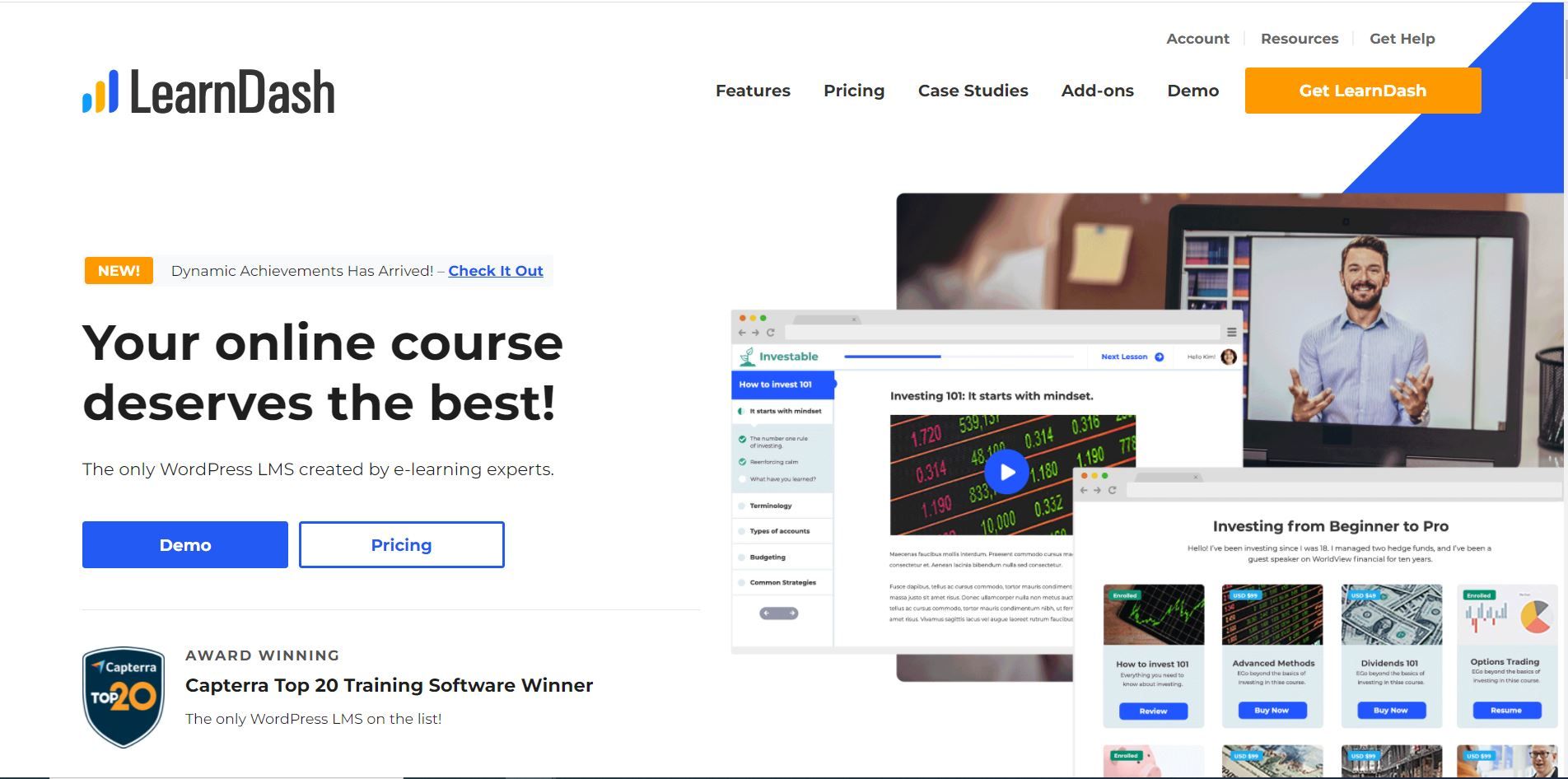 Benefits of Choosing Learndash
Leardash allows you to include different content types like video, audio, and documents as part of the course creation process.
Leardash allows the developers to connect to their preferred payment gateway. It also processes the payment immediately after someone signs up for the course.
Leardash allows you to automatically issue course completion certificates.
However, Learndash is a WordPress plugin, and the overall set of course creation tools will always be absent. Only WordPress's UX will be utilized, which is difficult for new CMS developers.
Learndash's course builder lacks a lot of features. Users will have to use multiple plugins to experience different features, which is inconvenient and tricky compared to Kajabi.
Learndash has a very affordable price compared to other platforms. The tiers are based on the features, but it's crucial to note that the creators are also expected to become part developers and must shoulder numerous additional expenses such as WordPress hosting, technical support, security, backups, and so on.
Additionally, LearnDash offers a knowledge base and documentation, but it does not provide live chat assistance to its creators. It also does not provide concierge migration services for courses from other platforms in any plan.
LearnDash vs Kajabi: Pricing comparison
The different pricing plans of Learndash are as follows:
Basic - $199/year
Plus - $229/year
Pro - $369/year
Kajabi Alternative #6: Mighty Networks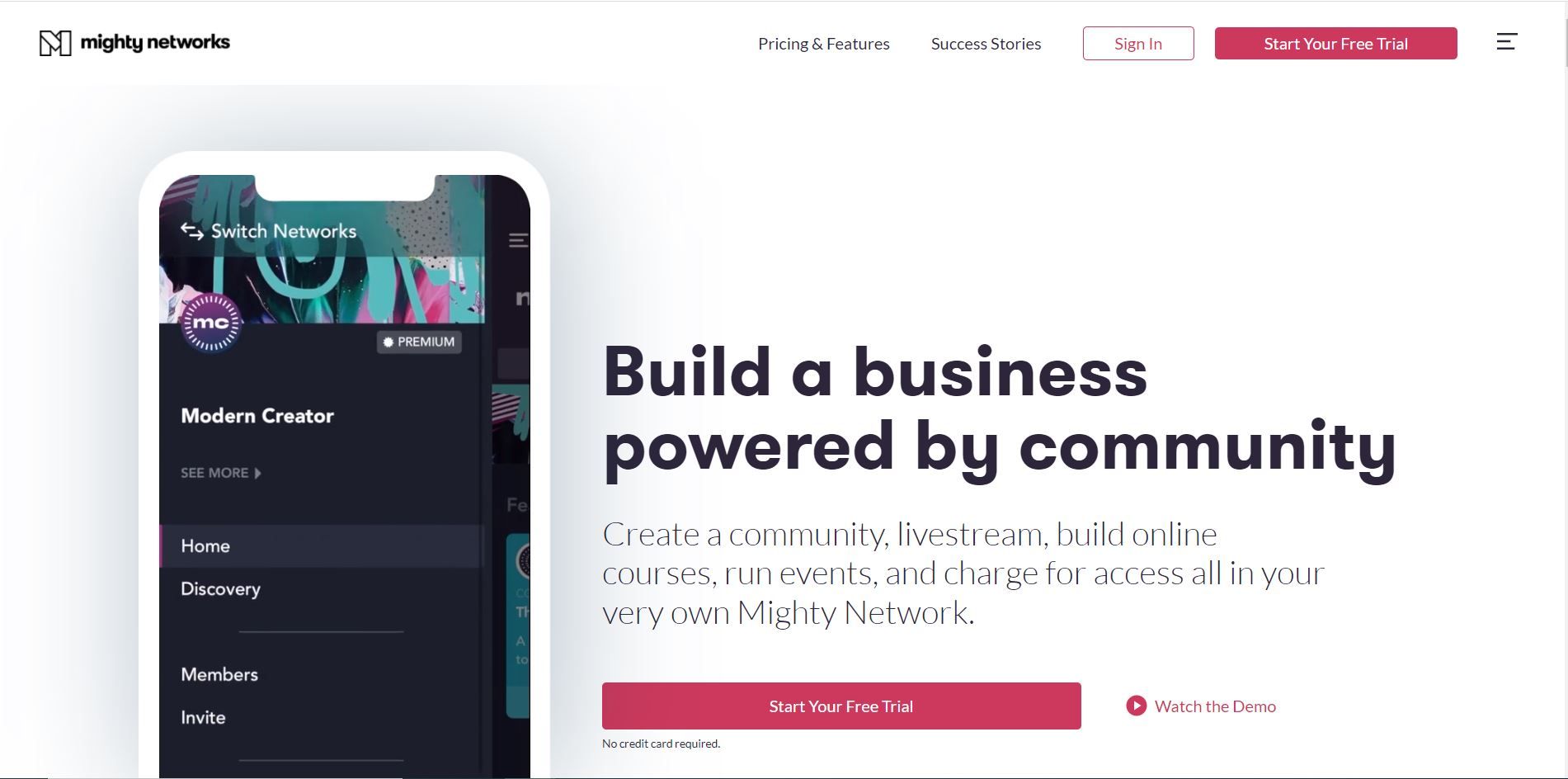 Mighty Networks is a comprehensive and dedicated platform that lets its creators create, modify, and monetize their content. The platform helps you bring together your website, online courses, memberships, and more to create and scale.
Mighty Networks was created in 2017 to encourage social innovation and community building.
Benefits of Choosing Mighty Networks
The dashboard on the platform, which is available to all users, includes many different capabilities accessible from a central location.
The app is available on both iOS and Android mobile devices.
A free trial is available from Mighty Networks. The app is also free of charge to use.
Creators can choose their preferred payment method.
They provide priority assistance to Business and Community Plan Hosts.
It also has a concierge migration service.
However, the website is not simple to use and does not have any of the features necessary for profitable monetization, such as Masterclass, Newsletters, or Digital downloads.
Users must link to external platforms like YouTube and Vimeo in order to upload videos or live streams on the platform.
They also do not have a free version that is available indefinitely, unlike FreshLearn.
Mighty Networks charge a transaction fee on all pricing plans. The cost of the Business Plan is 2%, the Community Plan costs 3% per month, and the Free Trial costs 5% each month.
Pricing comparison: Mighty Networks vs. Kajabi
Mighty Networks' pricing starts at $39/month and scales with each tier.
The Community Plan - $39/month
The Business Plan - $119/month
Kajabi Alternative #7: ClickFunnels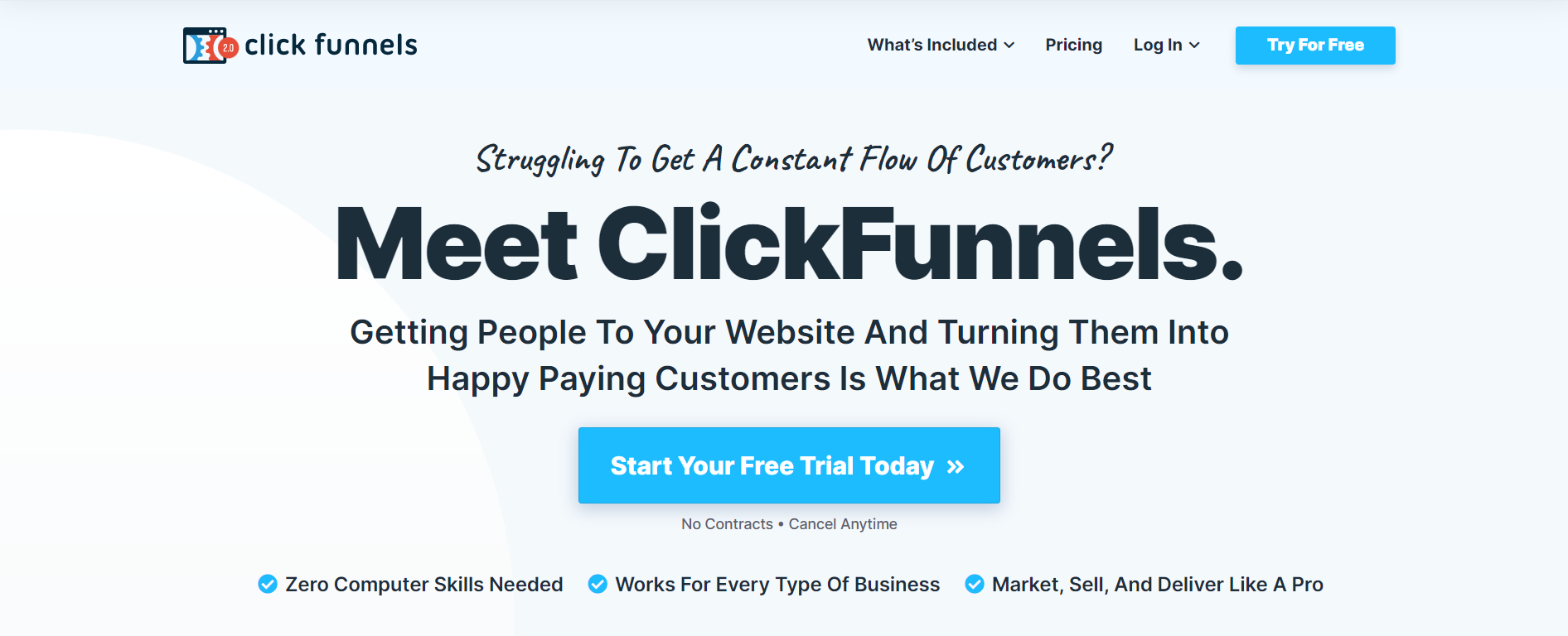 An all-in-one platform, ClickFunnels enables you to create sales pages, and sales funnels, store your courses, create a membership website and landing pages, and advertise to a global audience.
When starting out, and particularly if you're on a tight budget, there's a case to be made for using a single platform, such as ClickFunnels, to host and sell your online course.
Benefits Of Choosing ClickFufnnels
You, as a course creator can build your online course fast with ClickFunnels because you don't have to start from scratch. When you create a course on this online course platform, you can select from a variety of course templates depending on your teaching/learning style.
ClickFunnels allow you to create a website that accurately represents your company and identity in a matter of minutes by using one of the many stunning, expertly designed templates, colours, fonts, and other elements available.
With ClickFunnels, you can easily build an eCommerce store. This makes it simpler for customers to browse as many digital products as they want and make purchases shortly after viewing your store.
Pricing comparison: ClickFunnels vs. Kajabi
You get a free 14-day trial after which you can use any of the 3 ClickFunnels plans:
Basic: $147/mo
Pro: $197/mo
Funnel Hacker: $297/mo
Kajabi Alternative #8: Ruzuku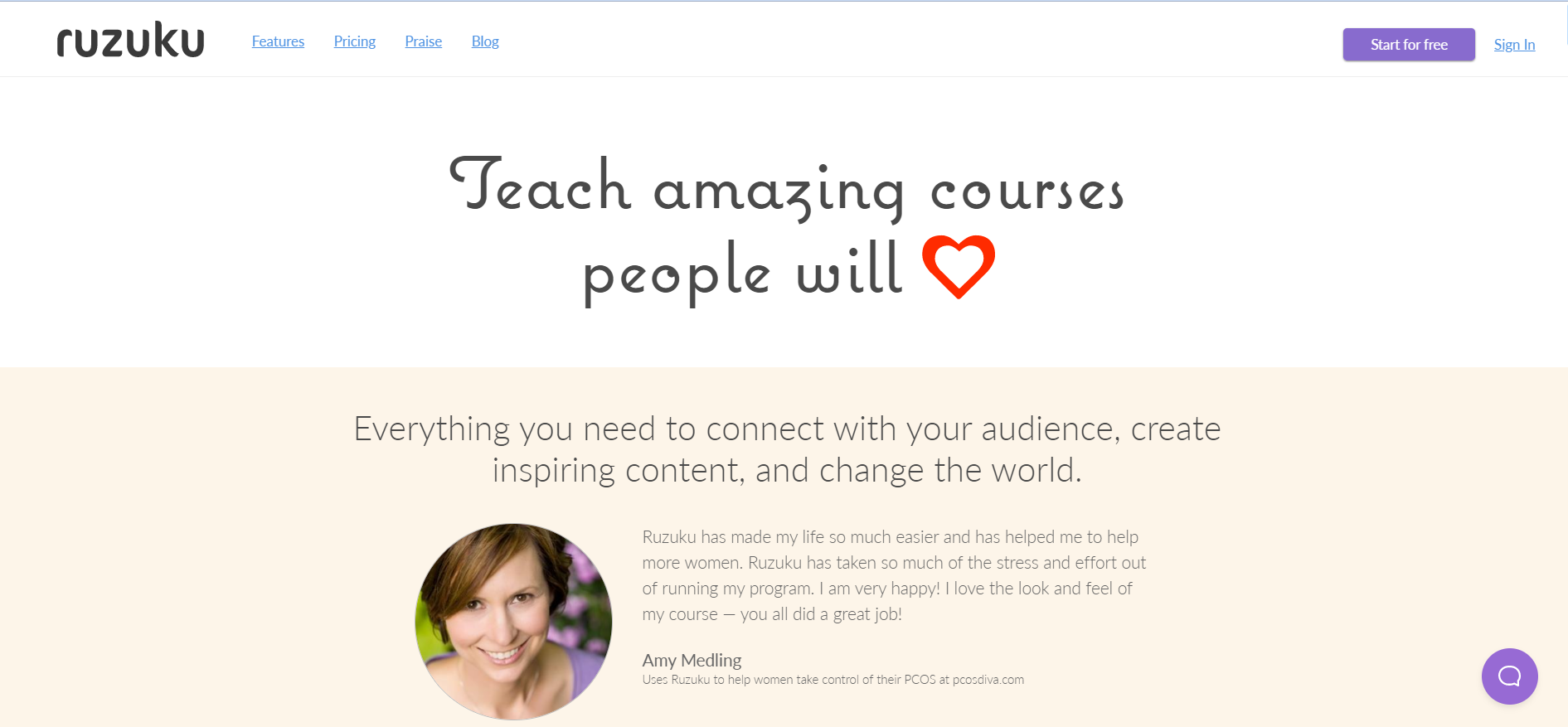 An alternative to Kajabi with a distinctive marketing strategy is Ruzuku. The simplicity of use is its main priority.
The website is particularly appealing to hobbyists who want to share their interests from home and earn some extra money.
Benefits Of Choosing Ruzuku
With Ruzuku, you can create online courses which can be free or paid
It's simpler to design open-access (self-directed) courses, drip-feed your material, host and stream audio and video, and hold teleconferences with slides and a group chat.
Using a global content distribution network, you can ensure faster load speeds.
Also with a properly configured forum, your students can attach files when responding to your activities and queries.
Pricing comparison: Ruzuku vs. Kajabi
Here are the 3 price plans of Ruzuku:
Free Basic plan: $0
Core: $99/mo
Pro: $199
Kajabi alternative #9: Skillshare
Skillshare, unlike many of the course creation sites on this list, is an online course marketplace. This implies that you do not host courses on your own domain.
Instead, you post them on Skillshare and profit from the traffic that is already on Skillshare.
The creative community uses this medium a lot. Courses in painting, music, typography, photography, and many other topics are frequently found here.
Also, students who join Skillshare on a membership plan have access to the site's premium classes.
Benefits Of Choosing Skillshare
If you're a creative course creator looking to create a few classes without starting your own online school, Skillshare is a fantastic option.
You can create premium courses for free and also offer group classes
You can also promote classes with marketplace ads and make use of referral programs
Also, get access to an extensive resource section for course creators
Pricing comparison: Skillshare vs. Kajabi
On Skillshare, you can build and share courses for free. Instead, Skillshare earns money from the premium memberships that its students purchase.
Kajabi alternative #10: LearnWorlds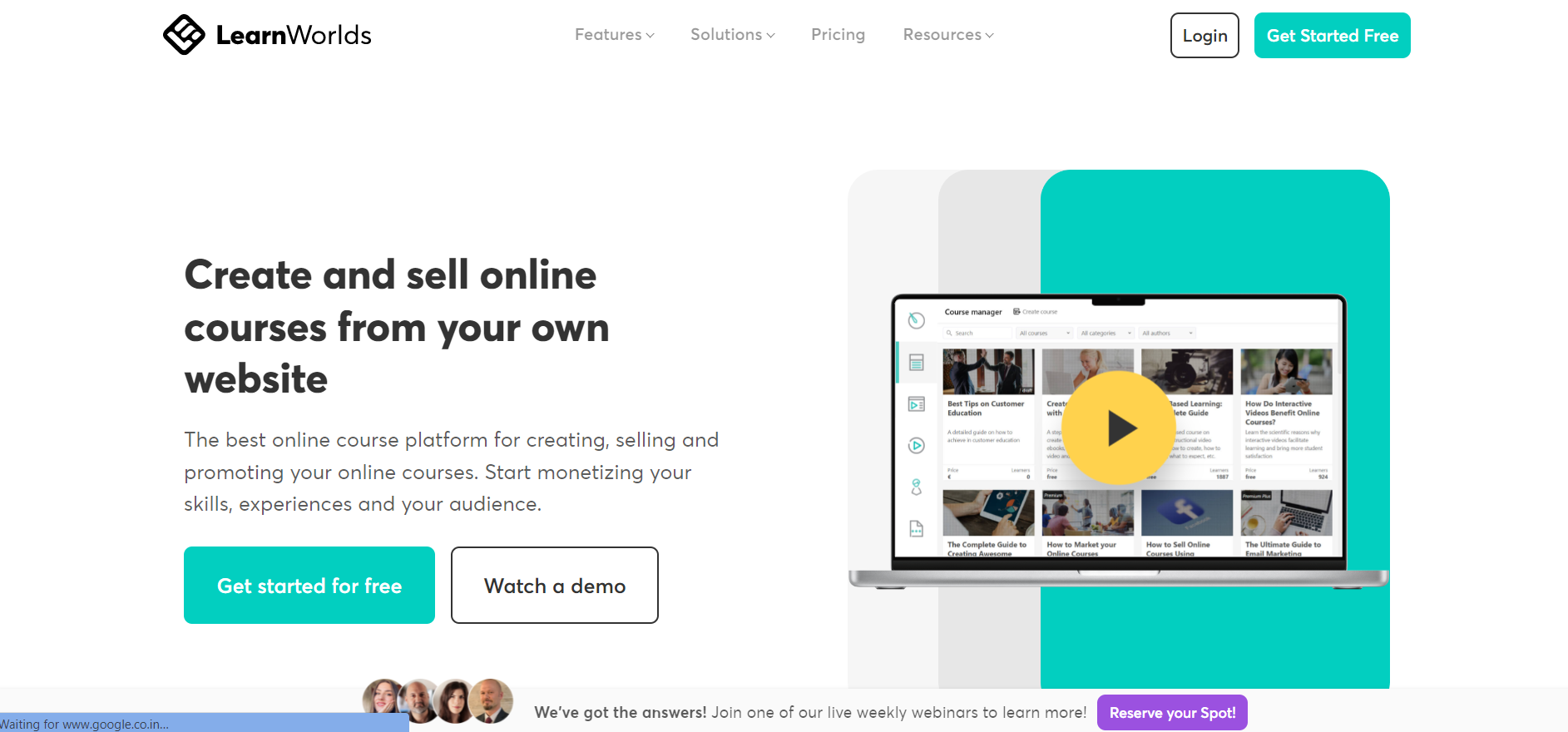 LearnWorlds is a cloud-based course platform that allows you to develop, promote, and sell online courseware all in one place.
It's a SCORM-compliant online course builder with sophisticated e-learning web design, interactive video, e-commerce, social, analytics, and white labelling features.
Learning management systems, online academies, membership websites, and educational websites can all be created using LearnWorlds' site builder. (LMSs).
Benefits Of Choosing LearnWorlds
You can immediately create online training materials such as webinars and onboarding lessons. You don't need to know complex scripts and codes. By dragging and dropping objects and attribute blocks, you can easily modify any of the hundreds of pre-made templates available.
LearnWorlds has all the tools you need to monetize your work. This means you can easily create secure payment gateways and subscription programs using tools that are simple to use. You can even alter how each student checks out.
Users of LearnWorlds have access to 24/7 assistance. Additionally, it offers monthly training sessions and seminars to all content producers and students. An interactive demo is available to all users, making it simple to grasp all of LearnWorld's tools and features. Additionally, LearnWorlds offers migration and personal onboarding services.
Pricing comparison: LearnWorlds vs. Kajabi
3 Plans which you get on LearnWorlds are:
Starter: $24/mo
Pro Trainer: $79/mo
Learning Center: $249/mo
Which is the Best Kajabi Alternative for You?
Kajabi is an early entrant in making and selling online courses. However, the last few years have seen the advent of some really wonderful all-in-one creator platforms which let you create online courses and sell digital products, too within a budget.
Getting your best pick among these can be a confusing drill when you are spoilt for a choice.
If you're looking for a business platform that offers many features for creators and instructors and not burning a hole into your pocket, then FreshLearn is the best kajabi alternative.
It is an affordable, all-inclusive Kajabi alternative with tailored pricing plans to suit your needs.
FreshLearn has a unique business proposition that allows its members to connect and create content in a social setting. It's a platform that offers a wide range of tools for instructors, teachers, and content creators.
It has a wide range of features to sell digital products that include content publishing, community building, newsletters, video hosting, email marketing, and more.
Join the road to monetization with FreshLearn and get started today! With over 14000+ creators on our platform, you'll have access to all of our features like video creators, social network optimization tools for pages that already exist, or ones you want to create yourself - it's never been easier.
You might also like
Hosted by