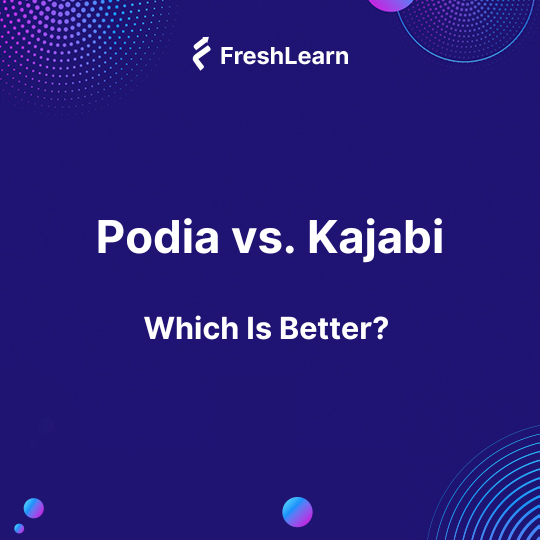 Podia vs. Kajabi: Which Is Better? (Updated 2023)
Learn how the two online course management platforms stack up against growing creator demands in terms of services and features.
Both Kajabi and Podia are two online course creation and management platforms that allow all types of creators and instructors to provide courses, training programs, art classes, business coaching, and much more in numerous fields to their end-users.
Both Podia and Kajabi claim to be the best place to sell your digital courses online. However, they have a lot to improve and you must consider this before signing up for either one.
This also begs the question, are there better online course platforms that provide end-to-end solutions for selling your course online?
Let us first settle the debate of Kajabi vs Podia vs their latest competitor FreshLearn!
Podia vs Kajabi vs FreshLearn - Comparison Checklist
What is Podia?
Podia is one of the highly-secured online course platforms that helps its users sell courses, manage events, and monetize their knowledge on any subject or skill.
Podia was founded in 2014, and the platform has an intuitive interface that is easy to use. Podia helps its creators sell more than just courses.
The platform allows creators to host communities, and sell webinars, and digital downloads.
Benefits of Using Podia
The platform provides creators with unlimited products, users, messages, sales, files hosted, and much more.
Podia is popular because the platform has a commission-free policy.
Podia has a feature that automatically generates certificates for creators' customers and learners following their course completion.
The platform provides features to create courses that utilize various formats like video, audio, or document files. Incorporating different media and formats in the learning process can help vary the process and encourage learning and increase interest.
The platform has a straightforward interface that makes it easy for new creators to understand and pick up.
The platform provides email support help for its creators who have subscribed to Podia's higher plans.
Podia allows you integrations with your favorite apps like Youtube, Google Analytics, Airtable, and many other useful tools to give you the flexibility you need
Podia provides free concierge migration support services for its creators. Concierge migration support is beneficial because creators would not need to worry about their data during the move.
Limitations of Using Podia
The platform does not let creators insert video players from different sources like YouTube, Vimeo, etc. The platform only includes Amazon S3 or Google Drive.
The platform does not remove its branding on the creators' page unless they have subscribed to the Shaker plan or a higher pricing plan.
The platform has a sign-in and registration that have very similar interfaces. This can be a barrier to a smooth experience for the user.
Podia charges an additional fee of $20 per seat.
Podia does not have a free trial plan for users to experience the platform before signing up. This is discouraging for many creators because they may be uneasy about committing to a platform they have no experience using.
Podia has limited features compared to Kajabi and other online course creation platforms because it initially started as a creator platform with different products. It has evolved and branched out into an online course platform. Here you can find a detailed post on more Podia alternatives.
Podia does not have live chat support. Instead, they offer email support. Even so, this feature is only available for the creators who have availed of the Shaker plan or higher, starting at $89/month.
Podia Pricing
Podia has a 0% commission rate, making the platform's pricing quite simple. Podia's pricing is based on the features and services they provide in each plan.
The different pricing plans of Podia are:
Mover Plan - $39/month
Shaker Plan- $89/month
Earthquaker Plan - $199/month
What is Kajabi?
Kajabi is an all-in-one platform that helps creators and educators build and launch an online business
Kajabi was first launched in 2010 and is one of the oldest platforms to start in the course creation and management domain.
The platform allows its creators the flexibility to make their business unique and provides features that help build online courses, coaching programs, membership sites, podcasts, newsletters, bundles, etc.
Benefits of Using Kajabi
Kajabi makes it easy for users to create online courses that include different course content formats like video, audio, and documents.
Like Podia, Kajabi also automatically generates course completion certificates for the learners and students after the course.
Kajabi's marketing automation feature helps users create, send, and track their emails easily without complicated coding or technical skills.
Kajabi is also a platform that does not charge creators any commission for their services. Each of the platform's plans comes with a 0% commission.
Kajabi offers email marketing tools for its creators.
Disadvantages of Using Kajabi
The platform does not allow users to embed different video players. It only allows the inclusion of content from Amazon S3 or Google Drive.
Kajabi has a long way to go when it comes down to monetization. They lack essential features such as Masterclass, Newsletters, Digital Downloads, etc.
The platform has many limitations in its pricing. It limits the pricing based on the products, pipelines, contacts, and number of active students.
Kajabi's pricing begins at $149. This is heavily priced compared to other online course creator platforms. For this reason, you might want to consider some Kajabi alternatives as well. Here's a detailed blog to help you out!
Kajabi does not offer a free plan for creators to test the platform.
The platform does not provide 24x7 live chat support to its creators.
The platform fails to provide concierge migration support services to its creators.
Kajabi Pricing
Kajabi pricing plans are based on usage limitations. As a result, Kajabi's prices are high compared to other platforms for the same features that Kajabi provides its creators.
The different pricing plans are:
Basic Plan - $149/month
Growth Plan - $199/month
Pro Plan - $399/month
Podia vs Kajabi: Which Course Creator Platform is Better?
The main difference between Podia and Kajabi is that Podia's performance is better as an online course creator platform even though it may lack features than Kajabi and charges its creators an additional transaction fee of $20 per seat.
On the other hand, Kajabi's performance does not reach the mark because of its various shortcomings - its pricing plans are ridiculously high compared to Podia's for almost the same features and services.
Podia's most expensive plan costs the same as Kajabi's mid-sized plan at $199/month. Kajabi also fails to provide concierge migration support services to its creators, unlike Podia.
Podia does not remove its branding unless a creator has availed of its higher plans. Podia's sign-in and registration pages are confusing, which can significantly deter the user experience. Podia and Kajabi perform moderately against the expectations of creators.
Though Podia and Kajabi both take a 0% commission rate, both fail to provide a free plan to their creators.
This can make it unappealing for first-time creators who want to experience the platform before committing to it and entirely starting their business.
Podia and Kajabi both fail to provide 24x7 live chat support to their creators, and Podia provides essential email support to their creators who have only subscribed to the higher plans.
Both platforms also fail to provide the feature to embed videos from 3rd party platforms, which most online course creation tools offer.
FreshLearn, on the other hand, is an innovative and rapidly growing online course platform founded in 2020.
It helps creators and educators sell online courses and set up their businesses in just 60 minutes.
In addition, FreshLearn provides customizable solutions and assessments for each student. The platform has the most affordable pricing plans, with a complete set of features available in the free program.
The platform gives students access to the latest educational content with interactive exercises, lessons, tests, etc. while providing educators and creators with an opportunity to monetize their skills and resources through an innovative business model.
FreshLearn provides better features in areas compared to both Podia and Kajabi. The platform makes up for the many failures that Kajabi and Podiahave had, including pricing, customization, and support.
FreshLearn is also the only platform that has taken the gamification feature seriously. Its pricing is unquestionably more creator-friendly than Podia and Kajabi.
FreshLearn - A Better Alternative to Podia and Kajabi
FreshLearn is the better alternative to Podia and Kajabi because:
Freshlearn has an easy-to-use content creation interface. FreshLearn also has a YouTube channel with detailed videos to assist its creators in setting up and selling online courses on the platform.
The platform provides popular monetization features for creators like Online courses, Masterclass, or Digital Downloads.
FreshLearn's No Brainer Plan at $41/month provides all the features that a creator needs, including Download Enrolments & Member data, Bulk Member Uploads, Bulk Course Enrollments, Course Clones, etc.
FreshLearn's pricing is significantly cheaper than Podia and Kajabi and almost all other online course creator platforms.
FreshLearn pricing plans are affordable and feature-rich.
FreshLearn is a platform that provides a Gamification feature that has been proven to help secure better results in the learning process.
FreshLearn provides abundant features like unlimited blogs, paid online courses, membership sites, masterclasses, and unlimited paid enrollments in their Free Plan itself.
FreshLearn supports embedding different video players such as YouTube, Vimeo, Amazon S3, and Google Drive, which many online course creator platforms fail to keep, Kajabi and Podia included.
FreshLearn provides 24x7 end-to-end live support for its creators.
FreshLearn provides Free content migration services for its creators.
The platform has three simple pricing plans:
Free Forever Plan at $1+9% commission
Pro Plan at $25/month and 0% commission
No Brainer Plan at $41/month and 0% commission.
Podia vs Kajabi: Final Verdict
FreshLearn is continuously creating an impactful and worthy community of learners and educators who will empower the platform to reach its full potential.
FreshLearn brings together like-minded people from all walks of life, providing opportunities for business collaboration and promotion through creator spaces.
In addition, the platform offers access to an engaging learning environment allowing both students and creators to interact and contribute to the community. FreshLearn aims high, and the improvement of the platform is continuous and user-centric. It provides an open, creative, and collaborative environment for young minds to engage in an interactive learning process with the most effective medium of expression - the Internet!
You might also like
Hosted by