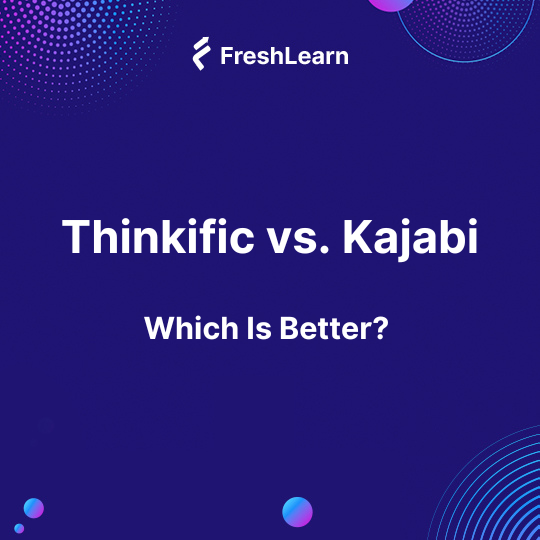 Thinkific vs. Kajabi: Which Is Better? (Updated 2023)
Thinkific vs Kajabi comparison: Learn which online course platform can scale up against the rising expectation of content creators. Also, get your free trial on FreshLearn!
Thinkific and Kajabi are two popular course creation and management platforms that allow instructors to monetize their unique skills and knowledge through courses and learning programs.
However, creators in 2022 need online course creation platforms that support various formats, from videos, audio, Masterclass, and PDFs to animations and games or quizzes.
They should also have the ability to support webinars, live chat, file sharing, and discussion forums so that students can engage with their instructors and each other in fruitful discussions.
However, more than the typical expectations of these online course platforms, creators now expect a truly customized experience they can provide for their audience.
FreshLearn does exactly that and more. But, first let's see how Thinkific and Kajabi compete against each other and FreshLearn, to help you make an informed choice.
Thinkific vs Kajabi vs FreshLearn - Comparison Checklist
What is Thinkific?
Thinkific is one of the older online course platforms founded in 2012. It is a comprehensive online course platform that enables content creators to use their proficiency and skills to build an online course business.
Thinkific helps creators create, manage, market, and sell their unique knowledge on any topic through courses.
Benefits of Using Thinkific
Thinkific provides its creators with unlimited enrollment options in their paid plans.
The platform supports various content formats to build courses, including video and audio courses.
The platform also has a feature that automatically generates course completion certificates for students.
Thinkific has a 0% commission rate, making it one of the few learning platforms that do not commission its creators.
Disadvantages of Using Thinkific
Thinkific lacks various top-rated monetization features such as Masterclass or Newsletters.
It does not support embedding different video players, but it helps embed content from Amazon S3 or Google Drive.
The platform's advanced features like unlimited communities and white labelling are only accessible on its Premiere plan, costing a whopping $399/month.
Thinkific's pricing plans are complicated because of their Growth Add-on package that charges as per the number of active students.
It does not provide live chat support on any of its plans, unlike some better Thinkific alternatives.
Thinkific differentiates customer support based on the creators' plan.
The platform also does not provide its creators with content migration support services.
Thinkific Pricing
Thinkific's pricing plans have a 0% commission rate, but several of its advanced features are only available on the Premier plan.
Free plan - $0
Basic Plan - $39/month
Pro Plan - $79/month
Premier Plan - $399/month
What is Kajabi?
Kajabi is one of the oldest platforms that has been enabling the creator community to sell online courses.
The platform provides features that help build courses, coaching programs, membership sites, podcasts, newsletters, and bundles.
Benefits of Using Kajabi
Kajabi supports the creation of courses that include different formats like videos, audio files, and documents.
Kajabi, like Thinkific, has an automated course completion certificate generator that automatically sends certificates to course completers.
The platform has a marketing automation feature that helps users easily create, send, and track their emails.
Kajabi does not charge creators any commission rate for its services. All of Kajabi's plans come with a 0% commission rate.
Kajabi offers email support for its creators.
Limitations of Using Kajabi
The platform fails to support the embedding of different video players in the course creation.
Kajabi lacks important monetization options, such as Masterclass, Newsletters, Digital Downloads, etc.
The platform has many limitations in its pricing plans based on the products, pipelines, contacts, and several active students.
Kajabi's pricing starts at $149/month. Here you can find some really wonderful cheaper and feature-rich Kajabi alternatives.
Kajabi does not offer a free plan for creators to test the platform.
The platform does not provide 24x7 live chat support to its creators.
The platform also does not provide concierge migration support services to its creators.
Kajabi Pricing
Kajabi pricing plans are based on usage limitations. This results in Kajabi's high prices compared to other online course creator platforms when the same features are provided.
The different pricing plans are:
Basic Plan - $149/month
Growth Plan - $199/month
Pro Plan - $399/month
Thinkific vs Kajabi - Which Course Creator Platform is Better?
Ease Of Use
Thinkific and Kajabi both have an intuitive drag-and-drop builder that makes creating online courses fast and easy.
Kajabi's templates are more extensive than Thinkific's and more targeted at particular stages of the buyer's journey.
While Thinkific is ideal for businesses that provide online education, Kajabi is probably better suited to new entrepreneurs for this reason.
The pre-sell, membership resource, mini-course, flagship course, and webinar replay templates are available from Thinkific, whereas Kajabi provides a variety of imaginative templates that could be used for various offers.
Free Plan
The main difference between Thinkific and Kajabi is that Thinkfic offers new creators a free trial which is very important for them when choosing a platform to work with. On the other hand, Kajabi fails to provide a free plan for new creators.
Features & Performanc
Although both Kajabi and Thinkific provide automation features to their creators, their services and features are different for creators who have subscribed to different plans.
Thinkific and Kajabi also do not allow the embedding of video players from different sources in their platforms.
Both Thinkific and Kajabi perform poorly against the expectations and demands of the creator economy. Both platforms have a minimal number of options for monetization. This stunts the growth of the business while also limiting its reach.
Course Builder
When it comes to Kajabi vs. Thinkific, both have straightforward and simple course builders. While Thinkific has a good selection of ready-to-use templates, Kajabi outperforms with better features and course delivery.
Migration Support
Thinkific and Kajabi do not offer concierge migration support services to their creators
Payment
Kajabi also does not have a 45-day wait policy before their creators get paid, unlike Teachable.
Payment Gateway
Kajabi offers creators more options to get paid, which results in more money being led back into the platform, while Teachable does not allow that service to its creators.
Payment Integration
Both Thinkific and Kajabi accept payments through all popular channels and have connections to Stripe and PayPal.
However, Kajabi's PayPal integration is more flexible, whereas Thinkific restricts your clients' use of PayPal to one-time-only purchases rather than subscriptions and other types of purchases.
Pricing & Commission
Compared to Teachable, Kajabi's plans are exorbitantly priced, starting at $149/month. However, both Thinkific and Kajabi have a 0% commission rate.
24x7 Chat Support
Both Thinkific and Kajabi fail to provide live chat support to their creators.
It is clear to see that Kajabi's pricing is more expensive than other education platforms, but does Thinkfic offer the best pricing plans for its creators?
It is no doubt a better deal than Kajabi, but this is where a new platform performs significantly better than these two.
Membership Sites
On paid plans, both Kajabi and Thinkific allow you to create a membership site. There aren't many distinctions between their subscription benefits.
But Kajabi continues to be preferable to Thinkific. This is because Kajabi offers you to automate the administration and operation of the membership site.
Community Feature
While Thinkific provides the fundamentals—the ability to divide classes into private groups and a simple data display for customer communication—Kajabi's student communication tools are more robust.
Course Marketing Features
Thinkific provides marketing resources for courses through a variety of channels, such as promotional codes, upsells, and specific landing sites.
For improved marketing campaigns, it also integrates with email marketing, automation software, and other business apps.
However, Kajabi's sales funnels are completely integrated and its native email marketing makes it an expert in marketing.
Using pipeline templates that are ready for use and segmenting pupils are other options.
A/B testing, landing pages, and coupons are just a few of the additional common marketing tools it provides.
Affiliate Program
Thinkific and Kajabi both have affiliate programs to help partners make extra money.
Thinkific's affiliate program is managed by a tool called PartnerStack, and once approved, you can market your content and make a 20% commission on all monthly or annual plans purchased by your subscribers.
Kajabi's affiliate scheme is more intricate. In addition to a 30% lifetime commission, you also receive unique benefits that are proportionate to your advancement.
Additionally, Kajabi enables you to design unique registration and affiliate sites.
FreshLearn - A Better Alternative to Thinkific and Kajabi
FreshLearn is a platform that provides substantial importance to learning and development within an organization.
It aims to create an environment where everyone can benefit from online courses, tutorials, and course websites. The goal is to make learning accessible, enjoyable, and sustainable for all users.
FreshLearn is an online course platform that is conscious of creators who are just starting and also those who have years of experience. FreshLearn enables creators to share their knowledge and expertise with the world while creating a business they can be proud of.
The platform offers many features, and it is constantly expanding the range of learning resources and knowledge sharing.
The number of skills, online courses, and tutorials available on the platform grows daily as creators contribute their knowledge and expertise. The platform does not aim for exclusivity but instead focuses on the quality of all course content available.
FreshLearn overcomes both Thinkific and Kajabi as better online course creation platforms.
Here's why:
Free Plan
The main difference between Thinkific and Kajabi is that Thinkfic offers new creators a free trial which is very important for them when choosing an online course platform to work with. On the other hand, Kajabi fails to provide a free plan for new creators.
Features & Performance
FreshLearn's features are more diverse and creator-friendly compared to Thinkific and Kajabi, which is the primary reason for its growing popularity amongst course creators.
FreshLearn provides several monetization features in Online Courses, Masterclass, or Digital Downloads.
FreshLearn supports embedding different video players such as YouTube, Vimeo, Amazon S3, and Google Drive, simplifying the student's learning experience, unlike its competitors.
FreshLearn also provides automated certificates for students after course completion.
The platform's content creation interface is more intuitive and user-friendly. FreshLearn has a dedicated YouTube channel to upload detailed videos that help creators set up their businesses.
Migration Support
This online course platform also provides Free content migration support for its creators.
Payment
Kajabi also does not have a 45-day wait policy before their creators get paid, unlike Teachable.
Payment Gateway
FreshLearn lets you integrate other transaction gateways, such as Stripe and PayPal.
Pricing & Commission
FreshLearn's pricing plans are affordable and feature-rich.
The platform has three simple pricing plans:
Free Forever Plan at $1+9% commission
Pro Plan at $25/month at 0% commission
No Brainer Plan at $41/month and 0% commission
Unlike Thinkific, advanced features like bulk student uploads and course enrollments are available in FreshLearn's No Brainer Plan at just $41/month.
24x7 Chat Support
FreshLearn provides 24x7 live support for its creators and is ready to help its creators with end-to-end solutions. two platforms
Thinkific vs Kajabi: Final Verdict
The goal of FreshLearn is to make it easy for anyone to create online courses and provide an innovative reward system that engages learners through gamification.
FreshLearn is all about empowering creators and allowing them to convert their knowledge into a business.
The platform offers multiple features, including course management, file uploads, quizzes and tests, instructor profiles, and customizable course pages with built-in affiliate links.
FreshLearn is a young and evolving online course platform with a large community of creators. With how well FreshLearn listens to creators' demands and implements them in the platform, it's a company with a big future ahead of them, and we can't wait to see how it grows.
Start your free trial now :)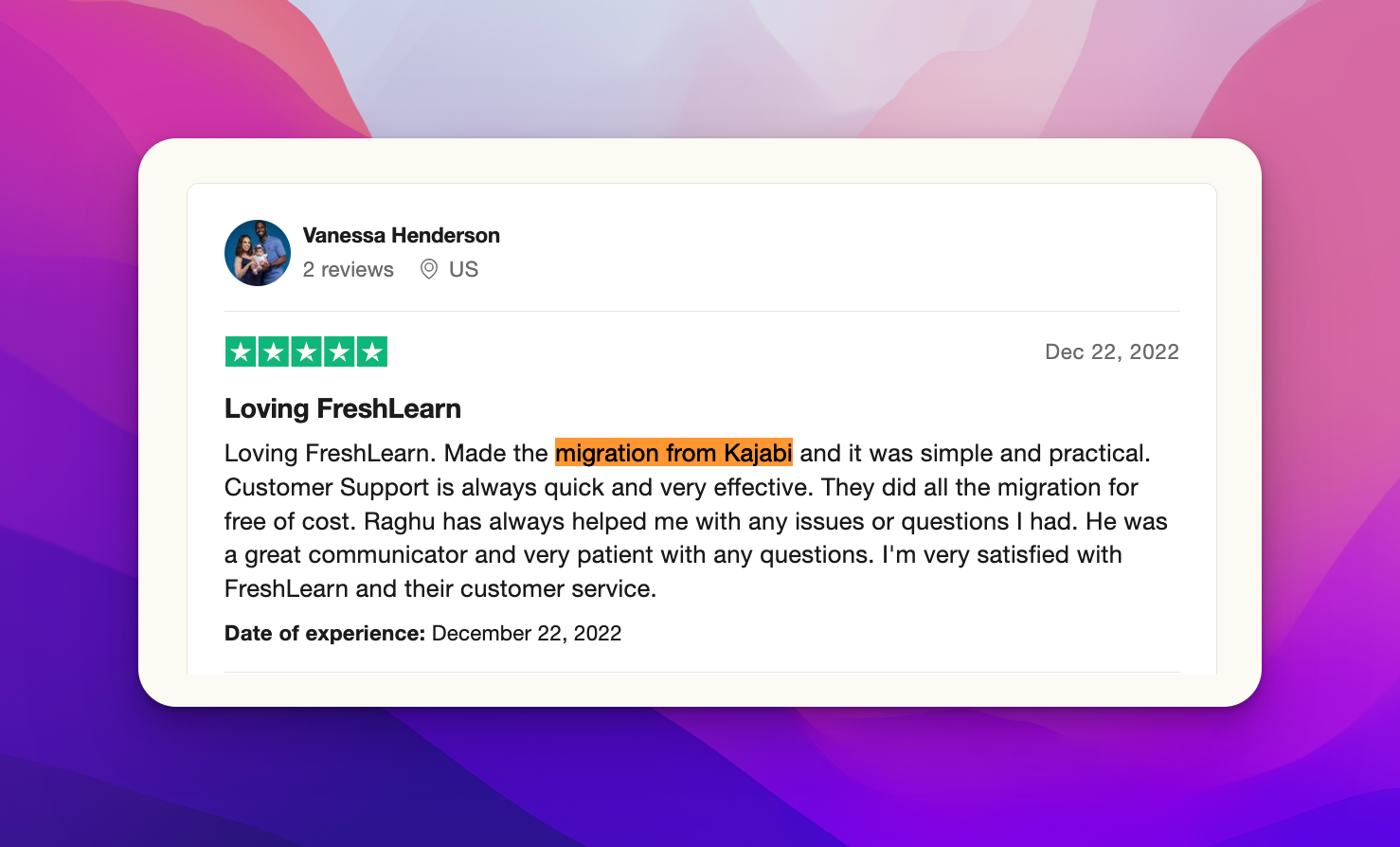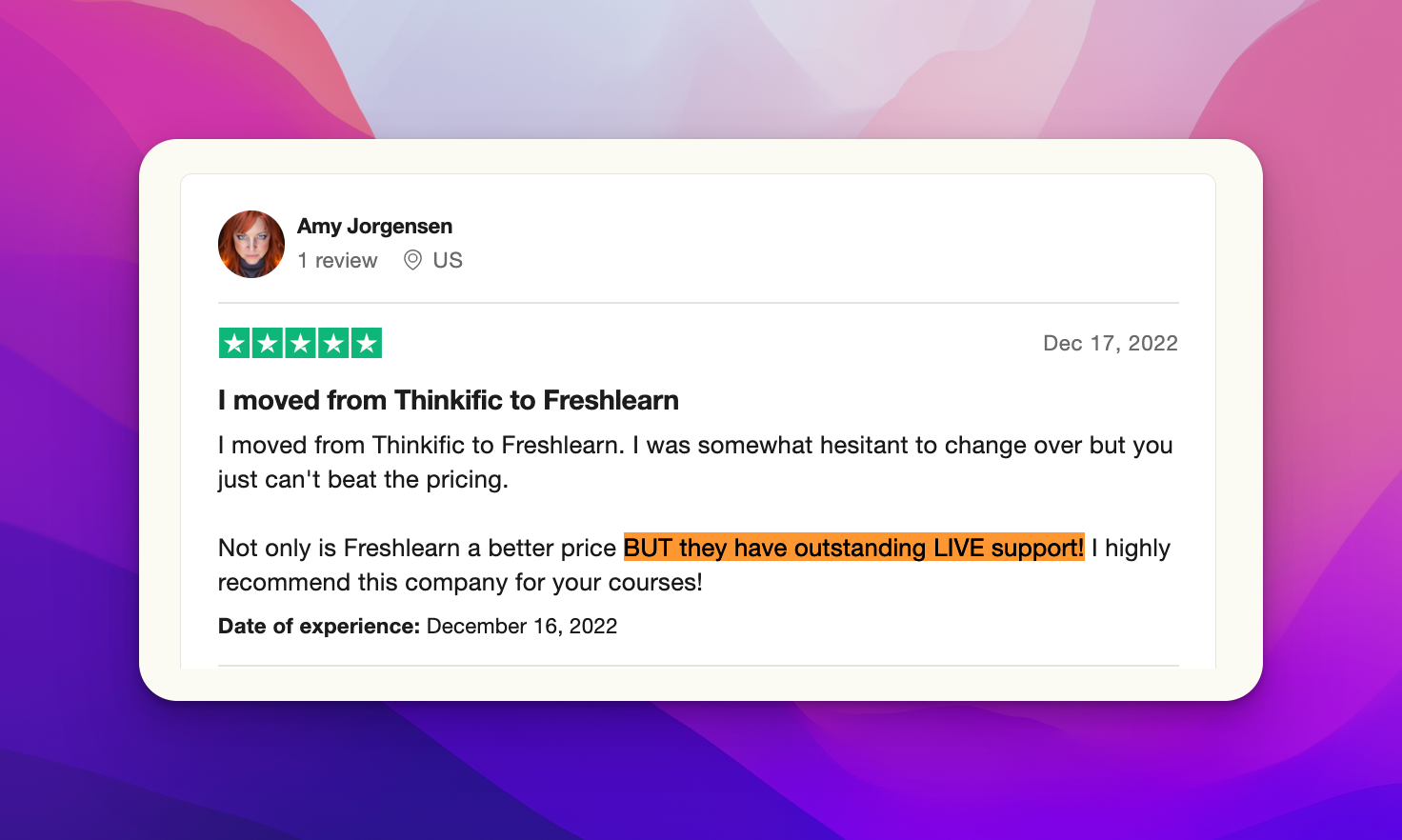 You might also like
Hosted by