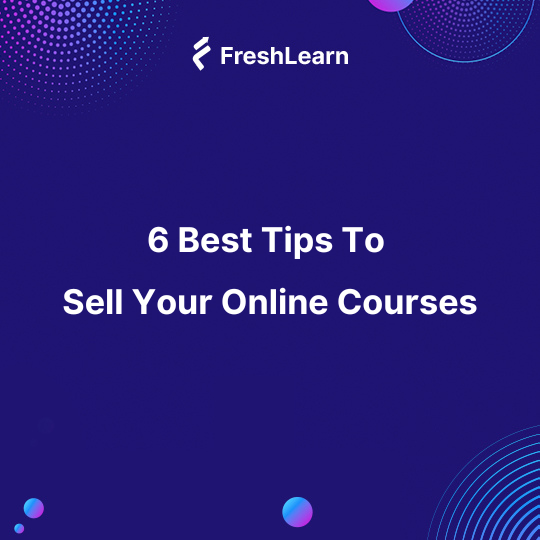 6 Best Tips To Sell Your Online Courses
Worried about navigating the twists and turns of online course selling? 😥 Fret not, because I've got the juiciest tips to make your journey not just worthwhile, but also a whole lot less tricky.
Statistics reveal that currently, around 41% of online learners are 30 years or older, while the top spot is still being held by 3 million+ high school online learners, much predictably.
This makes one thing crystal clear - although online learning has been around for quite a while, its market has skyrocketed right after Covid happened. And to add to the treat, it's estimated that the eLearning market will reach $840.11 billion by 2030! Isn't that terrific?!
Today, when the whole world has become hooked on the concept of upskilling right in the comfort of their homes, it's perhaps the best time to be alive for anyone with a knack for teaching. And the best way to start? You guessed it right - by creating and selling online courses! Let's check out 3 tip-top advantages associated with it.
Why Create An Online Course? Top 3 Benefits Of Selling Courses Online:
We all are well aware of the multiple coigns of vantage online learning has in store for the learners. But online teaching, that too via pre-written courses and handbooks, can also be superbly rewarding. Here's why you should give it a shot;
1. More money - It makes for an awesome source of side income
It's 2022. In this era, relying on a single income stream is not only foolishly brave but also futile, after a point. With every passing day, sustaining livelihood is becoming more and more expensive. And practically speaking, mutual funds and Fixed Deposits can only take you so far when it comes to financial security. So well, getting involved in a side hustle makes for a great choice as it largely aids your finances. Especially, selling online courses.
We're backed by data here - as many as 39.4%, of course, creators made up to $50,000 by selling courses on online course platforms. What's stopping you?
2. The ease of flexibility - You get to work right when you want to
Side hustles are great and all. But there are also quite a few logical dilemmas that stop most people from indulging in them for making more money. A side hustle, although opens a passive income stream for you, ends up taking away your flexibility and your spare time. But that's not so with this particular side hustle in question.
You can sell and get paid for your courses - just anytime, no matter where you are. If you've created an online course in the past, you can sell it again and again - as many times as you wish, by doing as little as lifting a finger!
3. You can probably start for free - Minimum or no investment is involved
The biggest edge online course selling has in comparison to most other side hustles is that it has no startup costs involved. From the time you begin ideating your course till you start building one - the costs are zero.
It's only when you head off to host your course on some online platform that the cost part comes into play. Popular platforms like Thinkific, Podia, and Udemy have structured pricing plans for pretty much all kinds of course creators.
But if you still feel the price may be a little too much to incur at the onset, you are just a Google search away from finding your ideal course platform for selling courses online at a cheap price. For instance, here are a few affordable Thinkific alternatives you should check out.
So don't sleep on this trend. Brainstorm, ideate, create, and sell online courses and encash your expertise. And if you don't know how to steer about it, here are 5 simple tips that will help you get started and grow your online course.
5 Clever Tips To Sell Online Courses Seamlessly: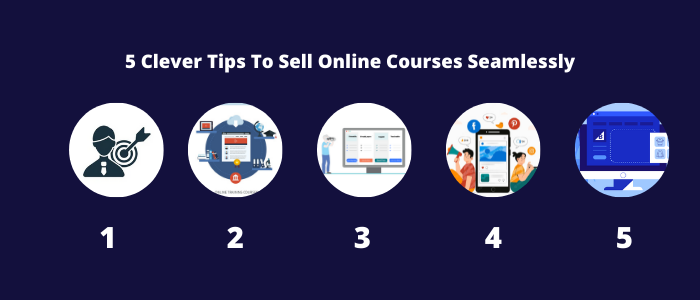 Now that you've made up your mind to start your journey of online course selling, it'd be criminal if we don't escort and introduce you to the basics. So before you head out, catch up on these 5 best tips to understand the ABCs of how to sell online courses in no time;
1. Niche down your audience:
A wise man once said - "the riches lie in the niches". And turns out, he was very right! When you create a course just for the sake of creating and selling one, you are blatantly turning down the immense treasure that niching possesses.
So here's a top tip - don't just shoot arrows in the dark, always niche down your target audience. Hear out their needs, understand what they want, how they want it, and what they're willing to pay for it, and then structure your course. Trust us, it'll sell like hotcakes!
2. Create a course that helps:
Some course creators only focus on sugarcoating their content with bluffy stuff to attract attention and create hype around it when it's only worth a dime.
And that's why such content never sells. Until and unless your course has some serious value-adding capabilities, it's hard to sell it to a larger group of audience. So, create courses that are nothing short of value-rich. Their demand is never-ending.
3. Pick the right selling platform:
There are hundreds of online course-selling platforms out there. But don't just go ahead and pick anyone. Remember, your selling platform also decides the fate of your course to a huge extent.
So choose wisely. If you sell courses on a specific subject, look out for platforms that specialize in selling such content type. In a nutshell, research all you can before finally picking one to sell online courses. (More on it ahead!)
4. Market your heart out:
If you're headed to sell without thoroughly marketing your course, you are riding a ship that's bound to drown. Without proper marketing, it's impossible to manifest your target market. So, don't hold back - use those marketing tools available out there to their best.
For starters, organic marketing works well. You can build an email list or optimize your social media handles for better reach. To further build your online presence, you can take help from paid marketing tools like Google Ads.
Remember, you've got to be strategic and never back down when it comes to marketing. Think lively social media campaigns, blog posts that show your expertise, snazzy video teasers, and even interactive webinars.
And guess what? There's a secret weapon you can use – Freshlearn. It's this cool online platform that helps you market your course like a pro. You can create eye-catching pages, figure out who your learners are, and even make your content super visible on search engines.
5. Offer coupons and other freebies:
Sometimes, your prospects just need a little nudge in the right direction and suddenly they're no longer your prospects - they're your customers.
All thanks to sales and freebies. You see, coupons, freebies, giveaways - these aren't just some free stuff that you offer to attract the attention of your audience. These are those clever tactics that never fail to ace the game when it comes to selling.
To streamline this process, platforms like Freshlearn offer seamless coupon creation and management, enabling course creators to effortlessly implement discounts and special offers.
Incorporating this strategy not only enhances the visibility of your courses but also establishes a more engaging and rewarding learning experience for your students.
So, offer free courses, giveaways, or maybe a few discount coupons to take your sales to chart up!
6. Build your own website:
A dedicated website provides you with a personalized platform to showcase your expertise, establish your brand, and engage potential students. Creating a website allows you to design an intuitive user interface, tailor the user experience, and effectively communicate the value of your courses.
With various user-friendly website-building platforms available, like Freshlearn, the process becomes even more accessible. Freshlearn offers a range of customizable templates, tools, and features specifically designed for online educators.
By harnessing the power of website creation, you can not only market your courses more effectively but also foster a sense of credibility and professionalism that encourages potential learners to enroll in your valuable online offerings.
How To Choose The Best Platform For Selling Your Online Course - 3 Killer Tips:
The "whys" and "hows" of online course selling have been sorted so far. But we believe, you must be wondering about the "wheres", aren't you? So last things last, here are a few tips to keep in mind before finally picking your ideal platform for selling courses online;
1. Check the features
Some online course-selling platforms are equipped with features so mind-blowing that it's hard to believe! But take it easy - when starting with selling courses online, you would want to get software that comes with some of the most basic, crucial features and no dreamy confetti. This may include features like easy scheduling, live sessions, some in-built marketing tools, etc. Remember - start basic, then sail along with the winds. Here's a list of 12 Online Course Platforms to help you!
2. Consider the pricing
Cost is crucial. When kicking off with selling courses, choose a platform that provides a free plan or offers a free trial. If you feel it works for your content type just right, stick with it. Otherwise, there are always tons of other substitutes available on the web, pretty much at the same pricing.
3. Understand the UI
The user interface is yet another touchstone you should be sure of before diving in. When choosing an online course-selling platform, ensure you go with the one whose UI is simple and easy to navigate. You'd want to check if the software provides easy course creation, setup, editing, and more. This might sound tiny, but it's crucial.
Wrapping up…
So, that's a wrap for the 5 best tips for selling online courses. But are we missing out on something yet? Yes, introducing you to the best platform to start selling courses.
FreshLearn is an online platform that allows you to create, share, and monetize your courses with ease. With advanced features that support different course formats and allow gamification - FreshLearn is your one-stop solution for earning big from selling courses for absolutely free!
So what are you waiting for? Visit FreshLearn's website and start encashing your courses today!
Hosted by