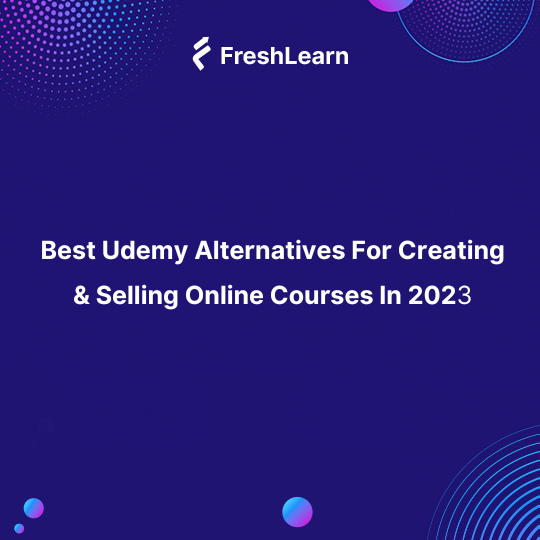 Best Udemy Alternatives For Creating & Selling Online Courses In 2023
Looking for the best alternatives to Udemy? Your search ends right here! Read this blog to find out all about the top 4 best Udemy alternatives.
Online education has grown to become a newly acquired learning practice in most parts of the world. And why not?
After all, it has broken down all the barriers of distance that used to rob so many people of the pleasure of learning something new. Today, we're all just one subscription away from entering a whole new arena of quality education and learning, right at our homes.
And to say that Udemy has been a pioneer in sparking this groundbreaking learning revolution won't be wrong. This single platform not only eased online learning but also instituted a scope for earning money through teaching online.
But today, Udemy isn't the only platform that facilitates online learning and online earning. Certain other online platforms are more advanced and diverse in terms of features than Udemy. So in this blog, we'll be discussing the 4 top alternatives to Udemy you must check out.
What Is Udemy? - Its Features, Pricing, Pros, & Cons
Udemy was founded in 2010 by three Silicon Valley inhabitants - Eren Bali, Gagan Biyani, and Oktay Caglar.
It is a Massively Open Online Course (MOOC) platform that hosts various online courses for learning. In layman's terms, Udemy is an LMS that allows its instructors to make money by creating and selling courses on the platform.
Trusted by more than 35 million users and 57,000 instructors, Udemy hosts more than 130,000 online courses for marketing, design, IT and software, data science, photography, personal development - literally everything!
But while most of them are free courses, some of the most popular online courses on Udemy can cost you as much as $150! So yes, making money on Udemy is not that hard.
Let's find out more about Udemy!
Udemy Top Features:
Advanced email campaigns - Another marketing tool provided to the instructors by the platform, this feature creates email campaigns for the instructors and markets their course on their behalf.
Course quality checklist - Udemy has an in-built quality checklist for courses that tests the quality of the course built by an instructor and ensures it is value-rich and professional.
Partnership promotions - Udemy promotes the courses built by its instructors on other platforms like LivingSocial and Groupon. This way, the courses are more likely to be viewed and sold.
Udemy also offers features like course marketing, retargeted ads, coupons, and discount code creation.
Udemy Pricing:
Udemy's pricing model for instructors is simple. The platform doesn't charge you any sign-up fee for teaching there as an instructor. However, it charges a commission on every sale that you make on the platform.
If you sell your course via your referral code - Udemy will charge you 3% of the sales value.
If you sell your course without your referral code - Udemy will charge you 63% of the sales value.
How Much Udemy Instructors Are Earning?:
On average, new instructors on Udemy make anywhere between $100 to $300 per month. But in some cases, instructors on Udemy have made more than $3,000,000 by selling multiple courses over a period of time.
Pros of Udemy:
Udemy charges a $0 sign-up fee from its instructors.
You don't have to be certified for teaching on the platform.
Instructors can create multiple courses at once.
Analytics and reporting functions are also available.
Cons of Udemy:
Depending on the promotion model, Udemy charges 3% - 63% of the sales from its instructors.
Udemy does not offer coming-of-the-age course-building features like drip content.
Their support model is limited with no telephonic or chat support available.
What Are The Best Alternatives To Udemy? - Top 4 Platforms
Here are the top 4 best Udemy alternatives you might want to consider if you want to take your course selling journey up a notch;
FreshLearn
Thinkific
OpenSesame
WizIQ
Udemy Alternatives #1. FreshLearn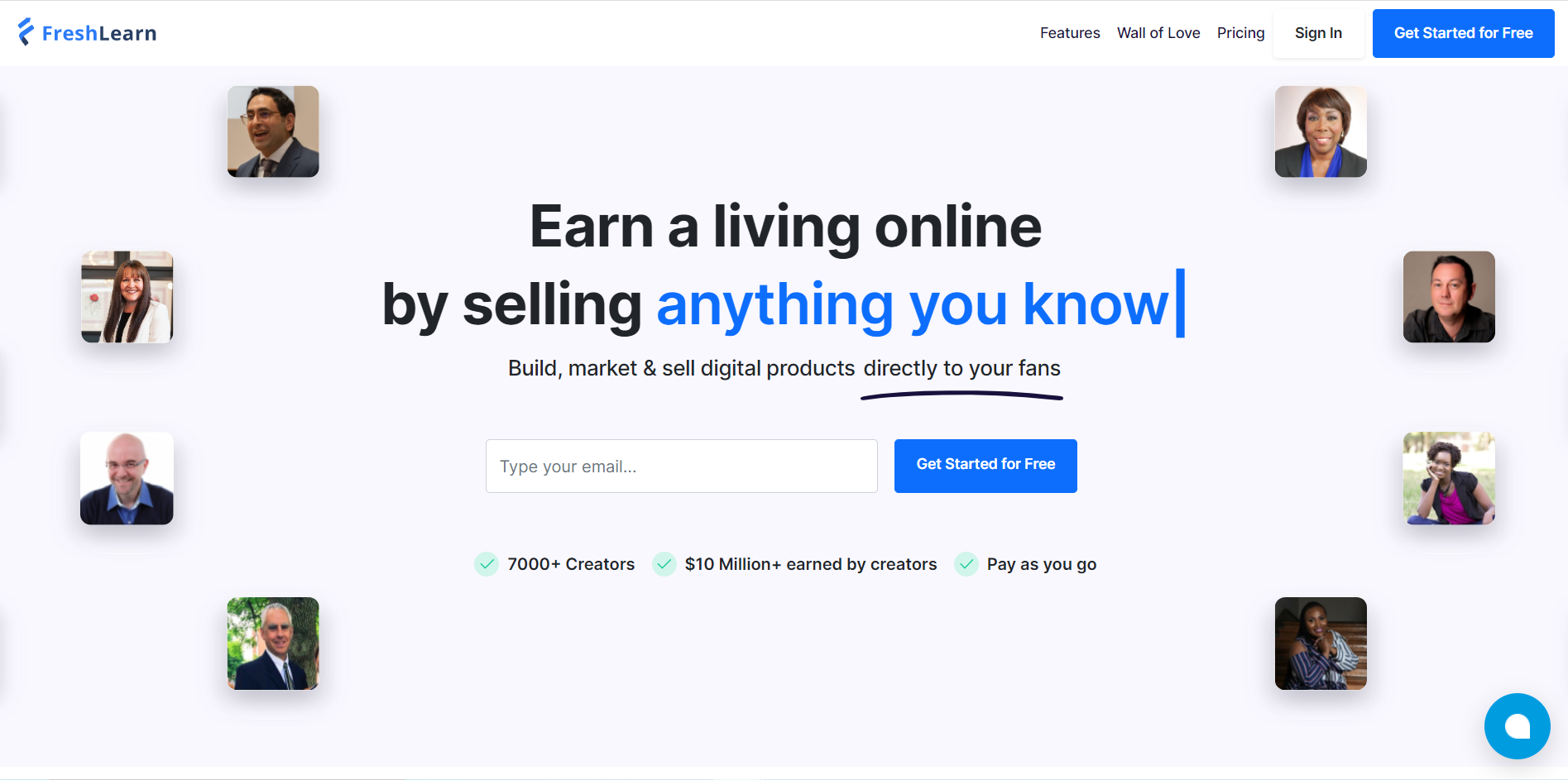 A relatively newer player to enter the world of e-course, FreshLearn is an online course platform that is a worthy alternative to Udemy.
And well, it's worth all the hype. FreshLearn comes with an array of stunning features that make creating and selling high-quality courses easy like never before. Whether you're into creative arts or computer science, with FreshLearn you can create any course you like!
Let's check out its features.
FreshLearn's top features:
No-coding platform - FreshLearn helps you create your online learning platform without coding.
Course customization - With FreshLearn, customize your course as you like. Not just that, you can also embed videos, quizzes, audio, and more to teach the way you want to.
Payment integrations - Stripe, PayPal, RazorPay - FreshLearn integrates with all these third-party platforms to ease your payments.
Membership site builder - FreshLearn can also build your membership site for you. Not just that, you can also create courses and coupons for your membership site through FreshLearn.
Drip Course Content - With the help of drip course content, FreshLearn allows you to release your courses in small bits to make learning more effective and methodical.
FreshLearn pricing:
FreshLearn has a holistic pricing plan that fits all pockets. For the basic features, you have to pay $0 - yes, that's right!
If you want to level up and get advanced features like White Label Domain, the "Pro" plan comes at just $25/month.
For access to uber-cool features like Gamification of courses, Bulk Actions, and Question Bank, you can get the "No Brainer" plan for just $41/month.
Pros:
FreshLearn has a super intuitive UI that makes it easy to use.
The platform allows the hosting of unlimited paid courses.
It lets you gamify your courses to make them more interactive.
Pay as you go - you don't need to pay until you make your first $.
FreshLearn allows the hassle-free creation of discount codes and coupons.
It offers complete account migration, taking care of all your data.
It is optimized for mobile devices too.
Provides 24/7 customer support.
FreshLearn vs. Udemy - Top 3 differences:
At FreshLearn, you are in charge of your course price but at Udemy, you have to follow their pricing rules and plans.
FreshLearn doesn't charge you any commission on sales whereas Udemy cuts 3% - 63% of the sale proceeds as a commission.
FreshLearn allows you to create drip course content but in the case of Udemy, drip course content cannot be built.
Udemy Alternatives #2. Thinkific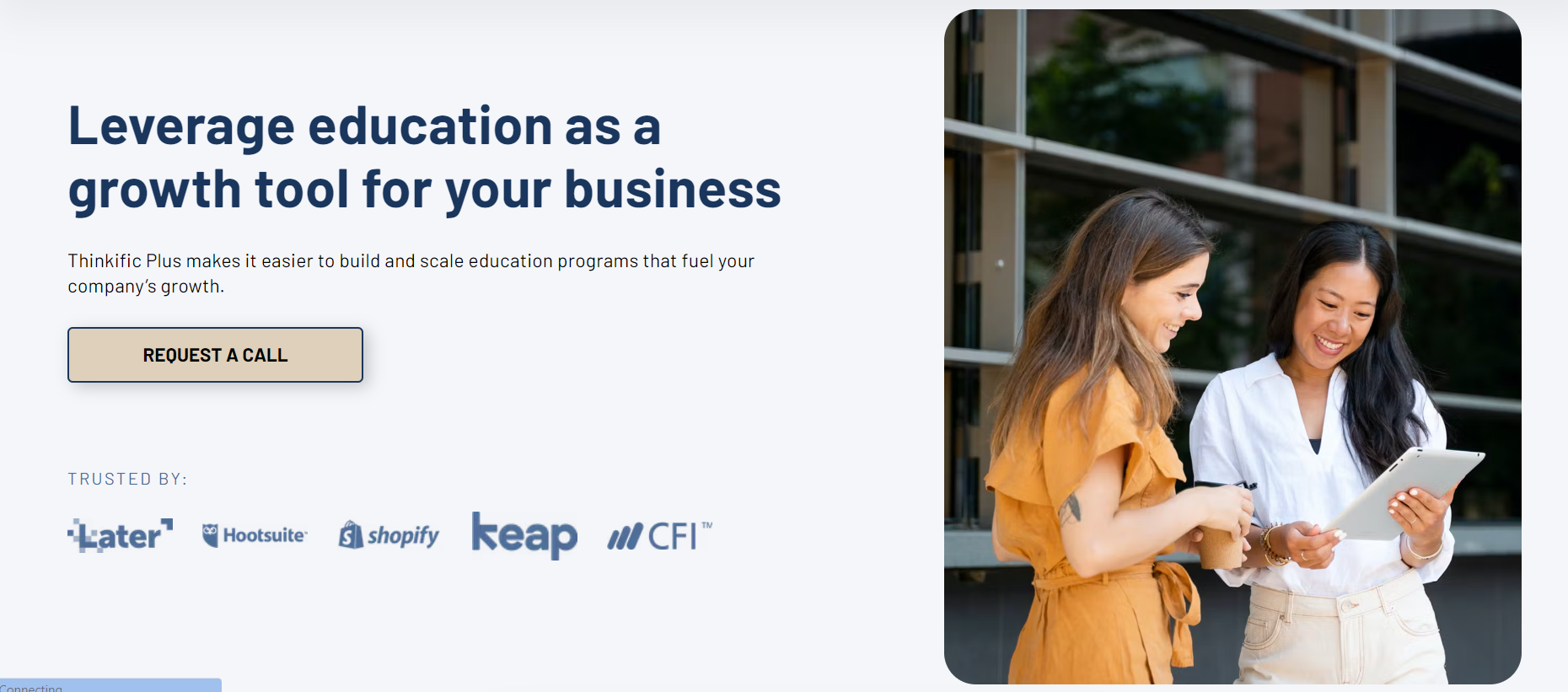 Thinkific is yet another popular Udemy alternative that has been around for quite a while. It has an intuitive, simple, and easy-to-navigate UI.
But most importantly, creators love this platform because it doesn't require one to be a tech geek to create and sell online courses here.
Let's dive deep into its features now.
Thinkific top features:
Drag and drop course builder - No matter what kind of online course you want to build, with Thinkific's drag and drop course building feature, it's possible. So whether you want to conduct live classes or send quick assessments - thanks to this feature, you can do so without having to struggle with the technicalities.
Custom site builder - If you've always wanted to create a membership site, let Thinkific guide you. Create a membership site with Thinkific and get paid for your premium courses.
Numerous payment methods - Thinkific offers multiple payment gateway integrations. This means you can use PayPal, Stripe, or other third-party platforms to make or receive your payments on Thinkific.
Thinkific pricing:
Thinkific offers 4 distinct pricing plans. To access its general features, you needn't pay anything - it's free.
But as you go up, there's the "Basic" plan that comes for $39/month, followed by the "Pro" plan at $79/month, and the "Premier" plan for $399/month.
Pros:
Thinkific handles everything - right from course creation to payment management.
It offers easy customization and branding.
Thinkific charges no commission/transaction fee for any sales.
Premium packages offer you to host multiple courses and enrol multiple learners.
Cons:
Thinkific has no course marketplace for marketing and selling the courses. Here are some best Thinkific alternatives to try out.
The platform has no inbuilt email marketing tool for the creators.
Thinkific's pricing for advanced features is expensive.
Thinkific vs. Udemy - Top 3 differences:
Since Thinkific is an LMS platform, you are the one who gets to decide the price of your course. But in the case of Udemy, you have to adhere to their strict pricing plans.
Thinkific offers drip course development but Udemy does not offer drip content.
Thinkific offers integrations with most third-party apps including PayPal and Zapier. On the other hand, Udemy offers no integration with any third-party platforms.
Udemy Alternatives #3. OpenSesame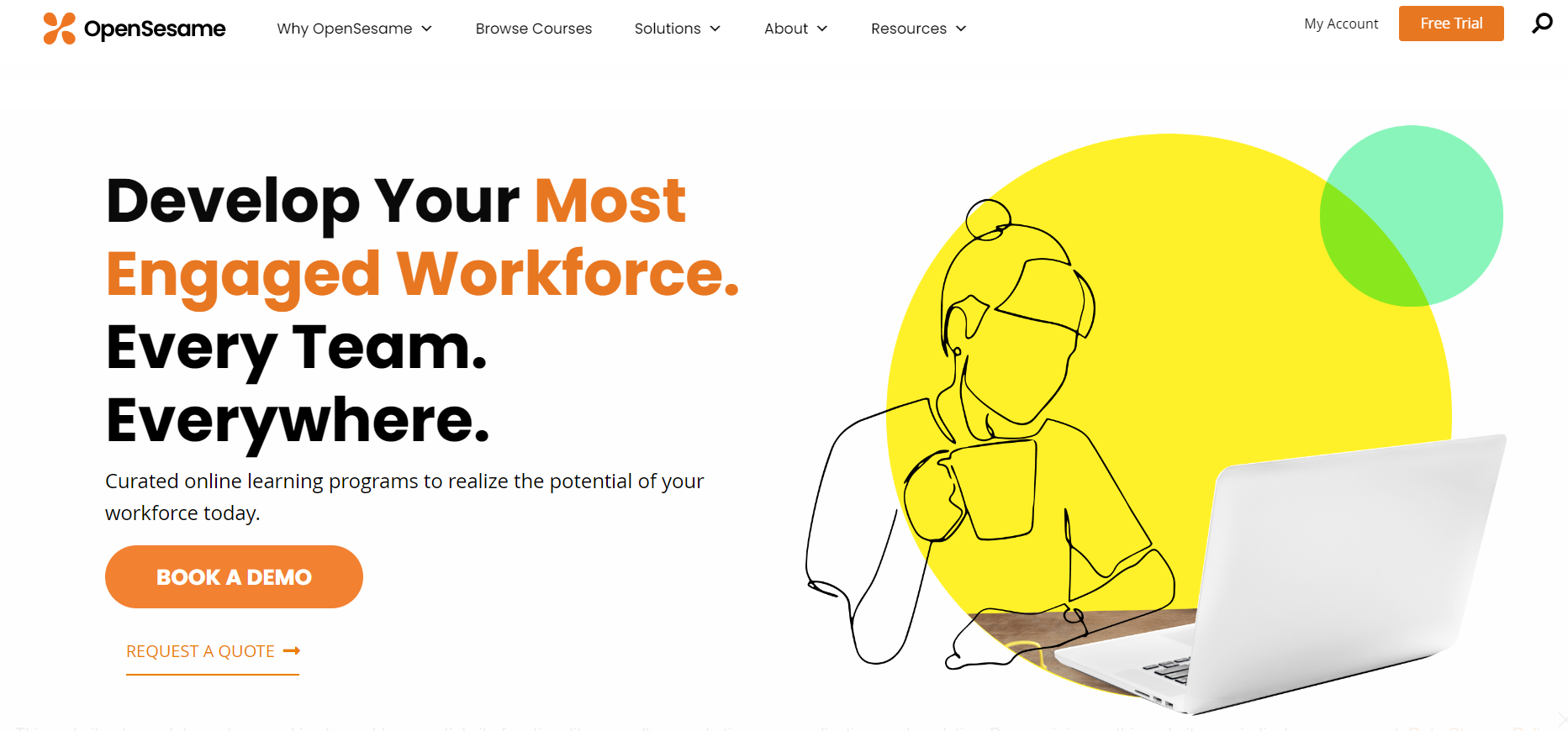 OpenSesame might not be an LMS like most others on the list. But it sure is a great platform for creators who are looking for a quick source of making money by selling courses.
With OpenSesame, you can easily upload your pre-created e-courses and sell them to your group's target audience without much hassle.
Let's take a look at its features.
OpenSesame top features:
Custom course creation - OpenSesame allows you to build custom online courses. This helps in creating industry-specific courses more efficiently.
LMS integration - You can sync OpenSesame with an LMS platform to easily upload more courses and track learner progress in a jiffy.
Blended learning - OpenSesame provides you with the flexibility to teach as you wish. With the blended learning feature, you can teach through video lessons, pdfs, assessments - anything.
OpenSesame pricing:
OpenSesame does not follow a subscription-based pricing model like FreshLearn or Thinkific. Rather, it charges a flat commission of 40% on every sale that you make through this platform.
Pros:
The platform is easy to use and extremely user-friendly.
It allows content management and course tracking.
Gamification of courses is also available.
Cons:
You cannot create customizable branding on OpenSesame.
No third-party integrations are available on the platform.
OpenSesame vs. Udemy - Top 3 differences:
OpenSesame is a SaaS platform whereas Udemy is an LMS.
OpenSesame is not optimized for mobile usage but Udemy can be run on iOS and Android devices.
OpenSesame does not have a free version whereas Udemy offers a free version to its first-time users.
Udemy Alternatives #4. WizIQ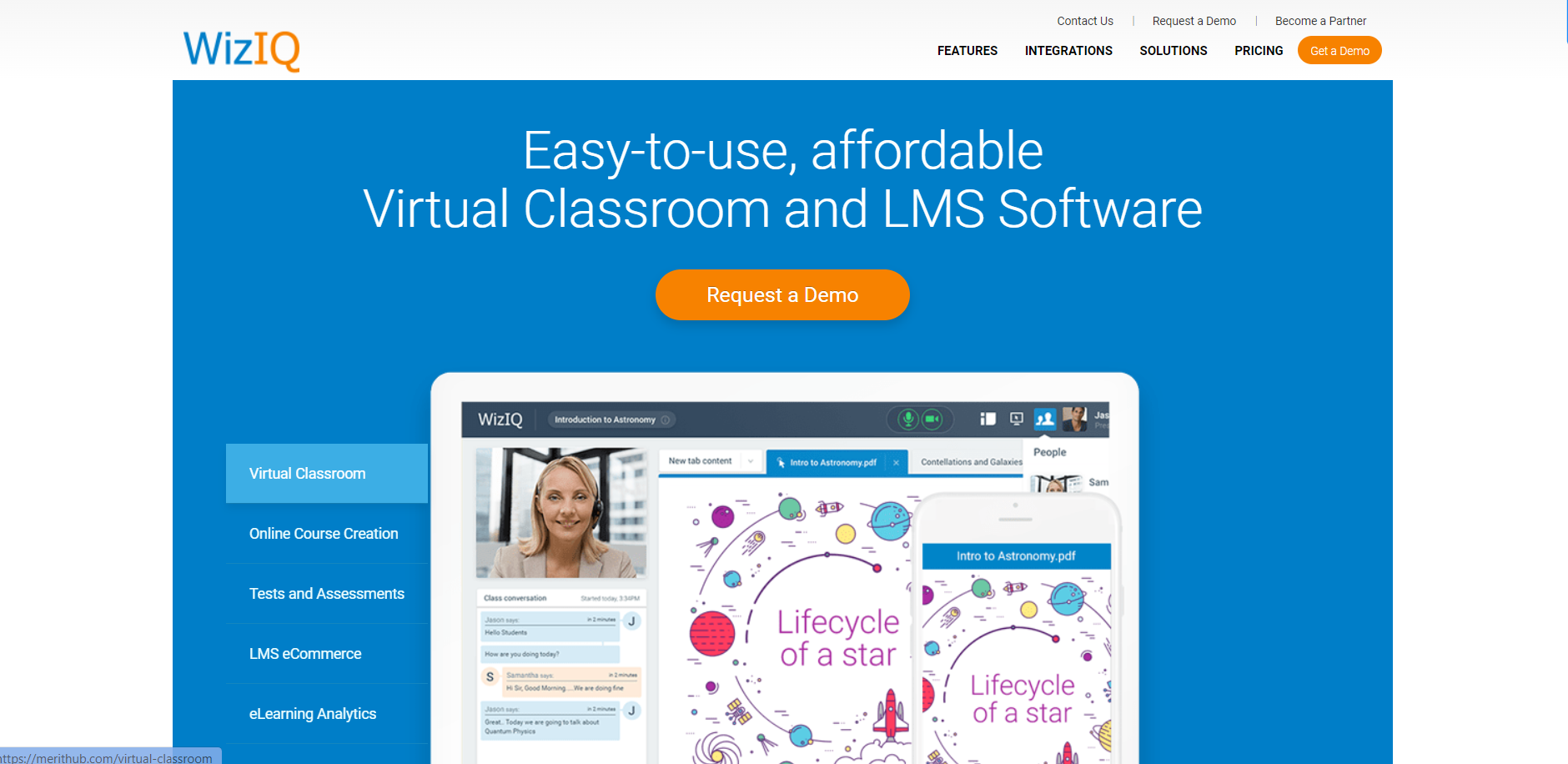 WizIQ is considered one of the best Udemy alternatives when it comes to a particular category of online courses - webinars.
Through WizIQ, you can effortlessly conduct live webinars in whichever form you like - audio, video, or slides.
Here are its top features.
WizIQ top features:
Live classes - Popular for webinars, WizIQ enables you to conduct live classes with features like live chat and video chat to make learning more effective.
Inbuilt eCommerce - The inbuilt e-commerce feature helps you in marketing and selling your courses to your preferred group audience very easily.
White labelling - WizIQ allows you to brand your existing WordPress online classroom. You can customize the interface of your classroom by creating a brand logo, colour, etc.
WizIQ pricing:
WizIQ offers a 30-day free trial to its users. Thereafter, the pricing starts from $25/month (billed annually).
Pros:
WizIQ has a separate marketplace for selling courses.
You can create multiple teacher accounts.
The platform also offers a cloud-based content library.
Cons:
You cannot upload content larger than 1GB size.
WizIQ's customer service is average.
WizIQ vs. Udemy - Top 3 differences:
WizIQ can be integrated with an existing WordPress website but Udemy cannot be integrated with WordPress.
WizIQ is not supported on Windows and Mac but Udemy does support Windows and Mac.
WizIQ does not have a free version but Udemy does offer a free version of its features.
Over to you…
Finally, you have seen all the pros and cons of Udemy and have also assessed its various alternatives. But, the question remains - which platform is the overall best alternative to Udemy? Well, your answer is - FreshLearn! Here's why;
An all-in-one SaaS platform that consists of every tool for making your course marketable, FreshLearn is a dream come true for every creator.
With features like white labelling, customization, drip content building, gamification, and much more - FreshLearn enables you to create, share, and monetize your courses and webinars like never before. So don't waste your time on any other platform now that you know about the best. Visit FreshLearn and start your free trial today!
You might also like
Hosted by