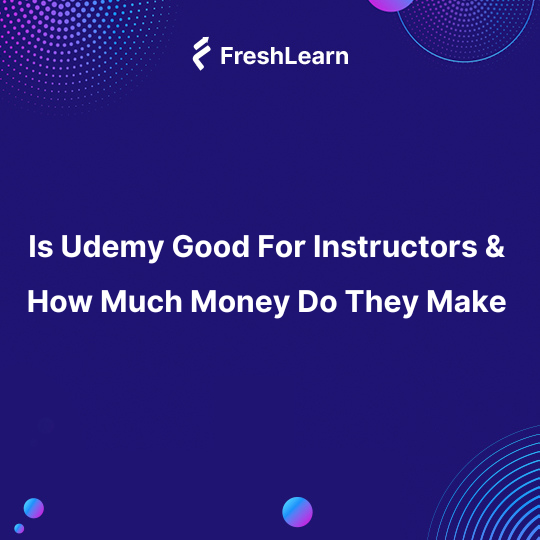 Is Udemy Good For Instructors & How Much Money Do They Make
Udemy is a popular marketplace for creating and selling online courses. But is Udemy good for instructors and their pockets? Let's find out.
Is Udemy Good For Instructors?
If you Google the term "best online course platforms", one name that is sure to pop up before your eyes are Udemy. And probably, ever since the trend of online learning picked up its pace, this has been so.
Udemy is undoubtedly one of the top platforms for learning new and professional skills. Whether you talk about the plethora of free and paid courses Udemy offers for learning enthusiasts, online courses and upskilling means… Udemy!
But what about the instructors? Is Udemy good and worthwhile for those who are to be accredited for its widespread popularity and credibility? Here's why this question should interest you if you are a creator too.
Udemy is a platform for end users. On Udemy, Instructors are just merchants from whom udemy earns 70% commission on each sale.
What Is Udemy? How Does It Work?
Udemy is a MOOC (Massive Open Online Course) platform. To state it simply, it's an online learning deck that aims to provide a free or paid course.
With over 24 million students and 80,000 courses, Udemy offers so many courses across all genres possible - technology, arts, science, business, personal and professional development, and even pet care! Everything is taught to you through a series of lessons, either video or text. And that's not it.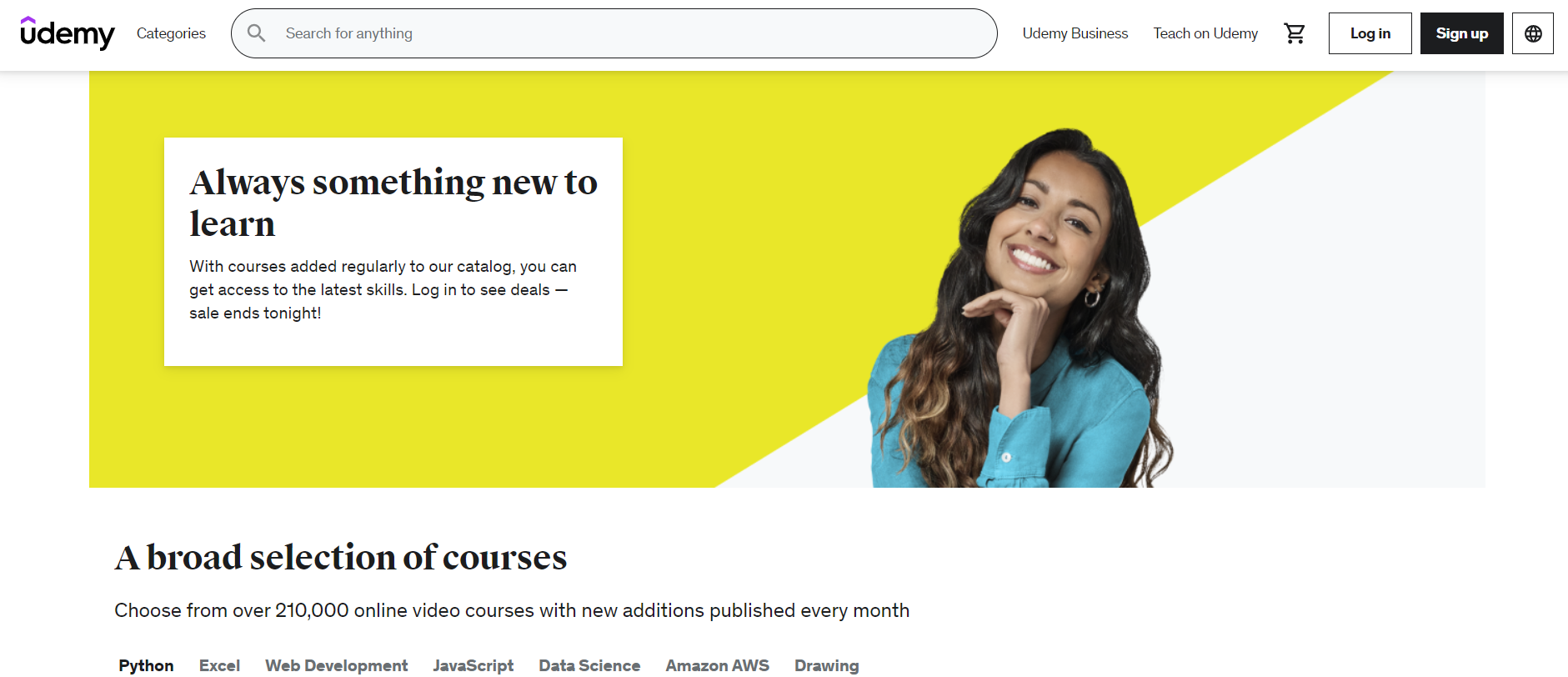 Being one of the trailblazers of online courses, Udemy has a few more feathers in its cap.
Most Udemy courses are available in more than 80 languages and accessible in over 180 countries across the globe. That's quite a milestone!
For creators, Udemy is a platform that serves as a medium for making money by creating and selling online courses. So before we dive deeper, let's understand Udemy a bit more here.
Udemy is a marketplace where anyone can publish their courses and compete against 80000+ courses for sales. Ofcourse you will get sales but then the marketplace pressure neve lets you charge more than $10 for your course.
Is Udemy Good For Instructors - Everything You Should Know
On the surface, Udemy is considered a creator favourite for selling paid or free courses and making money. But ever wondered how exactly Udemy's pay structure for creators works? Well, you should.
So without further ado, here's spilling the beans on Udemy's instructor earnings to conclude - is Udemy good for instructors?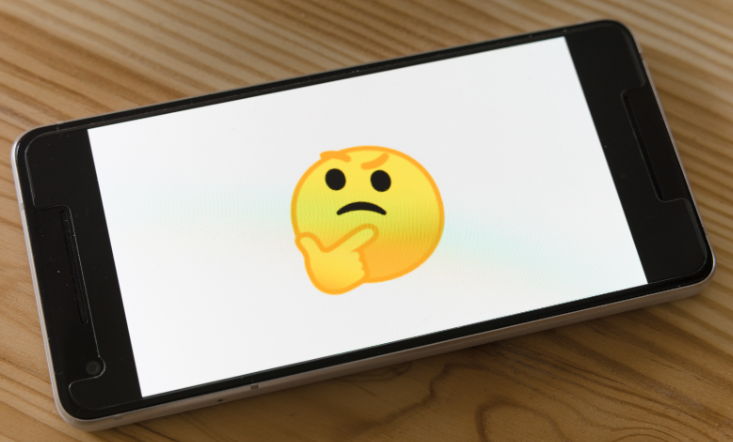 About Udemy's Instructor Pay Structure:
Udemy follows an elaborate pay structure for instructors. There are two ways to monetize your own courses on Udemy:
By becoming an instructor on the platform
By joining Udemy for Business
Let's break down each of them;
Model 1: Instructor on the platform
In this model, the instructor will get only a 30% commission when the course gets bought by a student. Udemy gets 70% and as an instructor, you get only 30%.
Let's do the math here:
On an average, all the courses are priced < $10 because of the pressure from the marketplace. So you will get $3 for every sale of your course. No minimum sale is guaranteed by Udemy
Model 2: Udemy for Business Instructor
Next up is a relatively newer approach introduced by Udemy. When you join Udemy for Business as an instructor, you get paid monthly. Yes, under this method of payment, instructors get paid depending on their learner engagement.
Every month, Udemy allocates 25% of its total monthly subscription revenue from the Udemy for Business platform towards the instructor revenue pool. So, let's say if 5% of Udemy Business courses' engagements came through your courses, you will receive only 5% revenue from the pool.
However, not all instructors are eligible to join this program - it's based on an "invitation-only" model.
So well, we might as well say that most Udemy instructors earn through selling their courses on the Udemy marketplace. But their actual earning potential depends on these questions;
Q1. How much commission does Udemy charge toward every sale on the platform?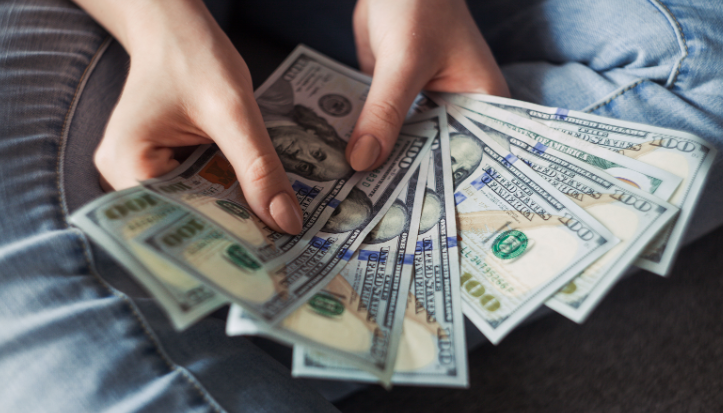 For the commission part, Udemy has three categories:
If a student finds your course directly through the Udemy marketplace, Udemy charges 50% of the sale proceeds as a commission. Moreover, you'll have to pay 30% extra to Google or Apple if that sale occurred on the Udemy Android or iOS apps.
Each Udemy instructor is given a unique referral code. So, if a sale occurs through your referral code, Udemy charges only 3% as a commission.
If you use Udemy's exclusive Marketing Boost service to market and sell your courses on the platform, Udemy will charge you around 70% of the sale amount as advertising cost.
Q2. Can the instructor control their Udemy earnings by tweaking the course price?
Instructors on the platform are surely allowed to tweak the course price. But there are two downsides to it;
You can only increase your course price by $5 at a time.
If you choose to sell your course at a higher price, you'll naturally be dropping yourself out of Udemy's discount and sales promotions. This means lower traffic and descending sales.
Q3. Can the instructor estimate their course's earning potential on the platform?
Yes but No.
Udemy offers a particular Marketplace Insights tool that lets instructors analyze their course niche and assess the amount of traffic and sales such courses usually generate but it all depends on the pricing you put on the course and the initial sales you get by putting a lot of effort yourself.
How Much Do Udemy Instructors Earn On Average?
While any Udemy instructor's money depends on the kind of traffic their course is attracting and the percentage of commission Udemy imposes on their course, it also depends a lot on certain other factors.
For instance, these are the top 3 reasons why a course on Udemy hits/flops;
Demand for the topic: Without a doubt, your course earnings as a creator depend on the course that you are selling and its demand. No two courses on any platform have the same intensity of demand. So well, even in the case of Udemy, your earnings largely depend on the demand your course niche has among students.
For example, courses on Python have a high demand backing them and so, the median monthly revenue such courses generate is anywhere around $28/month. On the other hand, courses with average demand like Personal Productivity are estimated to generate a revenue of only $16 or so every month.
The marketing efforts: Udemy conducts intensive marketing and promotion for all the courses that are listed on discounts on the platform. So this makes a difference in deciding how well your course does. Moreover, your marketing efforts also play a large role when it comes to assessing how much sales you are going to make in a month.
Your teaching ability: Most importantly, it all boils down to your expertise and teaching capabilities. If you create your course with all the knowledge, leaving no stone unturned, it will do well than other courses created on and around the same topic.
But the question remains - how much does a Udemy instructor earn on average? Well, by combining all these factors and taking into consideration Udemy's commission, you can say that an average instructor on Udemy makes only $100 - $300 each month.
Alternatives To Udemy For Earning More As A Creator
Wouldn't it be awesome if you can have your own branded online website where you can sell your courses and give out a 0% commission?
Welcome to the world where creators own everything.
Today, you can find online course platforms where in you can create and sell digital products online and no coding knowledge is required.
FreshLearn is an all-in-one creator platform where you can sell any kind of digital product online.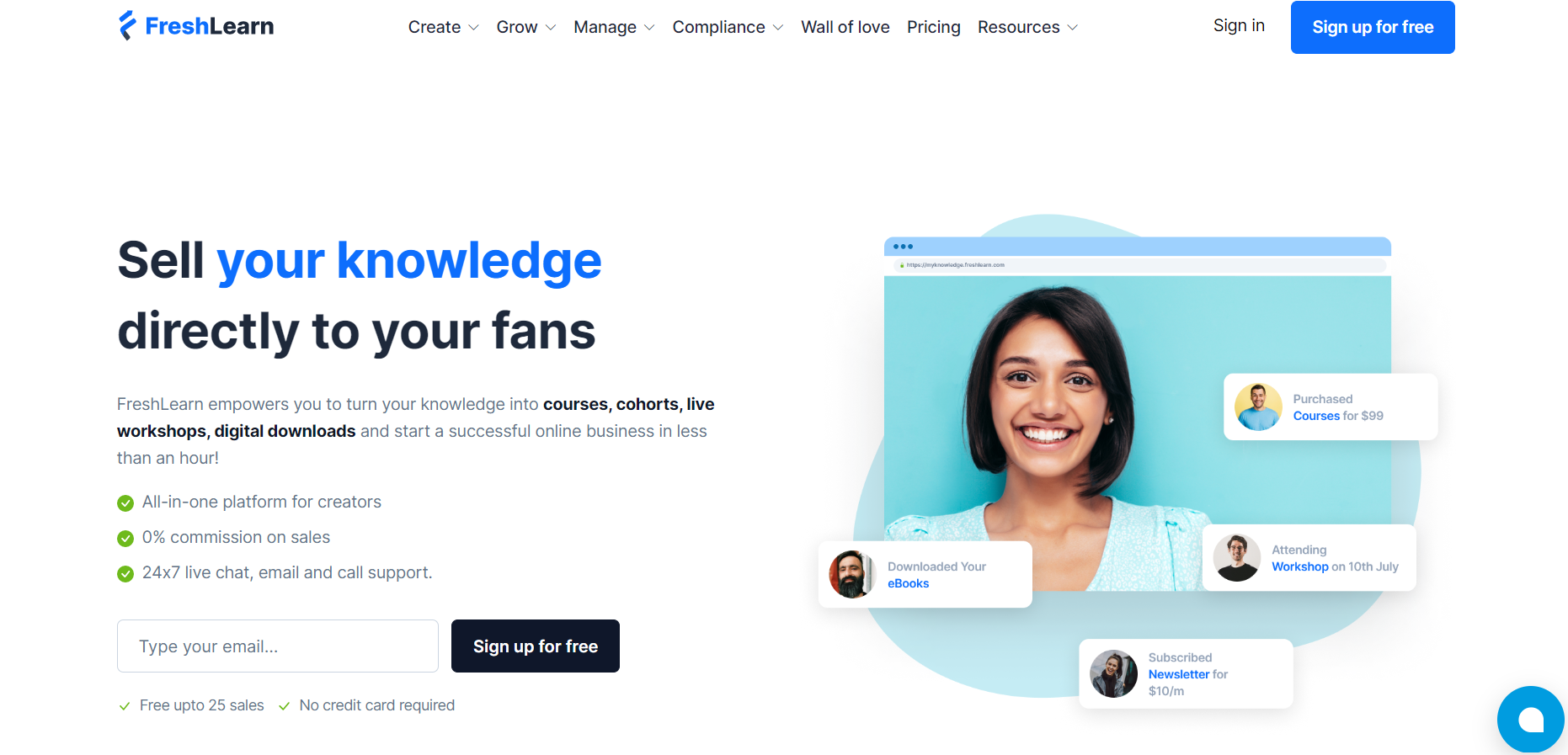 FreshLearn is trusted by over 13000+ creators worldwide in the shortest span of time. Some of the key differences between Udemy and FreshLearn are
Build your online learning platform with zero coding needs
Create content in every possible way - videos, drip course content, quizzes - anything!
Create memberships for your premium content
Market and sell digital products of all kinds
With many more exclusive features
At 0% extra commission!
Build your own brand.
So don't wait, start your free trial with FreshLearn today.
You might also like
Hosted by