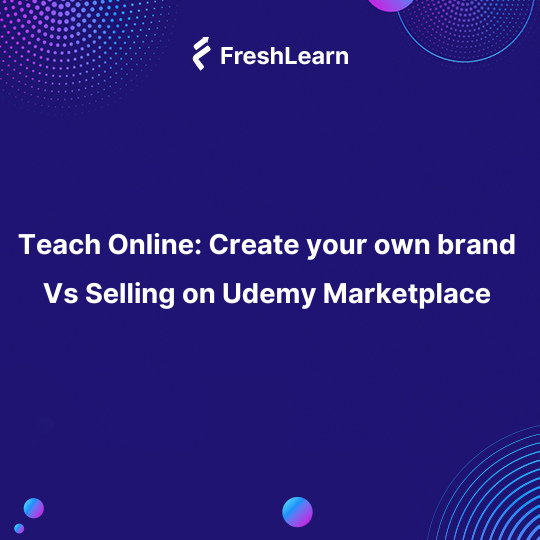 Teach Online: Create your own brand Vs Selling on Udemy Marketplace
The most popular choice seems to be Udemy MarketPlace, a beneficial platform for students. Is it as beneficial for teachers, too? Figure this.| Teach Online
"But, where do I begin?"
When you begin something monumental, this is always the first question. That's exactly what we plan to answer for online teachers who are new, as well as ones who are experienced and want to start a new course. So, hop on!
You might have heard varying opinions that have left you confused about which teaching platform to choose. The most popular choice seems to be Udemy MarketPlace, a beneficial platform for students. Is it beneficial for teachers, too? Figure this. There are individual courses on offer for as high as $1 billion and more on self-branded platforms such as Kajabi, Teachable, FreshLearn, Thinkific, etc. The opportunities beyond Udemy Marketplace are endless. Before picking your preferred platform, let's start by breaking down what you need.
Questions you need to ask before selecting the platform

Introspection is the beginning of any good decision, so let's try to dive deep into your personal requirements.
What is my objective for becoming an online teacher?
Do I see myself pursuing online teaching in the long run?
If yes, then how important is my personal brand to me?
Do I want my courses to sell purely on course content, or do I want my personal credibility to add to the course value?
Do I want a high level of customization or would I prefer things templatized?
Do I want to make my own personalized website, or just follow a template for the time being?
How much time and dedication can I put into my new course?
Do I want to create my own marketing strategy for the long term or leverage the hosting platform's reach?
Would I like my course design, structure, registration page, landing pages, payment mechanisms, etc. to all be customized?
Based on your answers, consider the following two options.
Online teaching marketplaces
Udemy is the Amazon of online courses. You are one of the thousands of sellers using Amazon's brand and platform to sell your services.
If your answers for most of the questions above lean towards templates, Udemy, or a similar marketplace might be a good choice. With such a platform, you get these features:
Your course content, pricing, and marketing are influenced by the marketplace's policy. There is a structure in place that you ought to follow.
You can leverage the reach of the marketplace and not work too much on your personal reach.
Udemy offers lucrative quizzing tools, mobile interfaces, worksheets, etc.
Self-branded platforms
Platforms such as FreshLearn are customization services that work like Shopify. They put you on the front foot and offer a chance to create your own digital store, price your course freely, have a personal connection with students via email and other platforms, cross-sell your other courses, and grow your brand on exactly the path you choose for it.
Some features that FreshLearn offers are:
Heavy on-course personalization
Ideal user journeys (fully customized)
Prompt quizzes and assessments
Custom domains for every course
Effortless payment unification
Smart third-party integrations (for marketing and reports)
Completely Whitelabel and re-brandable operations
Next-gen reporting and analytics (with insights about performance, cash flow, engagement metrics, detailed sales reports, etc.)
Support for solopreneurs and organizations
We will now pit Udemy Marketplace against the option of your own website on five crucial parameters, and then you can figure out the rest for yourself. After all, we aren't here to decide for you, but just to empower you with information.
Course content: Udemy vs your own website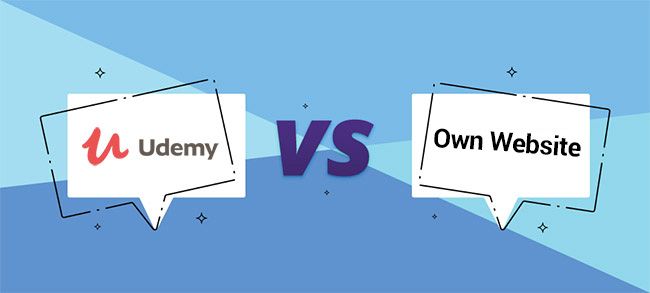 If you choose Udemy, you have to upload your course into a preset interface. You can use video, audio, and text, and add subtitles. This should make the process faster. However, Udemy also has a tedious approval system where you might get stuck with tiny details.
With your own website, you decide every single step of the user journey. You can embed videos from YouTube or other streaming platforms, as opposed to Udemy where you cannot link to any other website including YouTube. With FreshLearn, you can even have a custom domain for each course.
Course design: Udemy vs your own website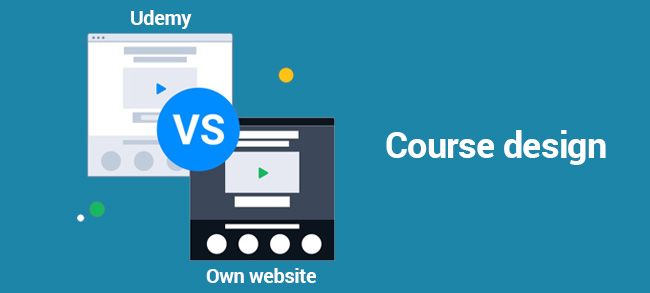 On Udemy, there is just one design that all courses follow. Your course content is the only thing that will set it apart. This works for some students as taking one course familiarises them with the layout and makes taking subsequent courses easier.
However, as a creator— and we mean it in the most artistic sense, (teaching is, after all, an art and not just a service) — wouldn't you love to give it a personal touch? You could turn the way your course looks, your logo, and your brand into additional selling factors. When FreshLearn says 'Whitelabel and Rebrandable', it means those words in every sense.
Pricing: Udemy Marketplace vs your own website
To give a fair picture of how pricing on Udemy works, let's look at a testimonial of a former Udemy instructor from 2019.
"Students that bought my course at the full price of $199 from my website felt cheated once they saw that they could get the same course on Udemy for under $10 – and understandably so. This misstep cost me thousands of dollars, not to mention countless hours that I had to spend responding to refund requests. Once I stopped selling my courses on Udemy, my refund rates dropped dramatically."
Your course can end up being valued much lesser on Udemy, without you having any control over it. Even if you aren't bearing the difference, such a valuation could hurt your brand in the long run. It is always more satisfying to create your own niche, be honest about your value, and earn what you deserve.
Sales and marketing: Udemy Marketplace vs your own website
On Udemy, you end up splitting half the fees you earn with the marketplace. Plus, you compete with a lot of other courses on the same subject, using the same interface. When Udemy marketplace your course with discounts, it is basically marketing itself more than you or your course.
Most of the platforms where you can make your own website have monthly and yearly subscription models, wherein you pay them once and then make unlimited courses for unlimited students within the timespan. You can use various options like PayPal, Stripe, etc. free of charge. You are also responsible for marketing your course and conducting the analysis. You have the freedom to link your website to tools such as MailChimp, Hubspot, Zapier, etc.
Customer support: Udemy vs your own website
Udemy has a huge list of FAQs, a ticketing system, as well as a chat option. However, you cannot directly call an expert. As a teacher, you are also not allowed to respond to or moderate comments. You can't ask for more information regarding a customer's complaint.
If you have your own website, you also have your own communication system. You can moderate comments, decide how you respond to complaints, and use email, call, chat, or any other means to resolve them. In a world full of consumers obsessed with 'personalization', what could be better than putting them directly in touch with you?
The verdict…
We're not going to lie, Udemy is a good place to test your course material. But when it comes to sustaining in the online teaching world, you will have to put in a little more effort. +
The day Udemy changes a feature or policy, you will be powerless. You own neither the audience nor your own offering, effectively limiting growth. With your own website, you will have limitless power and control to design, change, and update constantly.
Your website is basically your own boutique classroom minus the school's rules.
After all, it is always the teachers who shut textbooks and make their own rules who teach the best and remain in our minds forever.
FreshLearn lets you transform your knowledge into an online school. Start creating your online courses and launch your online academy in less than 60 mins.
You might also like
Hosted by