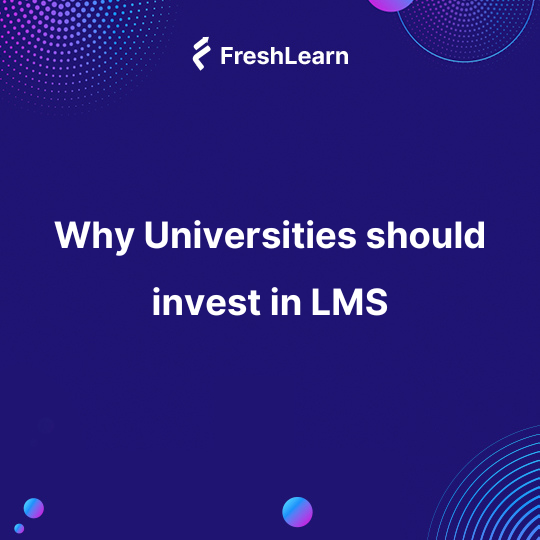 Why Universities should invest in LMS
"Education is the passport to the future, for tomorrow belongs to those who prepare for it today."

No industry in the world today is immune to disruption and the pandemic has taught us that they come unannounced.  This is primarily the case as the scale of technology adoption and information sharing across the world at the moment is a phenomenon that we have not experienced before, and is challenging every industry to up their game.
It seems that no matter which way you turn today, you hear of business owners speaking of 'disruption' in their industries. Whether you support it or not, any change can bring incredible opportunities to your business, but if you are reserved about adapting to disruptions in the marketplace, it can also lead to the demise of your business as there is always someone else ready to jump at the opportunity.
Our recent history has seen many industries be disrupted and scramble for survival in a changing world. Disruption is truly inescapable, but playing it safe amid it can also have quite unfavourable effects on your business. Let's look at some ways in which disruption has truly changed the functioning of an industry as we knew it.
Age Old Industries Disrupted in No Time :

Taxis were once the most cost-effective and the primary choice of transport for most individuals. But the taxi industry was overnight transformed with the arrival of Uber and the many other such companies that followed suit. Since then, we have never looked back, the way and the ease with which we travel have forever changed.
Shopping has been quite an important part of people's lives, an activity sometimes enjoyed solo but often with the company of family. The rise of the e-commerce industry and online shopping has completely changed not just our buying behaviour, but also our consumption habits! The pandemic further worked in the favour of the e-commerce industry where sales reached an all-time high of 18% contribution in the United States.
On-demand deliveries have changed the way the restaurant industry does business.  Back in the day if you were looking at ordering food from a restaurant, you would call them directly to place your order, and they would have their personal delivery executives deliver your items to you. When was the last time you remember doing this, if at all?
Nowadays, every company is trying to get into the delivery business model to add an additional revenue channel.
The travel industry was transformed with the advent of online booking portals, making the job of travel agents close to redundant. Newspapers have seen a steady decline in their circulation numbers as online news portals and blogs have consistently grown.
The hotel business, which was once the primary means of accommodation has been disrupted by the arrival of Airbnb and other such vacation rental sites.
The traditional television and movie industry has been overturned with the arrival of OTT platforms like Netflix.
We saw the Space industry getting disrupted when Elon Musk introduced reusable rockets for the first time.
Libraries have moved online, and the agricultural industry is witnessing more food being produced with the automation of certain processes. All in all, nearly every industry has or is likely to see quite a distinct disruption in the way they function, sooner or later.
The largest industry disruption we have seen recently has been that of the global education systems.
When the pandemic hit us this year, over 1 billion students around the world were sent home after schools closed their doors. While some lucky students have been able to resume their education, the struggle continues for the majority. A world that was already struggling with educational inequality is now dealing with something that is making it even worse by disproportionately affecting the most vulnerable sections of society.
This conundrum has led many institutions to turn toward Knowledge Commerce or E-Learning and initiate a process for them to go digital.
When adapting to this new normal, universities have tried to quickly evolve their digital tools and platforms to ensure uninterrupted access by students and learners to their knowledge base. Let's look at some ways in which universities are leveraging Knowledge Commerce and Online Learning to their benefit today-
How Universities are Leveraging LMS for  Online Learning
Offering Nanodegrees
Nanodegrees are really revolutionizing the world of skill training and easing access to jobs on a global scale. They are super flexible for students and generally focus on making students more efficient in a particular skill rather than knowledge sharing on a large scale. In nano degrees, students generally work with collaborative tools like blogs, microsites, video chats, etc, which makes learning easier for them through practice and dialogue.
The learning material in nano degrees is based on what skills are in demand by industries, making students who acquire them more in demand than others. Some large universities like Harvard Education and Columbia University have recognized the need to develop nano degrees to better equip their students, and have even made these courses available to a larger online community. The importance of nano-degrees is going to continue to grow in the coming months.
The One-To-One Online Model
While many believe that student-teacher interactions are far superior in the traditional education system, they fail to realize that way too many students sit in a classroom together which leaves no space for one-to-one interaction with teachers, resulting in students often falling behind in class. With online learning courses, students are able to learn faster, master more material that is at their fingertips, remember their coursework with more clarity, and actually enjoy the process of learning.
The best part about online learning is that it allows students to receive personalized attention from their professors which enables them to further succeed in life. Universities today have the advantage of adopting this model and refining it to best affect them in a positive manner
Increased Brand Reach
By opening up courses online and sharing their knowledge base with a larger audience, universities are taking advantage of increasing their brand reach as far as they can. When they offer cost-effective courses to people around the globe, more people are going to want to learn from them because of their great brand name. This also works in establishing these universities as thought leaders in the field of education as they can organize free guest lectures on specific topics.
The scale of this is honestly limitless!
Bridging The Gap Between Education And Employment
Online learning systems have been able to achieve one wonderful thing and that is the ability to bridge the gap between education and employment. One major drawback that educational institutions in the world were facing was their inability to keep up with teaching the skills required by various industries as their course plan took priority.
By introducing nano degrees, universities are making students better prepared and skilled with abilities that industries are really looking for, thereby increasing employment rates.
Research Made Easy And Accessible
The internet and education apps have made the process of researching course material and accessibility to the same so much easier. Nowadays students can highlight passages they want to refer back to in education apps and make annotations along the way instead of flipping through a book to hunt for course material.
Being online-based, they can literally search for whatever they need and come up with thousands of results for their query.
It has been quite amazing how educational universities, in the last few months,  have been able to adapt themselves to better fit today's times. The importance and relevance of Online learning and Learning Management Systems cannot be denied and they bring with them a plethora of benefits to the student community. Let's have a look at what some of these benefits are-
Benefits of LMS for Universities

Easy Access: Online courses allow ease of use as anyone around the world can access them. No matter where you are, your level of education, social background, or gender- none of it comes between you and learning. Cloud-based also allows students to access material from anywhere
Cost Effective: Online courses are not half as expensive as their traditional counterparts, which allows students to do as many as they like.
Self-Paced: There is no rush and students can take their own time understanding their courses. Not being pushed to learn as per a pre-planned timetable definitely has positive effects on students.
Flexibility: Online classes have the ultimate advantage of being flexible, which means students can take classes anywhere and anytime.
A Global Perspective
Students doing an online course come from across the globe and bring with them a range of perspectives helping enhance cross-cultural understanding.
These are just some of the benefits that adopting an LMS can bring for Universities and why doing so is of utmost importance, so universities can stay with the times. In the years to come, we are sure to see universities adopting mobile learning, AR and VR, and other learning tools as they get developed. All these will work toward making learning more engaging and robust for students across the globe.
You might also like
Hosted by