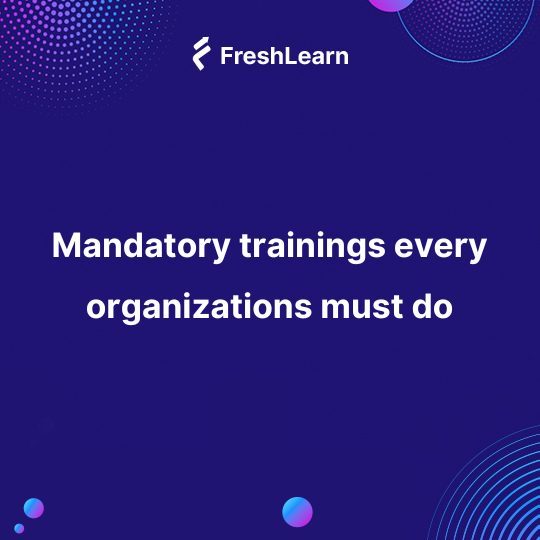 Mandatory trainings every organizations must do
Some lessons are learned in college, online, and in our workplaces. And then there are some that we learn when we join a new organization. | FreshLearn | Training
learning management system (LMS)Some lessons are learned in college, online, and in our workplaces. And then there are some that we learn when we join a new organization. These trainings are unique to that organization. They are mandatory for all employees so they can be onboarded into the organization in the right way. In this blog, we will talk about the five mandatory pieces of training every organization must provide to its employees. Let's get started!
Five mandatory pieces of training that every organization must do
1. Employee onboarding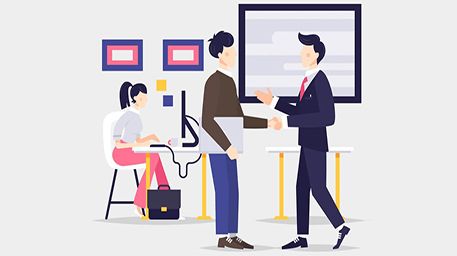 Do you know organizations that have an effective onboarding program retain 50% more new employees than organizations that don't? Onboarding programs are meant to introduce new employees to the culture, values, and rules of the organization.
The objective is to ensure that the employee is aware of the organizational culture before they start working. Onboarding is different from orientation. Unlike orientation, where only HR is involved in welcoming new employees, onboarding requires leaders from different departments to introduce their roles to the new employees. It is, therefore, important to structure your onboarding process in the right way. The absence of a well-structured onboarding program could lead to a high employee attrition rate.
2. Prevention of sexual harassment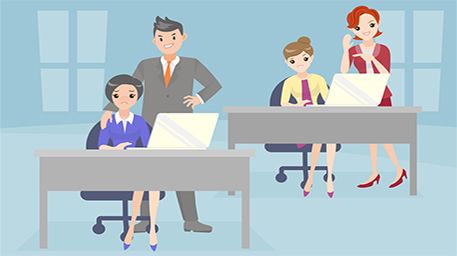 The Prevention of Sexual Harassment Act (POSH) is a law that safeguards women from sexual harassment in workplaces. The Government has necessitated every organization to implement this law. Training employees and creating awareness about this crucial law are important to promote safety in the workplace. It educates the employees about the steps to take in case of a mishap.
3. Compliance training: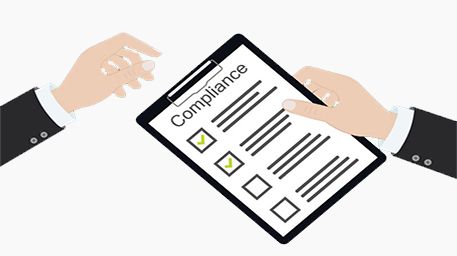 Every industry has to follow specific compliance rules to maintain the safety and dignity of businesses and employees. It is, therefore, mandatory for employees to undergo this training to ensure proper governance in your organization. Compliance training helps you to minimize risks and safeguard your reputation in the industry. The absence of compliance training may jeopardize the reputation of your organization and could also result in legal fines and revenue loss of up to $14.82 million.
4. Project-specific training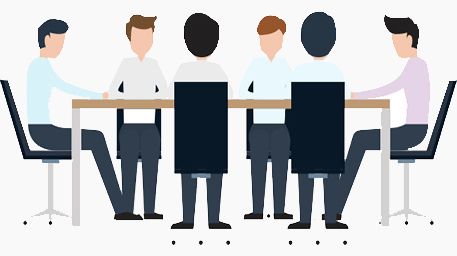 Project-specific training is provided for projects that require skills to solve specific business problems and goals. This training is mandatory for projects that need a specific skill set. Lack of training could lead to the failure of the project and can indirectly impact your reputation.
5. Acquiring future skills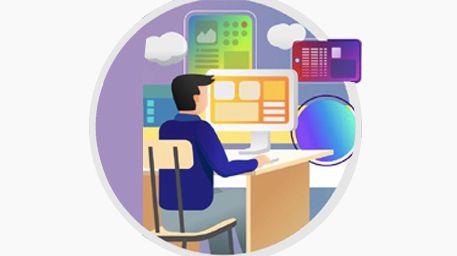 Technology and business needs, keep changing. Today, technology like Artificial Intelligence, Big Data analytics, are dominating boardroom conversations. The advent of these technologies is making employees anxious about their future in the organization. Continuous training is the only solution to this challenge. Training employees in future technologies will give them much-required job security. It will also encourage them to stay relevant in their chosen field.
How can FreshLearn help you in mandatory training?
Gone are those days when employees could spend a week or two acclimatizing themselves to the organization's culture. Today, organizations follow an agile culture. Faster go-to-market is their priority. In such a culture, spending two weeks in mandatory training would mean a loss of time and resources.
However, this training is equally important for the long-term performance of the organization. Without this training, organizations could face many problems in terms of miscommunication, misunderstandings, lack of transparency, and even a dent in the brand's reputation.
Given the need for training and the lack of time, the only way an organization can reach a mid-point is by using a learning management system (LMS). LMS enables you to build online courses that can be assessed by your employees anytime, anywhere, without causing any hindrance to their daily tasks.
Learning platforms like FreshLearn can help you to build a learning culture in your organization. You can create online courses in a few clicks and upload them to the LMS. You can even update the course according to the change in rules. It's that simple!
The Advantage of the FreshLearn learning platform is, you can:
Create courses with just a few clicks
Host videos, create a quiz, and even use gamification to engage users
Get the status of the courses and subscriptions in one click
Set up payments for the courses
Integrate it with your preferred systems to export data
Create mobile responsive courses
Embed videos, PDFs, Word documents, and PPTs as additional resources
Collaborate with other members and trainers via chats and comments
And offer certification to your members on completion of the course
FreshLearn lets you transform your knowledge into an online school. Start creating your online courses and launch your online academy in less than 60 mins.
You might also like
Hosted by