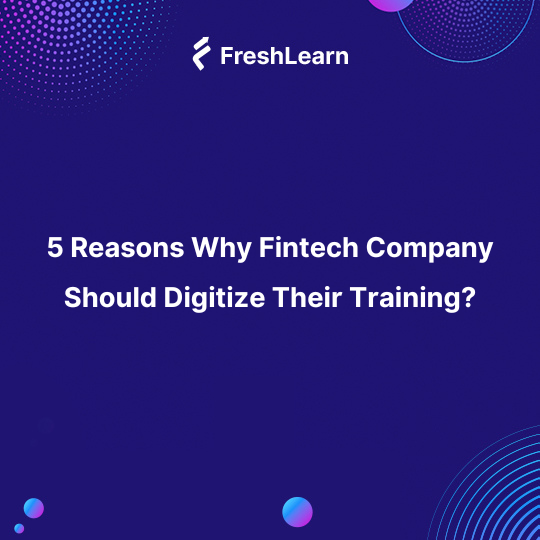 5 Reasons Why Fintech Companies Should Digitize Their Training?
FinTech is one of the most critical industries where compliance and others play and key role. FreshLearn helps in creating these courses in no time.
Fintech is a $109.8 billion market with more than 7,500 companies operating in the ecosystem across the globe. The fact that fintech leverages its technical prowess to offer quick financial solutions to customers as compared to traditional banks makes it a hot favorite among customers.
In fact, a study by Capgemini-EFMA revealed that 40.3% had a positive experience with fintech companies as compared to 37.1% with traditional banks.
However, the industry cannot rest on its laurels yet. As technology changes, they have to upskill their employees to align them to the changing demands of the industry. And in a highly regulated industry like finance where rules frequently change, complying with them is a priority.
Continuous training is, therefore, a necessity to stay ahead of the competition.
However, with the humungous volume of work, dedicating time to training can be quite a challenge for your employees.
That's when you have to leverage technology again; this time to offer digitized training to your employees.
Benefits of Digitizing Training
Apart from saving the cost of conducting training sessions for the employees in batches and giving them control over how they would want to complete their training; digitizing training can help your employees in multiple ways.
1. Roll out regulatory training in one go
Training your employees in batches can be a risk as everyone will not be on the same page while servicing the client. It is also challenging to get trainers who are fully aware of the rules to train the employees immediately.
Even if you get a well-informed trainer, coordinating with them and arranging batches can be a daunting task. Considering that you function in a highly regulated industry, it's crucial that every employee is aware of the new and updated regulatory practices as soon as it is rolled out so they can make well-informed decisions that are in line with the regulations.
With digitization, you can arrange online training with an SME for all your employees in one go, thus ensuring that everyone is aware of the guidelines they need to follow to adhere to the new and updated policies.
This will not just save you time and money on arranging frequent batches, but will also simplify the process of upgrading your employees.
2. Make employees job-ready within a short time
Onboarding new employees can take more than 2-3 weeks as you have to train them on the different tasks, processes, and policies they have to adhere to to be ready to start the work. Another 1-2 weeks are spent shadowing other employees to get acclimatized to the day-to-day operations.
While this might be an ideal process in traditional banks where there are a lot of resources to manage the workload; fintech companies are mostly startups and work in a fast-paced environment with limited resources.
It is, therefore, crucial to accelerate the onboarding process of the employees. The on-the-go nature of digitized training will help your employees to learn and shadow their peers simultaneously.
Employees can also test their knowledge after every module and revisit the lessons if required. The anywhere, anytime delivery of lessons will help the new employees to start the work within 1-2 weeks as compared to a month.
3. Improve the productivity of the sales team
With less time by their side, sales personnel often find themselves out of touch with the latest development in the industry. They understand that merely possessing persuasive skills is not sufficient for them to perform.
Sales teams need to upskill themselves and stay agile to sell better and quicker. Digitized training enables the team to upskill themselves and sharpen their capabilities on the go.
Online learning leads to better productivity and a better understanding of the customers and the industry. They can also save time on attending classroom lectures, yet keep themselves updated.
4. Empower the customer support team
The customer support team is responsible for delivering an excellent experience to the customers throughout the customer journey. Today, a customer will not think twice before posting a complaint on social media if they are unhappy with the service. Hence, it's important to empower your customer team to respond and resolve customer issues quickly.
Digitized training will enable your customer support to learn the various aspects of customer service and test their skills through gamification and other interactive activities.
5. On-demand, easy-to-access lectures
Time is money, and in a fast-paced fintech ecosystem, the most agile company closes the deal first. This leaves the employees with very little time to upskill themselves. Attending classroom lectures has become increasingly difficult, and even attending live online lectures regularly might not be viable.
Easy to access, on-demand lectures will let your employees access the lectures from anywhere, anytime at their convenience and pace. These lectures can also be downloaded for offline viewing, making it easier for the employees to access them whenever they want.
Digitized training is the best way to empower your employees and retain them in the company.
However, if the lectures are not well-defined, you might lose your money on the entire implementation of the training program without generating any substantial ROI. Hence, ensure that the lectures are designed well and aligned with your learning objectives.
Need help in implementing a Learning Management System for your company? Contact us for details.
FreshLearn lets you transform your knowledge into an online school. Start creating your online courses and launch your online academy in less than 60 mins.
You might also like
Hosted by