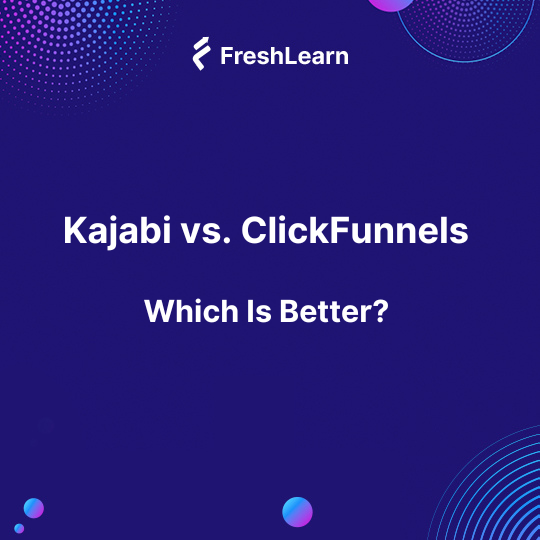 Kajabi vs. ClickFunnels: Which Is Better? (2023 Updated)
Kajabi vs. Clickfunnels: Which platform is better for content creators and how do they hold up against the rising demands of course creators?
Both Kajabi and Clickfunnels are platforms that focus on different things for different purposes and users, with some overlap.
Kajabi provides everything you need to create, market, and sell your skill set and knowledge. It is predominantly a course creation platform that provides marketing features to streamline the sales funnel.
On the other hand, Clickfunnels is more of a marketing platform that helps sell any product quickly. Therefore, it primarily functions as a marketing and sales funnel software that offers online membership and course creation features.
But since they offer course creation features, we will examine how these platforms stand against each other and the rising creator expectations.
The creator economy is rising in the last few years, making it profitable to sell courses and training programs.
However, as the creator economy has grown, the competition between platforms to have the best and most popular content has too.
Therefore, platforms need to focus on continuously improving the quality of their support and interface and developing new features that make learning more accessible and enjoyable for users to stay ahead of the competition.
Course creators have leeway in choosing their platforms, and they want one that offers the best possible experience for their end-users while helping them grow their businesses.
Creators have begun to understand that they cannot compromise on a robust platform that offers various features, personalization, and functionalities.
Creators want a user-friendly and feature-rich platform that helps them build an audience and sustainable online business.
Affordable and customizable attributes are also other essential factors that creators believe present platforms should offer.
There is no denying that the creator economy is booming, and creators and educators need to choose a platform that does the important features for them at pocket-friendly prices.
The platforms that focus on customer service, creating a great learning experience, affordability, and making it easy for creators to market their courses will be the ones that succeed in this growing economy.
Let's see how well Kajabi and Clickfunnels perform against each other, and the expectations creators and educators have for a course creator.
Kajabi
Kajabi is an all-in-one online course creator platform that helps creators and educators build an online business by setting up online courses and monetizing them.
Kajabi was founded in 2010 and is one of the older platforms in the segment. Kajabi provides features to build courses, coaching programs, membership sites, podcasts, newsletters, bundles, etc.
Kajabi also offers automated features that keep track of students' progress and lighten their workload.
Benefits of Using Kajabi over Clickfunnels
Kajabi allows creators to create online courses that include different content formats like video, audio, and documents.
The platform's marketing automation feature helps users easily create, send, and track their emails without learning complicated coding.
Kajabi has a feature to automatically generate course completion certificates for the learners and students after completing the course.
It also offers to build and maintain a membership site which allows you to create, manage and sell memberships in a single dashboard
It does not charge creators any commission for their services.
The platform also offers email marketing support for its creators.
Disadvantages of Using Kajabi
The platform fails to support the embedding of different video players, hindering a streamlined learning experience. In addition, it only allows the inclusion of content from Amazon S3 or Google Drive.
Kajabi's performance falls short when it comes to various monetization options. The platform lacks essential features such as Masterclass, Newsletters, and Digital Downloads.
The platform only integrates with Stripe and PayPal.
The platform has many limitations in its pricing plans. It limits the pricing based on the products, pipelines, contacts, and active students.
Kajabi's pricing plan begins at a steep $149. This is heavily priced compared to alternatives available to Kajabi in the market.
Kajabi does not offer a free plan for creators to test the platform.
The platform fails to provide 24x7 live chat support to its creators.
Kajabi does not provide concierge migration support services to its creators. Creators will be left to move their data manually.
Kajabi Pricing
Kajabi's pricing plans are based on their usage limitations. This results in Kajabi's plans being pricier than other platforms though they provide the same features or more at the same price.
The different pricing plans are:
Basic Plan - $149/month
Growth Plan - $199/month
Pro Plan - $399/month
Clickfunnels
Clickfunnels was also founded in 2014. Clickfunels is a platform that helps online business owners build better sales funnels in no time.
The platform empowers businesses and maximizes their profits and growth with more leads and sales.
Clickfunnels is a platform that focuses on sales and pipelines while creating online courses and building memberships are only thrown into the mix as an add-on.
It provides users with information to help create a personalized experience for customers and successfully tap into retargeting campaigns.
Advantages of Using Clickfunnels Over Kajabi
Clickfunnel's landing pages provide more categorization than Kajabi. In addition, a thank you page is automatically created with the landing page and users need no prior coding knowledge.
The platform provides course and sales funnel templates that users can customize with their branding and logo.
Clickfunnels integrates well with the sales funnel and third-party email service providers for autoresponder services.
Clickfunnels offers a 14-day free trial, so users can give the platform a go before committing to its expensive pricing plans.
Customers can reach Clickfunnels' customer support through emails, phone calls, live chat, filling out a form, and even scheduling a callback.
The platform offers its users useful analytics that helps to understand buying behaviour.
Clickfunnels integrates well with Stripe, PayPal, Authorize.net, Infusionsoft, and other major payment providers.
Disadvantages of Using Clickfunnels
Clickfunnel's pricing is very steep. The pricing plans and more expensive than Kajabi, which is a platform already considered to be costly.
Clickfunnels does not offer much in terms of customization for membership sites or course creation since it is not primarily an online course creator platform.
Clickfunnel's website is not transparent and is confusing to navigate.
The platform itself doesn't offer its users an email editor, email templates, or email analytics.
The platform also fails to offer an email marketing feature to its users.
The platform fails to support PayPal for one-time offers or one-click upsells.
The email autoresponder service is only available to users who have subscribed to the platinum level and higher, priced expensively at $297 per month.
Unlimited pages is also a feature only available to users who have availed of the Platinum plan and above.
Clickfunnels Pricing
Clickfunnels has three pricing plans, and the platform offers a 14-day trial for interested customers.
Basic plan – $127/month
Platinum plan –$158/month
Collective plan – $1,497/month
Kajabi VS Clickfunnels: Which Platform is Better?
The main difference between Kajabi and ClickFunnels is that Kajabi is much cheaper than ClickFunnels. For nearly $100 a month, Clickfunnels provides severely limited features and customization for its creators, especially for course creation. It also limits how many additional users you can register.
Though Kajabi and Clickfunnels are technically very different platforms meant for various purposes, it's not a long shot to say that Kajabi is the better online course platform. Whereas Clickfunnels is better as a sales funnel builder for online entrepreneurs.
Clickfunnel's performance falls short of providing important features such as email marketing. Kajabi, on the other hand, is a platform that was built specifically for online course creation.
It has all the features you could need to create, market, and sell your courses online.
Everything from automating email marketing sequences to providing powerful integrations with other platforms is included in Kajabi, as well as a wide variety of templates and designs to get your courses looking professional from the start.
Although Kajabi is a better platform than Clickfunnels, is Kajabi the best option?
The platform's prices are much higher than other platforms that offer the same services and features. Kajabi does not support embedding different video players and only integrates with a few payment gateways.
Being one of the most expensive platforms, Kajabi does not offer its creators concierge migration services.
If you are currently using a different platform for online courses, migrating all of your content to Kajabi can be difficult.
Kajabi's most significant limitation as an online content creator platform is the lack of unique features with a price point that far exceeds the worth of its services and features.
FreshLearn is a rapidly growing online course creation platform established in 2020. The platform helps creators monetize their online courses and set up businesses they can be proud of in just 60 minutes.
In addition, the platform has the most affordable pricing plans in the industry and offers creators a complete set of the necessary features in the free program.
Freshlearn aims to make online course creation simple and easy for everyone, regardless of experience or expertise. Best of all, Freshlearn offers some of the most comprehensive support in the industry, ensuring that creators have everything they need to be successful.
Freshlearn provides better features and services compared to both Clickfunnels and Kajabi combined.
Freshlearn's offerings as a creator-friendly platform far surpass other platforms. It is also the only platform that has implemented a gamification feature in its learning process.
In addition, the platform makes up for the many flaws Kajabi and Clickfunnels have such as pricing, customization, feature support, customer service, etc.
FreshLearn is the better alternative to platforms Kajabi and Clickfunnel because:
Freshlearn has a user-friendly content creation interface. The platform also boasts a YouTube channel with detailed videos that aim to assist its creators in setting up their online courses.
The platform provides essential monetization features like Online courses, Masterclass, or Digital Downloads.
FreshLearn's No Brainer Plan at $41/month provides all the features a creator needs, including Download Enrolments and Member data, Bulk Member Uploads, etc.
FreshLearn's pricing is significantly cheaper than Kajabi, Clickfunnel, and other course creator platforms.
FreshLearn pricing plans are affordable and feature-rich.
The platform has three simple pricing plans:
Free Forever Plan at $1+9% commission
Pro Plan at $25/month and 0% commission
No Brainer Plan at $41/month and 0% commission.
FreshLearn is a platform that provides a Gamification feature that is proven to make the learning process more effective.
FreshLearn provides abundant features such as unlimited blogs, paid courses, masterclasses, and unlimited paid enrollments in their Free Plan itself.
FreshLearn provides its users with the feature to embed different video players such as YouTube, Vimeo, Amazon S3, and Google Drive, which can significantly help streamline the learning experience.
It also provides 24x7 end-to-end live support for its creators.
FreshLearn as a platform delivers free content migration services for its creators.
Final Verdict (Kajabi VS Clickfunnels)
FreshLearn comes the closest to the rising expectations creators have for online course creation platforms.
It delivers an intuitive interface coupled with powerful tools for creating and managing online courses.
FreshLearn has everything you need to get started even the basic plan providing all the necessary features and comprehensive videos to help set up an online business.
FreshLearn is constantly evolving and actively taking creator demands into account. It is currently the best online course creator platform for creating and selling online courses.
With FreshLearn, creators can quickly and easily create professional-looking online courses that are engaging and effective. The features that the platform currently offers are just the beginning.
With only a few years under its belt, FreshLearn is already one of the best course creator platforms in the market today. And the best part? It comes with a free forever plan!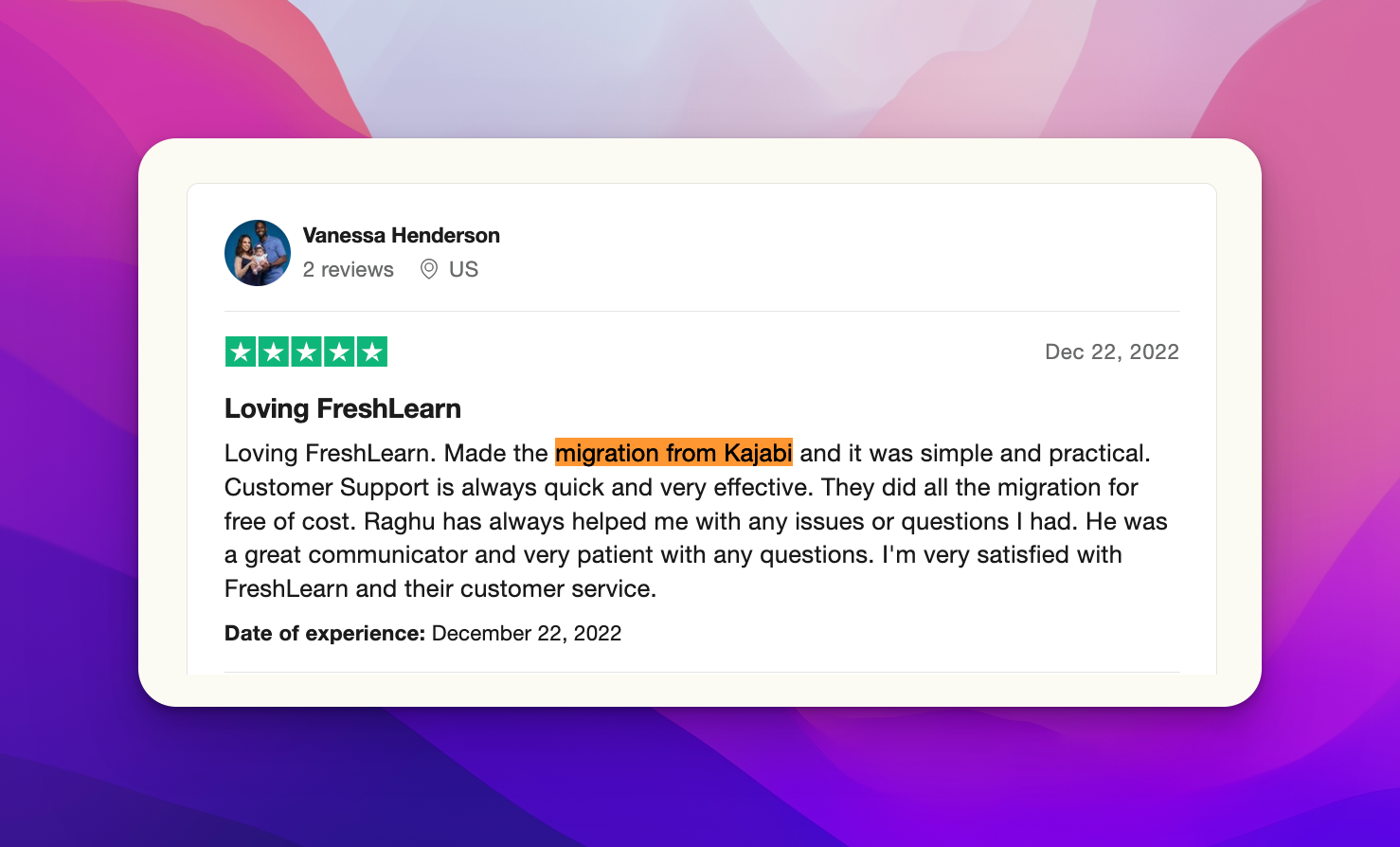 You might also like
Hosted by