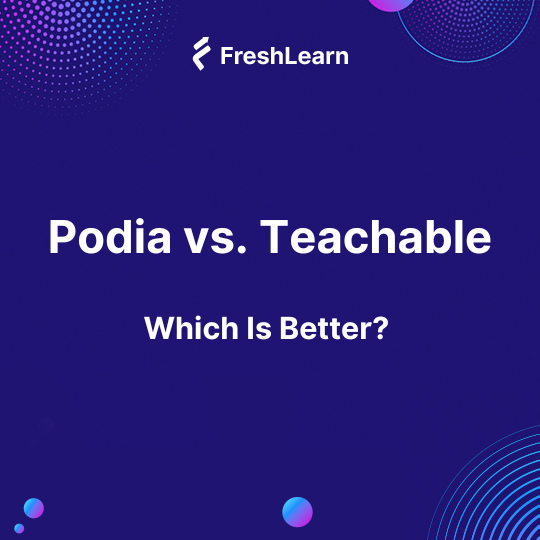 Podia vs. Teachable: Which Is Better? (Updated 2023)
A detailed comparison of Podia vs Teachable: Which online course platform is best suited for you? Read on to understand features, pricing, and much more.
Podia and Teachable fall under the most popular online course creation platforms founded in 2014.
Over time, they have amassed a large user base of content creators, educators, and instructors on both of their platforms.
With the creator economy progressively getting more prominent and significant, creators in 2022 are prioritizing customer support, affordability, feature-rich, convenience, personalization, customization, and ease of use.
Looking for the same?
Let's see how Podia vs Teachable stack up against the growing expectations of creators today, and how FreshLearn can suit you better.
Podia vs. Teachable vs. FreshLearn - Comparison Checklist
What is Podia?
Podia is an all-in-one platform that helps creators sell courses on any subject or skill they know and is good at. Podia allows creators to sell classes and webinars, manage events, host communities, etc.
Podia is a platform that makes it easy for anyone to share their knowledge and create a course around it.
The platform has a straightforward interface that helps creators and instructors develop practical and visually appealing courses, manage events easily, and get paid.
Benefits of Podia
Podia allows creators to create courses by utilizing different formats like video, audio, or document files. Including various formats in the learning process will enable creators to offer more straightforward, comprehensible material for their students to consume.
Podia connects its content creators to their choice of payment gateways.
Podia's certificate generator is a great tool that automatically generates course completion certificates for learners who have completed the course.
Podia as a platform is easy-to-use, and the interface is easy to learn.
Podia's platform offers a commission-free policy. This is one of the biggest reasons creators flock to Podia.
Podia provides email help for its creators.
Podia provides concierge migration support services for its creators, taking care of the creator's data.
Limitations of Podia
Podia does not feature embedded video players from different sources like YouTube, Vimeo, etc., and only includes S3 or Google Drive.
Podia has limited features compared to Teachable and other online course creation platforms. Initially, it was a creator platform with different products but diversified into an online course platform.
Podia's sign-in and registration look similar, which is a burden to the overall user experience.
Podia does not remove its branding unless the creator has availed of the shaker or higher pricing plan.
The platform charges an additional fee of $20 per seat.
Podia does not allow users to test the platform before committing to their plans and signing up. Here are some other Podia alternatives you can try.
Podia does not have 24x7 live chat support. Instead, they offer email support, but this feature is only available for the creators who have subscribed to Podia's Shaker plan or higher, starting at $89/month.
Podia Pricing
Podia's pricing is simple, with a 0% commission rate. The platform's pricing plans are based on the features they provide in each plan.
Podia pricing plans are:
Podia's Mover Plan - $39/month
Podia's Shaker Plan- $89/month
Podia's Earthquaker Plan - $199/month
What is Teachable?
Teachable is a simple and productive course creation and management platform and a marketplace for content creators and instructors.
It acts as an all-in-one platform that allows creators to develop and sell online courses on subjects of their choice.
Teachable was founded in 2014 and is a platform that focuses on making education and the experience of learning more engaging.
It handles everything from web hosting to payment processing and gives creators and instructors complete control over their content and business model.
In addition, Teachable offers various features to enhance the communication between creators and students and keep their progress up to date.
Benefits of Teachable
Teachable is a more feature-rich course platform than Podia.
The platform's email marketing feature helps creators and their students keep in touch with their progress and optimizes communication between the two parties.
Teachable features allow creators to section off their courses into chapters to avoid confusion and enhance adequate understanding for students.
The platform offers a free plan for creators. The platform will only begin charging the creators when they earn.
Teachable provides creators with the feature to upload course content in various formats like Video, Audio, and Documents.
Disadvantages of Teachable
Teachable's checkout inserts its branding.
Creators can only avail themselves of the features of an unbranded website at the subscription of the Pro plan, priced at $119/month.
Teachable does not offer White-label solutions for its creators.
Creating online courses in Teachable may be difficult for initial creators. It may also take some time for creators to efficiently work with the platform's interface since the learning curve is steep.
Teachable as a platform does not support different payment gateways for its creators.
Furthermore, Teachable waits 45 days before crediting earnings from the business to the creator's account.
Teachable fails in providing several popular monetization features for creators like a masterclass, newsletters, or digital downloads.
Bulk member uploads, core enrollments, and group coaching calls are advanced features that creators can only avail of if they are subscribed to the Enterprise Plan, priced at a hefty $299/month.
Teachable does not offer a 0% commission rate.
The commission rate differs according to which pricing plan the creator has availed, which is between 5% to 9%.
Course completion certificates and affiliate programs are features available in the Pro Plan, priced at an exorbitant $119/month.
The platform, unfortunately, does not provide live chat support for its creators.
Teachable does not provide concierge migration support services to its creators as a platform. Here are some best Teachable alternatives you can check out.
Teachable Pricing
Teachable pricing plans are:
Teachable's Free Plan - $1+9% commission
Teachable's Basic Plan - $39/month+5% commission
Teachable's Pro Plan - $119/month
Teachable's Business Plan - $299/month
Podia vs. Teachable: Which Course Creator Platform is Better?
Let's look at some of the key criteria other than the one discussed above.
1. Inclusivity
The main difference between Podia and Teachable is that Podia is an all-in-one platform, whereas Teachable is an online course platform.
This gives Podia an edge with many additional marketing features such as Email Marketing, community building, Messaging, etc.
2. Features & Performance
Podia and Teachable both play against each other's benefits and limitations. Still, Podia provides basic customer email support which Teachable provides although at a higher pricing plan.
3. Course Builder
Both Podia and Teachable's course builders are straightforward to use and give you the ability to rapidly set up an online course.
Both of them give you the option to bulk upload your material and quickly rearrange your lessons and modules using drag-and-drop.
However, when you look more closely, there are some key differences between the two, and the Teachable course builder is both more user-friendly and flexible.
The Teachable course builder offers online importing. As a result, you can directly import content into your course from Google Drive or Dropbox, which is not presently possible on Podia.
When creating courses, cloud importing is a really useful feature because it is much quicker than uploading from your computer.
4. Migration Support
Podia also provides migration support services to its creators, unlike Teachable.
5. Payment
Podia pays its creators immediately after customers pay for their online courses, unlike Teachable, which takes 45 days before crediting the creator's account.
6. Payment Gateway
Podia also allows creators to choose their payment gateway, whereas Teachable has its own payment gateway.
7. Pricing & Commission
Podia's pricing plans do not include a commission for their services. Their most extensive plan provides all the necessary features at $199/month.
In contrast, Teachable's most extensive plan is priced at $299/month along with the commission rates.
8. Free Plan
Teachable, however, provides a free plan for their creators where they are charged only when they start to earn money on the platform.
Podia does not offer a free plan and charges an extra $20 per seat to their creators, which Podia does not.
The two platforms are evenly priced; not making any of them the best option at an affordable rate.
9.  24x7 Chat Support
When it comes to customer assistance, Teachable provides email support on the Free and Basic plans, as well as live chat support on the Professional Plan and above.
Podia, on the other hand, provides chat assistance to customers on all plans. While it isn't exactly live chat support, you can expect a response from their staff within 5-10 minutes during business hours.
10. White Label
The two platforms also include their branding unless the creators are subscribed to a higher pricing plan. Podia and Teachable also fail to provide the feature to embed video players from different platforms.
11. Drip Course Content
If you don't want the customer to see the entire course at once, you can set up a drip delivery plan in Podia.
This means you can set sections to unlock after a certain amount of time or after the individual completes the prior section.
Coming to Teachable, in addition to providing complete access to your course, you can also set it up to drip either on a predetermined date or shortly after registering.
12. Membership Sites
Unlike other websites that have a cap on enrollment, Podia gives you the option of building membership sites with an infinite number of members and plans.
Teachable enables you to provide niche material to members of membership sites. These could be technological abilities like using Canva or Facebook Ads.
FreshLearn - A Better Alternative to Teachable and Podia
FreshLearn is a new-age platform to sell digital products online.
FreshLearn is an online course creation and management platform founded in 2020. It has become a popular destination within an incredibly short span because of the unique features that it offers along with customizable solutions and assessments for each student.
Plus, its user-friendly pricing plans can help you get started with no hassle.
FreshLearn is a better alternative to Podia and Teachable. Here are some reasons why:
1. Inclusivity
FreshLearn is an all-in-one platform that provides popular monetization features for creators like Online courses, Masterclass, or Digital Downloads.
2. Features & Performance
Freshlearn has an intuitive and easy-to-use content creation interface, unlike Teachable.
FreshLearn is a platform that provides gamification in its features. Gamification is a feature that has been proven to help garner better results in the learning process.
FreshLearn provides features like unlimited blogs, paid online courses, masterclasses, and unlimited paid enrollments in their Free Plan itself, unlike some other online course creation platforms.
Creators do not need to subscribe to a high-priced plan for customized checkout and thank you pages like Teachable; FreshLearn offers all this at their Free Plan.
FreshLearn supports embedding different video players such as YouTube, Vimeo, Amazon S3, and Google Drive, which many online course creation platforms fail to support.
3. Migration Support
FreshLearn provides content migration support services for its creators. The platform takes care of the creator's data when migrating from or to their platform for free.
4. Payment
Creators do not have to wait for 45 days to get their money in their accounts at FreshLearn.
5. Payment Gateway
FreshLearn provides payment gateways such as Stripe and PayPal, not limiting creators to some. The platform is working to include more payment gateways for its creators.
6. Pricing & Commission
FreshLearn's pricing is significantly cheaper than Podia and Teachable and almost all other course creation platforms.
FreshLearn has three simple pricing plans:
Free Forever Plan at $1+9% commission
Pro Plan at $29/month at 0% commission
No Brainer Plan at $49/month and 0% commission.
Advanced features like bulk student uploads and course enrollments that creators usually have access to after subscribing to Teachable's higher plans are all available in FreshLearn's No Brainer Plan.
Free plan
Always available live chat support
White label
FreshLearn offers true white labelling, letting creators provide students with an authentic learning experience.
FreshLearn provides just the right features and services that make up for the failings of both Podia and Teachable as the ideal course creation platform.
Not only does FreshLearn boast features better than Podia and Teachable combined, but it is also the only online course creation platform that has viewed and applied gamification as an innovative and practical feature in the e-learning experience.
The Verdict: Podia vs. Teachable
In a Podia vs. Teachable comparison, FreshLearn is already on its way to becoming more efficient and personalized for its creators, it looks like it is only going to get better from here.
FreshLearn is all about empowering creators and entrepreneurs and allowing them to convert knowledge into diverse monetizable formats.
The platform's primary goal is to provide impactful e-learning features that help both sides of the creator-student dynamic at competitive prices and support its creators to establish a successful online course business.
If you're looking for a platform that's designed specifically for creators, Freshlearn is a perfect choice.
With its easy-to-use interface and wide range of features, Freshlearn makes it easy to create and sell online courses.
So what are you waiting for?
Sign up today and start building your dream business!

You might also like
Hosted by