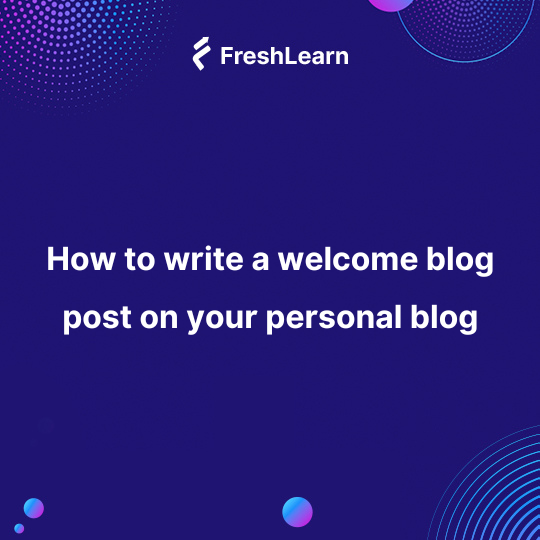 How to write a welcome blog post on your personal blog
Learn how to write a winning welcome blog post for your personal blog and build your brand.
So, you have a course idea, and you have already started working on it. You decided on the topic, made a course outline, and have begun developing it.
But wait! Why would someone sign up for your course unless you are Gary Vaynerchuk or Neil Patel teaching lessons on marketing and branding?
You might argue that your course content is different and valuable, but you can't rely on that alone to sell courses. You need to build your personal brand and create an image that exudes confidence and expertise on a subject. You need to build trust and demonstrate your value to people through personal branding.
Personal branding will help you get recognition in media and industry, build a strong network or community with your audience, and earn revenue by selling digital products such as blogs, workshops, and online courses.
Let's look at how you can build your personal brand with blogging and how to get started with your first welcome post.
How to build a personal brand
Social media marketing: Over 75% of the world's eligible population (over 13 years of age) use social media platforms such as Facebook, Instagram, TikTok, Snapchat, LinkedIn, and more. Choose the one that your potential students use the most and publish your posts regularly to build engagement.
Live videos: Have real-time interactions with your followers through live Facebook or Instagram videos to build engagement.
YouTube videos: YouTube receives over 14.3 billion visits per month. So, make the most of it by creating a YouTube channel and publishing video content.
Webinars: Webinars are a great way to establish yourself as an expert in the subject and cross-sell your course. Choose a topic that's related to your online course, select a webinar platform to host, and invite potential students to join.
Guest speaking: Get invited as a guest speaker or keynote speaker at conferences or events - both online and offline that are relevant to your area of expertise. It's a great platform to network and reaches a larger audience.
Collaborations: The easiest way to build your authority and reach a large audience is to collaborate with other creators. You can do a video with them or get invited to their podcast to share your knowledge. You can also reach out to publications in your domain to write guest articles.
Blogging: Blogging is supposed to be the fifth most trustworthy source for gathering information online. 77% of internet users read blogs. 86% of content creators use blogs as a part of their marketing strategy. Blogging helps you share your knowledge with the world and attract organic traffic to your website if you optimize it well.
How does personal blogging help course creators?
Although there are various ways to build your personal brand, blogging is considered the simplest and cheapest method. You don't have to spend on advertising or network extensively to collaborate or get invites to speak at conferences and events. Here are a few benefits of personal blogging.
Build an audience: Blogging lets you build an audience. People will start following you as you start blogging and sharing your knowledge and ideas. You could also provide an option to subscribe to your blogs to engage and upsell your course.
Boost the sales of online courses: Blogs help you test your course idea. When you share your knowledge, you will know if there's a market for it. That will help you build your course content and eventually upsell it.
Drive organic traffic: You don't have to do paid ads to attract traffic to your website. A well-optimized blog can bring organic traffic to your website. Every time you write a new blog, you are inherently building more indexed pages. This could rank your blog high on search engines.
Provide additional resources to students: You can provide additional resources to students to keep them engaged even after the course ends. Write blogs that are related to what they learned to aid continuous learning.
Give potential students a glimpse of the course: People will not sign up for a course unless they know your teaching style and course content. You can give a glimpse of both through your blogs for free.
Establish yourself as an expert: Write high-quality, original blogs to establish yourself as an expert who knows the subject well. This will help you build authority and build trust among your potential students.
Building an audience, getting traffic to your website, and selling your course takes time. So, stay patient. Blog consistently and repurpose the content in different formats to attract potential students.
How to start blogging?
Define the purpose of the blog: Before you start blogging, ask yourself questions such as - what do you intend to do with the blog? Is it to inform your audience about the course or to spread knowledge? Do you want to publish blogs for a long time? Will it be topical, listicles, or a mix of different formats? Who will benefit from the blog? The more clear you are about the purpose, the better will be the quality of your blogs.
Build buyers' persona: Buyers' persona can increase your organic traffic by 55%. A buyer's persona is a fictional and detailed description of your ideal customer. As you describe your ideal customer, you will better understand their age, behavior, challenges, etc. This will help you know the topics you can cover to attract and engage the audience. You will find several online templates for creating buyers' personas.
Choose a blogging platform: There are various blogging platforms such as WordPress, Medium, and FreshLearn that you can use to publish blogs and distribute. Compare the platforms based on their features, customizations, customer support, prices, etc., and choose the one that ticks all your criteria.
Name the blog: Choose a name that's easy to remember and can be recalled easily by your readers. To avoid confusion, use the same name for your domain if it's available. For example, marketing guru Seth Godin's blog is simply called Seth's blog.
Choose topics and build a content calendar: To build authority, you must write blogs frequently. It's common to run out of topics after a while. So, check social media platforms such as LinkedIn and Twitter or online communities such as Quora and Reddit to get topic ideas. Create a content calendar and list down all the topics you can explore. Preferably create a 90-day content plan. If the topic is topical such as related to a big industry announcement or trends in the upcoming years, prioritize them and publish them immediately. Also, remember to update your old blogs regularly to keep them fresh and maintain your ranking on search engines.
Do keyword research: There's a popular line in digital marketing - the best place to hide a dead body is page two of Google. Your efforts in writing and maintaining a blog will go in vain if your blog does not rank on the first page of the search engine. That's why keyword research is so important. Keywords are words or phrases that your audience will search for to gain information. So, if you want your blog to rank higher, you must know the keywords that your audience will type. You can use an SEO keyword tool to find keywords and go through social media platforms or online communities to observe the keywords the audience uses to find information.
Write the blog and optimize it for SEO: Once you shortlist the keywords, work on a blog outline. This will help you structure the blog and ensure that the content seamlessly flows from one idea to another. After outlining the blog, start writing it. Remember to use the keywords naturally in sentences. Do not overuse them. Detailed blogs perform better than short ones. But ensure that the blogs are readable, easy to understand, and well-researched. Once the blog is ready, review it and optimize it for SEO.
Publish and distribute: Once you have thoroughly proofread the blog, publish it. Some platforms also let you schedule the blog for a future date. The blog will be automatically published on the scheduled date. Remember, writing is just one part of the work. You must also share it on social media platforms and repurpose content to attract the target audience.
How to write the first welcome post?
Remember the popular saying - the first impression is the last impression? Your first welcome post will decide how you build your personal brand and engage with students. So, take time to craft your welcome post. Here are a few tips to follow:
Answer the why behind creating the blog: As Simon Sinek advises, always begin with answering the question 'why.' This will help you position your blog and build a connection with the audience. Define the purpose for creating this blog and what you plan to achieve through it. Defining the purpose will help you stay focused on your goals and write blogs that help you achieve them.
Be personal and narrate a story: Everybody loves a good story. So, be creative and make the first post a story on why you decided to blog. Make it as personal as possible. For example, you could talk about how you struggled to become a mompreneur after delivering a baby and decided to create a blog to share actionable tips with moms and build a support system. By narrating a personal story, you break the ice and make a human connection with your audience
Set the tone for the blog: Try to keep it as conversational as possible. Write as though you are talking to a friend. While stating the facts or explaining a concept, reduce the jargon and keep the language simple.
Determine what you intend to address in the blog: Be clear about what you want your audience to know from the blog or what they can learn from it. This will help your audience determine if they want to engage with your content.
Remember to add CTA to the course: The blog's purpose is to build your brand and sell the courses. So, remember to add the call-to-action button in your blog to direct them to the registration page. Don't overdo it as that could ruin their reading experience, but add it at critical parts of the blog, such as between two sub-heads and at the end of the blog.
Launch your blog with FreshLearn
You must be clear on why blogs are essential for building your personal brand and facilitating sales for your online course.
Get started by deciding your niche, understanding your audience, and shortlisting the topics to write about.
If you are looking for a good blogging platform, look no further!
FreshLearn is an all-in-one creator's suite that allows you to sell all kinds of digital products - from courses to workshops and also host your blogs.
You don't have to bother about marketing or not receiving timely payments anymore. FreshLearn provides you with options to do end-to-end branding and integrates with Stripe, PayPal, and RazorPay. You can receive your payments directly in your bank account.
So, don't wait. Get started with creating and launching your blog and other digital products right away!
You might also like
Hosted by