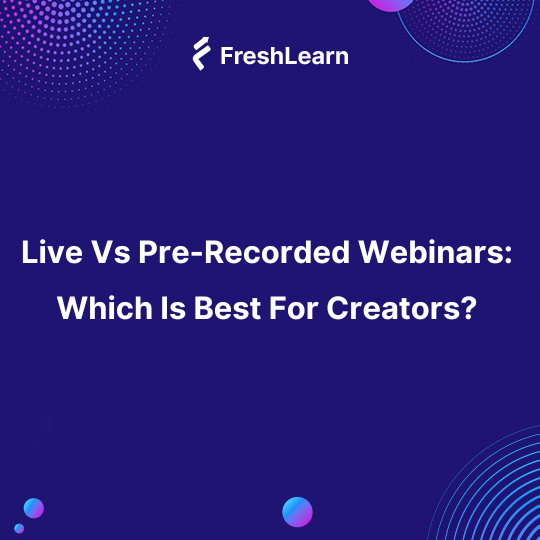 Live Vs Pre-Recorded Webinars: Which Is Best For Creators?
Should you host a live or pre-recorded webinar? Here are the pros and cons of each format, plus some tips on how to choose which is best for you.
Webinars are a great way to connect with your audience and share your knowledge with the world.
But should you host a live or pre-recorded webinar?
That's a question that many creators struggle with.
In this blog post, we will discuss the pros and cons of each format, and help you decide which is best for you!
What is a webinar?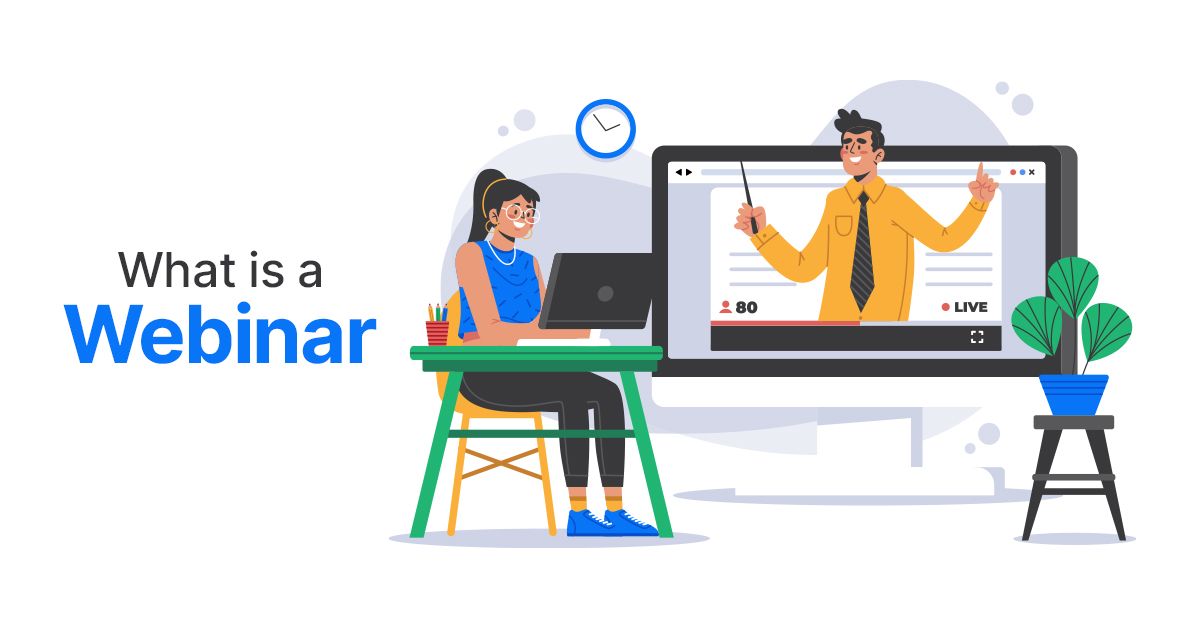 More of a digital version of a seminar, a webinar is a session where a subject-matter expert hosts a detailed discussion in an interactive manner.
As a course creator, you also make webinars a way to promote your course.
How do you ask?
Pitch in the offer for your digital products by the end of a webinar. That'll do it!
Unlike a seminar, a webinar can be launched virtually from anywhere at any time.
All you need is a device connected to the internet, like a smartphone, laptop, or tablet.
Why do webinars matter now? (in 2023)
The time post-COVID has seen major changes in how people buy things online.
Once you come to love how easy it is to shop for food, clothing, and other necessities via eCommerce platforms, there's no going back!
The same became true for online learning.
With schools and coaching classes shifting online, your online courses are more likely to help you build your teaching career faster than offline teaching could have done.
However, the only problem here is that shifting to virtual learning also means that customers will only vouch for trusted resources. And, in order to ace your journey, you need to build that trust, that connection with your audience.
Now, how would you do that in the virtual world?
Webinars are a great way to help you bond with your audience in a way that will make them want to opt for your course.
90% of creators on FreshLearn have reported how webinars have helped them establish the value they have to offer to their audience. 70% say that webinars have almost doubled their sales.
Now, when considering webinars, your primary dilemma may be choosing between live and pre-recorded webinars.
What is a live webinar?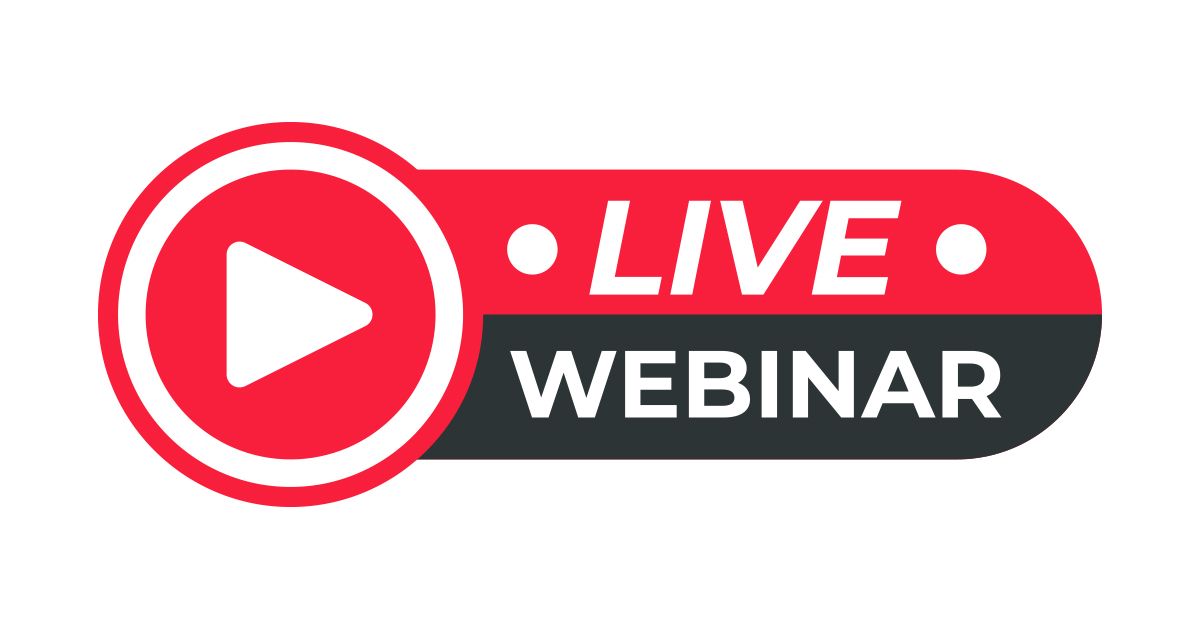 Live webinars are literally the virtual sisters of seminars. You, as a host, get to start the webinar, speak to your audience in real-time, and end it.
So, what are the advantages of hosting a live webinar?
Let's find out!
Pros of hosting live webinars
Requires less time to produce: Live webinars only require you to go live and spend a stipulated time discussing your agenda.
Creates a human connection: Live webinars are a great way to build a personal connection with your audience. Authenticity is what makes customers support brands, and interacting with your audience in real-time helps you build the same. At the same time, you can gauge the reaction of your viewers.
Interact via live Q&A: Most viewers sign up for live webinars expecting direct interaction with the host. Holding a Q&A session can be a great way to address that cause. Answering questions can also help you edit and strategize your content on the go to suit specific audience requirements. This can lead to a more engaging and immersive experience for both you and your attendees.
Identify top fans: Hosting live webinars can also help you come across individuals who attend your broadcasts repetitively. These can be true fans of your brand and giving them a shout-out can help build strong connections with them.
Everything that has pros, has some cons too. Let's find out what they are for live webinars.
Cons of hosting live webinars
Unexpected hiccups: Live webinars are all about impromptu gestures - from your end as well as the audience. This also includes impromptu mishaps like technical glitches. Additionally, interruptions due to pets and family members can also make you go unexpectedly viral for the wrong reasons!
Difficult for those with stage fright: Not all creators are good orators! If you have a fear of public speaking or you get nervous even at the thought of it, then hosting live webinars can get overwhelmingly intimidating for you. This way, you are more likely to make the entire setup go haywire and spoil your presentation.
Time slots for audience engagements:
If you have an international audience base, you might have a hard time finding the right time to broadcast your webinar.
While one time might be favorable for an audience from one time zone, it might not be so for others from different time zones.
This can bring down the engagement rate of your live webinar.
How to host an impactful live webinar?
If you are confident about going ahead with a live webinar, you gotta get a few things right first!
These are:
Getting the right webinar tools:
Make sure to use a high-quality microphone so that your voice is clearly audible throughout the presentation.
You might also want to invest in a good-quality camera that supports at least 1080p-4K recording at 60fps to offer your audience the live hosting experience they seek.
Remember, you don't get to edit anything post-recording here, everything is on the go!
Choosing the right software: Getting this right is extremely important. Various software offers different features suiting specific needs. For instance, you can host your live webinars via Zoom on FreshLearn. Using FreshLearn, you can launch audience polls, besides collecting questions from the audience during your broadcast.
Rehearse your presentation: Once the technology is set up, run a test call with your family or a team of close friends to check if the broadcast is running as planned. This will also help build your confidence prior to the webinar.
FreshLearn creator Mary H. says that following these tips has helped her successfully launch 5 live webinars to date, which have also played a huge role in 2x-ing her course sales!
What is a pre-recorded webinar?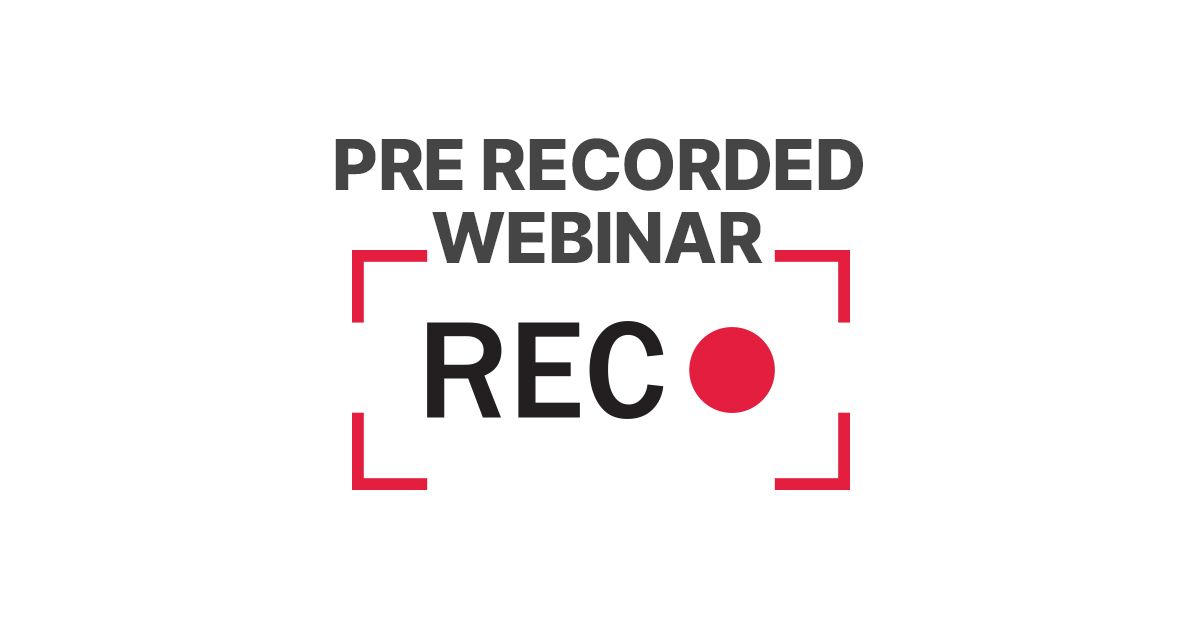 Now that you have a knowledge of what live webinars are, you must know of your other option - pre-recorded webinars.
These are generally for a more polished result.
As the name suggests, you have to record your webinar, and then make it available at a scheduled time or on demand.
If live webinars aren't your thing, have a look at how pre-recorded webinars can be a great alternative.
Pros of hosting pre-recorded webinars
Let you edit for better output: With pre-recorded webinars, you can very well chop out sections where you messed up, or record parts where the audio or video failed you. Plus, you can make your webinar a highly polished product by adding transitions, effects, and filters. Just don't get lost in the cycle of endless edits to attain perfection!
Great for those afraid of public speaking: On the same note as we talked about how live webinars can be a nightmare for those with stage fright, pre-recorded webinars can be great for them. This way you can come across as confident without having to face an actual audience while speaking.
Cons of hosting pre-recorded webinars
Less room for interaction: While pre-recorded webinars give you more control over the end product, you may not get as much audience engagement as that with a live webinar. While good content may anyway land you the customers you want, you may lose out on experiencing real-time audience reactions and feedback.
How to create a great pre-recorded webinar?
You already have the tools and right from the live webinar hosting tips.
What else can you do differently for pre-recorded webinars?
Make it as close to a live webinar as possible: No wonder talking to your webcam can be a lot less interactive than speaking to a live audience. But, you can still deliver a somewhat similar experience with the right tonality. Try to talk like you are chatting with a friend. This way, you will come across as more genuine and your webinar will be more fun and engaging.
Add engagement elements:
An added advantage of creating pre-recorded webinars is that you can add elements like checklists and worksheets that your viewers can download.
Additionally, you can turn your PPT slides into downloadable PDFs.
Include automated polls and Q&As: Another way to make your pre-recorded webinars more interactive is by adding automated Q&As and audience polls. You can keep a track of these questions and feedback and send them a reply later.
A huge percentage of creators on FreshLearn say how starting with pre-recorded webinars has helped them break out of the fear of speaking to their audience. Robert W. also adds that transitioning into live webinars has only been increasingly easy after gauging the audience reaction to his pre-recorded sessions.
Live vs pre-recorded webinars: Who is the winner?
If you are still confused about how live webinars differ from pre-recorded ones, here is a quick comparison checklist to guide you.
Live vs pre-recorded webinars: Comparison table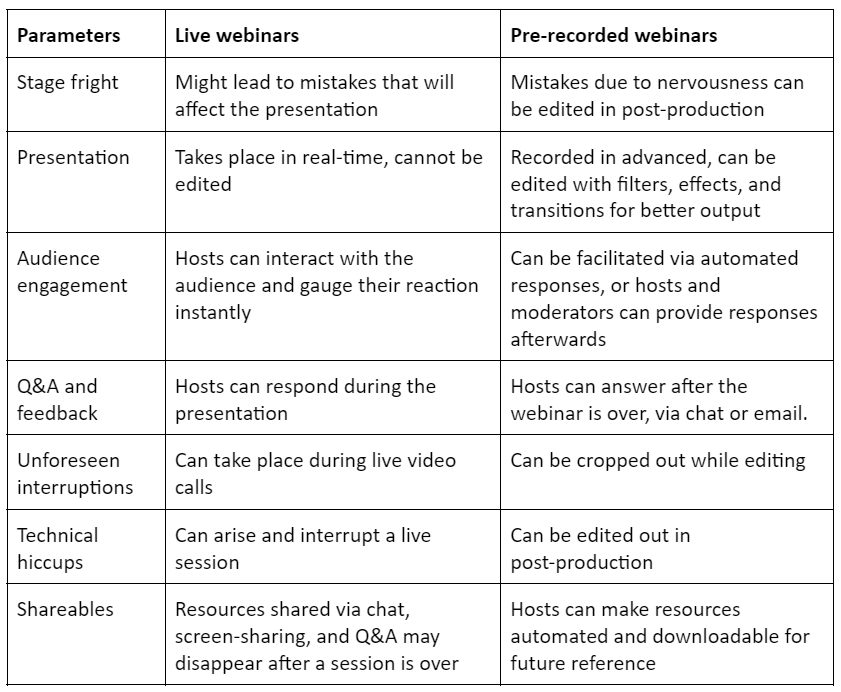 Here is one of my favorite live webinar registrations by Benjamin - A FreshLearn creator
What should you host - a live or pre-recorded webinar?
Still in two minds about choosing a type of webinar?
Well, why choose one when you can get the best of both worlds?
FreshLearn user Rosie D. says how to make the most out of your live webinars by recording them and re-using them as pre-recorded ones.
Doing this will let you easily share the webinar:
As an on-demand one
In blog posts
As paid ads to enhance CTR
On YouTubeVia email
Additionally, when running a pre-recorded webinar that has been live before, you can have a team member or yourself online respond to questions and feedback via chat without interrupting the video streaming.
You can also send follow-up questions to your audience via emails to deepen your connection!
No matter what you choose, you can do it all with FreshLearn.
You might also like
Hosted by