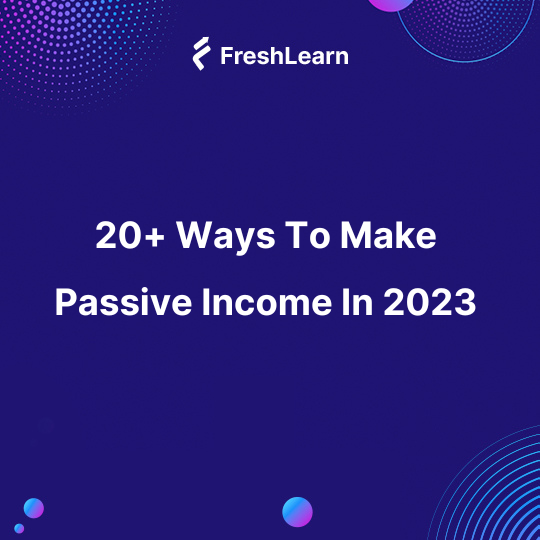 20+ Ways To Make Passive Income In 2023 (With a Complete Guide)
Hobbies are fun and things that make us happy, so the prospect of generating passive income for something that you actually enjoy doing is actually lucrative.
However, the way to proceed can seem like a daunting task.
But, don't worry!
FreshLearn creators have proved that with the right approach and tools, it is possible to actually make money from a hobby. And, so can you!
27% of adults in the US have already monetized their hobby alongside their career, while 55% look forward to following suit.
So, what are you waiting for?
But first, here are a few tips to get you started.
How To Turn Your Hobby Into Passive Income Streams?
Identify your passion
Each of us has more than one hobby. And, that's completely natural.
But, before you start seriously investing in one to get significant returns from, you need to identify which one among them you are best at, and not just 'good enough' in.
As FreshLearn creator, Kristina Konstantinova says, "Aim for perfection. It is hard, it is painful, and it is so worth it when you get there." Kristina is a Brand Strategist and Designer, who had been through the phase of wanting to be everything from a developer to a psychologist until the hunger for perfection led her to create her own course on how to build a brand from scratch - The Brand Framework.
So, you need to figure out what you are really good at and keep trying to perfect it if you want to turn it into a passive income stream.
Have a backup
You can certainly make great passive income from your hobby, but before taking the plunge you should stash away some cash to see you through those crucial first few months.
It also pays off to begin while keeping one foot in your old job as this will let you test out demand for what it is that makes up a part of who you are!
It's gonna be tiring juggling both jobs together, but that doesn't mean it's impossible
Build your online presence
Another key factor in making passive income from your hobby is building a strong online presence.
Use social media platforms like Facebook, Instagram, and Twitter, or create a website or blog. Having an online presence allows you to reach new audiences and connect with potential customers more easily.
Social media is a great way to connect with other solopreneurs in your industry as well.
There are communities on Facebook, Twitter, Slack, Freshlearn, etc where creators in your industry hang out. Getting advice from someone who is 2 steps ahead in the same journey as yours is much better than generic advice from someone from a different industry altogether.
Do Market Research
One of the most important things to consider when starting a hobby-based passive income is determining who your target audience is and what they are looking for.
Look at research reports on what potential learners are searching for.
If you already have a network of like-minded people in your niche, ask them about what customers' conversations tell them, and what courses they are looking for the most. That will give you an idea of what's in demand right now.
This will help you to create content that resonates with potential customers and effectively market your products or services.
Lay out a short business plan
Business plans may not be the most exciting part of starting a new venture, but this is essential to ensure everything runs smoothly.
Whether you plan on relying on external funding or your own savings - having one can help take some weight off your shoulders by organizing all those thoughts and any potential issues that might arise.
Plus, before you launch your venture, make sure to calculate the monthly expenses, estimated income, and startup costs.
Don't forget any necessary equipment purchases or professional association memberships either.
Also, make sure to take into account the self-employment taxes.
Once everything is settled in terms of money management, go for some organizational introspection - figure out if you define yourself as a sole proprietor or take on one of many available forms of legal entity protection, like an S Corporation.
All in all, have a rough plan for what works best for you.
Spread the word
Gone are the days of shelling out big bucks for advertising.
In today's world, all you need to get the word out about your business is just one post on the right network. That alone could have you reaping profits in no time.
So, utilize your social network and come up with a catchy social media post.
When you have picked one of the trending hobbies to turn into a business, it can very easily become one of the ways to monetize your social media following in no time.
Check-in with your goals periodically
Running your own business may seem like a dream come true, but there's no crystal ball to help you predict how it will turn out.
To make the most of your hobby-based business, it is also important to be flexible and open to change.
That's why it pays off to reassess your goals periodically and be prepared for changes in direction when needed!
This means constantly tweaking your offerings as you learn more about what customers want, as well as being open to trying new marketing tactics and products.
Now that you have an idea of all the basics to kickstart your alternative career prospect, here's a list of passive income ideas.
20+ Best Passive Income Ideas That Have Already Made Money
1. Online course creation (my favourite money-making hobby!)
If you are someone who loves sharing their knowledge with the world and is somewhat an expert in that, consider creating online courses or online teaching as one of the top hobbies to turn into a passive income stream.
The creator economy is booming now, with 48.72% taking up content creation full-time, most of them earning at least $50K a year.
Those figures should give you an idea of how much you can make out of it if you pursue creating courses online.
And, what could possibly be stopping you when you have a platform like FreshLearn makes online course creation a child's play with the latest features that make teaching and learning fun for everyone?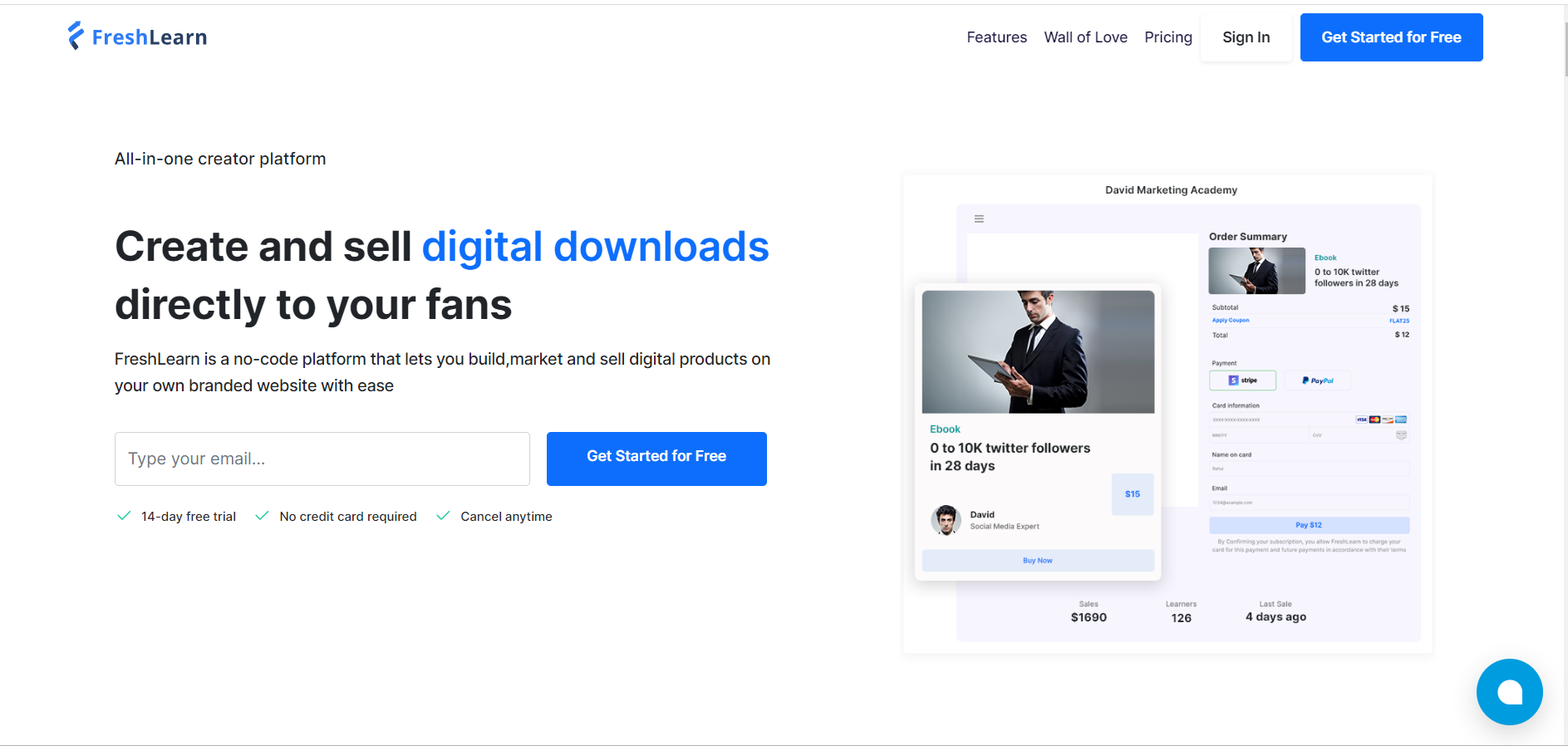 Try out the platform and start making money from your online teaching hobby today!
(include a list of hobbies that people can earn from with online course creation topping the list)
2. Start a blog
Did you know that harnessing the power of writing and publishing online has immense potential to give your career a serious boost?
Not only can it help establish yourself as an expert in any field, but also offer opportunities for making money.
With the right skills and know-how content, writers are in hot demand!
From finding freelance gigs on popular platforms like Upwork or Fiverr to creating niche-specific blog posts with targeted audiences - there are lots of ways you can rent out your skills!
3. Shoot & Edit Videos
Have you been scrolling through videos on YouTube, DailyMotion, and other streaming sites?
Then you know the incredible potential of turning your creative talents into an income!
The world of videos is flourishing and with it comes opportunities to turn your hobby into a passive income source.
Video editors in the US make around $59,500 every year, as per the U.S. Bureau of Labor Statistics.
From creating instructional clips that'll wow viewers to making commercials promoting businesses - there's something out there for everyone wishing to make money from their craft work.
Also, if music is your jam, why not start creating and uploading videos to make some cash?
By setting up a channel, you can earn passive income in no time with Google AdSense.
4. Photography
If your camera is your best friend, we have got some good news for you!
Photography is a unique pastime for those who prefer art over a hobby and can be quite lucrative if you know how.
You take advantage of the many websites such as Flickr or Shutterstock that provide photos to users, by setting up an account yourself and selling directly from there.
It's one way amateur photographers are making their mark!
You could also market yourself directly to potential clients in need of discounted professional photography services - weddings, graduations, etc.
As long as you work hard at building experience and clientele chances are high, your rates will start rising.
5. Graphic Designing
If you've got mad design skills, there's definitely an opportunity to make money with them!
If you think your talent lies in this area, take advantage of ad sites and set up shop online with samples showcasing what makes you stand out from other graphic designers.
You can also try publishing your designs on websites like 99Designs.
Don't let competition discourage you - hone those creative chops and monetize them to get ahead in the game
6. Print on demand
Print-on-demand is another viable option for passive income because it enables people to produce and market their own goods without the need for big upfront investments in inventory or capital.
T-shirts, mugs, and phone cases are just a few examples of items that can only be produced on demand. This eliminates the need for sellers to acquire and keep huge quantities of inventory, lowering the likelihood of unsold goods and resource waste.
In addition to handling printing, shipping, and customer care, print-on-demand platforms also manage marketing and product development, giving sellers more time to concentrate on these tasks.
Print on demand, in general, offers a low-risk, low-cost alternative for people to create and sell their own items and earn passive income without having to make substantial upfront investments or maintain a business over time.
7. Sell Domain Names
Selling domain names can be a smart way to generate passive income because it entails purchasing and owning a domain name with the goal of selling it for a profit. Domain names that are short, snappy, and memorable can increase in value over time.
They can also be valuable if they contain prominent or in-demand keywords. Selling a domain name is a simple process that can be completed through a domain marketplace or by directly contacting possible buyers.
A domain name can be sold for a significant profit with little work, which makes it a desirable alternative for passive income generation.
A domain name may gain in value or sell for a high price, but it's vital to remember that the domain name market can be unpredictable.
8. Sell Worksheets
Another one of the best passive income ideas is selling worksheets because they have a cheap startup cost and can be produced once and sold several times.
Worksheets are very popular, especially in the coaching and education sectors where they are frequently employed for the development of skills, goal-setting, and self-analysis.
Worksheets can also be simply digitalized and sold online, enabling a global audience and perhaps a larger consumer base.
After making the initial commitment of time and resources to generate the worksheets, you can continue to earn money with little to no extra effort.
9. Create & Sell Lesson Plans To Teachers
Many teachers put a lot of time and effort into developing interesting and successful lesson plans, yet they frequently do not get paid for it.
Given that it enables educators to commercialize their experience and knowledge, selling lesson plans to teachers may be a viable option to generate passive income.
By writing lesson plans and selling them online, educators can reach a larger audience and make money from their work even when they are not actually teaching.
Lesson plans can also eventually be a dependable source of passive income because they can be reused and modified for other classes and students.
10. Baking
If you are the go-to baker for every occasion in your family from birthdays to Christmas, there's a great opportunity to turn it into a money-making hobby.
Have you seen the cost of even half-a-pound theme cakes these days? I mean, a quick visit to your local cake store would give you a fair idea.
And, that should be inspiration enough to start your baking business, as it was for FreshLearn creator Bola Eniola.
"When my son turned one, I got him a Mickey Mouse cake that cost me about £120. It made me think I can actually make this myself.", says Bola. She adds, "My family and friends love the taste of my cakes so much that they started paying me to make them cakes for all their celebrations."
She later shifted to making cake toppers as her primary business. Well, you can add that too to your baking business to save some extra costs. And with more people opting for convenience over baking at home these days, there's no better time than now to tap into the online baked goods industry.
With the right ingredients, you could find success selling your goodies at local bake sales and markets. For those looking for an even bigger boost in profits, try reaching out to bed-and-breakfast spots with fresh treats that hit the spot before guests venture off on their day trips.
11. Fitness training
If your idea of a good time involves breaking out into a sweat, why not turn it into cold hard cash?
Become a personal trainer and get paid for the hard work.
While certifications may be needed in some states, don't let that stop your income-earning momentum!
Get started at gyms near you but as word gets out about how awesome of a trainer you are, expect more high-paying clients searching for you.
You can also take to FreshLearn to share your knowledge as a fitness coach via the platforms like other experts in the field have done.
12. Music
If you've got mad skills on a certain instrument but life didn't give you the chance to be in an A-list band, don't worry.
You can still cash in on your talents by doing session work for local and touring bands!
All it takes is some savvy advertising: post classifieds, hand out flyers or business cards at recording studios - get yourself noticed!
At the same time, you can start giving out music lessons as well.
Parents are always looking for talented teachers and tutors who will help their children learn how to play an instrument.
And, teaching also means more practice time for you!
To make the most out of it, you can start a youtube channel as well as a course on playing your instrument of expertise. That can be one of the best hobbies that can generate passive income.
13. Rent Out Your Extra Room
Without putting any time or effort into it, renting out your extra room can be a terrific way to make some additional cash.
By renting out your property, you can make a consistent monthly passive income which can help you pay your expenses or put money down for a future goal.
Additionally, by meeting new people and perhaps forming new friendships, renting out your extra space might help your social life.
It's now simpler than ever to discover tenants and manage the renting process thanks to the growth of sites like Airbnb, making it a practical and approachable alternative for anyone wishing to earn passive income.
14. Rent Your Car
Your home isn't the only thing you can give on rent, but renting your car can be a lucrative way to generate passive income.
Renting out your car to members of your neighborhood is now simpler than ever, and this is because of the immense growth of peer-to-peer car-sharing websites like Turo and Getaround.
Since the rental platform handles the majority of the administrative requirements, such as insurance and payment processing, you can make money without investing additional time or effort by renting out your automobile.
If you ask me, renting a car is definitely a wise financial choice because it can help offset expenses associated with owning a car, such as maintenance and parking fees.
However, before making a choice, consider the advantages and disadvantages of renting your vehicle, including the possibility of theft or damage.
15. Rent A Vending Machine
Another wonderful way to generate passive income is to consider renting a vending machine. You can easily make money with a vending machine without investing much time or effort.
All you have to do is buy or rent a vending machine, locate it in an area with a lot of foot activity, and supply it with goods. After you've configured the system, you can sit back and let it take care of the work.
You will receive a share of the profits as your passive income from the vending machine, which will take the money and dispense goods.
Furthermore, vending machines are popular in many establishments, including workplaces, educational institutions, and healthcare facilities, making it a profitable passive income stream.
16. Web Development
If you have the creative know-how to build websites, there's an array of folks that would be more than happy to pay for your services, making web designing one of the most profitable passive income streams.
Templates like WordPress are popular but often lack the finesse or intricacies some people need from a website - and this is where you can come in!
Start out by targeting local businesses or getting yourself noticed through trade publications; then as your skillset & reputation grows, take on bigger projects with higher rewards.
If making people laugh is your passion, why not turn it into a career?
Comedy clubs are always looking for hilarious acts to keep their patrons entertained.
Start small by working one or two nights and get tips from the audience until you can build up enough of an act that they're willing to pay you upfront!
With time and plenty of practice, you might even be able to become a warm-up act for well-known performers.
And if performing isn't quite what you're after, there are still MCing events where comedy skills are just as valuable.
17. Proofreading and Editing
If Grammar Nazi is the nickname your friends associate you with often, it's time to take it seriously and start to earn passive income from your hobby of correcting linguistics.
There's an abundance of opportunities out there for proofreading and editing!
With tens of thousands of websites, blogs, and various other written materials from marketing to books needing a keen eye and great grammar skills, the market is huge.
Whether you've got previous experience or simply find joy in it - check your local online classifieds because paid opportunities may be closer than expected.
18. Public Speaking
Public speaking can be a lucrative way to make passive income if you've got a silver tongue.
Having marketable communication skills is certainly in demand! Brands are always on the lookout for confident, dynamic speakers - not just in person but also digitally!
Through videos, you could become an ambassador of sorts: someone who draws viewers attention with eloquent wordplay while introducing groundbreaking innovations or product designs!
If you are someone who struggles with public speaking, FreshLearn creator Kristine Zedek's course called Mission Communication can be a great help.
"My online course is all about building communication skills & human connection and I found FreshLearn to be the best place to host my course", says Kristine.
She is an emcee, anchor, and voicing artist who found FreshLearn to be the perfect platform to host all her training materials.
If that isn't inspiration enough, I don't know what else is!
Peer-to-peer lending, commonly referred to as P2P lending, is a developing trend in the financial industry that enables people to lend money directly to other people or businesses without the assistance of conventional financial institutions.
This lending strategy enables you to receive interest on your investments without actively managing them, which makes it a fantastic concept for producing passive income.
As an Investor, you can choose to diversify your investments across several borrowers and loans on P2P lending platforms, which typically offer a variety of investment options with different risk levels.
Furthermore, platforms for peer-to-peer lending frequently provide competitive interest rates, which can produce larger returns than traditional kinds of passive income like bonds or savings accounts.
19. Invest In Dividend Stocks
For investors looking for a consistent return on their investment, dividend stocks can offer a constant source of income as well as a dependable approach to earning passive income.
Dividend stocks enable investors to receive regular payouts without having to actively manage their portfolio, making them a suitable choice for passive income generation.
Companies that pay dividends often have strong financial standings and a track record of steady earnings, which makes them less volatile than growth stocks.
Dividend stocks also come with the added benefit of regular income and the possibility of long-term capital growth.
Investors can potentially increase their overall worth by compounding gains over time through reinvested dividends.
20. Invest In Mutual Funds
Because mutual funds enable investors to combine their funds and delegate investment decision-making to a qualified fund manager, they can be an excellent option for passive income.
As a result, investors do not need to have a thorough knowledge of the stock market or invest time in researching specific stocks. Diversification, which lowers risk by distributing investments across a number of assets, is another benefit provided by mutual funds.
Mutual funds also offer monthly income through dividends or capital gains distributions and the possibility for long-term development.
21. Invest In Farmland
For a number of factors, purchasing farmland might be a smart investment for passive income. Farmland is a steady long-term investment because it is a limited resource and its value tends to increase with time.
Secondly, if a buyer decides to farm the land themselves, they can earn money through agricultural yields or rent from farmers who rent the land.
As the price of food and other agricultural commodities often rises with inflation, farmland also acts as a buffer against that rising inflationary pressure.


Finally, purchasing farmland may result in tax advantages, such as deductions for mortgage interest, property taxes, and depreciation.
In general, buying farmland may give you a steady stream of passive income and long-term financial security.
22. Sell NFTs
In order to help creators commercialize their digital work in a distinctive way, selling NFTs can be a great passive income stream. NFTs, or non-fungible tokens, are distinct digital assets that are authenticated on a blockchain network, ensuring their rarity and authenticity.
This means that painters, singers, and other creators can sell their original creations as NFTs and benefit when someone buys them.
The automated nature of the process allows creators to profit passively from NFT sales even when they are not actively producing new content.
The best part is, NFTs' worth can rise with time, particularly if the developer gets more well-known or their creations become more in demand.
23. Stake Cryptocurrencies
The ability to earn rewards for keeping and maintaining the network without actively trading or mining cryptocurrencies makes staking them one of the excellent passive income ideas.
Staking cryptocurrencies allow you to receive interest in the form of a percentage of the block rewards, which can generate a steady source of passive income. Staking is a more accessible alternative for investors because it often involves less technical know-how and computer power than mining.
The possibility for increased passive income is further increased by the fact that many staking platforms provide better yields than conventional savings accounts.
But it's crucial to remember that staking cryptocurrencies carries dangers, including price volatility and potential network weaknesses, so before investing, do your research and understand the hazards involved.
All things considered, staking cryptocurrency can be a promising alternative for people to earn passive income while assisting the expansion of a decentralized network.
24. Become An Angel Investor
By becoming an angel investor, you can invest in promising firms with the potential for significant returns without having to actively manage the investments.
As an angel investor, you contribute money to businesses in exchange for stock or ownership in the business, which, if the venture is successful, might result in large rewards.
Angel investing can also diversify a portfolio of investments, which can aid in lowering overall risk.
While there is always a chance of losing money when investing, angel investing may be a desirable alternative for people looking for passive income ideas due to the possibility of significant returns and the opportunity to invest in innovative new businesses.
Additional Passive Income Ideas For You
1. Invest in the stock market
One of the best ways by which you can make your money grow is by investing in the stock market. Over time, while the values of individual securities rise and fall regularly, the market continues to rise in value.
Just the thought of investing in the stock market can be overwhelming for some, but it can be a fantastic way to make passive income if you know how to do it.
Be careful, and weigh the potential risks and advantages before you dive into the stock market. Let's look at some of its pros and cons-
Pros:
Make Great Money, Quick
The tremendous returns one can earn on their investment in a relatively short amount of time would be one of the clear pros of investing. You, too, will build wealth in the stock market if you play your cards correctly. It's important to remember, though, that anything with this great possibility of reward would entail considerable risks.
Liquidity At Your Fingertips
The stock exchange market helps investors quickly access capital. You can sell, purchase, and exchange within seconds as you see fit. This means you're not going to wait months or even years to get access to your money. Instead, you can easily sell your inventory and access your money.
Flexibility
Stock market investing can help strengthen your entire financial portfolio, and you can distribute your funds in a variety of ways that make you financially more secure.
Cons:
Market Volatility
In the stock exchange market, there are winners and losers. Winning can mean a lot of money. Losing can mean it was all for nothing. You should not be risk-averse and should be in a financial position to withstand swings.
Market Crashes
Volatility is something that investors have to deal with when trading in the stock market, with large failures in the system happening more sporadically. However, when they do happen, recovery can take a long time. Potential investors need only to look back to 2008 to see how quickly the market can crash.
2. Invest in real estate
One of the alternative ways to make passive income is to invest in real estate. If you want to invest in real estate, it is important to look at it from a variety of angles to understand not only the potential rewards but also the challenges to anticipate. Let's look at a few-
Pros:
Reduced Volatility
Real estate investment & the real estate market gives an enticing ROI, which is more stable because it's less risky than investing in the volatile stock market.
Tax Benefits
Real estate investments include a host of advantageous tax deductions, such as mortgage interest, income tax, operational costs, etc. Improvements to your properties are deductible, as they add to the value of your property. Also, property owners can deduct depreciation over long-holding real estate investments.
Scope For Appreciation
In terms of the sheer number of ways that appreciation and ROI can be realized, real estate investment provides a distinct advantage. The general developments in the economy aim to raise home prices. Furthermore, the well-maintained property will realize substantial and steady appreciation with continuous updates and value-added enhancements over time.
Cons
Investment of Huge Capital Upfront
You have to put a lot of capital upfront into real estate.
Lots Of Learning
Although you don't have to be an expert in every aspect of the real estate contract, the mortgage process, and the management of land, it helps to get acquainted with the widely used terms and ideas. That will allow you to make informed choices and consult more knowledgeable professionals in the field.
Property Management
There will be a decent amount of legal red tape to maneuver your way through. Furthermore, a time-consuming and exhausting aspect of the landlord's lifestyle can be late-night phone calls and maintenance requests.
Many Other Costs
Note that the cost of ownership of a property asset is not limited to the payment of a monthly mortgage. All of these add up and eat into the bottom line: premiums, property taxes, management, and maintenance. That means that between tenants, a month or two will result in substantial out-of-pocket costs that you will need to be prepared to spend.
Conclusion
It's never too early or too late to start your side hustle and not only add passive income but also build your brand.
Professionals from various fields of expertise have taken to FreshLearn to spread the light of knowledge. And you can become one of them too.
FreshLearn lets you transform your knowledge into an online school. Start creating an online course and launch your online academy in less than 60 mins. Get started for free today!
Passive Income FAQ(s)
1. How can I start earning passive income?
Ans: There are numerous ways to earn passive income, including buying stocks or real estate, developing an online course or digital product, launching a blog or YouTube channel, or renting out a piece of property. However, it's important to do your research and pick a strategy that fits your skills and interests. You should also be patient, as passive income streams typically take time to develop.
2. Can passive income replace my regular income?
Ans: Yes, passive income can replace your regular income, but creating several streams of passive income often takes a lot of time, effort, and money. But also, remember that passive income streams can be unpredictable and change over time, so have a solid financial plan in place.
3. Is passive income taxed differently than regular income?
Ans: Most of the time, passive income is taxed at a lower rate than regular income, however, this might change based on the particular passive income and the tax bracket of the individual. However, to fully comprehend the tax ramifications of your passive income streams, speak with a tax expert.
4. Can I earn passive income as a beginner?
Yes, even a beginner can generate passive income. However, adding passive income streams may take some time and money upfront.
For example, you may start by investing in dividend stocks, launching a blog or YouTube channel that generates ad revenue, or renting out a spare room in your home on Airbnb.
The secret is to identify a passive income stream that fits with your hobbies, abilities, and resources.
While it may take some time to generate a significant amount of passive income, starting early can pay off in the long run.
As you gain experience and knowledge, you can continue to explore new opportunities for passive income generation.
5. What are some of the passive income ideas for students?
Ans: Students can make additional cash through a variety of passive income ideas while maintaining their academic focus.
One choice is to put money into mutual funds or dividend-paying stocks, which can produce consistent income without demanding constant attention.
Another possibility to create passive income is by producing and marketing digital goods like stock photographs, e-books, and online courses. Students can also generate passive income through affiliate marketing, in which they are compensated for advertising other people's goods or services on their websites or through social media.


You might also like
Hosted by