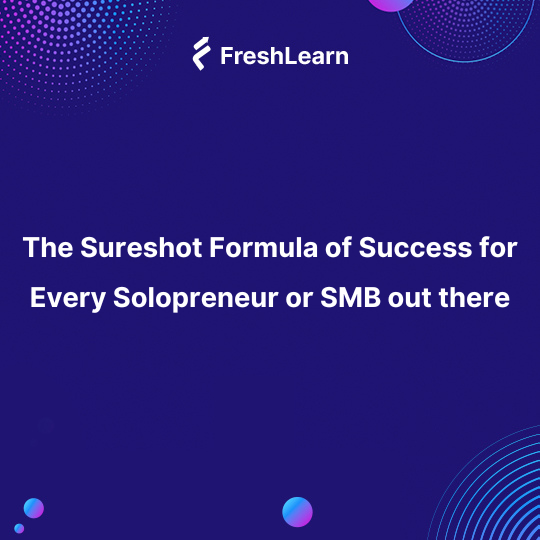 The Sureshot Formula of Success for Every Solopreneur or SMB out there
Be ready for everything, including a not-so-steady income or no income for the first few months of your solopreneurship. | FreshLearn | Learning Platform
I have immense respect for Solopreneurs and small businesses. They are the ones who are the backbone of the economy of any country. Sadly they are also the ones who always get overlooked. The government policies are either for the unemployed or for Fortune 500 companies.
LinkedIn, Freelancer.com, Upwork.com, Dribble, etc. are all filled with solopreneurs. It is these solopreneurs who are sharing their immense knowledge on these platforms day in and day out to search for work. This incredible content is what makes these platforms super popular and reaches a valuation of billions of Dollars.
Some of the exciting stats on Freelance statistics
In the USA, People who freelance contribute an estimated $715 billion in freelance earnings to the economy
In the UK, the flexibility offered by Britain's freelancers is worth £21 billion to the UK economy in added value.
Solopreneurs are not the guys who work on Technology only; they can be a painter, dancers, librarians, chefs, musicians, writers, sports players, or anyone you can think of.
Every solopreneur must succeed in what he or she is set out to do. It is the only way our world can be a beautiful place.
"Happiness makes you more Humane."
The Sure Shot formula of Success for every Solopreneur or Small Business owner.
1. Create Your Brand from Day -100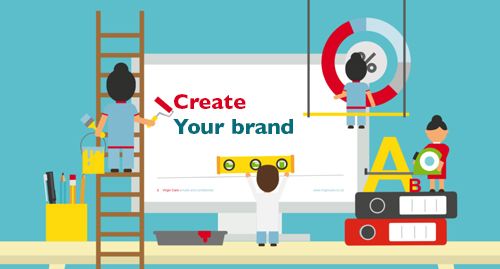 Yes, If you are planning to do stuff on your own, then you have to start creating your personal brand. So if you think that after three months you want to begin to do something on your own, then you better start working on your branding today.
What is a brand:
For example, I want to work with a freelance content writer Vs. I want to work with Rahul, who writes terrific content.
Your prospective customers remembering your name for what you do is a huge differentiating factor between you and others.
How to create your brand:
a). Create a Course and Sell or Share:
Packaging your knowledge into a course is a great way to let people know you better. Capture your expertise in videos or documents and make it available to the world for a price or for free.
The people who take the course are your prospective buyers as they know you better and if you price the course, you can start generating a steady income too :)
b). Be Vocal and Be Social:
Having a strong opinion in the areas you deal with is very critical. This shows your confidence and your belief in the business areas you deal with. So on whichever social media platform or even in discussions with your prospective leads, make sure you put your opinion in the right way.
2. Have Financial Reserve for 6 - 12 months: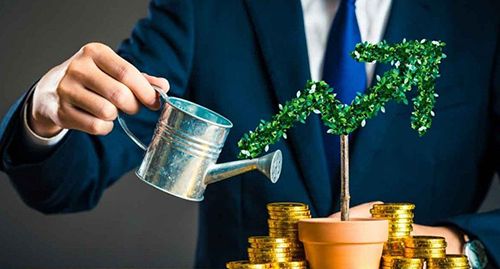 If you are switching from a full-time job to freelancing then make sure you have reserved money to feed yourself, and your family and invest in the business for at least 6 - 12 months.
Everyone has a plan until you get punched in the face.
Be ready for everything, including a not-so-steady income or no income for the first few months of your solopreneurship.
3. Make your family comfortable: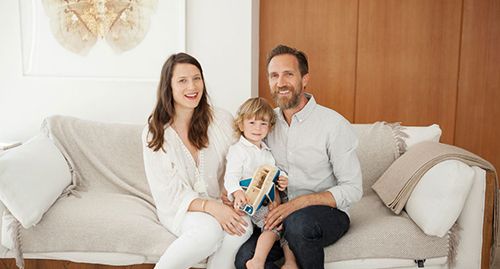 Discuss in detail with your family the pros, cons, and rationale behind taking this big step in life. You must make your family feel secure and comfortable. You can only then concentrate 110% on the work you are going to do.
4. Just go for it:
No amount of planning can beat the experience you get while doing it. So don't let yourself get into the analysis paralysis and don't move forward.
All the best for your incredible solopreneur journey.
Do share your thoughts and ideas so that I can also share them with the world and make every solopreneur successful.
You can create courses in just a few clicks using FreshLearn. Start building your course today.
FreshLearn lets you transform your knowledge into an online school. Start creating your online courses and launch your online academy in less than 60 mins.
You might also like
Hosted by