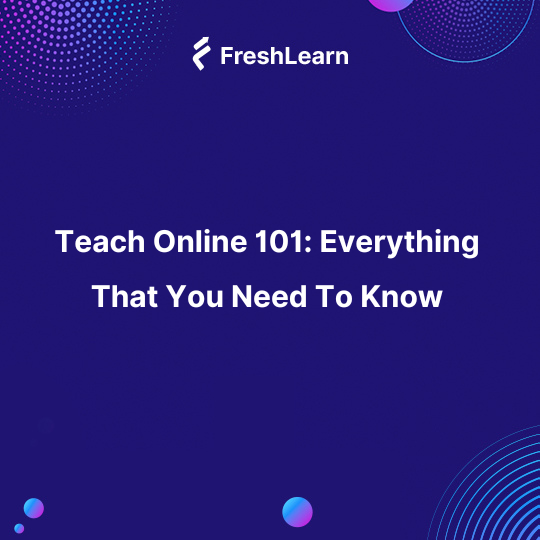 Teach Online 101: Everything That You Need To Know
Create an online course & earn a good income on the FreshLearn platform used by the world's best instructors to teach online and reach millions of students.| Learning Management System
Are you one of the many who has started being more active on LinkedIn, reading more blogs, taking online courses, and flaunting them since the lockdown? It's not just you; millions of students across the world are also adapting to the e-learning way of life.
Popular EdTech companies reported a more than 100% increase in new students after rolling out free and discounted classes. Numerous other EdTech platforms have been offering significant discounts on courses for students across age groups.
Due to the pandemic, at least 1.2 billion school students in 186 countries had to skip school. At least 120 million people in India alone lost their jobs due to the struggling economy.
The current situation is a blessing in disguise not just for EdTech companies but for the affected groups as well. Parents do not have to invest in heavy bags, books, travel to school, etc. this year.
People who have lost their jobs can capitalize on the surge in online skill up-gradation courses and strengthen their profiles. People working from home can use the travel and office time they're saving to upgrade their skills as well.
Is it just about the lockdown, though? Or is the lockdown just a catalyst that has opened the doors to a revolution in the way we learn and teach? In the Information Age, it is the latter.
Why is Online Learning Important?
A few months ago, when the worldwide lockdown was in its initial, uncertain stages, a list of 450 online courses offered by Ivy League universities was doing the rounds on social media.
These courses covered topics from computer science and business to humanities and design. A decade ago, there were no means other than making it to these universities for accessing this education.
Today, any student from any country can pay a nominal amount to watch lectures from esteemed professors, interact with them via forums and live streams, and get a certificate.
The sanctity of prestigious universities is no more in their exclusivity as much as it is purely in their teaching methods and resources. This, undoubtedly, is the best example of how EdTech is democratizing education globally.
With the improvement in bandwidth and data speeds, it is becoming much more comfortable and convenient to pursue education through your laptop or mobile screen.
Mothers on their maternity leave period and professionals who have taken career breaks for any other reason now have a chance to fill the gap in their CVs with new skills.
Startup owners often spend a lot on consultants for expertise in areas they are not skilled enough in. They can take up affordable certificate courses and do it all on their own.
Learning is no longer restricted just to your formal educational years. Everyone everywhere can learn almost anything, whether it is data computing or playing the ukulele.
Why is it Important to Teach Online?
You must have come across a lot of working professionals who have a strong desire to teach in their respective fields after a few years. Teaching has long been considered as more of an option that you turn to after your 40s or close to your retirement age.
With the ability to teach online today, your passion need not be postponed anymore.
You can take a few hours out of your work schedule and teach online courses that not only satisfy your heart but also your wallet. Just as anyone can learn, almost anyone can teach now.
A technical writer from India can teach English to migrant students in the UK at a cost they can afford.
It isn't just a matter of convenience and business opportunity. There is research that illustrates that students in online classes retain 25-60% more of what has been taught, as compared to 8-10% in a physical classroom.
There is a lot of nitty-gritty that helps both students and teachers. Just think about the physical setting. Within the four walls of a classroom in an institutional environment, some students aren't very open with questions and interaction.
When they sit in the comfort of their homes and have the option of personally messaging their teachers, a new level of ease is possible. This also helps teachers give personal attention to students, something parents always demand.
Why the 21st Century is All About Teaching Online
The idea of a 'personal touch which often discouraged people from online learning, has taken a backseat now. The level of personalization possible for both students and teachers is astounding.
E-learning takes 40-60% less time than a traditional class and allows students to reread, skip, and fast-forward through concepts.
Students can now schedule classes at a time convenient for them.
They can access course material whenever they want to.
Students can interact with peers from around the world and discuss lessons.
They can get used to innovative methods of virtual teamwork, which will also go on to help them in their professional lives.
In his book 21 Lessons for the 21st Century, historian, intellectual, and professor Yuval Noah Harari has highlighted that schools across the world are stuck in traditional, rote-learning ways.
Online learning can foster a shift from these traditions into a new age of innovation and critical thinking.
Technical Advantages of Teaching Online
Online payments have become the order of the day. A lot of schools have started accepting fees via online means. The process of online payments for EdTech platforms has made receiving and paying money quicker. Plus, traditional tuition teachers who had to haggle with parents for home tuition can now formalize courses and charge standard fees.
A decade ago, people in developed countries were sceptical about both online learning and online payments. All of it has changed now.
Another crucial factor is internet speed. As Wi-Fi becomes the second oxygen of the global citizen, countries all over the world are working towards making the internet more accessible.
Global average internet speeds have only risen in the past few years (30% in 2017 and more than 15% in 2018). In India, faster and cheaper internet has made it possible for students in rural areas to access quality education over their mobile phones at reasonable prices.
There has simultaneously also been an upgrade in technological devices. The sheer number of smartphone brands has led to competitive rates and amazing features being available at affordable prices. With a 5G network, your mobile can now do almost anything that was only possible on your laptop. Out of about 7.8 billion people in this world, there are about 5.15 billion unique mobile phone users today.
We are at a unique crossroads in the history of humanity, where physical, logistical, technological, and intellectual factors have converged and created newer ways of consuming information; modern ways of absorbing knowledge, and unique ways of learning, and teaching.
Technologies to Help You Teach Online
Let's now get to how the ideals of learning better can be achieved in practicality through online teaching methods. Technology is invariably evolving and presenting newer forms of making lessons unique. The most basic tools, such as Google Suite, Evernote, Slack, etc. can be a good start as most of us already use them for office work.
Even for teachers who are not very tech-savvy, these tools are elementary to figure out on your own and master.
Here's a quick list of tools for beginners to intermediate online teachers.
Evernote: This is an app that can help you convert notes into quick slides and can be used across mobiles and computers. You can divide and structure your notes into separate notebooks, share them with others, and even let others edit them. Evernote's audio, picture, and handwriting features can make your content everything from attractive, cute, and appealing to professional and engaging.
Slack: Slack is originally a communication tool for professional teams. As an online teacher, it can help you share notes, hold discussions, and even send DMs. It takes hardly a few minutes to get acquainted with its features, which are numbered but useful.
Google Suite: Google has its own and more accessible version of Word Docs, spreadsheets, and slides, which can be made and edited collaboratively. You don't need to buy or download Microsoft Office; you can log in to your Google Suite anytime.
Canva: Websites such as Canva help you design pages and make your presentations look more appealing. Canva designs can, in fact, easily pass off as professional Photoshop work at times.
Online Classrooms
There are a plethora of video calling services and platforms that can be used to teach students without spending half of your lecture duration, asking each other if you are audible. You can use the tools mentioned above seamlessly on these video platforms without much hassle. Here are the best ones to begin with.
Zoom: Zoom is probably the most popular video calling platform at the moment. You can share your screen, play videos for the class, write notes, send files, and even scribble the way teachers do on physical blackboards. You must have used it already for work meetings or personal calls. Zoom calls can quickly add up to 100 participants, so large classrooms are not a problem either.
Google Classroom: As usual, Google has an answer for everything. Through this platform, teachers can create and manage classes, and assignments, give real-time feedback and send reports to parents. Students and parents can continuously keep track of their course progress and receive regular summaries, reviews, etc. from the teacher.
Skype: Skype is no more just an app you use to video call relatives and friends who are far away. You can hold video lectures with up to 50 students on Skype, and even share your mobile screen if required. The only limitation of Skype, which you must've heard often, is that it lags at times and cannot be trusted with low internet speeds.
Recorded Classes and Live Classes
With each of the tools mentioned above, you can hold both live classes and record them for later viewing.
From a student's perspective, recorded classes are convenient as they can view them at leisure. They can also skip and replay, which allows them to work at their own pace.
Recorded classes also usually have lower costs as compared to live courses. For a teacher, a recorded class puts more focus on delivering a regular lecture and focus on storytelling. However, you can also hold a live class and record it for later viewing.
As a matter of fact, with a platform like FreshLearn, you, the teacher can focus entirely on your lesson. FreshLearn comes equipped with features that can help you create AND sell your course in under 60 minutes. These include:
Heavy on-course personalization
Ideal user journeys
Prompt quizzes and assessments
Custom domains for every course
Effortless payment unification
Smart third-party integrations
Completely Whitelabel and re-brandable operations
Next-gen reporting and analytics
Support for solopreneurs and organizations
How to Pick the Right Tools to Teach Online?
To pick the right online teaching tools, you first need to list down your class goals. These would depend on the type of class, the material, the age group of students, etc.
For example, you have to teach a group of teenagers. These restless, young minds need not just storytelling but something more. Games are the right way of holding their attention.
Gamification: For gamifying your lectures, you can use quizzing tools such as Quizziz and Quizlet. There are also other gaming tools such as Educandy, Kahoot!, and Gimkit that you can use to make multiple games for multiple classes. Games make the class fun for both students and teachers alike. Apps like Quizzes can also be used for family game nights.
Interaction: An essential aspect of online lectures is interaction. For this specific goal, teachers can use tools like Nearpod, Google Tour Creator, etc. which help them integrate VR, give prompts, take virtual field trips, and much more. Interaction has now surpassed just personal chat and voice notes, and this is just the beginning.
Storytelling: The most important goal of teaching in any environment is storytelling. You won't be surprised that there are apps for this too. StoryboardThat is an app that provides graphic organizers, templates, lesson plans, themes, characters, props, GIFs, etc. If you aren't ready for high-level tools, you can simply use a combination of Slides and Canva designs and still make your class fun, creative, interactive, and colourful at the same time.
Teach Online: 6 Essential Tips For Success
Teaching online can be a rewarding experience, but it also comes with its unique set of challenges. Here are some tips to help you effectively teach online:
Choose the Right Platform
Selecting the appropriate platform stands as a paramount consideration among the essential tips for effective online teaching. With a plethora of virtual learning environments available, each boasting distinct features and functionalities, opting for the right platform is pivotal in fostering a conducive learning experience.
Factors like user-friendliness, accessibility, interactive tools, and compatibility with diverse devices must be meticulously evaluated.
The chosen platform should seamlessly accommodate various forms of content dissemination, facilitate real-time engagement through discussion forums or video conferencing, and enable easy submission and assessment of assignments.
By assessing and embracing a platform tailored to the course's objectives and the learners' preferences, educators can establish a strong digital foundation for impactful and meaningful online teaching experiences.
Set Clear Learning Objectives
Setting clear learning objectives is a fundamental and indispensable strategy when teaching online. These objectives act as guiding beacons, illuminating the learning path for both educators and students in the virtual realm.
By articulating specific goals and outcomes, educators provide a roadmap for the course, ensuring that the online learning experience remains focused and purposeful. Clear learning objectives not only enhance the organization and structure of the curriculum but also foster a sense of direction and motivation among students.
Moreover, well-defined objectives facilitate effective assessment, allowing educators to measure student progress and tailor their teaching strategies accordingly.
Ultimately, setting clear learning objectives empowers both educators and students to navigate the online educational landscape with intention, purpose, and a shared understanding of the desired outcomes.
Engaging Content Creation
Crafting information that captivates and connects with learners is important in the digital realm, where attention spans are short and distractions abound. Using a variety of multimedia components such as films, interactive quizzes, infographics, and real-world examples, educators may accommodate diverse learning styles and sustain student interest.
Incorporating engaging anecdotes, thought-provoking questions, and pertinent case studies can build a sense of connection and application, increasing the overall learning experience.
Furthermore, an iterative strategy that encourages student input and modifies information based on their preferences and requirements emphasizes the two-way nature of online education, resulting in a dynamic and enriching virtual classroom environment.
Foster Communication
Today, where in-person interactions are replaced by virtual interfaces, the development of clear communication channels becomes absolutely essential. The importance of expressing ideas accurately is emphasized, as it ensures that students understand course objectives, foresee requirements, and interpret assignments.
This, in turn, prevents any potential confusion and enhances their learning experience. By setting up regular virtual office hours, interactive discussion platforms, and timely email responses, instructors establish an approachable presence that encourages students to ask for clarification and guidance whenever needed.
This intentional dedication to nurturing communication not only facilitates active participation and collaborative learning but also fosters a strong sense of belonging, enhancing the online academic journey for both educators and learners.
Tech Support
As teachers dive into virtual platforms and digital tools to teach, having someone who can help with tech stuff becomes super important. They're like the heroes who swoop in to fix connection problems, tackle pesky software issues, and show students how to work their way around online setups.
This kind of top-notch tech support creates an atmosphere where everyone feels confident and capable. It's not just about helping teachers smoothly sail through their lessons, but also about giving students the power to dive into learning without any tech worries.
When they're quick with solutions and answers, tech support plays a big role in making online teaching work like a charm, building a sturdy bridge between cool technology and the world of education.
Create a Welcoming Environment
When we're in the online teaching world, not having that face-to-face thing makes creating an inclusive and cozy atmosphere super important. But guess what? You can totally make it happen! Just mix some good communication, cool visuals, and engaging tricks.
First off, be crystal clear about what you expect from your students. And when you chat or make videos, let your friendly and chill side shine through – that goes a long way. Oh, and don't forget to jazz up your online space so it looks awesome.
But it's not just about looks; it's about making everyone feel heard. Get those discussions rolling, give virtual high-fives for awesome ideas, and always have your students' backs. That's what makes it feel like a real learning gang.
So, yeah, creating a welcoming vibe? That's how you get everyone excited and ready to rock their online learning adventure!
Balance Synchronous and Asynchronous Learning
Finding the right balance between live sessions and self-paced learning is like a secret sauce for successful online teaching. Imagine synchronous learning as those real-time virtual class huddles – they're like your front-row seat to ask questions and get instant answers.
Then there's the asynchronous part, where you dive into recorded lectures and readings whenever you're in the groove. Mixing both of these flavors helps every type of learner shine. Night owls or early birds, busy parents or world travelers – everyone gets a piece of the educational pie.
Those live sessions make everyone feel like part of a gang and give a chance for quick feedback. Meanwhile, the DIY aspect of asynchronous learning lets students take charge and juggle things around.
Mix these two together, and you've got a winning recipe for online teaching that keeps everyone in the game
Questions You Need To Ask Before You Teach Online

Once you begin conducting your online classes, you will have a lot of questions. Here are some of the most common and basic ones, answered.
Personal attention: Usually in physical classrooms, questions such as "Is this clear?" is usually met with either a reluctant "Yes" or indifferent silence. In an online class, you may not be able to watch the faces of your students and gauge their expressions. What you can do is use polling and quizzing features. You can introduce a reward system for feedback polls, which will encourage students to provide you with honest feedback. This will then help you to determine which student requires attention in which area, and address it through personal chat and conversations.
Group activities: Zoom's Breakout Room is the best-known tool for group assignments in online classes. Teachers can split students into groups, and all groups can work simultaneously within time limits. Another basic method that you can use is to throw open assignments for review and comments from peers. This way, students don't just work together but also learn from each other's positive and negative points. These activities can go a long way in building class harmony and friendships.
Managing Technical Issues: Almost all technical issues while teaching online have one explanation – lousy internet. The very first thing you need is a good internet connection. Of course, your students will also need one. Once you get a new internet plan, test it on video calls with friends, and test-run all your online teaching tools as well. Be prepared for everything. Have a mobile data backup plan in case your Wi-Fi fails, and encourage students to do the same. With 4G and now 5G, cellular data can support online classes as well as broadband and WiFi.
Adapt to mobile: As we mentioned before, there is almost nothing that you cannot do on mobile. There are unique teaching apps for use on basic mobile phones and even for offline connectivity. Nowadays, a lot of budget and mid-range Android phones have excellent cameras, which aid video lectures a lot. You might find the phone screen limiting space, but you can overcome that too, by practicing hand gestures and testing different angles for your phone. It would also be wise to invest in an excellent mobile phone rig that leaves your hands free for articulation and animation.
Designing the coursework: If there were a course on creating an online course, new teachers would take it. There's so much information at your disposal that you can get confused about what to use and what not to use for your syllabus. Designing a course structure begins with answering some basic questions and converting these answers into a step-by-step plan.
Who are your students? What is their age group, qualification, likes, dislikes, etc.? Make a consumer profile-type summary of them.
What do they already know about the subject matter that you can use as a starting point for your course?
What could their possible goals be concerning your course?
How much time would you require to reach these goals?
What is the pace of learning that would suit them?
What are other teachers in the same field doing? Can you take inspiration from existing courses offered by universities?
Designing homework and assignments: Firstly, understand that you'll probably spend as much time teaching as you would preparing assignments and evaluating homework. Next, be regular with assignments. Pre-decide the homework for each lecture. Integrate as much creativity as possible in assignment briefs. Ask students to sketch, draw, animate, and act. Working from home requires a special kind of motivation to get out of your comfortable bed and work on a screen. Make sure your assignments are fun enough to provide that motivation, whether your students are 10-year-old kids or middle-aged professionals.
Mistakes to avoid
Whether it's your first time or your fifth, there are bound to be some areas of improvement. Teaching is, after all, learning again and again. Here are a few common problem areas addressed.
The pacing problem
The problem with a lot of courses, online and offline, is that they become difficult to follow because of the sheer amount of information loaded into them. Through a screen, it becomes even more difficult for a teacher to judge the mood of the class and re-pace lectures accordingly.
So, if it's your first online course, make sure that you start with a light session with fewer information points and more focus on discussion, analysis, and retention.
This will also give you a better idea of your student group, their mentality, their choices, and their attitudes. A few lectures in, you will know their pace and can design the remaining conferences as per that pace. How much information to put in a course is a question that you won't solve in one class or course.
A few lectures later, you will have enough practice and experience to have the right answer to that question. So keep yourself open to new insights, new revelations, and new methods all the time. It is, after all, a learning process for you too.
Selecting a course and its content
If you are confused by the very first question, which is "What do I teach?", you have a lot of follow-up questions to ask. However, the most important one is "What am I good at?". Other questions like "What is in demand/trend right now?", "What does my audience want?", "What will pay me more?" are secondary. It is the age-old excellence-success bargain.
If you're good at something and believe in your wisdom, you will find the audience for it, and you will find success too. It is better to be an expert in something you know than to be a mediocre performer in something you're not very good at.
The world is a small place; you will find takers for anything. It doesn't have to be coding or big data. You could even design a course on the lifecycle of arachnids and find a class full of eager students from around the world. Find your niche and excel in it.
Market Strategy
What is your go-to-market strategy? If you're a marketing or media professional, you already know this term. You might even be teaching or learning it online. A GTM (go-to-market) strategy is just the strategy that a company uses to bring its product into the market and create value through a business plan. You don't need this jargon. You just need to follow the three necessary steps of marketing.
Find out what people want.
Deliver it to them
Tell them that you gave it to them.
In practical terms, if your area of expertise is, say, management, find out existing courses on management. Look for gaps and carve out a niche that no one else is addressing. The next step is to tackle that niche and design a course.
The final step is to sell your course. Selling your course doesn't just mean advertising it when before you start it, it also means sharing feedback when it's over. Let the world know that your students are satisfied. It will help you get more students to sign up for your next course. All of this is a meticulous strategy that needs to be ingrained in your course plan.
Announcing and launching a course on the same day
This would be a very rookie mistake to make. If you announce your course and commence it on the same day, you're not giving students enough time to notice your course, think about it and then enrol. It also makes your course look like a limited-period FMCG offer and gives an impression of poor planning. Instead, keep enough space between your announcement and launch. Post it on social media platforms.
Give teasers and sneak peeks, which will generate excitement for your course. Take a good week and plan a strategy for each day of the week. Get your close friends and relatives to publicize your course as well. You can also use this plan to flaunt your achievements, thus proving your credibility and expertise in the course matter.
The whole problem with announcing and launching on the same day is that all of this isn't possible in a day.
Not having a clear course structure
Your course, whether beginner, intermediate, or advanced, should have a specific goal that takes the learner from point A to point B. You should be able to explain the benefit of your course in one or two sentences.
For example, "This online marketing course will teach fresh graduates to use Instagram and Facebook for promotion, sales, and engagement by acquainting them with various tools offered by Facebook." Decide your point A, and point B, and then fill the space in between with a plan breakdown.
Teaching is an art, but it takes as much structure and strategy as any other job. It is, after all, the art of sharing. You cannot share effectively unless you plan your communication.
Looking Forward
This might have been a lot of information to take in, so read it at your own pace. Treat it like a mini online course on online courses. And lastly – research, research, and research. Check out multiple online tools and platforms and test them.
Decide the best combination of devices, platforms, and resources for yourself. The world of teaching online has bright prospects for you, so jump right in and start your journey!
FreshLearn lets you transform your knowledge into an online school. Start creating your online courses and launch your online academy in less than 60 mins.
You might also like
Hosted by