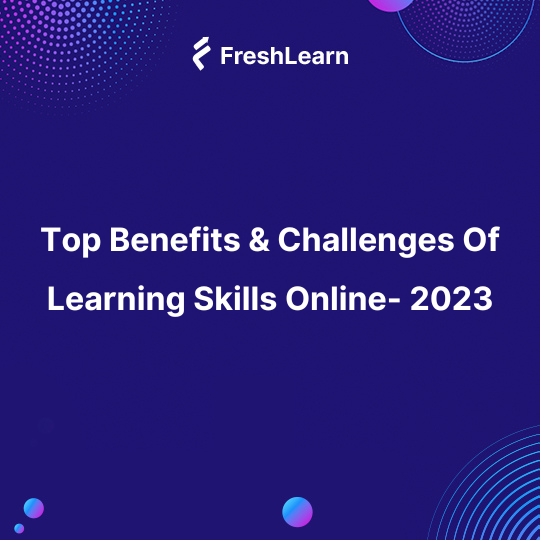 Top Benefits & Challenges Of Learning Skills Online- 2023
Gone are the days when students had to travel a distance to reach class on time or leave the office early to pursue part-time courses.
In today's fast-paced online environment, Online classes are useful not just for students but course creators too.
From becoming better organized and increasing productivity to cultivating a deeper focus on projects—there are endless reasons why creators should take advantage of this type of learning experience.
Let's get started!
Benefits Of Online Learning
1. Anywhere, anytime learning
One of the main benefits of online learning and the reason why people prefer it is the flexibility it provides in learning.
Anybody - be it a new mother who has taken a career break but is planning to upskill herself to a working professional who has no time to attend classes, can avail themselves of the benefit of online learning from the comfort of their home.
The courses are available 24/7 and can be accessed from mobile or PC.
Of course, some live online programs need the students to be present all the time.
But most of them also provide access to recorded sessions, which the student can view in their free time.
2. Learn anything
Unlike legacy courses with a rigid learning path and curriculum, online courses are more flexible.
Most classes are built according to the student's skills or expertise level. For example, a person who has no design background can begin with the beginners level designer course.
An experienced designer who might want a refresher course would prefer an intermediate or advanced-level course.
Students also get an opportunity to enroll in online classes conducted by a global institute.
Coursera, for example, enables students worldwide to enroll in online classes conducted by major institutes such as Duke University, Yale University, etc., without disrupting their professional or personal life.
3. Self-paced learning
Typically, a course would range from one year to three or four years. The student is compelled to continue with the course till they complete it.
Taking a break would mean that they have to start from scratch again.
Sometimes it's also hard for students to catch up with the curriculum if they miss a few lectures.
Most online courses offer self-paced learning options.
Students get lifelong access to an online course that allows them to learn at their own pace. They can also go back to earlier lessons to get better clarity on their concepts.
4. Opportunity to learn new skills or upskill
Legacy universities have limited programs for upskilling. Most likely, they are postgraduate programs that are aligned with the current trends.
Online courses are shorter and more attuned to the current business needs. Learning skills is easy too, as students need to meet little or no eligibility criteria depending on the course.
Let's say, a short-term online course on Machine Learning may require some background in programming, but a course on graphic designing could be open to all.
You can also learn new hobbies at your own pace through online classes.
For example, if you are interested in baking and want to learn how to make cake toppers, this is your chance to enroll in a course that is specially designed by our FreshLearn creator, Bola Eniola.
5. More affordable than offline courses
Offline courses include additional costs such as infrastructure, commute, and housing (if the course is a residential program).
Online courses require only a device such as a laptop or mobile phone and good internet connectivity. This makes online courses more affordable than offline courses.
6. Ability to share achievements
Humans love social validation, and what better way to get recognition than by sharing achievements with others?
Online course platforms allow students to share their achievements on social media.
It acts as a win-win situation because the student can improve their chances of getting a job or a promotion by sharing their accomplishments, while it creates brand awareness for the course creator as more people will get to know about the course.
7. Global collaboration
Online courses enable students worldwide to collaborate online, learn from each other, and share best practices and ideas.
It provides an excellent opportunity for the students to network and understand different cultures.
8. Learn new-age skills that can be applied on the job immediately
According to the Emeritus 2021 Global Career Impact survey, 7 out of 10 respondents said that completing an online program helped them be more efficient in their jobs.
Most online courses are developed by industry experts who have practical knowledge and experience in the subject.
So, online courses are developed to make students job-ready. The skills can be applied immediately.
Here's an example of a new-age skill course that is offered by our creator Deepak Goyal
9. Flexibility to choose different courses or bundle them
Students don't have to stick to a single course. With proper time management skills, they can pursue multiple courses at the same time to improve their knowledge or expand their horizon.
Some course creators also offer bundled courses such as three courses bundled into one to help students gain more skills and information seamlessly.
10. Better engagement
Considering that most course creators have a strong online presence, students can reach out to them instantly to clarify their doubts and engage with them.
They can ask questions, exchange ideas, and gain deeper knowledge. This kind of networking could also open doors to better career advancement for students.
11. Access to more resources
Unlike traditional courses, knowledge is not limited to textbooks. Most course creators provide students with access to additional course materials such as blogs, research papers, newsletters, and videos, or conduct occasional Q&A sessions to ensure that the students stay updated.
12. Lifelong access to course material
Students get lifelong access to digital learning materials and lecture recordings once they enrol or complete the course.
They can go through the course content or listen to the recorded lectures anytime they need a refresher on the topic.
This is how Deepak offers both pre-recorded and live courses for his students. He has two different plans and so students can choose their options according to their preferences.
So this is how course creators can share additional course materials after the course to promote lifelong learning.
This enables online learners to update their knowledge whenever they want to based on their own schedules.
13. Learning beyond the course through community
Learning is always lifelong. Most online course creators have an online community for their new students and alumni.
So, one of the many benefits of online learning is that it allows students to stay connected with others, gain the latest updates related to what they have learned, and exchange ideas and learning styles with each other.
Course creators also use these communities to cross-sell their other courses that could be useful for the students. They create an environment where learning continues even after the course ends.
14. A more conducive learning environment
Typical offline courses have tests and exams that could make students nervous and anxious. There is always a fear of exams making or breaking their future.
The focus shifts to getting a good score rather than learning and applying the concepts. Online learning eliminates that stress and focuses more on learning.
The tests are also designed in a way that the students focus more on gaining knowledge than scoring an A+.
It makes the online learning experience more conducive and enjoyable.
15. Become more self-driven
Online learning makes you more self-driven and disciplined. Typically in a traditional classroom environment, there are trainers or student advisors to supervise and guide them.
However, in an online learning environment, the students have to learn on their own.
Although they have coaches and peers with whom they can interact, they are largely accountable for their learning outcomes.
This inculcates a sense of discipline and commitment within online students.
Challenges Of Online Learning
As a creator, it can be hard to render your ideas into reality when limited to the confines of an online classroom.
It's difficult to achieve the same level of success in a virtual classroom as in a physical one, and you may frequently feel overburdened with new obstacles.
A bumpy road does make your life difficult but remember every challenge has an answer!
Here are some common challenges of online learning with helpful solutions that will make overcoming them simpler than ever.
1. Lack of motivation
Lack of motivation is a common challenge, especially if you are struggling to create a structured study schedule or if you are feeling isolated from your peers and teachers.
Say, for example, a student who is not used to self-paced learning might miss the structure of a traditional classroom setting.
They may find it hard to stay on task and complete assignments without the accountability and regular check-ins that come with in-person learning.
So, they start procrastinating and eventually lose interest in their coursework, and ultimately might fail to meet the expectations.
SOLUTION:
Physical interaction and engagement are important for maintaining interest in online learning.
So, you as a creator or instructor should support students and focus more on delivering interactive lessons in order to enhance motivation and engagement.
Create opportunities for interaction by making make use of online tools such as adding gamification, chat functions, and video conferencing to simulate the social interaction of in-person classes.
Personalize your instruction and provide individualized feedback on their work.
Providing individualized and positive feedback can help your students stay focused and boost their confidence and motivation.
2. Distraction
It's so easy to get distracted these days with all the social media and entertainment available on the internet.
It can be a real struggle for students to stay focused and engaged with their studies when there are so many temptations just a click away.
It's not uncommon for students to find themselves getting sucked into scrolling through their social media feeds, playing games, or getting lost in other online distractions instead of working on their assignments.
SOLUTION:
Ask your students to set up a dedicated study space, ideally a quiet room or area where they can focus on your work without interruption.
It may also be helpful to set specific times of the day to work on studies and to stick to those times as closely as possible.
Additionally, you can suggest your students use apps and tools like website blockers, which can block distracting websites during specific times of the day, and focus timers, which can help them to stay focused for short periods of time.
3. Technology issues
Technology can be both a blessing and a curse when it comes to online learning. One of the major challenges that online education faces is technical difficulties.
Students and teachers may experience problems with internet connectivity or device malfunctions during class, which can disrupt the learning experience.
Furthermore, not all students may have access to reliable internet or the necessary devices, such as laptops or tablets, to participate in online classes.
These issues can create barriers to access and equity, leading to an uneven online learning experience.
Additionally, online classes can be less engaging than in-person classes and can lack the level of interactivity and social interaction that traditional classrooms provide, which can make it harder for students to stay focused and motivated.
SOLUTION:
Talk to your students about their issues and ask them to check if they have such issues and if possible, you can offer devices to the students.
If not, you can ask them to use public libraries where they can access the computers to access the study materials
Also, before enrolling in an online class, students and teachers should check if they have a high-quality internet service provider (ISP) for a fast connection.
If they don't have access to a good ISP at home, they can use free Wi-Fi at a public library or coffee shop nearby.
4. Limited in-person interaction
When we're in a traditional classroom setting, it is very easy to engage in direct dialogue which undoubtedly fosters a sense of community and facilitates learning through discussion and debate.
But, this is not always the case in online learning.
Limited in-person interaction poses a very common and biggest challenge as it makes it difficult for students to form connections with their peers and instructors.
And, it is also harder for instructors to provide personal feedback and support to individual students.
SOLUTION:
While imparting online education, incorporate regular synchronous sessions, such as live online lectures or group class discussions.
This can provide students with the opportunity to connect with their classmates and instructors in real time.
Provide virtual office hours where students can meet one-on-one with the instructors.
This can help to fill the gap left by the lack of face-to-face interactions.
Online collaboration tools:
Use online collaboration tools such as discussion boards, forums, or virtual meeting platforms.
This can provide students with the opportunity to engage in collaborative learning and build relationships with their peers.
Group projects and activities:
Assign group projects and activities and help students form connections with their classmates.
Personal feedback and support:
Even though it is difficult to provide personal feedback in online education, try to regularly check in with students and provide them with personal feedback and support.
Extra efforts from teachers:
As teachers and instructors, make extra efforts to provide individualized feedback, online assessments, and personalized guidance to make sure each student is on track.
Extra efforts from students:
Students should also actively reach out to teachers and classmates to form study groups and practice active participation in online class discussions.
5. Difficulties with assessments
It's worth noting that the widespread shift to remote learning caused by the pandemic has increased this problem for both students and instructors.
One of the main difficulties with assessment in an online setting is the lack of direct observation of the students and the ability of the instructor to gauge their understanding.
This can make it harder for instructors to provide appropriate feedback and support, and can also make it more difficult for students to demonstrate their understanding of the material.
Additionally, online assessments may require different types of questions and answer formats than traditional, paper-based assessments, which can create additional challenges for both students and instructors.
It is also difficult to ensure that online assessments are secure and that students are not able to cheat.
SOLUTION:
With online learning becoming more and more prevalent, educators have had to figure out how to assess their students.
Of course, not being able to be there in person poses a number of challenges.
One solution is to use a variety of assessment methods.
In online education, using a mix of different types of assessments, such as multiple-choice questions, short-answer questions, essays, and projects, can help ensure that students are being evaluated on a wide range of skills and knowledge.
Furthermore, technology can be used to prevent cheating on assessments by using applications like Respondus Lockdown Browser and Proctorio which restricts access to certain websites and pages during exams.
Ultimately, technical skills can be used creatively to handle the difficulties posed by assessments in virtual settings.
Unlock The Potential Of Digital Learning!
We have made it to the end of this journey and have seen that online learning has both advantages and challenges.
Online learning is a great way to diversify your skillset and gain new knowledge.
And with so much advancement in the digital world, I'm sure you wouldn't want to be left behind.
Keep up with current trends in technological advancement and use online learning in achieving what you set out for yourself.
The pathway to improving your learning journey should never be a dull one!
To make the process even easier and more engaging, contact Freshlearn.
We have been a valuable asset to creators in the process of creating their courses.
Through our assistance, over 11475 creators have been able to successfully launch and sell their digital products directly to their audience, earning a total of over $20 million in revenue on their personal websites.
So what's stopping you? Contact Us Today.

You might also like
Hosted by