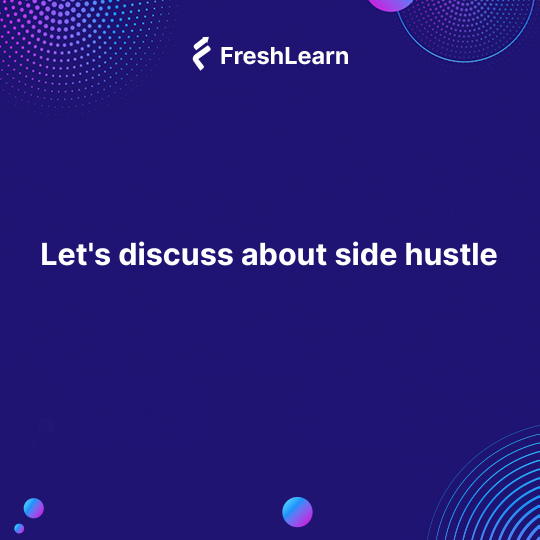 Let's discuss about side hustle
Congratulations that you have thought about Side Hustle!! Now you have differentiated yourself from millions of people who are unhappily doing their regular jobs with a fake smiles.
What is Side Hustle?
Side Hustle is all about doing something you love which not only gives you satisfaction but also has the potential to give you extra money to reach your goals of financial freedom
Side Hustle is your first step towards a life that everyone always dreams of from childhood - Financial Freedom
Important things to look for when you start your side hustle
1. Don't do it temporarily: Your side hustle is your seed for the future financial freedom tree. Don't be in a hurry to make money from day one.
2. Build Credibility: Make yourself visible to the world through your knowledge, and work so that people start trusting you. The best way to build your credibility is through writing blogs creating online courses and helping people in your field of hustle.

3. Build Connections (True Fans): If you read this blog by Kevin Kelly, you will know what a "True Fan" is. So always look at building your first 100 connections whom you know by name and they love you to the core and would buy what you produce or build :)
4. Avoid Low revenue marketplaces: There are marketplaces like Fiver, Upwork, and Udemy which are wonderful but most of the time the lowest price wins and not the best quality. Instead, start working on points 2 and 3 from day 1 you decide on a side hustle.

Every Side hustle is a great start to your financial freedom which has the potential to earn thousands of dollars more than your regular mundane job.
FreshLearn lets you transform your knowledge into an online school. Start creating your online courses and launch your online academy in less than 60 mins.
Hosted by