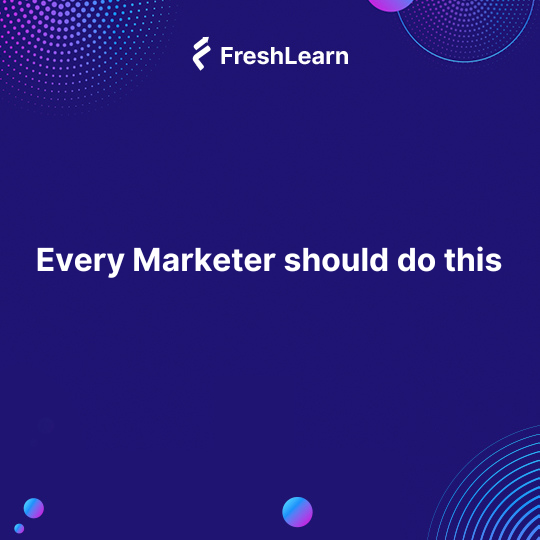 Every Marketer should do this
There are many No Code platforms Where you can build the launch your online courses in no time including the payment gateways and your branding as well. FreshLearn is one of them
What is stopping you from creating a few online courses on your own? I am serious.
You have been helping businesses reach out to the world and make them visible but then as a person, you have limited resources and the only way you can reach out to more is by
Sharing your knowledge with the world in the form of short online courses
I am a techie turned entrepreneur and I do look out for some good online courses to learn more about marketing and so are millions of people like me.
I am not a great advocate of advising for free. You should charge a fee for your online courses and people who love your work and have a pain point in their daily business life will grab it and learn
12 online courses which I would buy at any time
How to start shortlisting keywords for my business
How to setup and understand Google Analytics
How to start a blog and make it SEO Friendly
How to write a wonderful cold email (Yes cold email still works)
How to build a social media strategy for the first 30 days
How to pick and set up a marketing automation system
How to prevent my emails from going to spam all the time
How to get the first 1000 visitors to my website
How to make sure my website is loved by Google (SEO Friendly)
How to build my website on No Code Software - WordPress or Webflow
How to set up and run my first Facebook ads
How to set up and run my first Google ad (display and search )
There are many No Code platforms where you can build the launch your online courses in no time including the payment gateways and your branding as well. FreshLearn is one of them :)
Don't hold yourself back and start building short online courses and build your own brand !!
FreshLearn lets you transform your knowledge into an online school. Start creating your online courses and launch your online academy in less than 60 mins.
Hosted by