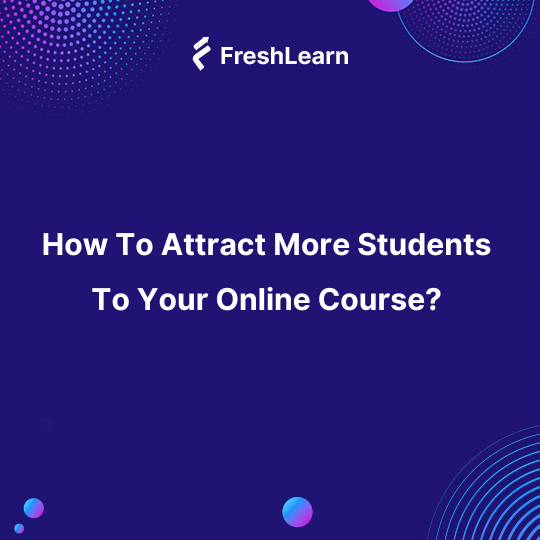 How To Attract More Students To Your Online Course?
If you confuse about how to attract more students to your online course, here are a few methods to get you more enrollments.
You spend months writing, researching, creating, and designing your online course and now you're ready to start marketing it. One thing comes to mind, how do I get students?
Everyone is looking for ways to make more money and one of the hottest trends is taking online courses. Most of these courses are geared toward entrepreneurs who want to learn a specific skill.
If you are looking for ways to get students for your online course, then you need to read this blog where I've put together a list of different ideas you can use to get students to enroll in your course.
General Tips To Attract Students To Enroll In Your Online Course
1. Promote Your Course Through Social Media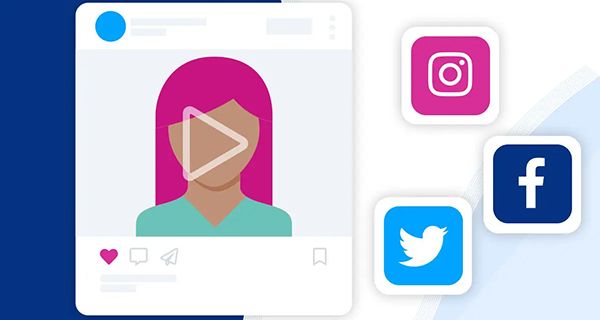 There's no doubt that social media can be a powerful marketing tool for online courses. By being active on social media, you can reach a larger audience and attract more students to your course.
Use social media platforms that are popular with your target audience.
Post interesting and engaging content that will capture the attention of your target audience.
Use relevant hashtags and keywords to help your content reach a wider audience.
Use social media ads to target your ideal students.
Engage with your audience by responding to comments and questions.
By following these tips, you can use social media to effectively market your online course and get students for your online course.
2. Provide Engaging Course Material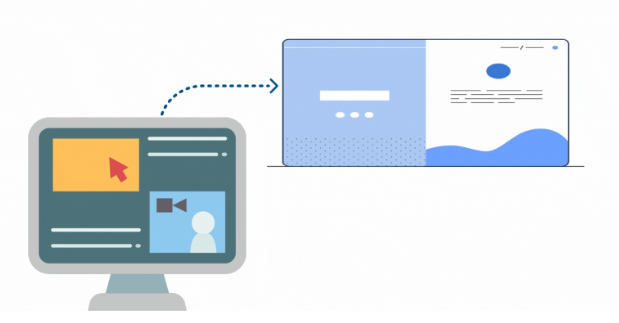 As an instructor, providing useful course material is one of the best ways to attract more students to your online course. By ensuring that your course material is well-organized and informative, you can give students the confidence they need to enroll in your course.
One way to provide useful course material is to create a course syllabus. This document should outline the topics that will be covered in your course, as well as the order in which they will be presented. Additionally, the syllabus should also include any assignments, quizzes, or exams that will be given.
Another way to provide useful course material is through lectures. Lectures can be either pre-recorded or live, and they should be designed to introduce students to the topics you will be covering in your course. For each lecture, make sure to include a list of key points that students should be able to take away. Additionally, you can also provide supplemental materials, such as readings or videos, to enhance the students' learning experience.
Finally, it is also important to provide useful course material when students are completing assignments. Make sure to provide clear instructions on what is expected, as well as any resources that they may need. By providing useful course material throughout the entirety of your course, you can give students the best chance for success.
3. Provide Discounts To Your First Student
Everyone loves discounts. Don't they? So, what's so special about offering discounts to your first student? Well, offering discounts to your first students will give them the incentive to sign up for your class and to tell their friends about it!  They'll be able to spread the word and invite their friends to join them!
That's Incredible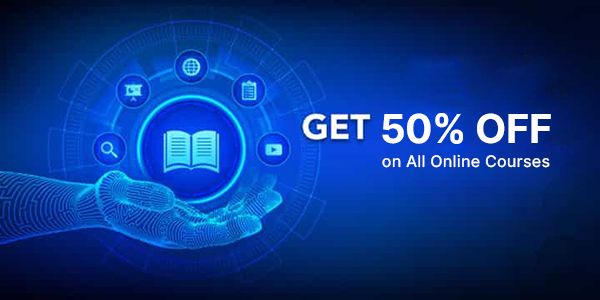 Getting students enrolled for your course might seem a daunting task. Luckily, there is an easier way of getting students to sign up for your course. Giving them a discount for a few days, for example, is a great offer which can definitely compel people to sign up for your course.
However, keep in mind that you're giving away a discount for a limited time, so once checkout is over, your students will be paying full price for the course. In order to be successful with this strategy, you should also make sure you have a great course to sell in the first place. Content is the king as they say, so you should use your best marketing skills to beef up the quality of your course. That way, you'll be able to make a profit even after the discount is gone.
4. Offer Course Completion Certificates
Add an extra level of prestige to your courses by offering your student's course completion certificates. This is one of the best ways to show your students that you value their hard work and dedication. By doing so, you not only acknowledge their efforts but also motivate them to continue working hard and striving for success.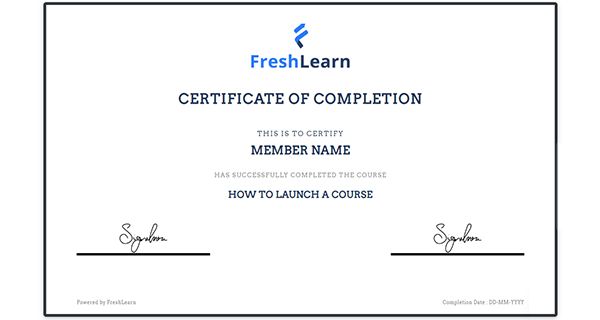 Course completion certificates can be given out at the end of the course, and can be customized to include the student's name, the name of the course, and the date of completion. They can also be personalized with a special message from the teacher. Whether you choose to give out certificates on a regular basis or not, doing so is a great way to show your students that you care about their success.
5. Ask For Reviews & Feedback
If a way to increase the number of signups for your course or product isn't working, it may be because you're not targeting the right people. If it's for a course, the best way to get signups is to make students an offer they can't refuse. A great way to get reviews is to ask customers if they're willing to share their experience with your product on social media and write a review of your product.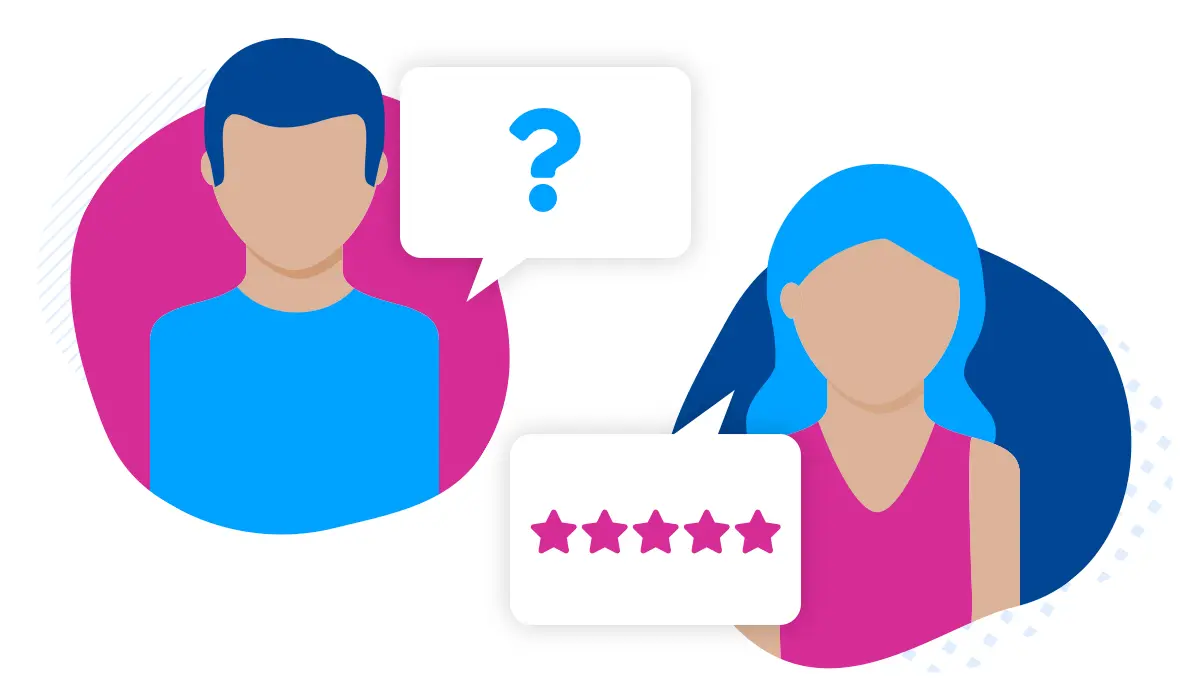 As an online course instructor, it is important to seek out reviews and feedback from your students in order to continuously improve the quality of your course and attract more students. You can do this by actively soliciting feedback through surveys, forums, and other channels. Additionally, you should make it a habit to regularly review the course feedback that you receive and use it to make necessary changes and improvements. By actively seeking out and responding to feedback, you will not only improve your course but also increase its appeal to potential students.
How You Can Attract Students Using FreshLearn
Being a course creator is a lot like being a juggler, juggling between content, technology, and pedagogy. If you're looking to create and deploy on-demand courses efficiently and without hassle, look no further than FreshLearn.
It's an intuitive platform that allows you to create, manage and deliver your material without worrying about technology or sacrificing user experience. So you can focus on what you do best - creating great courses!
Looking to attract more students? FreshLearn can help. Here are some things you can do:
Create On-Demand & Cohort-Based Courses In Minutes
If you're looking for a quick and easy way to create on-demand or cohort-based courses, you've come to the right place. Our platform makes it simple to design and deliver courses that meet your specific needs.
Whether you're looking to create a self-paced course for your employees or a cohort-based learning experience for your students, we can help. FreshLearn makes it easy to upload content, create assignments, and track progress.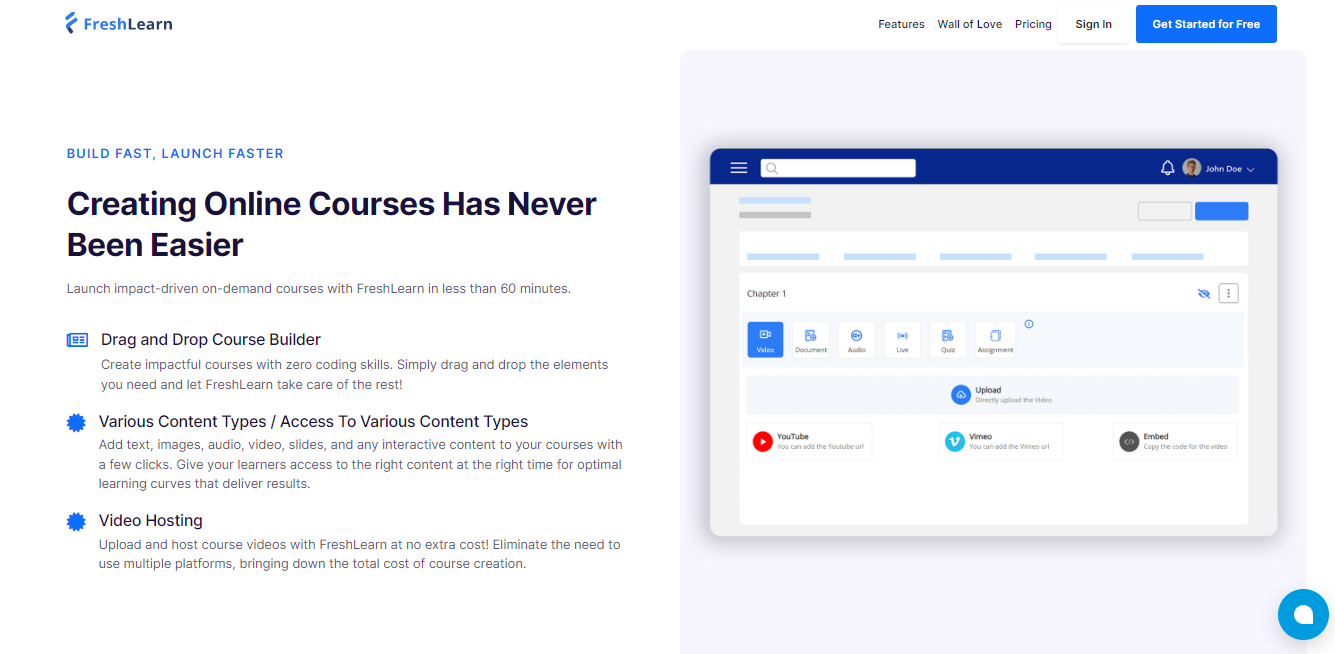 FreshLearn makes it simple to get started, and you can be up and running in minutes. Plus, our cohort-based approach ensures that your students are learning together and supporting each other, which can lead to better outcomes.
Take Learning To the Next Level By Creating A Masterclass
If you're looking to take your students' learning to the next level, why not create a Masterclass for them? A Masterclass is an intensive learning experience led by an expert in their field. By creating a Masterclass for your students, you'll be able to give them the opportunity to learn from the best and gain valuable insights into their chosen field of study.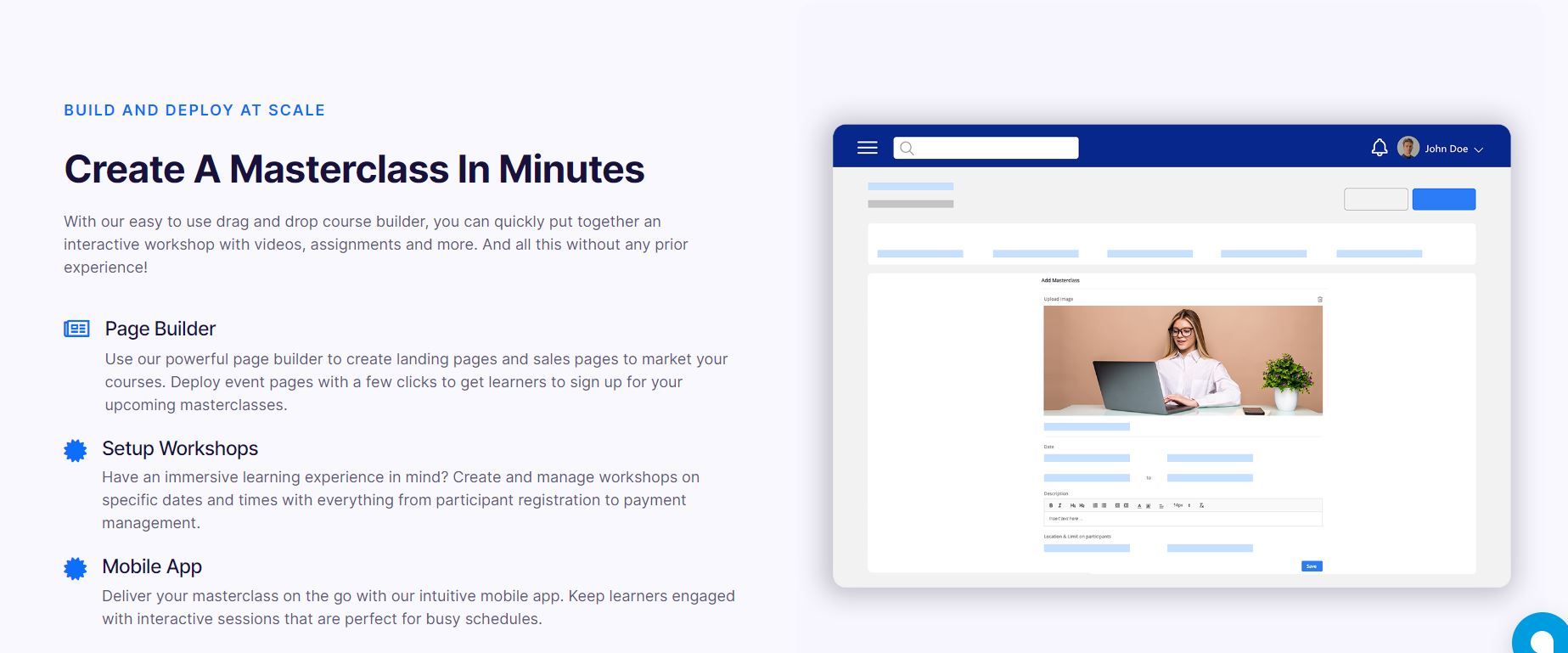 Not only will your students benefit from the wealth of knowledge that you'll be sharing with them, but they'll also have the chance to network with other like-minded individuals and build valuable relationships. So, if you're looking for a way to take your students' learning to the next level, launching a Masterclass with FreshLearn is a perfect solution.
Entice Your Students By Making That Perfect Sales Page
Think about it – a sales page that highlights all of the amazing things your course has to offer, and that makes your students want to learn more. It could be the difference between a course that your students love and one that they dread.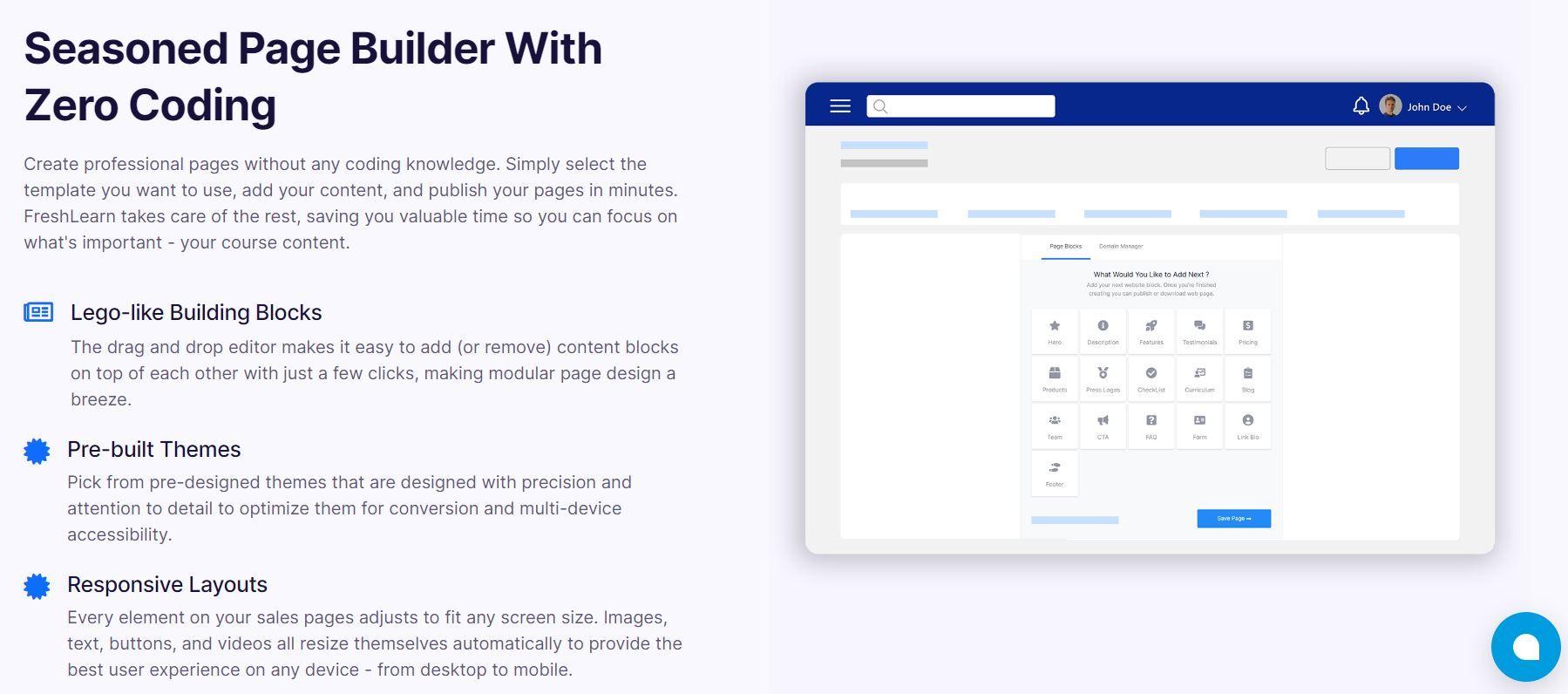 A great sales page is the key to convincing potential students to sign up for your course. And with FreshLearn, it's easy to create a stunning sales page that will make them want to learn more. It offers a range of beautiful templates that are easy to customize with no coding knowledge, so you can create a page that's just right for your course. You can also add images, videos, and testimonials to really sell your course.
Creating a sales page with FreshLearn is the best way to get more students to sign up for your course. So why wait? Get started today!
Drive Engagement With Gamification
Gamification is a wonderful way to increase learner engagement. By adding game-like elements to the learning experience, learners are more likely to be engaged and motivated to complete their courses. Gamification can also help learners to better retain information and improve their problem-solving skills.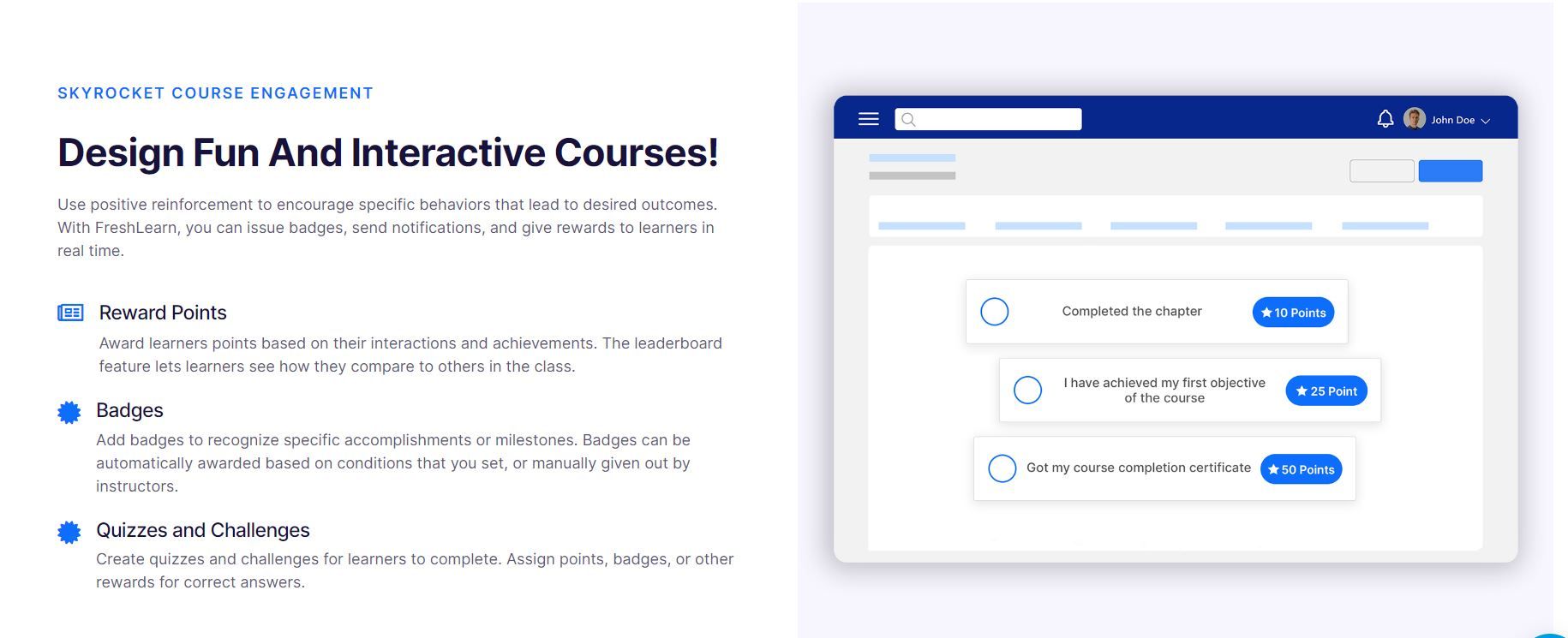 Rewards are a great motivator for learners. We understand. We use them to motivate our team members to do what we want them to do. Luckily, FreshLearn is here to make issuing rewards easier for anyone that uses our system. With FreshLearn, you can issue badges, send notifications, and give rewards to learners in real time.
Get Paid Your Way With Integrated Payment Solutions
With FreshLearn, you can easily sell your courses online and accept payments from a variety of payment methods. We have partnered with leading payment providers to offer a variety of options for our customers, including credit and debit cards, PayPal, Stripe, and bank transfers.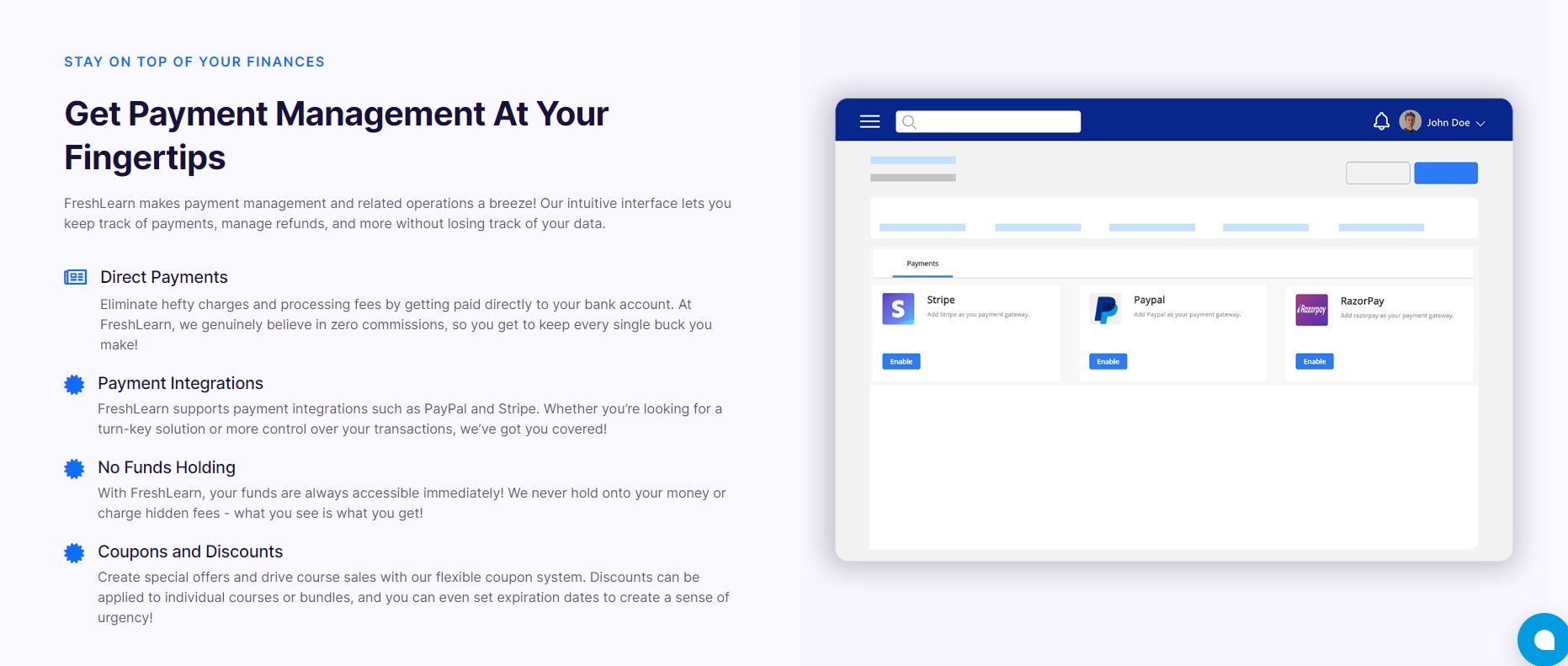 Our goal is to make it as easy as possible for our customers to sell courses online, and our integrated payment solutions will help us achieve that goal. We also offer a built-in affiliate management system, so you can easily promote your courses and earn commissions. And if you want any help along the way, our team is always here to assist you.
Final Words
I hope that you found the blog on how to attract more students to your online course helpful. To us, it's obvious that if you have a great online course, students will naturally want to sign up. But what if you have a great online course and nobody has signed up? There are a few things you can do to boost your online course enrollment.
At FreshLearn, we offer you a platform to create & sell online courses that can help you succeed in your online business. To learn more, visit our FreshLearn website
Hosted by