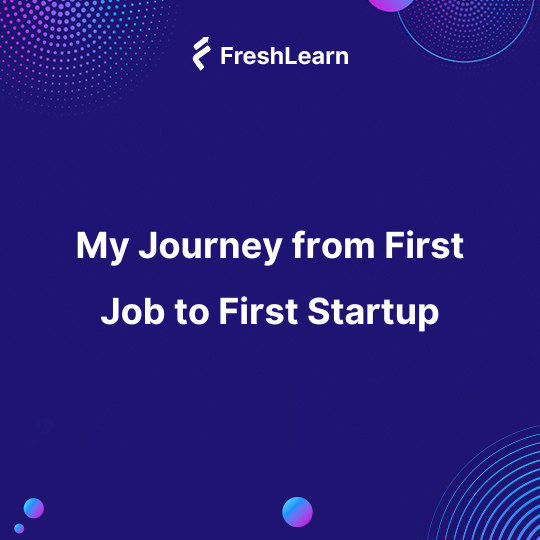 My Journey from First Job to First Startup
I took up my first job as a developer in Tech Mahindra, Pune in 2006. Around 100 of us got selected from a batch of 3000. | CEO & Founder
It is very tough to share my journey on this particular topic because it's been a journey filled with all types of emotions.
I sold my growing and popular SaaS Company - GrowthRobotics to a very popular company - Keyword.com in Dec 2019. Kevin Zhou - CEO & Founder of Keyword.com is a Gem of a Person :). While buying Growth Robotics, he thought me how to sell a company :)
So before I told you my journey on how I sold my company, I will start with my journey from my First job to my First Startup
After finishing college as a 1st rank holder in computer science engineering (everyone was surprised how it happened, including me :) ) from a very old but lesser-known college in my home town - Kadapa, Andhra Pradesh, India. On a side note, it's in this college I found my life partner and also a great friend for life.
I took up my first job as a developer in Tech Mahindra, Pune in 2006. Around 100 of us got selected from a batch of 3000.
My salary per month was $222 per month and I was over the moon about getting a job.
I also had to sign a legal bond( or agreement) with Tech Mahindra that I will stay with them for 2 years. This was common when you are fresh out of college.
I came from a business family so I never knew what a job, employee, and boss would be like? Incidentally, once I got a job, my family connected me to a few people who were from Kadapa and are in Pune, and surprisingly they were also working for Tech Mahindra.
They were the best roommates I could have ever asked for. The first lessons I learned about my job and work were from them.
The job is not 9 am to 5 pm. Your job is to continue till your work is not done for the day !!
They were the most studio, loyal and trustful employees Tech Mahindra would have ever had.
We were put in a learning program in a 30 days cohort of 20 people from different parts of the country and world as well as sitting in one room for 8 hours a day grinding to learn how to write a piece of software.
During the journey of the cohort, made some really good friends for life -
So there was a final test where we were being judged whether we should be in the organization or thrown out for not performing up to the mark. A few guys had to leave and we passed that tough hurdle of writing a client-server program In Java with some good security features
After working super hard for 9 months, where I solved many problems for the client - British Telecom, fought with oracle corp for bugs in software, and bugged my seniors to learn more and more, I got bored and wanted to move out to take up and entrepreneurship course with some great mentors like Madhu Mehta, Sam Petroda in Ahmedabad. We were a team of 8 people selected in the cohort for 6 months.
Now I was excited about getting selected in one of the earliest incubators in the country as well as super tensed as I had to pay a huge sum for breaking the legal bond with Tech Mahindra and I had to pay around $1500 for the same and get blacklisted from the organization forever.
But something extraordinary happened. My manager to Vice President liked my work and the intention of going to the incubator hence they dint charge me the penalty for breaking the bond.
Then I worked in multiple companies like Oracle, Finisar, Emirates NBD, and Union National Bank and grew from a developer to handling large multi-million dollar projects and met so many wonderful people in the journey.
Fast Forward to the Birth of Growth Robotics
I was having a wonderful job in Dubai - a tax-free country but then something was missing in me though I was having a very high paycheck. Convinced me and my wife to leave a comfortable job and return to India.
My son (just 2 years old) was happy too with our return to India as he could spend a lot of time with my mom and my grandmom too. We were 4 generations together at home
Now I decided to join a SaaS startup and hunted Agile CRM. I applied for multiple roles they had and was interviewed by the co-founder - Sreedhar Ambati. It was a wonderful discussion and I got the vibe that yes I want to work in this company.
I joined and started working from day 1.
The biggest shift for me was suddenly from handing in multi-million dollar projects, I was on a call with an individual who is paying just $9 but shouting at us for some feature not working.
I lead their marketing automation product and made such fast progress that we were proudly comparing ourselves to the likes of HubSpot and Marketo.
In my journey at Agile CRM, I learned the importance of Customer Support, Recurring Payments, Cancellations, Feature Updates, Social Media, Marketing, Inside Sales, and handling employee churn and heavy expectations of the CEO :).
The learning of build and running SaaS under the leadership of Manohar was like what you can not even gain from a Stanford School of Entrepreneurship. It was a phenomenal experience.
I met my future cofounder here - Shreyansh Surana. He was heading marketing at Agile CRM. So it was like I was making a product for him as a customer :)
We were in our early 30s but we had that fire to start something on our own. It was not easy to convince your family that you want to leave your job and start a new startup from zero. But we had a very supportive family :)
And finally, in 2016, My dream of starting my first company came to reality. We started my first company - FractionalCMO
Read the next part of how we grew the company and grew it into multiple companies including - Growth Robotics
Hosted by