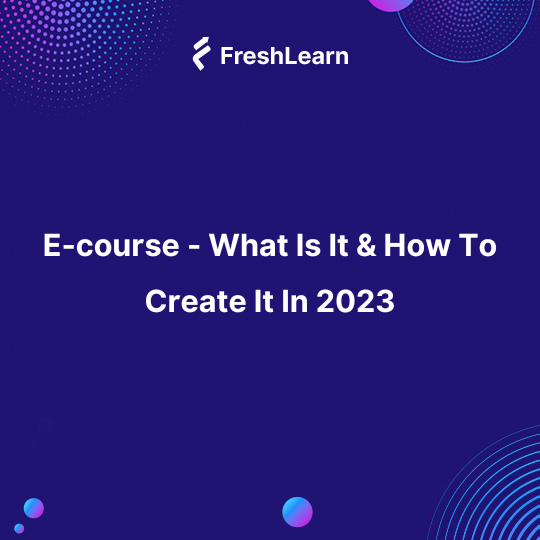 E-course - What Is It & How To Create It In 2023
Thinking of creating an e-course? Stop thinking and get started. Read this blog to know what is an e-course and how you can create one.
Online learning may have happened to us in a flicker, but today, it has risen to become an urgent necessity. Just take a look at these gigantic numbers - over 3 million students have already resorted to eLearning for pursuing their higher education. In fact, not only schooling. E-courses are also suitable for those who want to improve their skills by upskilling. Want to learn Spanish? There are tons of e-courses out there. Keen on learning how to play the guitar like a pro? You are just a course away. Want to polish your marketing skills? Take a free course! Thanks to eLearning, even the sky is not the limit for those who love to learn.
That being said, it also presents a wide scope for you to make big money. We're serious - the global eLearning market is all set to grow into a bashing $325 billion industry in 2025! So unless you want to miss out on some big bucks, don't sleep on this opportunity. Read this blog and learn how to create and sell e-courses for making money on the side.
What Is An E-course? Why Should You Consider Creating One?
An online course, also known as an e-course, is any course that is taught virtually. Unlike traditional teaching methods, e-courses allow you to structure the course in interactive ways to make learning more effective. This means you can teach SEO through videos, create a written course on web design, and conduct live online sessions on coding - just about anything, the way you like! In fact, in most cases, you don't even need to have a degree to start your Edupreneur journey. If you have proven expertise in any field, e-courses are perhaps the best way to teach it to the world and make an awesome income out of it.
That's not it. Launching your e-course provides you with a heap of other benefits too. So if you're still in two minds about whether it's worth a shot or not, here are some top advantages of selling online courses you'd want to take a look at
It makes for an excellent side hustle and opens a new stream of revenue for you.
No geographical constraints whatsoever - you can probably start from anywhere.
It aids your networking and allows you to reach out to more people.
It boosts your digital presence and enhances your brand image.
It helps you grow and opens a plethora of new opportunities for you and your business.
E-course vs. Ebook - Is There Any Difference?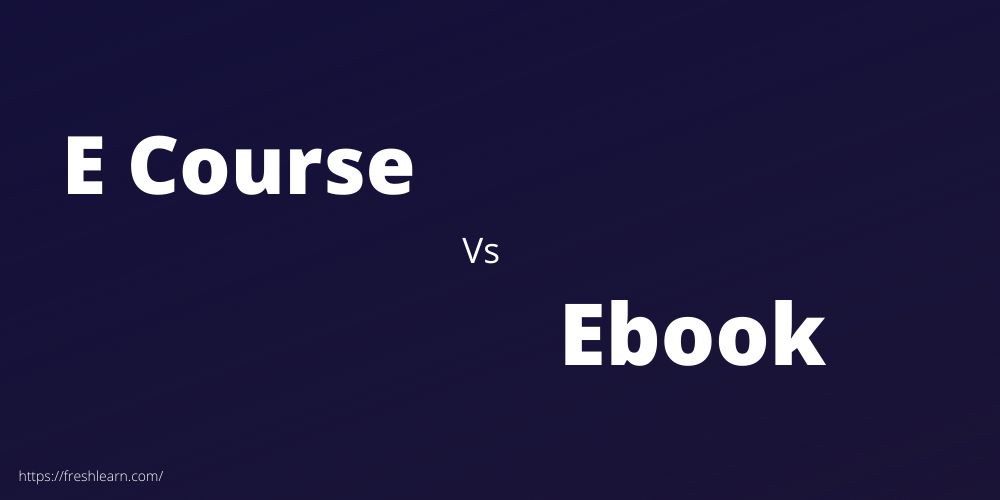 E-courses and Ebooks might seem like the same deal to you. But the truth is, they are far different from each other, each possessing its own set of pros and cons. Here's how they differ;
The format: Ebooks are restricted to two main content formats - ePUB and PDF. E-courses, on the other hand, can be created in the form of PDFs, videos, audio, memberships, zip file - anything!
The delivery platform: Ebooks are usually sold through Amazon while E-courses are sold either through a website or a third-party online course platform like FreshLearn, Thinkific, Podia, etc.
To put it in a nutshell, an ebook is hard work and an e-course is smart work.
How To Create An E-course - 5 Simple Steps To Get You Started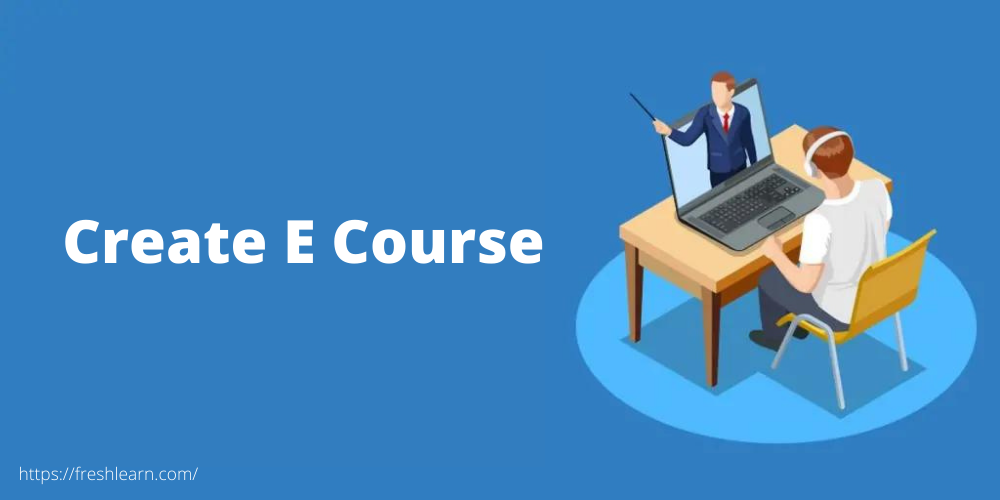 Don't look any further - we have the best guide right here. Quick, read ahead and learn how to create an e-course in just 5 steps:
Step no. 1: Choose your e-course topic - what do you want to teach?
First things first, choose the topic you want to create an e-course on. For this, you might want to figure out one thing - who is your target audience? Once you know that, dive a bit deeper. Do a quick customer research and understand what exactly your target audience wants to learn. Is it UI/UX? Do they want a full-blown course on Data Science? Do they want to learn how to create a blog post? Or is it just some instrument they want to learn how to play? Find that out and then pick the course topic that falls within your scope of expertise and has a pretty high demand backing it too. Some popular course topics that are both easy to teach and in demand include Yoga, Time Management, Excel, Stock Market, SEO, etc.
Step no. 2: Decide your e-course content structure - how do you want to teach?
Next up, decide the structure of your course content. It means determining your content format. As told earlier, e-courses can be created in several formats ranging from pdfs to videos and even audio. If you can't settle on anyone, create a hybrid content model. How about breaking the modules into short videos and pdfs and maybe conducting one live session per week? It's all up to you. Here's a clever trick for creating the perfect content structure for your e-course topic. Find out about others who are selling the same e-course as you and check out how they create their course structure. Trust us, this will save you the hassle of hit-and-miss.
Step no. 3: Create your e-course content - put it all together
Now, let's get assembling. Depending on the content structure of your e-course, start with the production process. Write the scripts, record the sessions, type out the pdfs - do it all. It's an easy process - all you're going to need is just a little bit of offhand research here and there. However, the actual catch lies in building the content in a way that the output proves to be useful rather than fancy. So, let's say you're recording a video for the e-course content. Your target should be to put all the information in those few minutes that adds value to your e-course rather than spending bucks on making the setup look all tip-top. That's it.
Step no. 4: Pick your online course platform - where do you want to sell?
Now that we're done creating the e-course, our next aim should be to pick the ideal platform for selling it. As stated above, e-courses can be sold on either personal websites or a third-party platform. But usually, Edupreneurs choose to sell their course on exclusive online platforms rather than creating a website of their own and selling it there. And well, it is a smarter choice. Personal websites confine your reach and will take more time to generate revenue against your courses. On the other hand, online courses selling platforms like FreshLearn, Thinkific, or Udemy not only allow you to sell courses to a larger group of audience, but they also offer mind-blowing tools to ease your marketing needs. These platforms also allow course creation. This means you can create more courses in the future without much fuss.
Step no. 5: Market your e-course - promote it all you can
Finally, it all boils down to how well you market your course. So don't hold back - leverage the power of social media and spread the word about your e-course. Create an email list and send emails to your potential customers about your offering. You can also get the help of Google Ads for luring traffic! There is no end to how much you can market your e-course.
5 Tips On How To Sell E-course You Didn't Know You Needed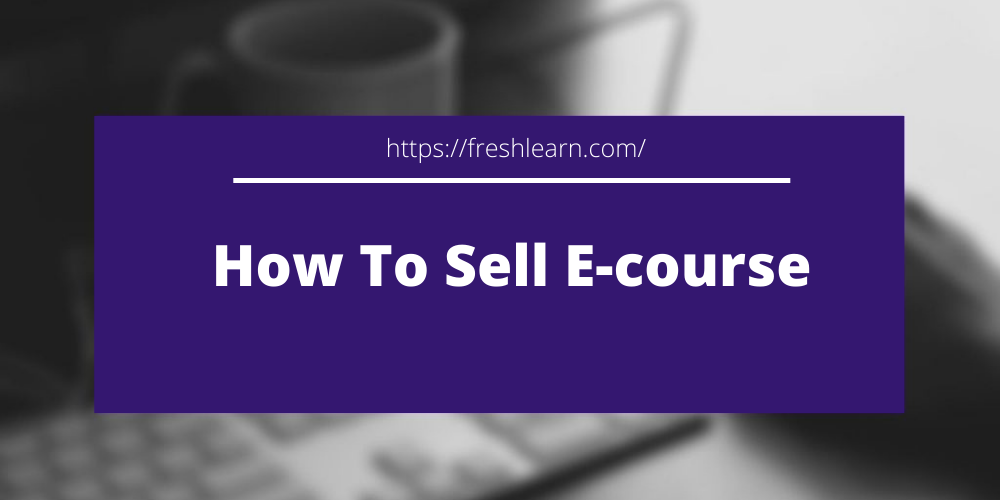 Creating an e-course? Check! Now, let's get selling. Here are a few tips to help you in selling your e-course like hotcakes:
1. Pick a topic that sells:
When creating an e-course, don't blindly follow your passion. If you want it to sell, pick a topic that exhibits potential. Check up its demand and then go about the production stage.
2. Don't compromise on content quality:
Quality is the main touchstone that differentiates two seemingly similar things. So pay attention to it. Remember, you are not the only one selling an e-course around that topic. So, let your quality make all the difference.
3. Get the pricing right:
It's super essential to get the pricing right if you want your e-course to sell at all. An easy way to ace it is by doing industry research. Check out what others are quoting for the same course and then price yours accordingly.
4. Choose the right selling platform:
The selling platform plays a huge role when it comes to selling the e-course. Check if it has the basic features needed for course creation, marketing, and selling. See if it's easy to navigate and provides a good user experience. The devil lies in the details.
5. Pay close attention to marketing:
We can't emphasize this enough - market your e-course like it's the end of the world! Use your social media handles, go wild with email marketing, and network with industry leaders. Market your e-course all you can.
Where To Sell E-course? - Top 3 Online Platforms To Get Started
Now that you know how to sell an e-course, allow us to help you further. Here are the top 3 popular platforms where you can sell your e-course to make money and grow your business
FreshLearn - An online platform exclusively built to support course creation of all types imaginable, FreshLearn is your one-stop solution for creating and selling e-courses. It requires no coding and comes with a list of fantastic features and customization options. Best part? You can start for absolutely free!
Udemy - One of the pioneers of this domain, Udemy is an online education platform that allows its creators to build interactive online courses from scratch. It comes with an array of features like an inbuilt content library and activity tracking to make your e-course creation and selling journey, a cakewalk.
Thinkific - Thinkific is another wonderful platform for all things e-course! From creating to selling - trust Thinkific to help you with everything. It comes with a bunch of pre-designed templates to help first-time instructors create courses without any hassle and also offers a one-month free trial!
Other than these, you can also check out platforms like Kajabi, Teachable, Skillshare, Podia, and LearnDash for creating and selling e-courses.
Don't Wait Anymore - Pick FreshLearn To Create And Sell E-courses Effortlessly!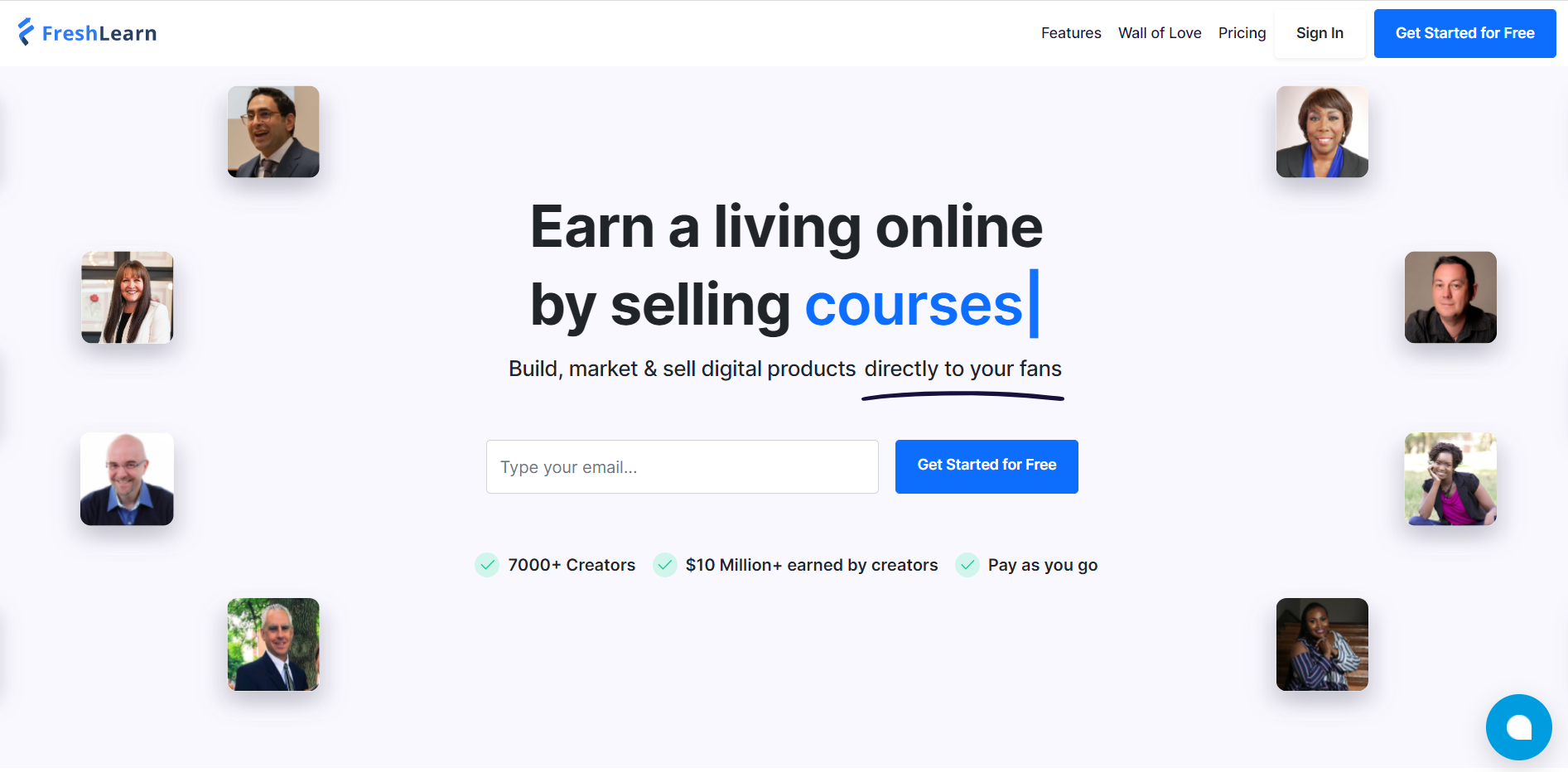 Now that you finally know all the "whats" and "hows" of e-course, it's time for you to pick your ideal course-selling platform and get the ship sailing. And what better than FreshLearn for that?
An online course creation and selling platform trusted by 8000+ creators, FreshLearn is all that you need to create mind-blowing e-courses. It offers easy customization and allows you to create e-courses just how you like them. Not just that, you can also embed videos, create quizzes, and offer discount coupons - for as much as 0% extra commission!!
Really, what's stopping you now? Create and sell e-courses in a snap - go checkout FreshLearn today!
Hosted by